An interview with Christoph Sauser, August 22, 2008
World Champion readies for the Olympics
Christoph Sauser would love to repeat his Worlds-winning ride on Saturday at the Olympics
Photo ©: Rob Jones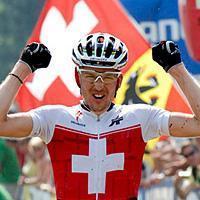 Clad in the rainbow stripes of the cross country mountain bike world champion, Christoph Sauser heads into the Olympic race as one of the top favourites for gold. The 32 year-old Sauser is part of the all-powerful Swiss team and has been meticulously preparing for the big day in China. Cyclingnews' Sue George spoke with the former metallurgist about his path to Beijing.
Sauser had been the bridesmaid twice before at the cross country World Championships before this June in Val di Sole, Italy, where he won. He'd previously won the marathon World Championship in 2007, but 2008 was his first cross country title.
"As it came closer to the cross country World Championships, I almost forgot about the Olympics because it's so important to win the Worlds jersey," said Sauser of his focus earlier this summer, during a season when everyone has been thinking about the Olympics.
Sauser grew up in Sigriswil, Switzerland, where he still resides. He splits his training time between home and Stellenbosch, South Africa, his adopted home away from home which conveniently gives him a warm, sunny place to train when it's winter in Switzerland.
While in places like South Africa, he often competes in longer, marathon type events such as the Cape Epic stage race, but it's the Olympic-distance cross country races that he considers the most competitive and prestigious.
"It's a challenge – how to train and travel. You have to put your whole energy into it for two to three hours during the race. I like it – it's very sporting," said Sauser.
"At the Olympics, it's every man for himself."
-Christoph Sauser emphasises that in mountain biking team tactics play a minor role.
"It's so hard in cross country to win and win and win," he said. "I thought it would be easy to switch to marathon where the level is not that high and where the level suits my ability more, but I want to finish my career on top of both. I don't want to water down my career."
Sauser's natural talents help him excel in endurance events. "I don't have to train long distances at all. That's in my blood. I just grew up like that," he said. "It's a mental game and I don't bonk unless it's cold and wet. That takes my energy away – when my muscles get too cold."
It's about priorities
Sauser explained his priorities for the season in increasing order: World marathon championships, World cross country championships, and the Olympics.
Although the cross country championships went perfectly, the marathon championships two weeks later didn't go according to plan.
At the end of the race in Villabassa, Italy, Sauser and Roel Paulissen were the only two men left at the front. As they were sprinting for the finish line, the two tangled and crashed. Paulissen was the first man up after both hit the tarmac hard, but he was delayed by bike problems and had to carry his broken bike toward the finish. Sauser remounted and went on to cross the finish line first.
The Swiss have a dominating team but at the Olympics each member will race for the gold
Photo ©: Rob Jones

Sauser was later relegated by the UCI officials for riding "dangerously" in the sprint and Paulissen was declared winner. A subsequent appeal of that ruling by Sauser was denied.
With silver medal in hand, it was time for the final and most important objective: the Olympics.
It takes years of dedicated training and resources to make an Olympic athlete. It also takes mental toughness and a passion for sport. Sauser, nicknamed "Susi", has both. In addition, he has a handful of fast Swiss team-mates to push him to be the best.
The Swiss riders qualified the maximum possible three men to race in Beijing, but their team is so talented and deep that selecting only three men was a challenge. Sauser will be joined in China by U23 World Champion Nino Schurter and European Champion Florian Vogel.
"The team selection started with top 10 finishes at world championships last year and the top 12 from all the World Cups since we [Swiss team] qualified. Then they selected three," said Sauser, who added, "One medal contender from Switzerland will not be at the Olympic race." That is Ralph Näf, who won bronze at the 2008 Worlds.
"The Swiss are good because of the Olympics, but we have a good batch of riders and we really push each other regardless. For example, in the European championships, I was racing Vogel for the win and Näf was chasing us. Vogel wasn't thinking of winning Europeans, he was thinking about keeping Näf from catching us."
When asked if team tactics would play a role in the outcome of the Olympic race, Sauser said, "At the Olympics, it's every man for himself although you should not lead a group back up to your team-mate. But we are individuals and the Olympics are once every four years, so at the end of the day, if it's your day, it's your day.
"I would not expect another team-mate to give up his chances at a medal and just be satisfied with just me medalling," he said.
He doesn't train with any of his team-mates. "There are no cross country pros where I live," said Sauser, "and we all live too far apart."
Going fast on race day
Sauser blasts down the course in the Val di Sole
Photo ©: Rob Jones

Sauser won the Olympic Test Event in Beijing last fall, a win he said had been a real confidence booster.
"I was lucky last year. The pollution didn't affect me at all," he said. "I felt really awesome. For a lap and a half, my head got hotter and hotter until I went through that wall and then I was fine. But lots of guys had problems breathing – they will go there and not be so confident because it could happen again."
"It can be a mental game," he reflected. "If a guy has that negative experience from last year in his head, it could make him do worse."
Sauser said he won't do any specific preparation for racing in heated or polluted conditions. "I really do well adapting to the heat," and then he joked, "I guess I could lock myself in a heated room and breath fumes from cars to prepare. I wonder which would be best – gas or diesel?"
Beijing could be a good Olympic location for Sauser due to its climate. "If the conditions are only cold or only wet it's ok, but the combination of both, that's just not good." Even if it rains in Beijing, it's likely to still be quite warm.
What Sauser has been doing to prepare are specific power workouts. Referring to the course he raced last fall, he said, "It is a lot about riding smooth and taking the speed up and having the right gear. It's about powering, but if you have all the power in the world and you can't get it around those tight, twitchy corners and have the right gear, then the power doesn't help.
Sauser is focused on the Olympics now
Photo ©: Rob Jones

"It's not a power riders course. I think it's a smooth pedalers course," said the rider who trains about 60-70% of his time on his mountain bike.
Sauser won bronze in the Sydney Olympic Games in 2000, but his race was "not good" in 2004 in Athens. "There was a start crash at the beginning and I was in it. Then I moved my way up and I was just coming to the front and then my chain broke."
He will race his Specialized Epic full suspension bike even though many of his peers will inevitably select hardtails.
"I don't know what a hardtail is any more," he said. "For eight years I've been on softtail only. I've never been on a hardtail with clipless pedals."
"I love innovation and to me, having a hardtail is not innovation any more," he said. "I'm also completely convinced of the advantage of a full suspension bike."
Cross country vs marathon
Sauser can look to Beijing with confidence
Photo ©: Rob Jones

Sauser shared his thoughts on the differences between racing marathon and cross country events as he is one rider who excels at and enjoys both.
"Cross country racing is like the real racing. You just don't do eight laps riding around for fun in 100th position and have the thought you can get better. No one stays in the cross country scene for 10 years, getting older and still competing for 50th place. Those folks switch to long distance marathon or team races.
"The cross country is for the sponsors and for the TV.
"As a fun rider, I would not do cross country races. I would do the marathons. For cross country, you travel for a few hours by car or fly and who wants to do that if you're not competitive or still young and likely to improve?"
Before an important cross country race, Sauser plays the mental game like many elite athletes. "When it comes closer and closer to the race I think, 'Man I hate this,' but then as soon as it's over, I miss it – the tension the whole time.
"During the race itself, you're in your own world," he said. Nothing else matters.
No one argues that the cross country pace is much faster than a marathon pace, but Sauser doesn't think this year, the cross country racing at the World Cup level was really any faster or slower than in non-Olympic years.
"When you personally go very fast, you think the overall pace is slower," he said. "When you struggle, it seems like the pace is faster. I don't think anybody can tell."
"In Madrid [at the World Cup] for example, I started well but did not do well in the first corner and was in 20th or 30th position. I could not move up. That course makes it so hard to move up. I thought – 'Those guys are so crazy, they go so hard.' But on my best day, I could have easily moved up."
"Then, in Andorra, I went to the front right away and overtook everyone and I thought, 'What's wrong with them they are going so slow?'"
In addition, you "can't tell because of course and weather variations."
What's next?
Sauser prefers full suspension bikes
Photo ©: Rob Jones

"At 32, I'm already really old in this scene," said Sauser, who predicted he would race one to two more years after the Olympics. "I want to finish on top."
"Don't ask me if I want to switch to the road. I'm too old to switch," he laughed. "I'd want to be competitive and not ride at 80% or work for someone else."
He might make one exception though. "It would be a dream though to ride the Tour de Suisse. If it would fit in to next year's schedule and I could ride for a team, I would say 'yes' right away."
What about cyclo-cross? "No. I don't live somewhere close by the races. It's not worth the driving and having two bikes to clean when I can go to South Africa and have the summer sun there."
Sauser, who first turned pro in 1997, would like to see more mountain bike stage races for individuals, rather than teams.
"I've been debating with the Cape Epic founder – I'd like to see it become individual. It'd make the competition harder and more interesting."
"Everybody wants to take off and not race for your partner," he said. "If your partner has a mechanical, you just have to wait. Sure you can help a little, but mostly you have to watch while everyone else rides off."
This year, he partnered with the U23 South African Burry Stander until they had to withdraw due to a knee injury of Stander's. Sauser was clearly disappointed that their race ended prematurely. But there is always next year, and he may already be there anyway, training in nearby Stellensboch and racing a round of the 2009 World Cup.
"After retirement, I will keep on riding Cape Epic, Trans Rockies and team races and single person marathon events, but not competitively. I will pick the bike that is the most comfy and fun to ride and not the fastest."
"In my spare time when not racing, I ride my enduro bike. I take a backpack and go from hotel to hotel and just try to find trails. That's my best activity I can imagine for riding."
When he's done with his Olympic career, you might also find him backcountry skiing, reading or at home cooking.
Photography
For a thumbnail gallery of these images, click here
Images by Rob Jones/www.canadiancyclist.com