An interview with Christine Thorburn, August 11, 2008
Doctor of speed
Christine Thorburn did her best for the United States of America squad in yesterday's Olympic Games women's road race. While it didn't work out for the North Americans, Thorburn has one more chance to get her country a medal before retiring at year's end, learns Bruce Hildenbrand.
Christine Thorburn is contesting her last Olympics
Photo ©: Christopher Norris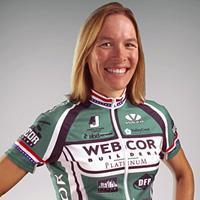 Age: 38
Height: 5'4"
Weight: 122 lbs
Hometown: Davenport, Iowa
Resides: Sunnyvale, Calif.
Pro Team: Webcor Builders (USA)
Education: Grinnel College (B.S. Chemistry), Stanford University (M.D.)
Career highlights
2004 USA Cycling National Time Trial Champion
1st place – 2006 Le Tour du Grand Montréal
1st place – 2005 Redlands Bicycle Classic
2nd place – 2005 Pan American Championships, Time Trial
2nd place – 2004 USA Cycling National Championships, Road Race
2nd place – 2006 USA Cycling National Championships, Road Race
2nd place – 2005 International Tour de 'Toona
3rd place – 2005 USA Cycling National Championships, Time Trial
3rd place – 2006 USA Cycling National Championships, Time Trial
3rd place – 2007 USA Cycling National Championships, Time Trial
3rd place – 2006 UCI Road World Championships, Time Trial
5th place – 2007 UCI Road World Championships, Time Trial
Doctor Christine Thorburn has already distinguished herself at Olympic level, finishing fourth in Athens, Greece four years ago behind the silver medal performance by now retired team-mate Dede Barry. She is contesting her second Olympic Games this week in Beijing, China and will be a strong contender for Wednesday's time trial. The Stanford Medical School graduate, who is a clinician in rheumatology at the Palo Alto Medical Clinic, has a strong record in the discipline which includes a bronze medal in the 2006 UCI World Road Championships.
Thorburn also contested yesterday's road race in support of star United States of America rider Kristin Armstrong. While Armstrong was a hot favourite heading into the event, the American could only manage 25th place in trying conditions. While the 124 kilometre road race didn't bear the fruit the team was expecting, it allowed the riders a chance to test their legs in anger on the finishing circuit which will also doubt as Wednesday's time trial course.
"A medal is a realistic goal for us."
-Christine Thorburn believes an American will podium on Wednesday
"I am pretty excited about it, actually," she said. "It is a harder course than Athens, it is a longer climb which is actually more suited to me than the race I just finished, the Tour of Thuringen, which had a lot of short, steeper climbs. The downhill is much more gradual so that is also a benefit to more of a pure climber."
While a crash involving Armstrong and mechanical issues for Olympic debutant Amber Neben hurt the USA team's road race chances, the team has already switched its focus to Wednesday's time trial. "I just need to get dry, get my feet up and start focusing on that," Thorburn, a San Francisco Bay Area resident, said after the race.
Time trial expectation
At her first Olympic Games in 2004
Photo ©: Jon Devich

With Thorburn joined by former World Time Trial Champion Armstrong for Wednesday's 23.5 kilometre event, the squad expects to be in medal contention. "I would definitely say that it is true in the time trial particularly given that it is a very hilly parcours," she said. "Obviously, Kristin and I have both medaled [at the World Championships] in the past two years, Kristin all three of the past three years. That is a realistic goal for us as well."
The competition will be tough for Thorburn and Armstrong, with reigning World Champion Hanka Kupfernagel (Germany) showing her form with several energetic bursts out of the peloton in yesterday's road race. One thing likely boosting the 2004 USA time trial champion's hopes is knowing she's one of the highest placed finisher from the Athens time trial four years ago contesting this year's race, following the retirement of Demet-Barry and Dutch rider Leontien Zijlaard-Van Moorsel.
Factoring in the forecast
Christine Thorburn was strong in Sunday's road race
Photo ©: Casey Gibson

A different course and environmental factors will most certainly play a roll in the outcome of this week's time trial. How much of a roll will only be known on the day, after weather conditions went from hot and humid from Saturday's men's road race to torrential rain for the women's race. Should an afternoon shower occur in the mountains around Beijing, where the finishing circuit is located, it could play havoc for the time trialists. If it were to take place mid-race, the odds of an incredibly surprising top three increase dramatically, with corners on the tricky course likely to be much harder to negotiate in wet conditions.
The pollution has been another concern for many professional athletes, with Beijing's smog issue becoming a focus of the world's media. The USA squad had developed a special breathing apparatus for its athletes, which became topical last week when the US Olympic Committee was forced to apologise for some of its riders wearing it while they arrived at Beijing airport.
"There has been a lot of effort put out by the US Olympic Committee staff members," said Thorburn. "They have been researching this for two or three years already. I know that they have developed and anti-pollution mask. Clearly you can't compete in it, but anytime we are out and the pollution is bad we can wear that, even for less intensive training.
At the World Championships in Salzburg, Austria two years ago
Photo ©: Luc Claessen

"And with heat and humidity, I have had some experience with that already and they will have some cooling vests for us if necessary," added the 2005 Redlands Bicycle Classic winner.
While Christine is best known for her Olympic exploits, one of the untold stories of her career is her influence in the development of the small, Bay Area, regional women's cycling team into one of the world's top squads. "I think it is pretty amazing when you think where Webcor Builders has gone from 2004 to 2008," she said. "The team was essentially built around me in 2004 with Karen Brems directing. Going into the 2008 we were looking for four or five Olympians and we ended up with four, which is pretty amazing, frankly, coming from a Bay Area sponsor."
For Thorburn there were many advantages to competing for a trade team instead of being part of the US National Team. "It is more about emotional support and consistent opportunity," she said. "With the national team they have to balance giving opportunities to other riders. I just feel like the Webcor Builders Team has been my family for five years and I have a ton of moral support from all the Bay Area riders and the Alto Velo Club.
"It was pretty awesome on the Webcor Builders team this year with that many women having realistic chances to make their country's respective Olympic teams," she added. "We maintained a high level of professionalism and support for each other."
Life beyond the bike
Christine Thorburn finished inside the top 10
Photo ©: CJ Farquharson

While Thorburn will be focused on taking a medal home to America after Wednesday's time trial, it will also be her last race as an Olympian. The event will mark one of the last major events in Thorburn's career, with the rider announcing she will retire at season's end. "After the Olympics I will probably do the World Championships," she said. "I definitely feel very fortunate and very satisfied about where I am at right now. I would not give up my life for anything, but it has been extremely stressful balancing the two careers and I am ready not to do both again."
The affable native of Davenport, Iowa is looking forward to having the 'problem' of having spare time. While she's yet to decided on future projects, Thorburn is determined to continue her clinical work.
"I have been 3/4 time clinical practice at the Palo Alto Medical Clinic and I never thought that I would do more than that in clinical time," she said. "So with the rest of my free time when I stop competing at this level I am not quite sure but I love my clinical practice.
"I love the Palo Alto Medical Clinic, and want to continue that part of it, but we will see if I feel bored when I am no longer in competitive cycling," she added. "I have a background in research and the clinic has some research opportunities. That might be a possibility as well."
Photography
For a thumbnail gallery of these images, click here
Images by Christopher Norris
Images by Casey Gibson/www.cgbphoto.com
Images by Jonathan Devich/

Images by Kristy Scrymgeour
Images by Luc Claessen/www.ctm-images.com
Images by CJ Farquharson/WomensCycling.net