Recently on Cyclingnews.com
News Feature, May 6, 2008
Ljungskog's Berne-ing Olympic ambitions
By Ben Atkins in Lyss
Sweden's Susanne Ljungskog, 32, on her way to claiming victory in the Tour de Berne
Photo ©: WomensCycling.net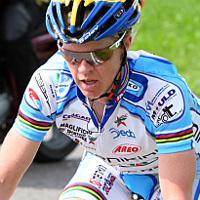 Susanne Ljungskog (Menikini-Selle Italia) is no stranger to victory, but for the World champion of 2002 and 2003, her latest win in the Tour de Berne has been a long time coming – her previous major victory being almost a year ago. "The last one was in the Tour de l'Aude last year," she explained during the post-race press conference. "That was the last big race, so this was [due]." On top of this, her last World Cup victory was the Open de Suède Vargarda – her home race – back in 2006.
Ljungskog's solo victory in the Tour de Berne looked fairly simple in the end as the 32 year-old had time to celebrate crossing the line eight seconds clear of the chasing group, but the day had not started so optimistically. "At the beginning I felt really, really bad," she continued, "and I thought, 'Okay, this is not going to work.'" Luckily, as the race went on, she steadily improved as the fast early pace began to settle down. "But then I felt better and better," she went on, "and thought "maybe it can work out" and then the last hill I thought "I just try, just try" and it felt good. Then it worked out, so I'm really happy."
As the race went on and Ljungskog began to feel more comfortable she began to form her strategy for the closing stages. "My plan was to attack in the hill and I had a gap there but they catch me," she explained. "I felt good, but I think the others also were good today. Then it was a group – I think it was fifteen riders – and then I bide my time, I let the others attack, attack, and I thought 'okay, I'll come later,' and when it slowed down – when it was 15 kilometres to go – then I think 'okay, this is the time, now I have to go.' And I did, I didn't look back, but I thought I have good legs so I have to go and I had a gap."
"There is only one goal: to be the first at the line."
- Ljungskog on her day at Tour de Berne
Being the sole rider from her Menikini-Selle Italia team in the final selection meant that she was isolated against the stronger teams, but also afforded her a certain luxury as the onus was out on those who were better represented. "I thought that they have to do the work," said Ljungskog, "because I think it was two Cervelo and two Nürnberg and they have to work, and I just have to wait for my moment. If you can think, and I could think today."
After successfully breaking the clutches of a very select group of riders, there still remained almost 15 kilometres of predominantly downhill and flat roads to the finish – terrain that should have made it hard for a single rider to stay clear of a powerful, organised chase. "It was a long time to go alone," she agreed, "but you know if you have good legs then it's no problem, you just go. There is only one goal: to be the first at the line."
Susanne Ljungskog (Menikini-Selle Italia) takes the win
Photo ©: WomensCycling.net

The former Swedish and World Champion has won a number of sprint victories in her career, and would have been among the favourites to take this victory had they arrived at the finish together. That was a risk she preferred not to take though, and instead chose to call upon her skills and experience as a time triallist; skills that have won her a number of national championships, and more recently fifth place in the GP Suisse. "I think it's easier to be solo, otherwise..." she hesitated for a moment. "I know that I can sprint, but if you have good legs it's better that you try to go alone."
Obviously, as the winner, Ljungskog felt very positive about the new, hillier Tour de Berne parcours, but more than that she takes away the positive sensations of having raced in front of so many spectators who had specifically come to watch a women's bike race – a side of the sport that is often marginalised. "Really nice," she enthused, "up and down, corners, hard climbs and a lot of people on the climb and it felt good to be a woman bike rider today, I'm proud.
"It was nice, I appreciate it," she added.
After a full World Cup schedule this spring, she will now take a few days rest before embarking on the second part of the season, and her next targets. "I will be home until the Tour de l'Aude, [where she is the defending champion - ed.] and then I do that race, and then I have to be home in Sweden for three weeks – in June – then I do the Giro del Trentino, then my national championships. Then I will be prepared for the Giro d'Italia, that's my big goal, you know."
"Of course, that's the other goal!" She exclaimed when the subject of the Olympic Games was mentioned, where she will compete in both the road race and the time trial. "The goal is always to give my best [in Beijing] and to be the best shape ever because it's a hard, hard, hard course and so you have to be prepared."
Ljungskog raced for many years in the colours of Flexpoint – the team of third-placed Mirjam Melchers-Van Poppel. However, she has settled quickly and is enjoying her new Menikini-Selle Italia team, appreciating how much they supported her during this latest race. "I think they did what they could. It's a hard race, so it's not so easy for them, but for sure they did what they can. I feel good – it's a really good team – and I look forward to race with them at the Giro."
Before that though is the Tour de l'Aude, and with the form she has exhibited this week, the defending champion will take some beating.
Photography
For a thumbnail gallery of these images, click here
Images by WomensCycling.net/WomensCycling.net