Olympic Games feature, August 16, 2008
Danish track turnaround
Denmark heads into the Olympic Games track events in Beijing, China this weekend as a gold medal contender for the first time in decades. Cyclingnews' Paul Verkuylen spoke to national coach Heiko Salzwedel about the team's remarkable turn around.
The Danish team is a medal favourite
Photo ©: Rob Jones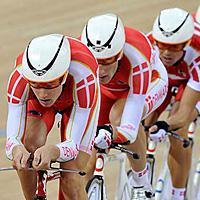 Four years ago Denmark didn't even qualify for the team's pursuit at the Olympic Games in Athens, Greece, nor did it take part in the UCI World Track Championship. This weekend, however, Demark is one of the favourites to take the Olympic team pursuit title at the Laoshan Velodrome in Beijing. It's secret? World renowned coach Heiko Salzwedel, the German who has performed similar miracles for the Australian and British programmes in the past.
Back in 2004, Denmark was turning in team pursuit times around the 4.12.00 seconds, way off the pace of any championship. This year it finished second in the UCI Track World Championships behind host nation Great Britain in 3.59.40, after qualifying fastest in 3.57.73. A program developed by Salzwedel was the catalyst for the nation's vast improvements.
"I asked for only a few things before I took the job as the Danish coach," Salzwedel said. "I wanted funding to go to all the World Cups, and approval to have training camps whenever I needed them. Also I wanted to incorporate an altitude program."
Salzwedel took a position with the Danish federation in 2005 after a difficult stint with the British squad. His goal was to drag the nation out of the doldrums and into a world class squad capable of rivalling the more powerful nations like Great Britain and Australia.
Salzwedel is no stranger to such a task. He was placed in a similar situation in the 1990s when he took the role as head road coach for Australia's track team.
"I think that the new Olympic gold medal will need to break the current World Record time, that is what we are aiming for and what I am preparing the riders for."
-Salzwedel spells out what his team needs to do to win gold.
Salzwedel believes that a family atmosphere is vital in order for a team to improve and be competitive. "It is very important to keep the same group together," he said. "You need to find a good balance, not to spend too much time together so you don't get on each others' nerves.
"At this stage, the Olympic spirit binds them together," he added. "It is more than just having a working relationship with these boys. It is like a family and I think that that is essential."
Stints in China and South Africa have brought the group closer together, to a point now that they know one another quite well.
"We were in a remote area in South Africa where we rented three block houses in the middle of nowhere," said Salzwedel. "There was nothing else to do than just talk to each other and play games and spend time with one another. That develops a really strong bond.
Heiko Salzwedel, the Danish team coach
Photo ©: Mark Gunter

"The good things about these Danish riders is that they are not spoiled," he added. "They are hungry. As long as they get sufficient food and can train properly they are happy.
"We stayed in China last year for 25 USD a day full board," explained Salzwedel. "It included breakfast lunch and dinner. You can imagine that it was very poor standard. But that wasn't important. What was that we could train properly."
Miles and more miles
Altitude training was critical to the team's success
Photo ©: Mark Gunter

"It is quite simple," Salzwedel says in his German matter-of-fact tone. "The anaerobic capacity you can only develop to such a level. When you put the anaerobic capacity on a big block of endurance, then you go so far. When you have only a small base of endurance then you can't go that high. It is simple.
"For that reason, 80-90 percent of our preparation is spent on the road," he added.
This philosophy has seen each of the seven riders develop not only into a world class team pursuit rider, but also world class road riders. Alex Rasmussen was the Danish elite champion on the road in 2007, while two of the squad's Under-23 riders have been selected to represent Denmark at the road World Road Championships not long after the Olympic Games.
"It is no accident that Alex Rasmussen won the Danish Elite National championship on the road last year and that we are dominating the U23 classification on the road with the track riders," he said. "We also want to do well on the road. This is our training program for the Olympics, but we still want to do well there."
The Danish team was one of the strongest in the recent Tour of Qinghai Lake's field, with Rasmussen taking four stages and the points jersey. The team was in China for two reasons. Firstly, the Tour of Qinghai Lake is the highest race in the world, which fits in perfectly with Salzwedel's altitude training beliefs and secondly, a hard training block in the month leading up to the Olympic Gamess is crucial.
"You cannot adapt to dirty air."
-Salzwedel explains why his team missed the opening ceremonies and arrived late.
"We have been to altitude seven times in the last two years," he said. "I think that we have timed our training to perfection for the Olympics. If you look at the English team they had a few riders who had just finished the Giro, which means they had three weeks of hard training right before the worlds. We didn't have that and I think that we can still go better at the Olympics."
A huge advocate for altitude training, Salzwedel has taken his small team of just seven riders into the high mountains no less than seven times in the last two years. He believes that training in the rarefied air helps boost the oxygen uptake when it comes to competing in lower altitudes, such as in Beijing
"We are having our hard period now and will go back to Denmark to taper," Salzwedel said in July. "We are going to miss the opening ceremony and fly in late in order to reduce the time spent in the bad air.
"You cannot adapt to dirty air," he added. "My conclusion is to avoid it and come in as late as possible, and keep the body as clean as possible as long as possible."
Timing is everything
The Danish pursuit team
Photo ©: Mitch Clinton

Improving the squad's time by a huge margin in a relatively short period of time was not difficult, according to Salzwedel. That said, his initial time goals were thrown out of the window long ago, as the team improved well ahead of schedule.
"We have already made such big improvements in the last three years," he said. "I presented a three year concept to the Danish federation, but we are already far ahead of these times. We have already thrown these time goals in the rubbish years ago.
"The ride at the World Championships has given us confidence; I think that we have arrived amongst the top teams in the world," he added. That arrival was first signalled in Majorca, where the team won its first Track World Championship medal in 2007. "It was a surprise," Salzwedel said. "We always had this feeling that we didn't belong there, our little Mickey Mouse team."
Denmark is one of the hot favourites for the Olympic title, but the winner's time will also likely become the new World Record, according to Salzwedel.
"I expect times around 3.55," he said. "I think that the new Olympic gold medal will need to break the current World Record time, that is what we are aiming for and what I am preparing the riders for."
For times to eclipse the current World Record a good track surface and conditions are a must. The recently-opened indoor velodrome in Beijing ticks many boxes according to Salzwedel, but as most teams will have only ridden the track in the depths of winter during the World Cup, it remains largely an unknown.
"The velodrome is very good quality, but it is not as fast as Manchester," he said. "On the other hand I don't know what to expect from the temperature in the velodrome. I was impressed when we had the World Cup in Beijing. Everything seems to be working very smoothly there.
"The heating system works well, so I see no reason why the cooling system won't work just as well," he added. "I expect really comfortable temperatures around 25 degrees, which will make it really good for us to do some world class times."
In order to best prepare his riders for the day, Salzwedel has had his boys on the track during times of the day that they may normally have been sleeping. In fact each rider vowed after returning to Denmark from Qinghai that they would remain in the Chinese time zone. This required them to sleep during the day and train at odd hours, just to make sure they are as best adapted to Beijing as they can be.
"All our training has been done in periods of the day that will match up with the times at the Olympics so that the body is used to it when we get there."
Committed development
Alex Rasmussen led the Tour of Qinghai Lakes
Photo ©: Mark Gunter

"I have never worked with a more dedicated group of riders," Salzwedel said. "It reminds me of the old days in Australia when I started with Matt Bazzano, Patrick Jonker and Henk Vogels. It is a very similar spirit in Denmark: let's go and do something properly."
It's this type of commitment that is required to take a gold medal. Given the accomplishments of the Australian team which trained under Salzwedel in the '90s, being compared to them is a huge compliment to the Danish squad.
"They don't get paid much, the only thing that they have is their commitment," he said. "Alex Rasmussen turned down a contract with CSC this year, just to be fully focused on the Olympics and to allow me to have full control over his program."
For both Denmark and Salzwedel, the rewards of their hard work over the past four years are just days away. But whether Denmark places in the top three or not, one thing remains certain - no one will regard them as a Mickey Mouse squad when track racing starts this evening.
"In the World Cup round in Sydney in 2006 we had Russian disc wheels and heavy frames - really s**t equipment," he said. "Now we are very competitive, I think that we have the best equipment in the world. Cervelo bikes, Vento handlbars and Mavic wheels and FSA carbon cranks.
"I have very good cooperation with the Danish trade teams," he added. "I can virtually do what I ever I want. They pay them, and I take them away when ever I want. The philosophy is the same [as with the Australian]. It is important that they adapt cycling as an essential part of their life."