MTB News Feature, August 15, 2008
Mechanics support US Team
When the US National Team travels to a major cycling competition like the World Championships or the Olympics, it means a lot of behind-the-scenes logistics and support to be planned and executed. Cyclingnews' Sue George spoke with Calvin Jones, a mechanic with the US Team at events like the UCI Mountain Bike World Championships, about how he and his crew keep the athlete's bikes running smoothly before and on race day.
Calvin Jones
Photo ©: Sue George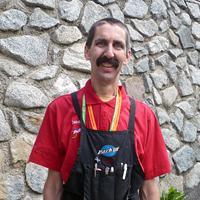 Calvin Jones saw a need for better mechanical support for the athletes representing the US and went about filling it.
"In the first [mountain bike] worlds in 1990 [in Durango, Colorado], I was volunteering for Shimano, and I saw a long line of people like Steve Tilford waiting in line for [mechanical] work. Being an old roadie, I thought, that's not how it should be. So I talked to [USA Cycling's] Brian Stickel, and I proposed that we get some support for them at the hotel."
What Jones proposed decades ago has evolved into a finely tuned support operation for athletes of all ages.
Beginning in 1994 at the World Championships in Vail, Colorado, Jones and his team worked out the approach. "We service any US rider in and out of the hotel. We are neutral support for everyone," said Jones, underlining the philosophy of his talented team of mechanics.
While at non-World Championship events, most riders receive mechanical assistance from their professional teams, or they do it themselves on the road. Some lucky top-level pros can also bring their mechanics with them to the worlds, but lesser known pros and juniors would otherwise have to fend for themselves.
"The US team only exists during Worlds and some people have corporate mechanics, too. But if those riders can't find their person or they need back up or their mechanic needs help, they come to us. We don't charge anything to the US riders."
Jones asks the racers to bring some equipment with them, but the mechanics also come prepared.
"We try not to be grumpy old mechanics. We try to educate the racers."
-US Team mechanic Calvin Jones explains that his job is not just about fixing bikes.
"We had a list of spares for all the athletes to bring - like mud tires. We like them to bring some of the spares so we don't have to bring everything, but the reality is that we still bring a lot."
"We brought two boxes of parts weighing 48 pounds each, and we shipped another 28 pounds. Then we had all our tools," said Jones of the trip to the World Championships in Val di Sole, Italy in June. "We can be expert mechanics here, but we need the spares."
Jones, who works for Park Tool, was able to leverage his connections and save the shipping of some items. "We had a Park Tool distributor in Italy who got us all the stands and helped us with tools."
The team
The US Team mechanics had set up headquarters in this parking garage
Photo ©: Sue George

In Italy, Jones headed up a team of four other mechanics, including Brad Cole, a service trainer at Eric's Bike Shop in Minnesota; Than White of Shimano; Chris Magerl, a Utah ski instructor and mechanic for multiple teams; and the recently retired TJ Grove.
"This is a very special year in that it is an Olympic year and we have five mechanics instead of four, so they're only working 14 hours days," said Jones.
The "USA Team Shop" was set up at the hotel, rather than at the race site. "We do the heavy lifting here. We give the bikes touches of love down at the race, but tuning, discussions and diagnosis happen up here," said Jones.
Jones seeks to avoid personal bias between riders and any particular mechanic. "We write repair tickets for each other. We don't work on the bikes we take in, so there are no clicks. Instead, we try to leverage our skill sets."
The careful record-keeping has another advantage. "To me, the model we are using is that of the retail mechanic, so we have accountability," said Jones. "The repair tickets let me tell USA Cycling at the end of the day exactly what we did." The approach helps the team justify its expenditures.
Mary McConneloug's Seven bicycle
Photo ©: Sue George

The scene in the lower level of the hotel's parking garage, where the mechanics had set up was friendly, but serious. "There's no beer allowed in the shops - for managers or mechanics." After all, they were supporting the World Championships.
"We work together for the riders and want them to feel comfortable here," said Jones. "This is a center of activity where they can hang out. We hoist the US Flag as symbol to rally around - that's what they haven in common - they're all Americans."
"They race against each other all year long, but here we want them to get that synergy and work off each other. They can share advice on mud tires and gearings. The downhillers and cross country racer get to see how the others train and race," said Jones, who then joked, "…although none of them understand the trials racers."
"We try not to be grumpy old mechanics. We try to educate the racers," he said.
The team is well enough respected that non-Americans often seek assistance. "Sometime the Brits or other teams come by, and we'll help them a bit, but when the racing is on, we're all focussed on the US."
Supporting the racing
Plenty of tools are required
Photo ©: Sue George

The expert mechanics put in long days to support their athletes. "The first day was the longest -we were up until 12:30 am. Tonight we'll wrap up at 8:30 pm. That's pretty good for us," said Jones.
They face another challenge not encountered by pro team mechanics. "USA Cycling doesn't pick the team until right before the competition, and everyone rides different equipment."
The mechanics leverage their own industry experience and relations with companies like Shimano, Kenda, Maxxis and SRAM, so they can be up to speed on all the gear they might need to repair or maintain during worlds.
Before the racing begins, the mechanics carefully inspect each rig. "We do bolt checks and then we put a sticker on the bottom of their bottom bracket. It lets us check that bolts have been tightened," said Jones. "Is the seat on ok? The riders fly with their bikes and they come apart and together. They're tired and mistakes happen."
For cross country racing, Jones said, "There is always a start mechanic. That person may double as a pit mechanic if the pits are close enough. We make sure we have at least two mechanics in the pit."
A small sticker under the bottom brackets of the bicycles
Photo ©: Sue George

Jones gave an example of how his team dealt with emergencies. "John Bennett ripped off his derailleur right before the team relay. TJ brought the bike up here, we installed it and handed it off before the race. We had it done 60 minutes before the race, so that was an easy one!"
"In cross country, we see a lot of shifting problems, especially with front derailleurs," said Jones. "Disk brakes have made things so much better, though. We also see burping tires and cracked frames."
"We're more likely to see cracked Aluminium frame since carbon fails more catastrophically. But a lot of the carbon is hidden - for example - under clamps."
For gravity races, the mechanics man the tent down low on training days. "It lets them get one more run in if they bust a derailleur during practice." On race day, they put a mechanic at the top, too.
"We write the start number and time behind each rider's number plate so we always know how much time we have between the mechanical and the start," said Jones, sharing one of his tricks.
He added that smashed wheels are the most common problem the see with gravity racers. "Plowing into rocks at 30 mph causes problems. We still have problems with flat tires, chain guides and cracked frames. Flat tires might just be bad luck or it might be improper pressure causing burping tires."
Jones' team has been known to do some impromptu bike re-builds, too. "Last year Kathy Pruitt had a broken frame and we had to do a new bike build for her."
A web of relationships
A bike washing station
Photo ©: Sue George

At each mountain bike World Championships, the mechanics take care of between 30 and 40 racers and their bikes. That's a lot of relationships to manage, especially with some riders staying onsite with USA Cycling and others staying in remote locations with their trade teams.
"It takes a little while for the racers to know us and trust us," he said. "But when they are tired, they are more likely to ask us for help."
Because the mechanics take care of so many riders, it's up to the riders to wash their own bikes in general. This year, there was one exception. "We only do bike washes for the elite riders during an Olympic year," said Jones.
What Jones has learned over the years is that his job is not just about the bikes, but about taking care of the athletes as they prepare for their most important competitions.
Photography
For a thumbnail gallery of these images, click here
Images by Sue George / Cyclingnews