An interview with Georgia Gould, August 1, 2008
Going fast on the way to Beijing
Georgia Gould is just three weeks away from her first Olympic race. She is one of two women who will race in the stars and stripes representing the United States mountain bike team in Beijing, China. Cyclingnews' Sue George spoke with Gould, who just last weekend raced in her Luna MTB Women's team colors to her best-ever World Cup finish (fourth) at Mont-Sainte-Anne in Quebec, Canada.
Georgia Gould (Luna Women's MTB)
Photo ©: Dave McElwaine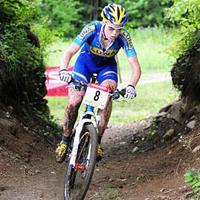 "The racing is really open this year. I think there are two large handfuls of people who could have a really good day and be on the podium at the Olympics," said the 28 year-old Gould, who resides in Fort Collins, Colorado.
Of the six World Cups raced thus far in 2008, only one woman, Canadian Marie-Helene Premont (Rocky Mountain) has won more than one round. Premont took victory in Fort William, Scotland, and on home turf in Mont-Sainte-Anne, Quebec. The other winners were Chinese Ren Chengyuan in Houffalize, Russian Irina Kalentieva (Topeak Ergon) in Offenburg, Norwegian Gunn Rita Dahle Flesjaa (Multivan Merida) in Madrid, and Spaniard and world champion Marga Fullana (Massi) in Andorra.
The diverse winner's list in due, in part, to a field of top women who are evenly matched competitors. In addition, not every one of the favourites has attended every World Cup round - due to various illnesses and specific approaches to preparing for the Olympics, the top women have been taking turns sitting out rounds.
"A lot of people have been skipping some races leading up to the Olympics," said Gould. "It's left the door open to more racers to do well." Gould has been one of those beneficiaries - she finished third at the Mont-Sainte-Anne World Cup, a race where current World Champion Fullana, Sabine Spitz and Irina Kalentieva were absent. That's not to say Gould may not have done just as well with everyone there; her previous World Cup best was fourth, and she has been steadily working her way up the elite ranks.
The same three, Fullana, Spitz and Kalentieva, will also miss the next World Cup in Bromont, Quebec, this weekend, which again leaves the door open for racers like Gould.
"It's easy to think that this is all such a huge deal, but the average Joe doesn't even know there are professional mountain bike racers."
- 2008 US Olympian Georgia Gould on being a pro MTBer heading to Beijing, China.
On her first attempt to make the US Olympic team, the Luna racer is the kind of professional who clearly loves to race in addition to finding racing itself a perfect way to improve her condition and skills.
"A lot of times when I'm not scheduled for a major race, I still go to a local race because I think racing is the best kind of training. It's easier mentally for me to push myself in a race than to go out for some training ride by myself and go hard," said Gould.
Setbacks - the heat stroke incident
Gould's path to earning a place on the US Olympic team has not been without challenges.
"I started out the season really strong, and I was pretty optimistic. I had a couple good races. The first World Cup, I got fifth place. Then, I had an off weekend in Germany, but I got fifth place again in Madrid."
Georgia Gould (Luna Women's MTB)
Photo ©: Dave McElwaine

Gould's chances of being selected for the US Olympic team were looking good this spring since the criteria for making the team were based largely on World Cup performances up through the World Championships in Val di Sole, Italy, in June. But she soon saw how tenuous her position was.
Gould travelled back to the US for a National Mountain Bike Series (NMBS) race in Santa Barbara, California, in May. That's where she got heat stroke. "It was the first time I'd ever gotten heat stroke," said Gould. "It's also the first time I've ever had a blacked-out experience - when I didn't remember stuff.
"I remember racing and being really hot. I was getting tired and starting to get sloppy on the downhills. It's hard to distinguish that from getting tired at the end of a race when you've been going all out.
"I didn't know I was feeling different until the last climb when my body just shut down. I couldn't stay on my bike. I couldn't walk with my bike. I remember looking around for a tree I could just crawl under. I thought, 'Screw the bike, where's a tree?'"
"When people found me, I was lying there all slow, and I had to think about what month it was and where I was. It was the most crazy experience of my life. My brain was working so slowly and I didn't feel like myself at all."
Gould thought she would recover faster than she did, but instead she had to skip all hard rides for two weeks during an important pre-World Championship training period. However, she was able to keep it all in perspective and has recovered well since then, with a second place at the USA Cycling National Championship cross country race at Mount Snow, Vermont, and her career-best performance at Mont-Sainte-Anne the weekend after.
"That kind of stuff happens so you have to take what comes. I have taken into account that was a pretty major thing for my body to go through. A mountain bike season is a long time and you have to be flexible."
Preparing for the Olympics
Georgia Gould is a member of the powerful Luna Women's Mountain Bike Team
Photo ©: Dave McElwaine

"The Olympics are a goal, but they aren't my only goal," said Gould, who said she didn't specifically tailor her last winter's program in any way to prepare. "I think the kind of preparation that would be good for the Olympics is the same kind of preparation that would be beneficial for doing well in any bike race. So I didn't do anything specific. I kept on with the same stuff that I normally do." In addition to the Olympics, Gould had goals of doing well at the World Cups, the World Championships and Nationals.
Besides the athletes' condition and luck, two factors, heat and pollution, are being predicted for playing a role in the outcome of the mountain bike race in Beijing.
As for the heat, Gould said, "I don't have any plans to prepare for it," and then joked, "I'd like to make some plans."
On a more serious note, she added, "Going forward, I think I need to be cautious of staying hydrated and staying cool. I don't know what there really is that you can do to prepare for the heat. I think I will go over a little bit earlier and get acclimatized to hotter weather and the time zone. Hopefully that will help. It's good for me to bear it in mind and be more cautious."
As for the pollution, Gould noted that it did not affect her while racing at last fall's Test Event. "It was definitely much smoggier the day of the race than the rest of the days. China has gotten such bad press about the pollution that I can't imagine it being worse than when we were there. I think it will be the same or better than it was at the test event."
Gould said she didn't feel like the racing in this Olympic year had been much different from any other year. "Last year there were a bunch of NORBAs (NMBS races - ed.) early. Sure it's always a lot of travel, but I can't ever complain about that. I always feel like a jerk when I complain about that.
"The travel is stressful in the sense of being away from a home - it's a low level of stress constantly moving about, and it takes a toll, but everyone's in the same boat, so you just have try to be as mellow as you can about it.
"I also realize I don't have a day job - a nine to five job - and a lot of people would prefer to do being doing this. It's easy to think that this is all such a huge deal, but the average Joe doesn't even know there are professional mountain bike racers."
Gould will wrap up a solid six-week block of racing at the Bromont World Cup this weekend. "We get one weekend, maybe two off and then go to the Olympics. I think I go home for five days before heading to Beijing." The women will race August 22, one day before the elite men.
Georgia Gould racing in US colors at the World Championships
Photo ©: Rob Jones

Once there, she will get a look at how the course has changed since last fall's test event. Calling the course "hard", she said "It's not very technical, but it's very physical. There is not a lot of rest. It has really short steep ups and downs, there is not a lot of climbing where you get in a groove and go. It is more power, short stuff."
"I think it's a good course - very challenging. I have every confidence it will be a good course to race on. The strongest person will do well."
In addition to the World Cup winners this year, Gould named Spitz, her team-mate Catherine Pendrel and herself as favourites for the Olympic win. However, she added, "I never like to count anyone out either. For example, no one would have ever thought I'd win national championship the year I won. I try not to underestimate anyone - especially with people being so motivated to be there."
What's next?
After all the hub-bub of the Olympics, Gould will go on to do what she does best - keep racing. The weekend after the Games, she will race either the World Cup finals or the NMBS finals.
"I'm also planning on doing 'cross again. For me, 'cross is my second job. I don't put quite the focus on it, but I always like to do well and train for it. I always look forward to it. It's a good, fun race experience."
Her contract with the Luna Mountain Bike Team runs through next year, so she will be back on the international off-road circuit again in the spring.
In the meantime, her focus is on Beijing. "My goal for the Olympics is to win," said Gould. "I always try to race to win."