57th Jayco Herald Sun Tour - 2.1
Australia, October 12-18, 2008
Main Page Results Overall standings Stage Details Next Stage
Prologue - October 12: Jayco Herald Sun Tour Preface, 46.2km
Goss opens Sun Tour with victory
Australia's Matt Goss (CSC-Saxo Bank) wins the opening day of the 57th Jayco Herald Sun Tour
Photo ©: Shane Goss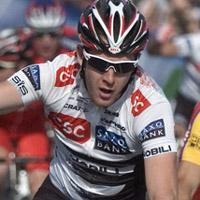 Australia's Matt Goss, 22, took victory in the opening day of the 57th Jayco Herald Sun Tour. The Team CSC-Saxo Bank rider finished the 44-kilometre day ahead of Baden Cooke of Team Barloworld and Hilton Clarke of Team Toyota-United.
Goss acknowledged teammate Stuart O'Grady's work in the finale. "Stu did the hard part and I got to do the easy part. Having a guy like that in front gives you a lot of confidence," Goss said in a press release.
Goss jumped while Cooke and Clarke marked each other in the last 150 metres. He claimed the first race leader's yellow jersey with the win.
Cooke's day could have turned out a lot worse than the podium spot he secured. He crashed less than halfway through the race.
"I might have to see a chiropractor tonight because I gave myself a bit of whack," Cooke said.
A breakaway group of four dominated the early part of the day. Matt Wilson, Daryl Impey, Peter McDonald and Eric Wolhberg formed the move, but Toyota-United kept watch. The group caught the escape at three laps to go. (GB)
Photography
For a thumbnail gallery of these images, click here
Images by Shane Goss/www.licoricegallery.com
Images by Veeral Patel/veeral.zenfolio.com
Results
1 Matthew Goss (Aus) CSC-Saxo Bank                   57.56
2 Baden Cooke (Aus) Barloworld                            
3 Hilton Clarke (Aus) Toyota-United                       
4 Gene Bates (Aus) Drapac Porsche                         
5 Dominique Rollin (Can) Toyota-United                    
6 Stuart O'Grady (Aus) CSC-Saxo Bank                      
7 Emile Abraham (Tri) Team Type 1                    
8 Malcolm Rudolph (Aus) Budget Forklifts              0.03
9 Will Walker (Aus) Virgin Blue Australia                 
10 Daryl Impey (RSA) Barloworld                           
11 Taiji Nishitani (Jpn) Aisan                            
12 Daniel Braunsteins (Aus) Drapac Porsche                
13 Joel Pearson (Aus) Savings & Loans                     
14 Daniel Holt (USA) Team Type 1                      0.05
15 Marco Corti (Ita) Barloworld                       0.08
16 Michael England (Aus) Budget Forklifts                 
17 Nic Sanderson (Aus) Jelly Belly                        
18 Hugo Sabido (Por) Barloworld                       0.11
19 Greg Henderson (NZl) Yes Optus Shop New Zealand    0.16
20 Bradley McGee (Aus) CSC-Saxo Bank                  0.32
21 Cameron Hughes (Aus) Budget Forklifts                  
22 Eric Wohlberg (Can) Bicycle Superstore Canada          
23 Lasse Bochman (Den) CSC-Saxo Bank                      
24 David Pell (Aus) Savings & Loans                       
25 Ben King (Aus) SouthAustralia.com-AIS                  
26 Chris Luxton (Aus) Savings & Loans                     
27 Fabio Calabria (Aus) Team Type 1                       
28 Kenichi Suzuki (Jpn) Aisan                             
29 Cameron Wurf (Aus) Virgin Blue Australia               
30 Angus Morton (Aus) Drapac Porsche                      
31 Cameron Jennings (Aus) Budget Forklifts                
32 Stuart Shaw (Aus) Drapac Porsche                       
33 Caleb Manion (Aus) Toyota-United                   1.04
34 David Kemp (Aus) Virgin Blue Australia                 
35 Peter McDonald (Aus) Drapac Porsche                1.05
36 Scott Tietzel (USA) Jelly Belly                        
37 Glen Chadwick (NZl) Team Type 1                        
38 Mitchell Docker (Aus) Drapac Porsche                   
39 Wesley Sulzberger (Aus) SouthAustralia.com-AIS         
39 Simon Clarke (Aus) SouthAustralia.com-AIS              
41 Jason Rigg (Aus) Praties                           1.11
42 Shaun McCarthy (Aus) Aisan                         1.31
Matt Wilson (Aus) Team Type 1                            
Shawn Milne (USA) Team Type 1                            
Leigh Howard (Aus) Virgin Blue Australia                 
Richard England (Aus) Virgin Blue Australia              
Patrick Shaw (Aus) Virgin Blue Australia                 
Jonathon Lovelock (Aus) Virgin Blue Australia            
Christopher Froome (GBr) Barloworld                      
Carlo Scognamiglio (Ita) Barloworld                      
William Ford (Aus) SouthAustralia.com-AIS                
Travis Meyer (Aus) SouthAustralia.com-AIS                
Jack Bobridge (Aus) SouthAustralia.com-AIS               
Adam Semple (Aus) SouthAustralia.com-AIS                 
Lars Bak (Den) CSC-Saxo Bank                             
Russell Gill (Aus) Savings & Loans                       
Will Dickeson (Aus) Savings & Loans                      
Tim Roe (Aus) Savings & Loans                            
Craig McCartney (Aus) Savings & Loans                    
Richie Porte (Aus) Praties                               
Nathan Clarke (Aus) Praties                              
Dylan Newell (Aus) Praties                               
Ben Grieve-Johnson (Aus) Praties                         
Ben Mather (Aus) Praties                                 
Daniel Furmston (Aus) Praties                            
Mark O'brien (Aus) Drapac Porsche                        
Jack Anderson (Aus) Budget Forklifts                     
Peter Ladd (Aus) Budget Forklifts                        
Peter Milostic (Aus) Budget Forklifts                    
Heath Blackgrove (NZl) Toyota-United                     
Jonny Clarke (Aus) Toyota-United                         
Benjamin Day (Aus) Toyota-United                         
Henk Vogels (Aus) Toyota-United                          
Kazuhiro Mori (Jpn) Aisan                                
Takumi Beppu (Jpn) Aisan                                 
Kyle Marwood (Aus) Aisan                                 
Matthew Rice (Aus) Jelly Belly                           
Bernard Van Ulden (USA) Jelly Belly                      
Nicholas Reistad (USA) Jelly Belly                       
Brad Huff (USA) Jelly Belly                              
Peter Herzig (Aus) Panasonic                             
Jason Hegert (Aus) Panasonic                             
Bernard Sulzberger (Aus) Panasonic                       
Tim Guy (Aus) Panasonic                                  
Chris Jory (Aus) Panasonic                               
Dale Scarfe (Aus) Panasonic                              
Chris Jongeward (Aus) Panasonic                          
Andrew Randell (Can) Bicycle Superstore Canada           
Will Routley (Can) Bicycle Superstore Canada             
Bryson Bowers (Can) Bicycle Superstore Canada            
Rob Britton (Can) Bicycle Superstore Canada              
Bruno Langois (Can) Bicycle Superstore Canada            
Eric Boily (Can) Bicycle Superstore Canada               
Jason Allen (NZl) Yes Optus Shop New Zealand             
Anthony Chapman (NZl) Yes Optus Shop New Zealand         
Scott Lyttle (NZl) Yes Optus Shop New Zealand            
Gordon McCauley (NZl) Yes Optus Shop New Zealand         
Darren Shea (NZl) Yes Optus Shop New Zealand             
Jeremy Yates (NZl) Yes Optus Shop New Zealand            
Masahiro Shinagawa (Jpn) Aisan