57th Jayco Herald Sun Tour - 2.1
Australia, October 12-18, 2008
Main Page Results Overall standings Stage Details Previous Stage
Stage 6 - October 18: Melbourne Criterium, 66km
O'Grady takes Tour title on his version of the Champs Elysees
Impey first South African to win a stage
Daryl Impey (Team Barloworld) wins the final stage
Photo ©: Richard Robson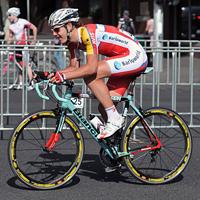 Stuart O'Grady made a procession of the final stage to cross the line in Lygon Street, Melbourne, to add his name to the honour roll of Australia's oldest stage race, the Jayco Herald Sun Tour.

South African Daryl Impey won the stage, creating history by becoming the first South African to claim a stage win, but this was of little consequence to O'Grady, who crossed the line 30 seconds behind the leader. O'Grady came into the final stage with a 17-second advantage over his Danish teammate Lars Bak and 19 seconds clear of Ben Day from Toyota-United.

With little chance of Day being able to take time on O'Grady, a breakaway group of three, which included Daryl Impey (Barloworld), Chris Jongewaard (Panasonic) and David Kemp (Virgin Blue Australia) broke clear in the early stages of the 66km criterium.

The main peloton was controlled by CSC Saxo Bank, which was were content to let the break have the day as none of the three were within striking distance of O'Grady. As the Toyota-United team began to chase the leading three begun to crumble as Kemp was dropped with less than five laps to go.

Jongewaard and Impey survived and battled out the sprint finish. After having done the majority of the pace making over the final laps Impey collected the first win of his career. Jongewaard got second and Kemp was swallowed up by the peloton, which was led home by CSC's Matthew Goss. Goss got third on the stage to secure the Budget Forklifts green sprinters jersey.

For O'Grady , at 35 years of age, the overall victory comes after one of the most successful years in his career despite it having been spent at the service of others and he expressed relief when he finally crossed the line. "It feels bloody fantastic. They put yellow handlebar tape on and I was like 'woo, hey I haven't won yet'," O'Grady said. "You want to cross the finish line and get the job done and in bike racing anything can happen, that's the beauty of the sport. I was expecting a little more attacking but I think the guys have had a pretty tough hard week and everyone had conceded that the placings were done."

Stuart O'Grady goes for it
Photo ©: Richard Robson

O'Grady praised his team once again. "But again the boys just got on the front. I asked Brad for one last big effort and then he'd never have to hurt his legs again. I think relief is a pretty good word." O'Grady was referring to teammate Brad McGee, who hung up the bike after the race – he will remain with CSC as team director in 2009.
O'Grady vowed to return after he rode last year's event - when he made his comeback to racing after a horrific crash in the 2007 Tour de France and had nothing but praise for the event. "I came back last year and I was shocked with how good the race was run," O'Grady said.
"When I went back [after the 2007 edition] I said to the boys, man that was a really good race, with good atmosphere, fantastic areas of Australia, which I'd never seen before, five star accommodation in towns I'd never heard of, the whole package is good. It's short, sharp racing, it's entertaining and it's bloody hard. But I also said if I come back with half a bit of form I reckon I can win it and here we are."
With teammate Brad McGee riding his last race, after a career spanning four Olympic campaigns, O'Grady was positive about the future of Australian cycling. "Cycling at the moment in Australia has got to be close to as good as it's ever been for a long time," the Suntour winner said.
Bradley McGee (CSC Saxo Bank) rides to 55th overall
Photo ©: Richard Robson

"We've got Cadel up there going for the win in the Tour de France. We've kind of covered all the bases in the Classics. We've got Robbie [McEwen] and Cookie [Baden Cooke] and those guys popping off sprints. In time trials we've got Mick Rogers. We've just got such a good group of Australian cyclists. Hopefully [here] the young guys can learn something off me and it can help them develop. I'm not saying they should follow everything I do but if they pick up a few percent then that should be beneficial."
On the topic of his future O'Grady showed no signs of slowing down, with Paris-Roubaix a clear objective. "The problem is now I've won one I want another one," O'Grady said of the hell of the north. "Now I've got the Roubaix bug so I'm going to have to keep going so I can get another one." And the five-time Olympian didn't rule out London in 2012 saying "I'll never say never."
The Make it Happen in Provincial Victoria U23 classification was secured by Wes Sulzberger from Tasmania (SouthAustralia.com-AIS). CSC Saxo Bank's Matthew Goss secured the Budget Forklift sprint points classification. The Cyclismo Bendigo King of the Mountains jersey went to Matt Wilson (Team Type-1).
The 'Go for your life' team classification was won by the Barloworld team who also collected two stage wins for the Tour with Impey today and Cooke into Marysville on stage three. The Volvo most aggressive rider on the final stage was Daryl Impey.
Photography
For a thumbnail gallery of these images, click here
Images by Shane Goss/www.licoricegallery.com
Images by Richard Robson / ClearImages Photography
Images by Wojtek Kalinowski
Results

1 Daryl Impey (RSA) Barloworld                       1.31.23 (43.333 km/h)
2 Chris Jongeward (Aus) Panasonic                       0.04
3 Matthew Goss (Aus) CSC-Saxo Bank                      0.30
4 Hilton Clarke (Aus) Toyota-United                         
5 Gene Bates (Aus) Drapac Porsche                           
6 Dominique Rollin (Can) Toyota-United                      
7 Emile Abraham (Tri) Team Type 1                           
8 Brad Huff (USA) Jelly Belly                               
9 Stuart O'Grady (Aus) CSC-Saxo Bank                        
10 Nic Sanderson (Aus) Jelly Belly                          
11 Will Walker (Aus) Virgin Blue Australia                  
12 Richard England (Aus) Virgin Blue Australia              
13 Lars Bak (Den) CSC-Saxo Bank                             
14 Taiji Nishitani (Jpn) Aisan                              
15 Baden Cooke (Aus) Barloworld                             
16 Christopher Froome (GBr) Barloworld                      
17 Matt Wilson (Aus) Team Type 1                            
18 Daniel Braunsteins (Aus) Drapac Porsche              0.34
19 Peter Herzig (Aus) Panasonic                             
20 Angus Morton (Aus) Drapac Porsche                        
21 Bernard Van Ulden (USA) Jelly Belly                      
22 Benjamin Day (Aus) Toyota-United                         
23 Peter McDonald (Aus) Drapac Porsche                      
24 Wesley Sulzberger (Aus) SouthAustralia.com-AIS           
25 Eric Wohlberg (Can) Bicycle Superstore Canada            
26 Masahiro Shinagawa (Jpn) Aisan                           
27 Marco Corti (Ita) Barloworld                             
28 Richie Porte (Aus) Praties                               
29 Jeremy Yates (NZl) Yes Optus Shop New Zealand            
30 Shawn Milne (USA) Team Type 1                        0.38
31 Will Routley (Can) Bicycle Superstore Canada             
32 Glen Chadwick (NZl) Team Type 1                      0.39
33 Jason Rigg (Aus) Praties                                 
34 Jonny Clarke (Aus) Toyota-United                     0.45
35 Cameron Jennings (Aus) Budget Forklifts              0.53
36 Bradley McGee (Aus) CSC-Saxo Bank                    1.00
37 Simon Clarke (Aus) SouthAustralia.com-AIS                
38 Daniel Holt (USA) Team Type 1                        1.41
39 David Kemp (Aus) Virgin Blue Australia               3.41
40 Cameron Hughes (Aus) Budget Forklifts                5.41
41 Mitchell Docker (Aus) Drapac Porsche                     
42 Chris Luxton (Aus) Savings & Loans                       
43 Takumi Beppu (Jpn) Aisan                                 
44 Will Dickeson (Aus) Savings & Loans                      
45 Jonathon Lovelock (Aus) Virgin Blue Australia            
46 Jack Bobridge (Aus) SouthAustralia.com-AIS               
47 Hugo Sabido (Por) Barloworld                             
48 Nicholas Reistad (USA) Jelly Belly                       
49 Gordon McCauley (NZl) Yes Optus Shop New Zealand     7.41
50 Fabio Calabria (Aus) Team Type 1                         
51 Kazuhiro Mori (Jpn) Aisan                                
52 Jack Anderson (Aus) Budget Forklifts                     
53 Chris Jory (Aus) Panasonic                               
54 Daniel Furmston (Aus) Praties                            
55 Tim Guy (Aus) Panasonic                                  
56 Ben Grieve-Johnson (Aus) Praties                         
57 Peter Ladd (Aus) Budget Forklifts                    9.41
58 Bernard Sulzberger (Aus) Panasonic                       
59 Craig McCartney (Aus) Savings & Loans                    
60 Ben Mather (Aus) Praties                                 
61 Scott Lyttle (NZl) Yes Optus Shop New Zealand       11.41
DNF Malcolm Rudolph (Aus) Budget Forklifts                  
DNF Leigh Howard (Aus) Virgin Blue Australia                
DNF Patrick Shaw (Aus) Virgin Blue Australia                
DNF Cameron Wurf (Aus) Virgin Blue Australia                
DNF William Ford (Aus) SouthAustralia.com-AIS               
DNF Adam Semple (Aus) SouthAustralia.com-AIS                
DNF Lasse Bochman (Den) CSC-Saxo Bank                       
DNF David Pell (Aus) Savings & Loans                        
DNF Joel Pearson (Aus) Savings & Loans                      
DNF Tim Roe (Aus) Savings & Loans                           
DNF Dylan Newell (Aus) Praties                              
DNF Stuart Shaw (Aus) Drapac Porsche                        
DNF Mark O'brien (Aus) Drapac Porsche                       
DNF Michael England (Aus) Budget Forklifts                  
DNF Heath Blackgrove (NZl) Toyota-United                    
DNF Caleb Manion (Aus) Toyota-United                        
DNF Kenichi Suzuki (Jpn) Aisan                              
DNF Jason Hegert (Aus) Panasonic                            
DNF Dale Scarfe (Aus) Panasonic                             
DNF Andrew Randell (Can) Bicycle Superstore Canada          
DNF Rob Britton (Can) Bicycle Superstore Canada             
DNF Bruno Langois (Can) Bicycle Superstore Canada           
DNF Jason Allen (NZl) Yes Optus Shop New Zealand            
DNF Anthony Chapman (NZl) Yes Optus Shop New Zealand        
 
Points
 
1 Daryl Impey (RSA) Barloworld                            10 pts
2 Chris Jongeward (Aus) Panasonic                          8
3 Matthew Goss (Aus) CSC-Saxo Bank                         6
4 Hilton Clarke (Aus) Toyota-United                        4
5 Gene Bates (Aus) Drapac Porsche                          2

Sprint 1
1 Daryl Impey (RSA) Barloworld                             6 pts
2 David Kemp (Aus) Virgin Blue Australia                   4
3 Chris Jongeward (Aus) Panasonic                          2

Sprint 2
1 David Kemp (Aus) Virgin Blue Australia                   6 pts
2 Chris Jongeward (Aus) Panasonic                          4
3 Daryl Impey (RSA) Barloworld                             2
 
Final general classification
 
1 Stuart O'Grady (Aus) CSC-Saxo Bank                14.20.49
2 Lars Bak (Den) CSC-Saxo Bank                          0.17
3 Benjamin Day (Aus) Toyota-United                      0.23
4 Christopher Froome (GBr) Barloworld                   0.52
5 Richie Porte (Aus) Praties                            0.58
6 Glen Chadwick (NZl) Team Type 1                       1.04
7 Jeremy Yates (NZl) Yes Optus Shop New Zealand         1.04
8 Dominique Rollin (Can) Toyota-United                  1.18
9 Will Routley (Can) Bicycle Superstore Canada          1.27
10 Will Walker (Aus) Virgin Blue Australia              1.34
11 Matt Wilson (Aus) Team Type 1                        1.38
12 Peter McDonald (Aus) Drapac Porsche                  1.53
13 Wesley Sulzberger (Aus) SouthAustralia.com-AIS       2.22
14 Bernard Van Ulden (USA) Jelly Belly                  2.50
15 Gene Bates (Aus) Drapac Porsche                      2.57
16 Marco Corti (Ita) Barloworld                         3.35
17 Angus Morton (Aus) Drapac Porsche                    5.04
18 Daniel Braunsteins (Aus) Drapac Porsche              5.21
19 Eric Wohlberg (Can) Bicycle Superstore Canada        6.33
20 Hugo Sabido (Por) Barloworld                         9.15
21 Daryl Impey (RSA) Barloworld                        10.41
22 Taiji Nishitani (Jpn) Aisan                         11.21
23 Chris Luxton (Aus) Savings & Loans                  11.29
24 Takumi Beppu (Jpn) Aisan                            12.07
25 Mitchell Docker (Aus) Drapac Porsche                12.37
26 Simon Clarke (Aus) SouthAustralia.com-AIS           12.41
27 Matthew Goss (Aus) CSC-Saxo Bank                    13.36
28 Baden Cooke (Aus) Barloworld                        13.45
29 Cameron Jennings (Aus) Budget Forklifts             16.35
30 Chris Jongeward (Aus) Panasonic                     17.57
31 Richard England (Aus) Virgin Blue Australia         20.06
32 Cameron Hughes (Aus) Budget Forklifts               20.15
33 Shawn Milne (USA) Team Type 1                       23.11
34 Jack Bobridge (Aus) SouthAustralia.com-AIS          24.28
35 Ben Grieve-Johnson (Aus) Praties                    27.38
36 Masahiro Shinagawa (Jpn) Aisan                      28.42
37 Craig McCartney (Aus) Savings & Loans               28.48
38 Daniel Holt (USA) Team Type 1                       28.53
39 Nic Sanderson (Aus) Jelly Belly                     28.53
40 Ben Mather (Aus) Praties                            30.38
41 Jonny Clarke (Aus) Toyota-United                    30.48
42 Bernard Sulzberger (Aus) Panasonic                  31.07
43 Jason Rigg (Aus) Praties                            31.29
44 Gordon McCauley (NZl) Yes Optus Shop New Zealand    33.26
45 Brad Huff (USA) Jelly Belly                         34.02
46 Kazuhiro Mori (Jpn) Aisan                           34.21
47 Peter Herzig (Aus) Panasonic                        34.37
48 David Kemp (Aus) Virgin Blue Australia              34.52
49 Emile Abraham (Tri) Team Type 1                     35.12
50 Hilton Clarke (Aus) Toyota-United                   35.43
51 Jonathon Lovelock (Aus) Virgin Blue Australia       36.05
52 Chris Jory (Aus) Panasonic                          36.16
53 Daniel Furmston (Aus) Praties                       37.27
54 Scott Lyttle (NZl) Yes Optus Shop New Zealand       39.19
55 Bradley McGee (Aus) CSC-Saxo Bank                   45.15
56 Jack Anderson (Aus) Budget Forklifts                48.47
57 Will Dickeson (Aus) Savings & Loans                 54.12
58 Tim Guy (Aus) Panasonic                             56.56
59 Fabio Calabria (Aus) Team Type 1                    58.21
60 Peter Ladd (Aus) Budget Forklifts                   58.49
61 Nicholas Reistad (USA) Jelly Belly                1.08.00
 
Points classification
 
1 Matthew Goss (Aus) CSC-Saxo Bank                        28 pts
2 Dominique Rollin (Can) Toyota-United                    22
3 Stuart O'Grady (Aus) CSC-Saxo Bank                      20
4 Daryl Impey (RSA) Barloworld                            18
5 Baden Cooke (Aus) Barloworld                            18
6 Chris Jongeward (Aus) Panasonic                         16
7 Brad Huff (USA) Jelly Belly                             12
8 Leigh Howard (Aus) Virgin Blue Australia                12
9 Patrick Shaw (Aus) Virgin Blue Australia                10
10 Gordon McCauley (NZl) Yes Optus Shop New Zealand       10
11 Daniel Furmston (Aus) Praties                          10
12 David Kemp (Aus) Virgin Blue Australia                 10
13 Kazuhiro Mori (Jpn) Aisan                               8
14 Will Routley (Can) Bicycle Superstore Canada            6
15 Simon Clarke (Aus) SouthAustralia.com-AIS               6
16 Jeremy Yates (NZl) Yes Optus Shop New Zealand           4
17 Hugo Sabido (Por) Barloworld                            4
18 Mitchell Docker (Aus) Drapac Porsche                    4
19 Jack Bobridge (Aus) SouthAustralia.com-AIS              4
20 Jonny Clarke (Aus) Toyota-United                        4
21 Will Walker (Aus) Virgin Blue Australia                 2
22 Gene Bates (Aus) Drapac Porsche                         2
23 Cameron Jennings (Aus) Budget Forklifts                 2
24 Stuart Shaw (Aus) Drapac Porsche                        2
25 Joel Pearson (Aus) Savings & Loans                      2
26 Hilton Clarke (Aus) Toyota-United                      -1
27 Lasse Bochman (Den) CSC-Saxo Bank                      -5
28 Jason Allen (NZl) Yes Optus Shop New Zealand           -5
 
Mountains classification
 
1 Matt Wilson (Aus) Team Type 1                           40 pts
2 Chris Jongeward (Aus) Panasonic                         30
3 Hugo Sabido (Por) Barloworld                            24
4 Christopher Froome (GBr) Barloworld                     24
5 Bernard Van Ulden (USA) Jelly Belly                     22
6 Lars Bak (Den) CSC-Saxo Bank                            18
7 Will Walker (Aus) Virgin Blue Australia                 16
8 Glen Chadwick (NZl) Team Type 1                          8
9 Gene Bates (Aus) Drapac Porsche                          4
10 Eric Wohlberg (Can) Bicycle Superstore Canada           4
11 David Pell (Aus) Savings & Loans                        2
 
Young rider classification
 
1 Wesley Sulzberger (Aus) SouthAustralia.com-AIS    14.23.11
2 Marco Corti (Ita) Barloworld                          1.13
3 Angus Morton (Aus) Drapac Porsche                     2.42
4 Daniel Braunsteins (Aus) Drapac Porsche               2.58
5 Mitchell Docker (Aus) Drapac Porsche                 10.15
6 Simon Clarke (Aus) SouthAustralia.com-AIS            10.18
7 Jack Bobridge (Aus) SouthAustralia.com-AIS           22.06
8 Ben Grieve-Johnson (Aus) Praties                     25.15
9 Bernard Sulzberger (Aus) Panasonic                   28.45
10 Chris Jory (Aus) Panasonic                          33.54
11 Jack Anderson (Aus) Budget Forklifts                46.25
12 Tim Guy (Aus) Panasonic                             54.34
13 Fabio Calabria (Aus) Team Type 1                    55.59
 
Teams classification
 
1 Barloworld                                        43.07.29
2 Drapac Porsche Development Program                    3.07
3 Southaustralia.com-AIS                                6.58
4 Team CSC - Saxo Bank                                  7.29
5 Team Type 1                                          20.40
6 Virgin Blue Australian National (Australia)          22.51
7 Toyota - United Pro Cycling Team                     27.22
8 Praties                                              27.28
9 Aisan Racing Team                                    30.45
10 Savings & Loans Cycling Team                        30.55
11 Panasonic (Australia)                               35.54
12 Budget Forklifts (Australia)                        55.45
13 Jelly Belly Cycling Team                          1.00.10
14 Yes Optus Shop New Zealand (New Zealand)          1.05.07