57th Jayco Herald Sun Tour - 2.1
Australia, October 12-18, 2008
Main Page Results Overall standings Stage Details Previous Stage Next Stage
Stage 5 - October 17: Yarra Valley (ITT), 16.2km
O'Grady set to capture Tour title after barnstorming ride
Stuart O'Grady (CSC-Saxo Bank) is back in yellow after a stellar tikme trial
Photo ©: Shane Goss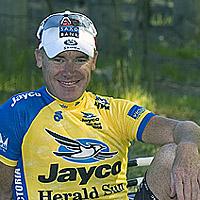 In a remarkable performance against the odds Stuart O'Grady won the stage five individual time trial of the Jayco Herald Sun Tour and took back the race leader's yellow jersey. In doing so he looks set to achieve a long-held ambition to win Australia's oldest stage race.
O'Grady started the day four seconds down on his CSC Saxo Bank teammate Lars Bak, but after charging around the undulating 16km time trial course in the Yarra Valley he now holds a 17-second gap over Bak, with Toyota-United's Ben Day in third place overall at 19 seconds behind.
Even the 35-year-old South Australian was tipping Bak, the overnight leader, for the win, having sent his wife a text message in the morning saying he thought he would finish third.
"To be honest I would have put all my money on Lars Bak," O'Grady said. "I can pull a good prologue out every now and then, mainly in the Tour de France when I'm in peak condition, but that is probably the first time trial I've actually ever won and it's a nice time to pull it off."
With hardly a flat section of road on a testing out-and-back course around the TarraWarra Winery, Commonwealth Games silver medallist Ben Day started as one of the favourites but ended up the bride's maid just three second behind O'Grady.
Lars Bak (CSC-Saxo Bank) would hand over the tour lead to teammate Stuey O'Grady
Photo ©: Shane Goss

Bak finished fourth, 20 second back, with the surprise performer in third Bernard Van Ulden of the American Jelly Belly team who finished just six seconds behind O'Grady. In stating that he didn't believe the race was over just yet O'Grady didn't hold back in his assessment of what taking the yellow jersey into the final day means to him.
"I'm absolutely rapt and extremely proud," O'Grady said. "This is the oldest and most prestigious cycle race in Australia. It's got a lot of history and a lot of great names, probably all the best Australian riders in our history and I'm just extremely proud to have my name etched alongside those guys."
In assessing how the race had gone the five-time Olympian said with the benefit of hindsight he may not have been so aggressive in the opening couple of days but it was his experience that made the difference. "It was just pure mind over matter and a lot of experience," O'Grady said. "I knew the course was super hard. I rode it a few times and I know a lot of others guys only did it once. I did it three times [before the stage]. I really tried to just hold a steady pace up the first climbs and not lactic over the top. On the way back it was just absolutely full gas."
Ben Day (Toyota United) came up short by three seconds
Photo ©: Shane Goss

On the final stage in Lygon Street tomorrow, O'Grady's teammate Brad McGee will be the sentimental favourite in his final race before becoming a team director at CSC Saxo Bank. Despite the romance of a McGee victory in Melbourne O'Grady said they don't want get too greedy and just want to get across the line in what is "our little Champs Elysees - Australian style."
As for the next step in the career of arguably Australia's most decorated cyclist O'Grady pulled no punches in outlining his plans and what keeps him motivated. "All I want to win is Paris-Roubaix. That's the only race I really care about. That's where my obsession is now," O'Grady said. "I've still got the motivation of a 25-year-old. I love the competition, I love the racing and I love inflicting pain on others."
Sliding under the radar of many was the battle for the Make it Happen in Provincial Victoria U23 leader's jersey, where young Tasmanian Wes Sulzberger wrestled the lead off Italian Marco Corti (Barloworld). Sulzberger is one of the rising stars of Australian cycling and will be riding with the French Française des Jeux team in 2009.
There were no points in the race for the Budget Forklift sprint points classification as Matt Goss (CSC Saxo Bank) will go into the final stage wearing green and searching for yet another win. The Cyclismo Bendigo King of the Mountains jersey stays with Matt Wilson (Team Type-1).
Photography
For a thumbnail gallery of these images, click here
Images by Shane Goss/www.licoricegallery.com
Results
1 Stuart O'Grady (Aus) CSC-Saxo Bank                  24.16.5 (40.027 km/h)
2 Benjamin Day (Aus) Toyota-United                     0.03.2
3 Bernard Van Ulden (USA) Jelly Belly                  0.06.9
4 Lars Bak (Den) CSC-Saxo Bank                         0.21.0
5 Richie Porte (Aus) Praties                           0.21.8
6 Glen Chadwick (NZl) Team Type 1                      0.22.1
7 Dominique Rollin (Can) Toyota-United                 0.22.6
8 Jeremy Yates (NZl) Yes Optus Shop New Zealand        0.26.5
9 Daryl Impey (RSA) Barloworld                         0.39.1
10 Christopher Froome (GBr) Barloworld                 0.39.3
11 Jack Bobridge (Aus) SouthAustralia.com-AIS          0.40.1
12 Will Walker (Aus) Virgin Blue Australia             0.56.2
13 Andrew Randell (Can) Bicycle Superstore Canada      0.58.4
14 Chris Jongeward (Aus) Panasonic                     0.59.0
15 Matt Wilson (Aus) Team Type 1                       0.59.5
16 Cameron Wurf (Aus) Virgin Blue Australia            1.05.8
17 Rob Britton (Can) Bicycle Superstore Canada         1.06.6
18 Will Routley (Can) Bicycle Superstore Canada        1.07.3
19 Peter McDonald (Aus) Drapac Porsche                 1.10.8
20 Daniel Braunsteins (Aus) Drapac Porsche             1.11.5
21 Dylan Newell (Aus) Praties                          1.15.5
22 Peter Herzig (Aus) Panasonic                        1.17.1
23 Bradley McGee (Aus) CSC-Saxo Bank                   1.22.7
24 Angus Morton (Aus) Drapac Porsche                   1.24.3
25 Lasse Bochman (Den) CSC-Saxo Bank                   1.25.4
26 Mitchell Docker (Aus) Drapac Porsche                1.26.4
27 Wesley Sulzberger (Aus) SouthAustralia.com-AIS      1.26.5
28 Kazuhiro Mori (Jpn) Aisan                           1.27.8
29 Shawn Milne (USA) Team Type 1                       1.27.9
30 William Ford (Aus) SouthAustralia.com-AIS           1.36.5
31 Gene Bates (Aus) Drapac Porsche                     1.38.2
32 Gordon McCauley (NZl) Yes Optus Shop New Zealand    1.40.4
33 Jonathon Lovelock (Aus) Virgin Blue Australia       1.43.7
34 Taiji Nishitani (Jpn) Aisan                         1.45.5
35 Adam Semple (Aus) SouthAustralia.com-AIS            1.52.9
36 Jack Anderson (Aus) Budget Forklifts                1.55.1
37 Tim Roe (Aus) Savings & Loans                       1.55.8
38 Chris Luxton (Aus) Savings & Loans                  2.00.2
38 Hugo Sabido (Por) Barloworld                              
40 Cameron Hughes (Aus) Budget Forklifts               2.00.6
41 Will Dickeson (Aus) Savings & Loans                 2.01.4
42 Mark O'brien (Aus) Drapac Porsche                   2.03.7
43 Scott Lyttle (NZl) Yes Optus Shop New Zealand       2.04.4
44 Heath Blackgrove (NZl) Toyota-United                2.04.8
45 Cameron Jennings (Aus) Budget Forklifts             2.06.8
46 Jonny Clarke (Aus) Toyota-United                    2.08.2
47 Leigh Howard (Aus) Virgin Blue Australia            2.08.3
48 Ben Grieve-Johnson (Aus) Praties                    2.08.7
49 Michael England (Aus) Budget Forklifts              2.09.2
50 Stuart Shaw (Aus) Drapac Porsche                    2.10.2
51 Richard England (Aus) Virgin Blue Australia         2.10.6
52 Nicholas Reistad (USA) Jelly Belly                  2.11.5
53 Chris Jory (Aus) Panasonic                          2.14.2
54 Eric Wohlberg (Can) Bicycle Superstore Canada       2.18.8
55 Craig McCartney (Aus) Savings & Loans               2.24.8
56 Takumi Beppu (Jpn) Aisan                            2.27.3
57 Caleb Manion (Aus) Toyota-United                    2.31.5
58 Masahiro Shinagawa (Jpn) Aisan                      2.33.8
59 Malcolm Rudolph (Aus) Budget Forklifts              2.35.9
60 Patrick Shaw (Aus) Virgin Blue Australia            2.36.7
61 Marco Corti (Ita) Barloworld                        2.39.2
62 Brad Huff (USA) Jelly Belly                         2.40.3
63 Jason Hegert (Aus) Panasonic                        2.40.5
64 Peter Ladd (Aus) Budget Forklifts                   2.42.2
65 David Pell (Aus) Savings & Loans                    2.45.0
66 David Kemp (Aus) Virgin Blue Australia              2.45.1
67 Nic Sanderson (Aus) Jelly Belly                     2.49.1
68 Simon Clarke (Aus) SouthAustralia.com-AIS           2.52.7
69 Daniel Furmston (Aus) Praties                       3.09.0
70 Baden Cooke (Aus) Barloworld                        3.14.2
71 Matthew Goss (Aus) CSC-Saxo Bank                    3.16.9
72 Anthony Chapman (NZl) Yes Optus Shop New Zealand    3.17.6
73 Hilton Clarke (Aus) Toyota-United                   3.18.0
74 Jason Rigg (Aus) Praties                            3.19.2
75 Ben Mather (Aus) Praties                            3.23.3
76 Jason Allen (NZl) Yes Optus Shop New Zealand        3.26.0
77 Tim Guy (Aus) Panasonic                             3.26.3
78 Joel Pearson (Aus) Savings & Loans                  3.29.0
79 Bernard Sulzberger (Aus) Panasonic                  3.30.0
80 Daniel Holt (USA) Team Type 1                       3.43.7
81 Emile Abraham (Tri) Team Type 1                     3.43.8
82 Bruno Langois (Can) Bicycle Superstore Canada       3.50.7
83 Kenichi Suzuki (Jpn) Aisan                          3.55.0
84 Fabio Calabria (Aus) Team Type 1                    4.10.1
85 Dale Scarfe (Aus) Panasonic                         4.52.8
86 Eric Boily (Can) Bicycle Superstore Canada          6.19.5
DNS Ben King (Aus) SouthAustralia.com-AIS
 
General classification after stage 5
 
1 Stuart O'Grady (Aus) CSC-Saxo Bank                12.48.56
2 Lars Bak (Den) CSC-Saxo Bank                          0.17
3 Benjamin Day (Aus) Toyota-United                      0.19
4 Christopher Froome (GBr) Barloworld                   0.52
5 Richie Porte (Aus) Praties                            0.53
6 Glen Chadwick (NZl) Team Type 1                       0.55
7 Jeremy Yates (NZl) Yes Optus Shop New Zealand         1.00
8 Dominique Rollin (Can) Toyota-United                  1.17
9 Will Routley (Can) Bicycle Superstore Canada          1.19
10 Will Walker (Aus) Virgin Blue Australia              1.34
11 Matt Wilson (Aus) Team Type 1                        1.38
12 Peter McDonald (Aus) Drapac Porsche                  1.48
13 Wesley Sulzberger (Aus) SouthAustralia.com-AIS       2.18
14 Bernard Van Ulden (USA) Jelly Belly                  2.45
15 Gene Bates (Aus) Drapac Porsche                      2.57
16 Marco Corti (Ita) Barloworld                         3.31
17 Hugo Sabido (Por) Barloworld                         4.04
18 Andrew Randell (Can) Bicycle Superstore Canada       4.05
19 Rob Britton (Can) Bicycle Superstore Canada          4.36
20 Adam Semple (Aus) SouthAustralia.com-AIS             4.39
21 Angus Morton (Aus) Drapac Porsche                    5.00
22 Cameron Wurf (Aus) Virgin Blue Australia             5.06
23 Daniel Braunsteins (Aus) Drapac Porsche              5.16
24 Mark O'brien (Aus) Drapac Porsche                    6.10
25 Chris Luxton (Aus) Savings & Loans                   6.18
26 Eric Wohlberg (Can) Bicycle Superstore Canada        6.28
27 Takumi Beppu (Jpn) Aisan                             6.56
28 Mitchell Docker (Aus) Drapac Porsche                 7.26
29 Taiji Nishitani (Jpn) Aisan                         11.21
30 Daryl Impey (RSA) Barloworld                        11.25
31 Simon Clarke (Aus) SouthAustralia.com-AIS           12.10
32 David Pell (Aus) Savings & Loans                    13.31
33 Matthew Goss (Aus) CSC-Saxo Bank                    13.39
34 Baden Cooke (Aus) Barloworld                        13.45
35 Cameron Hughes (Aus) Budget Forklifts               15.03
36 Cameron Jennings (Aus) Budget Forklifts             16.11
37 Michael England (Aus) Budget Forklifts              17.02
38 William Ford (Aus) SouthAustralia.com-AIS           18.01
39 Chris Jongeward (Aus) Panasonic                     18.32
40 Tim Roe (Aus) Savings & Loans                       18.58
41 Jack Bobridge (Aus) SouthAustralia.com-AIS          19.17
42 Craig McCartney (Aus) Savings & Loans               19.36
43 Richard England (Aus) Virgin Blue Australia         20.05
44 Lasse Bochman (Den) CSC-Saxo Bank                   20.14
45 Ben Grieve-Johnson (Aus) Praties                    20.26
46 Ben Mather (Aus) Praties                            21.27
47 Bernard Sulzberger (Aus) Panasonic                  21.56
48 Shawn Milne (USA) Team Type 1                       23.02
49 Patrick Shaw (Aus) Virgin Blue Australia            23.16
50 Jason Hegert (Aus) Panasonic                        25.43
51 Gordon McCauley (NZl) Yes Optus Shop New Zealand    26.15
52 Kazuhiro Mori (Jpn) Aisan                           27.09
53 Dylan Newell (Aus) Praties                          27.19
54 Daniel Holt (USA) Team Type 1                       27.41
55 Stuart Shaw (Aus) Drapac Porsche                    27.44
56 Scott Lyttle (NZl) Yes Optus Shop New Zealand       28.08
57 Masahiro Shinagawa (Jpn) Aisan                      28.37
58 Leigh Howard (Aus) Virgin Blue Australia            28.51
59 Nic Sanderson (Aus) Jelly Belly                     28.53
60 Chris Jory (Aus) Panasonic                          29.05
61 Anthony Chapman (NZl) Yes Optus Shop New Zealand    29.21
62 Daniel Furmston (Aus) Praties                       30.16
63 Jonny Clarke (Aus) Toyota-United                    30.33
64 Kenichi Suzuki (Jpn) Aisan                          30.44
65 Jonathon Lovelock (Aus) Virgin Blue Australia       30.53
66 Jason Rigg (Aus) Praties                            31.20
67 Dale Scarfe (Aus) Panasonic                         31.24
68 David Kemp (Aus) Virgin Blue Australia              31.46
69 Heath Blackgrove (NZl) Toyota-United                33.32
70 Caleb Manion (Aus) Toyota-United                    33.59
71 Brad Huff (USA) Jelly Belly                         34.02
72 Peter Herzig (Aus) Panasonic                        34.33
73 Joel Pearson (Aus) Savings & Loans                  34.57
74 Emile Abraham (Tri) Team Type 1                     35.11
75 Hilton Clarke (Aus) Toyota-United                   35.43
76 Bruno Langois (Can) Bicycle Superstore Canada       35.55
77 Jack Anderson (Aus) Budget Forklifts                41.36
78 Bradley McGee (Aus) CSC-Saxo Bank                   44.44
79 Malcolm Rudolph (Aus) Budget Forklifts              47.40
80 Will Dickeson (Aus) Savings & Loans                 49.01
81 Peter Ladd (Aus) Budget Forklifts                   49.38
82 Tim Guy (Aus) Panasonic                             49.45
83 Fabio Calabria (Aus) Team Type 1                    51.10
84 Jason Allen (NZl) Yes Optus Shop New Zealand        58.57
85 Nicholas Reistad (USA) Jelly Belly                1.02.48

Points classification
 
1 Matthew Goss (Aus) CSC-Saxo Bank                    22 pts
2 Dominique Rollin (Can) Toyota-United                22
3 Stuart O'Grady (Aus) CSC-Saxo Bank                  20
4 Baden Cooke (Aus) Barloworld                        18
5 Brad Huff (USA) Jelly Belly                         12
6 Leigh Howard (Aus) Virgin Blue Australia            12
7 Patrick Shaw (Aus) Virgin Blue Australia            10
8 Gordon McCauley (NZl) Yes Optus Shop New Zealand    10
9 Daniel Furmston (Aus) Praties                       10
10 Kazuhiro Mori (Jpn) Aisan                           8
11 Will Routley (Can) Bicycle Superstore Canada        6
12 Simon Clarke (Aus) SouthAustralia.com-AIS           6
13 Jeremy Yates (NZl) Yes Optus Shop New Zealand       4
14 Hugo Sabido (Por) Barloworld                        4
15 Mitchell Docker (Aus) Drapac Porsche                4
16 Jack Bobridge (Aus) SouthAustralia.com-AIS          4
17 Jonny Clarke (Aus) Toyota-United                    4
18 Will Walker (Aus) Virgin Blue Australia             2
19 Cameron Jennings (Aus) Budget Forklifts             2
20 Chris Jongeward (Aus) Panasonic                     2
21 Stuart Shaw (Aus) Drapac Porsche                    2
22 Joel Pearson (Aus) Savings & Loans                  2
23 Lasse Bochman (Den) CSC-Saxo Bank                  -5
24 Hilton Clarke (Aus) Toyota-United                  -5
25 Jason Allen (NZl) Yes Optus Shop New Zealand       -5
 
Mountains classification
 
1 Matt Wilson (Aus) Team Type 1                       40 pts
2 Chris Jongeward (Aus) Panasonic                     30
3 Hugo Sabido (Por) Barloworld                        24
4 Christopher Froome (GBr) Barloworld                 24
5 Bernard Van Ulden (USA) Jelly Belly                 22
6 Lars Bak (Den) CSC-Saxo Bank                        18
7 Will Walker (Aus) Virgin Blue Australia             16
8 Glen Chadwick (NZl) Team Type 1                      8
9 Gene Bates (Aus) Drapac Porsche                      4
10 Eric Wohlberg (Can) Bicycle Superstore Canada       4
11 David Pell (Aus) Savings & Loans                    2

Teams classification
 
1 Barloworld                                  38.32.20
2 Southaustralia.com-AIS                          0.43
3 Drapac Porsche Development Program              2.29
4 Bicycle Superstore Canada (Canada)              3.56
5 Team CSC - Saxo Bank                            6.59
6 Savings & Loans Cycling Team                   10.52
7 Virgin Blue Australian National (Australia)    19.10
8 Praties                                        19.34
9 Team Type 1                                    20.02
10 Aisan Racing Team                             25.00
11 Toyota - United Pro Cycling Team              26.48
12 Panasonic (Australia)                         28.35
13 Budget Forklifts (Australia)                  42.30
14 Yes Optus Shop New Zealand (New Zealand)      46.11
15 Jelly Belly Cycling Team                      59.36