11th Montreal World Cup - CDM
Quebec, Canada, May 31, 2008
Main Page Results Live report World Cup standings
Arndt builds on World Cup lead in Montreal
By Kirsten Robbins in Montreal, Quebec
Judith Arndt (High Road) celebrates as Fabiana Luperini (Menikini Selle Italia)
Photo ©: CJ Farquharson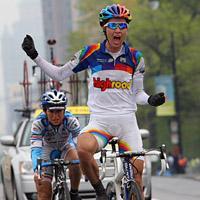 German UCI Women's World Cup leader Judith Arndt (High Road) increased her lead in the series' standings by claiming victory at the sixth round in Montreal, Canada. Arndt took top honours from break away companion Fabiana Luperini (Menikini-Selle Italia), with the Italian unable to repeat her 2007 victory.
The pair broke away from a select group of eight climbers on the finale ascent over Mont Royal. Unable to contribute to the breakaway effort, Luperini did not contest the two-up sprint and accepted second place. Leigh Hobson (Canada) won the chase group sprint for third place and solidified a spot for position on the local Olympic Games team.
"I never expect to win a race like this - you can only expect to work hard," said former world champion Arndt. "We had a great team here so we were confident that we could have a good race. This was a race where every lap you lose more riders and in the end the best are left over."
Neither Arndt nor Luperini are strangers to the Montreal World Cup podium; Luperini winning the previous year's event on Park Avenue and Arndt succeeding the 2006 victory atop Mont Royal.
Ina-Yoko Teutenberg (High Road) got
Photo ©: CJ Farquharson

"It was more difficult today than when I won this race two years ago because of the weather and rain," said Arndt, with ominous black skies and buckets of rain marring the race. "Our plan was to be aggressive and I think we did a very good job, especially Ina [Teutenberg] out there on her own for many laps.
"I just tried to make it hard the last time up the climb and to see who could still be there," she added. "There was just the two of us, which was great. She said she was tired so she could not work with me but she also said that she would not try to sprint against me in the end. I believed what she said because she is a great champion - I thought that was very fair."
Luperini admitted that she lacked the fitness to work with Arndt on the last lap. The Italian's condition is due to a limited amount of racing prior to the World Cup, which led to her decision to bow out of the victory sprint against Arndt.
Sara Carrigan (Australia) leaves a trail of spray
Photo ©: CJ Farquharson

"Arndt did most of the work today and she deserves the victory," said Luperini. "After taking a month off I was not in the best fitness for that kind of effort. I prefer the heat over the rain and I'm missing a few racing kilometers.
"I think that is why in the end I was lacking a little bit," said the Italian. "It was important to ride well here for the Olympic selection. Some of the selection has already been made for us, but there is still the coach's selection for the third spot."
The Montreal World Cup marked the final race where UCI points could be accumulated toward the Olympic Games. This selection played an important role amongst many of the teams including the Canadian team where landing a third place on the podium earned Leigh Hobson a ticket to Beijing in August.
"It was sort of a race with in a race, important for the Canadians since it was an opportunity to gain an Olympic spot," said Hobson, who was proud of the overall teamwork. "The three of us were going for the selection today when we were trying to bridge across.
"Even tough this was the case, we all worked together and that gives our team a lot of credit," she added. "Even tough we needed to compete somewhat against each other, we also decided that we should work together to try to win the race - It made me feel like we had a great team with good sports."
How it unfolded
The Women's World Cup race in Montreal
Photo ©: Mitch Friedman

The dark skies opened up pouring rain on the 110 women who lined up to face 11 laps of a taxing 10 kilometre circuit. The peloton began at the base of Mont-Royal, a two-kilometre ascent that very few riders would survive on all 11 efforts.
According to team High Road manager, Kristy Scrymgeour, High Road's plan to be aggressive was not in order to protect Arndt's World Cup lead but to ensure the race victory. "We aren't racing to win the world cup leader's jersey," said Scrymgeour. "We're racing to win bike races and by doing that we can win the jersey."
After the first lap only two thirds of the field remained intact, partially due to the early tempo set on the front and partially due to several crashes and flat tires. "It feels good to win here because I like this race," said Arndt. "But it was horrible because it was raining and we couldn't really see anything in the beginning.
Emma Pooley (Specialized for Women), Nikki Egyed (Australia),
Photo ©: Mitch Friedman

"There were large potholes and danger but in the end it turned out to a good day for High Road - maybe I'll donate my prize money today to help fix the roads," she joked.
France's Jeannie Longo-Ciprelli, who placed seventh in the previous year's event, fell victim to an accident on the second lap that eliminated her from the race. The women's racing legend was left with torn muscle tissue on her torso.
"I was on the front during the climb and one girl attacked but some how she hit something and crashed and I couldn't avoid her," said Longo-Ciprelli. "I was in very good shape for this race, better shape than last year. I would have liked to have done well here today."
High Road's double Tour de L'Aude stage winner, Ina Teutenberg, attacked the field on the third lap, beginning a five lap solo effort. Teutenberg gained a maximum of 45 seconds and took pressure off of her team-mates for the majority of the race.
A combination of riders from Cervelo-Lifeforce and Specialized Designs for Women brought the German powerhouse back with four laps to go, where the opportunity for a victory presented itself.
Ina Teutenberg (High Road) climbs
Photo ©: Mitch Friedman

"Our tactics were to be in a position where I could go with attacks at the end of the race," said Hobson. "I had to make sure I was near the top 10 and able to follow wheels.
"I've done this race eight times and I know it's the kind of race that usually goes on the about the sixth lap where you need to conserve as much as possible before that happened," she added. "I tried to go with my gut feeling on where to conserve and where to spend energy."
Attacks and counter attacks reduced the main field to less than 20 riders and by the top of Mont Royal, on the penultimate lap, a break of five riders set sail. The split included Arndt, Luperini, Kristin Armstrong (Cervelo-Lifeforce), Emma Pooley (Specialized Designs for Women) and Sara Carrigan (Team Australia).
A chase group of three Canadians, who successfully bridged across on the second last lap, comprised of Hobson, Anne Samplonius (Team Canada) and Erinne Willock (Webcor-Builders).
Podium (L-R): Fabiana Luperini (Menikini-Selle Italia), Judith Arndt (High Road Women)
Photo ©: Mitch Friedman

Samplonius attacked as the race entered its final lap and was quickly followed by Armstrong. The two time trialists worked together into the final climb however, the pair were no match for the chasers who welded the separation back together.
Arndt set a fast enough tempo over the remainder of the climb that only Luperini proved able to stick with. The two former race winners gained a 15 second advantage on the descent and into the twists and turns through the city streets. Willock and Armstrong tried one last effort to bridge to the leaders individually but succumbed to a small group sprint for third place upon entering the Park Avenue.
"We knew that it was going to be a race for third at the end," said Hobson. "Once we bridged across it was all about who had legs left over. There were a lot of attacks from our chase group and most of us realized it would be a sprint.
"Kristin Armstrong did most of the work coming into the hairpin turn," she added. "We came to a stand still at the turn around and I knew I had to jump first - I went as hard as I could."
Photography
For a thumbnail gallery of these images, click here
Images by Mitch Friedman/www.mitchophoto.com
Images by CJ Farquharson/WomensCycling.net
Images by John Pierce/Photosport International
Results - 110.6 km
1 Judith Arndt (Ger) High Road Women                              3.11.34 (34.452 km/h)
2 Fabiana Luperini (Ita) Menikini-Selle Italia Master colors             
3 Leigh Hobson (Can) Equipe Nationale Canada                         0.32
4 Sara Carrigan (Aus) Equipe Nationale Australia                     0.34
5 Kristen Armstrong (USA) Cervelo-Lifeforce                              
6 Anne Samplonius (Can) Equipe Nationale Canada                          
7 Erinne Willock (Can) Webcor Builders                                   
8 Emma Pooley (GBr) Specialized Designs for Women                    0.38
9 Priska Doppman (Swi) Cervelo-Lifeforce                             0.51
10 Nikki Egyed (Aus) Equipe Nationale Australia                          
11 Edwige Pittel (Fra) Team Pro Feminin Les Carroz                   0.53
12 Lauren Franges (USA) Team TIBCO                                   1.10
13 Joanne Kiesanowski (NZl) Team TIBCO                               1.23
14 Lang Meng (Chn) Giant Pro Cycling                                     
15 Chantal Beltman (Ned) High Road Women                                 
16 Modesta Vzesniauskaite (Ltu) Equipe Nürnberger Versicherung           
17 Felicia Gomez (Can) Aaron's Professional Cycling Team                 
18 Kimberly Anderson (USA) High Road Women                               
19 Giuseppina Grassi (Mex) Equipe Nationale Mexique                      
20 Alex Wrubleski (Can) Webcor Builders                                  
21 Ruth Corset (Aus) Equipe Nationale Australia                          
22 Julie Beveridge (Can) Aaron's Professional Cycling Team               
23 Kori Kelley Seehafer (USA) Menikini-Selle Italia Master colors    1.26
24 Monika Schachl (Aut) UNIQA                                        3.00
25 Rochelle Gilmore (Aus) Menikini-Selle Italia Master colors        9.11
26 Nathalie Bates (Aus) Menikini-Selle Italia Master colors          9.13
27 Karin Aune (Swe) UNIQA                                                
28 Audrey Cordon (Fra) Vienne Futuroscope                            9.15
29 Suzanne De Goede (Ned) Equipe Nürnberger Versicherung                 
30 Sarah Grab (Swi) Specialized Designs for Women                        
31 Victoria Bastide (Swe) Team TIBCO                                     
32 Christine Majerus (Lux) ESGL 93 GSD Gestion                           
33 Sue Schlatter (Can) EMD SERONO STEVENS                                
34 Rachel Heal (GBr) Team TIBCO                                          
35 Patricia Schwager (Swi) Cervelo-Lifeforce                             
36 Brooke Miller (USA) Team TIBCO                                        
37 Oenone Wood (Aus) High Road Women                                     
38 Lorian Graham (Aus) Equipe Nationale Australia                        
39 Tiffany Cromwell (Aus) Equipe Nationale Australia                     
40 Yeugeniya Vysotska (Ukr) Equipe Nationale Ukraine                14.18
41 Johanne Cyr (Can) Equipe Cascades                                     
42 Kristin Sanders (USA) Aaron's Professional Cycling Team          17.17
43 Bettina Hold (Can) Equipe Nationale Canada                            
44 Moriah Jo Macgregor (Can) Equipe Nationale Canada                     
45 Sarah Düster (Ger) Cervelo-Lifeforce                                  
46 Julie Bellerose (Can) Equipe Cascades                                 
47 Min Gao (Chn) Giant Pro Cycling                                       
48 Sufen Ma (Chn) Giant Pro Cycling                                      
49 Daniela Pintarelli (Aut) UNIQA                                        
50 Jen Stephenson (Can) Ultralink                                        
51 Svitlana Galyuk (Ukr) Equipe Nationale Ukraine                   17.20
HD Yeima Torres (Cub) Equipe Nationale Cuba                              
HD Iraida Garcia (Cub) Equipe Nationale Cuba                             
HD Belem Guerrero (Mex) Equipe Nationale Mexique                         
HD Bernadette Schober (Aut) UNIQA                                        
HD Fei Wang (Chn) Giant Pro Cycling                                      
HD Li Ping Zhang (Chn) Giant Pro Cycling                                 
HD Marie Lindberg (Swe) Equipe Nürnberger Versicherung                   
HD Sophie Matte (Can) EMD SERONO STEVENS                                 
HD Yong Li Liu (Chn) Giant Pro Cycling                                   
HD Mary Zider (USA) Advil-Chapstick                                      
HD Sophie Creux (Fra) ESGL 93 GSD Gestion                                
HD Kateryna Krasova (Ukr) Equipe Nationale Ukraine                       
HD Julia Bradley (Can) EMD SERONO STEVENS                                
HD Alyssa Mellon (Can) Ultralink                                         
HD Catherine Hogan (Can) Specialized Carrefour Multisport Maz            
HD Eugenie Mermillod (Fra) Team Pro Feminin Les Carroz                   
HD Thomas Béatrice (Fra) ESGL 93 GSD Gestion                             
HD Dalila Rodriguez (Cub) Equipe Nationale Cuba                          
HD Tricia K Spooner (Can) EMD SERONO STEVENS                             
HD Trine Schmidt (Den) Menikini-Selle Italia Master colors               
HD Yumari Gonzalez (Cub) Equipe Nationale Cuba                           
HD Yoanka Gonzalez (Cub) Equipe Nationale Cuba                           
HD Joanie Caron (Can) Equipe Cascades                                    
HD Anne Guzman (Dom) Equipe Cascades                                     
HD Fanny Riberot (Fra) Team Pro Feminin Les Carroz                       
HD Genevieve Gauthier (Can) Specialized Carrefour Multisport Maz         
DNF Estelle Patou (Fra) ESGL 93 GSD Gestion                              
DNF Carmen Mcnellis (USA) Aaron's Professional Cycling Team              
DNF Natasha Elliott (Can) EMD SERONO STEVENS                             
DNF Jeannie Longo Ciprelli (Fra) Team Pro Feminin Les Carroz             
DNF Mathilde Hupin (Can) Specialized Carrefour Multisport Maz            
DNF Jessica Burns (Can) Equipe Cascades                                  
DNF Sarah Coney (Can) Ultralink                                          
DNF Louise Moriarty (Irl) Specialized Carrefour Multisport Maz           
DNF Allison Lampi (Can) Ultralink                                        
DNF Veronique Labonte (Can) Equipe Cascades                              
DNF Karol-Ann Canuel (Can) Specialized Carrefour Multisport Maz          
DNF Foresilorena (Ita) Menikini-Selle Italia Master colors               
DNF Ina Teutenberg (Ger) High Road Women                                 
DNF Katherine Bates (Aus) High Road Women                                
DNF Larissa Kleinmann (Ger) Equipe Nürnberger Versicherung               
DNF Regina Schleicher (Ger) Equipe Nürnberger Versicherung               
DNF Janel Holcomb (USA) Webcor Builders                                  
DNF Christine Thorburn (USA) Webcor Builders                             
DNF Joelle Numainville (Can) ESGL 93 GSD Gestion                         
DNF Jocelyn Loane (Aus) Equipe Nationale Australia                       
DNF Emma Rickards (Aus) Cervelo-Lifeforce                                
DNF Pascale Schnider (Swi) Cervelo-Lifeforce                             
DNF Tanja Hennes (Ger) Specialized Designs for Women                     
DNF Kristen Lasasso (USA) Specialized Designs for Women                  
DNF Mirjam Hauser-Senn (Swi) Specialized Designs for Women               
DNF Andrea Knecht (Swi) Specialized Designs for Women                    
DNF Julia Farell (Can) Ultralink                                         
DNF Chloe St-Arnaud-Watt (Can) Ultralink                                 
DNF Elizaveta Bochkarova (Ukr) Equipe Nationale Ukraine                  
DNF Tetiana Stiajkina (Ukr) Equipe Nationale Ukraine                     
DNF Olena Andruk (Ukr) Equipe Nationale Ukraine                          
DNF Nathalie Lamborelle (Lux) UNIQA                                      
DNF Alison Testroete (Can) Aaron's Professional Cycling Team             
DNF Meredith Miller (USA) Aaron's Professional Cycling Team              
DNF Julie Dheruelle (Fra) Vienne Futuroscope                             
DNF Fiona Dutriaux (Fra) Vienne Futuroscope                              
DNF Emmanuelle Merlot (Fra) Vienne Futuroscope                           
DNF Carissa Wilkes (NZl) Team Pro Feminin Les Carroz                     
DNF Brei Gudsell (NZl) Team Pro Feminin Les Carroz                       
DNF Susan Palmer-Komar (Can) Advil-Chapstick                             
DNF Kirsten Robbins (Can) Advil-Chapstick                                
DNF Elisa Gagnon (Can) Advil-Chapstick                                   
DNF Helen Kelly (Aus) Team TIBCO                                         
DNF Julie Marceau (Can) Specialized Carrefour Multisport Maz             
DNF Veronica Leal (Mex) Equipe Nationale Mexique                         
DNF Mayra Rocha (Mex) Equipe Nationale Mexique                           

World Cup standings
1 Judith Arndt (Ger) High Road Women