24th Tour de l'Aude - 2.2
France, May 16-25, 2008
Main Page Results Overall standings Next Stage
Prologue - May 16: Gruissan – Gruissan (ITT), 3.9 km
Mactier's Aude to victory
By Ben Atkins in Gruissan
Katie Mactier (AUS) was a happy race leader after a great prologue performance
Photo ©: CJ Farquharson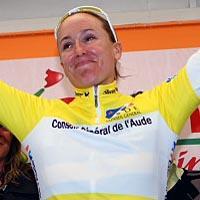 Katie Mactier (Australia) surprised herself by winning a blustery 3.9km prologue to take the first race leader's jersey in this year's Tour de l'Aude. The 2005 world pursuit champion found the distance to her liking and recorded a time of 5:02.78, just over half a second quicker than Dutch time trial champion and World scratch race champion Ellen Van Dijk (Netherlands), with 2007 Aude champion Susanne Ljungskog (Menikini Selle Italia) six tenths of a second behind her. Alison Powers (United States National Team) was just over two tenths further back, and Mirjam Melchers-Van Poppel (Netherlands) was a little over a second behind Powers in fifth.
The day began cloudy and overcast, but by the time the 3:00 pm start time arrived, the skies had cleared and first rider off Gabriella Day (Swift Racing) took the start in bright sunshine. The strong wind that has been present for the preceding days persisted, however, making conditions difficult in the back part of the coastal circuit. As the afternoon progressed, more clouds moved in causing some light rain to fall over the later starters, but there was nothing to worry anyone or make the conditions any worse.
Winner Katie Mactier was under the impression that she had been beaten into second place by someone until Cyclingnews told that she had won which completely took her by surprise. The pursuit specialist has no long-term personal goals in the race though, besides supporting the rest of the Australian team and preparing for the Olympic Games this summer, when she would like to go one better than her silver medal of Athens four years ago.
"The main emphasis for the rest of the tour is to help my team-mates," she said after the victory had sunk in. "We've got some really good talent coming through and so I'm hoping to just get out of the wind and help them.
"To be honest," she went on, "I've taken a good look at the profile tomorrow and we've got a few cards we can play in terms of overall, looking at GC riders. The main purpose of me to race the Tour is to get some good preparation in for the Olympics and that kind of thing."
Alison Powers (USA) made it onto the podium, finishing in third
Photo ©: CJ Farquharson

As one of the earlier starters (number 10), it was almost an hour and three quarters before the last rider had finished and her victory was confirmed. This time difference made little difference to the conditions though, and the later riders had similar windy weather to contend with.
"I was early," continued Mactier, "so I rode to the accommodation and then I rode back. The wind is always going to be a factor and whether it was windier or less windy I couldn't really say, but you've just got to go out there and make the most out of the conditions and give it everything.
"It was a great course; I was here back in 2001 - they've always had really good prologues here in Tour de l'Aude and that was something I needed to have a really good shot at. And yeah, couldn't be happier."
World scratch race champion Ellen Van Dijk was visibly disappointed to have been so narrowly beaten, but was not surprised that it was a former world pursuit champion who had done it. "It was hard," she said of the windy conditions, "but it's a short course, a short lap so it's hard to give everything and to ride yourself empty. It's a shame because I'm second – and by half a second."
"Very windy," she continued, "and it started raining when I started so I was a bit scared. You can't do anything about that but second is not good. I know she's very good from the track, but she's better now!"
It's doubtful that with tomorrow's parcours featuring a hors category climb that the Dutchwoman will try to take the leader's jersey from Mactier as the Dutch team has come with some strong riders for the overall like Melchers-Van Poppel and Regina Bruins. "I'm not very good for climbing, so I'll have to work very hard for my team-mates, but maybe we'll be able to do something in the team time trial."
Amber Neben is riding for the United States National Team this time
Photo ©: Ben Atkins

"I'm not here to ride a good classification, I'm just here for experience and it makes me stronger!" said Van Dijk.
"Yeah, I'm happy," said last year's winner Susanne Ljungskog to Cyclingnews. "Third place is good for the day. I'm happy, yep." With team time trialling no being one of Menikini-Selle Italia's strengths though, the former two-time World champion is less optimistic about her overall prospects. "I think in the team time trial I'm going to lose some seconds,|" she explained, "so my goal is to try to do my best and see what happens."
"This is a good preparation for the Giro [though], and this is a nice race and a really hard race so it's good."
Fourth placed Alison Powers was pleased with her performance. "Totally happy;" she enthused, "I've been here for two months and it's nice to see that the hard work has paid off today – it's very rewarding. Everything worked well today: the team worked well; my bikes worked well; everything was great."
Last off was defending Champion Susanne Ljungskog of Sweden.
Photo ©: CJ Farquharson

Like most of the prologue specialists though, a good performance in today's short distance test was the limit of her personal ambitions, with the team coming first in the coming days. "We have Amber Neben and we want her to win the race," she explained. "We're here for her. I'd love to get a good result personally, but mostly it's all about the team and helping her win and reach her goals. My personal goal was the prologue and I'd say I did a pretty good job."
The main overall contenders lay nicely poised, with Melchers-Van Poppel taking the early psychological advantage. 2005 and 2006 winner Amber Neben (United States) lies in seventh place overall just fractions of a second behind the Dutchwoman, last year's third place Judith Arndt (High Road) lies a further four seconds back, and last year's second Trixi Worrack is in 37th place, just twenty seconds behind.
Unfortunately, the race was denied the expected duel between world pursuit champion Rebecca Romero (Great Britain) and world time trial champion Hanka Kupfernagel as neither rider was present after all. Also missing was the race's previous 2.1 status, which has been downgraded to 2.2 after the race organisation refused to invite Team Flexpoint after they failed to attend the post-race dinner and presentation last year.
Photography
For a thumbnail gallery of these images, click here
Images by Ben Atkins / Cyclingnews.com
Images by CJ Farquharson/WomensCycling.net
Results
1 Katie Mactier (Aus) Australian National Team              5.02 (46.490 km/h)
2 Ellen Van Dijk (Ned) Dutch National Team                  0.01
3 Alison Powers (USA) USA National Team                     0.02
4 Susanne Ljungskog (Swe) Menikini - Selle Italia
5 Mirjam Melchers (Ned) Dutch National Team                 0.03
6 Ina Teutenberg (Ger) Team High Road Women
7 Amber Neben (USA) USA National Team
8 Alexis Rhodes (Aus) Team High Road Women                  0.05
9 Christine Thorburn (USA) Webcor Builders Cycling Team     0.07
10 Diana Ziliute (Ltu) Lithuanian National Team
11 Judith Arndt (Ger) Team High Road Women
12 Maryline Salvetat (Fra) French National Team             0.09
13 Linda Villumsen (Ger) Team High Road Women               0.10
14 Nicole Cooke (GBr) Great Britain National Team
15 Katherine Carroll (USA) USA National Team                0.11
16 Vicki Whitelaw (Aus) Australian National Team
17 Charlotte Becker (Ger) Equipe Nürnberger Versicherung
18 Julia Martisova (Rus) Gauss RDZ Ormu                     0.12
19 Zulfia Zabirova (Kaz) Bigla Cycling Team
20 Elke Gebhardt (Ger) German National Team                 0.14
21 Regina Bruins (Ned) Dutch National Team                  0.15
22 Sharon Laws (GBr) Great Britain National Team
23 Emma Pooley (GBr) Great Britain National Team
24 Rebecca Much (USA) Webcor Builders Cycling Team
25 Loes Gunnewijk (Ned) Dutch National Team
26 Sara Carrigan (Aus) Lotto-Belisol Ladiesteam             0.16
27 Adrie Visser (Ned) Team DSB Bank                         0.17
28 Brooke Miller (USA) USA National Team                    0.18
29 Amber Rais (USA) USA National Team
30 Alexandra Wrubleski (Can) Webcor Builders Cycling Team
31 Noemie Cantele (Ita) Bigla Cycling Team
32 Emma Johansson (Swe) AA-Drink Cycling Team               0.19
33 Amanda Spratt (Aus) Australian National Team
34 Eva Lutz (Ger) Equipe Nürnberger Versicherung
35 Christina Ruitter (USA) USA National Team
36 Claudia Hausler (Ger) Equipe Nürnberger Versicherung
37 Trixi Worrack (Ger) Equipe Nürnberger Versicherung       0.20
38 Tatiana Antoshina (Rus) Fenixs
39 Christelle Ferrer-Bruneau (Fra) French National Team     0.21
40 Anke Wichmann (USA) Team High Road Women
41 Nikki Egyed (Aus) Australian National Team
42 Lorain Graham (Aus) Australian National Team
43 Edita Pucinskaite (Ltu) Equipe Nürnberger Versicherung
44 Nathalie Bates (Aus) Menikini - Selle Italia
45 Emma Davies-Jones (GBr) Swift Racing                     0.22
46 Luise Keller (Ger) Team High Road Women
47 Agne Bagdonaviciute (Ltu) Lithuanian National Team
48 Andrea Graus (Aut) Bigla Cycling Team
49 Sanne Van Paassen (Ned) Dutch National Team              0.23
50 Bianca Knopfle (Ger) German National Team                0.24
51 Monica Holler (Swe) Bigla Cycling Team                   0.25
52 Erinne Willock (Can) Webcor Builders Cycling Team
53 Andrea Bosman (Ned) Team DSB Bank
54 Suzanne De Goede (Ned) Equipe Nürnberger Versicherung
55 Natalia Boyarskaya (Rus) Fenixs
56 Irene Van Den Broek (Ned) AA-Drink Cycling Team          0.26
57 Urte Juodvalkyte (Ltu) Lithuanian National Team
58 Jessica Allen (GBr) Great Britain National Team          0.27
59 Vera Koedooder (Ned) Lotto-Belisol Ladiesteam
60 Corinna Thumm (Ger) German National Team                 0.29
61 Veronica Andreasson (Swe) Bigla Cycling Team
62 Angela Brodtka (Ger) Team DSB Bank
63 Jolanta Polikeviciute (Ltu) Lithuanian National Team
64 Paulina Brzezna (Pol) AA-Drink Cycling Team              0.30
65 Carla Ryan (Aus) Australian National Team
66 Thomas Béatrice (Fra) French National Team
67 Magali Le Floch (Fra) French National Team               0.31
68 Latoya Brulee (Ger) AA-Drink Cycling Team
69 Tania Belvederesi (Ita) Gauss RDZ Ormu
70 Jennifer Hohl (Swi) Bigla Cycling Team
71 Catherine Delfosse (Bel) Lotto-Belisol Ladiesteam        0.32
72 Rasa Polikeviciute (Ltu) Lithuanian National Team
73 Silvia Valsecchi (Ita) Menikini - Selle Italia           0.33
74 Martina Corazza (Ita) Gauss RDZ Ormu
75 Martine Bras (Ned) Dutch National Team
76 Sharon Van Essen (Ned) Team DSB Bank
77 Helen Wyman (GBr) Swift Racing                           0.34
78 Laure Werner (Bel) AA-Drink Cycling Team
79 Florence Girardet (Fra) French National Team             0.35
80 Marlijn Binnendijk (Ned) AA-Drink Cycling Team           0.36
81 Marieke Van Wanroij (Ned) Team DSB Bank
82 Marlen Johrend (Ger) German National Team                0.37
83 Tina Liebig (Ger) Team DSB Bank
84 Catherine Hare (GBr) Great Britain National Team
85 Sophie Goor (Bel) Lotto-Belisol Ladiesteam               0.38
86 Olga Slyvisareva (Rus) Menikini - Selle Italia
87 Erika Vilunaite (Ltu) Lithuanian National Team           0.39
88 Tatiana Guderzo (Ita) Gauss RDZ Ormu
89 Elodie Touffet (Fra) Gauss RDZ Ormu                      0.41
90 Lieselot Decroix (Bel) Lotto-Belisol Ladiesteam
91 Marina Duvnjak (NZl) Swift Racing                        0.42
92 Gina Grain (Can) Webcor Builders Cycling Team            0.45
93 Emilie Blanquefort (Fra) French National Team            0.46
94 Toni Bradshaw (NZl) Swift Racing
95 Virginia Hennig (Ger) German National Team
96 Emma Mackie (Aus) Lotto-Belisol Ladiesteam               0.48
97 Nadezda Vlasova (Rus) Fenixs
98 Sigrid Corneo (Slo) Menikini - Selle Italia              0.49
99 Romy Kasper (Ger) German National Team                   0.52
100 Amy Dombroski (USA) Webcor Builders Cycling Team        0.53
101 Gabriella Day (GBr) Swift Racing                       0.54
102 Miho Oki (Jpn) Menikini - Selle Italia                  0.55
103 Debby Van Den Berg (Ned) Swift Racing                   0.56
104 Leda Cox (GBr) Great Britain National Team              1.00
105 Suzie Godart (Lux) Fenixs                               1.04
106 Eleonora Suelotto (Ita) Gauss RDZ Ormu                  1.26
DNF Siobhan Dervan (Irl) Fenixs
DNF Samantha Galassi (Ita) Fenixs
 
General Classification after Prologue
 
1 Katie Mactier (Aus) Australian National Team              5.02
2 Ellen Van Dijk (Ned) Dutch National Team                  0.01
3 Alison Powers (USA) USA National Team                     0.02
4 Susanne Ljungskog (Swe) Menikini - Selle Italia
5 Mirjam Melchers (Ned) Dutch National Team                 0.03
6 Ina Teutenberg (Ger) Team High Road Women
7 Amber Neben (USA) USA National Team
8 Alexis Rhodes (Aus) Team High Road Women                  0.05
9 Christine Thorburn (USA) Webcor Builders Cycling Team     0.07
10 Diana Ziliute (Ltu) Lithuanian National Team
11 Judith Arndt (Ger) Team High Road Women
12 Maryline Salvetat (Fra) French National Team             0.09
13 Linda Villumsen (Ger) Team High Road Women               0.10
14 Nicole Cooke (GBr) Great Britain National Team
15 Katherine Carroll (USA) USA National Team                0.11
16 Vicki Whitelaw (Aus) Australian National Team
17 Charlotte Becker (Ger) Equipe Nürnberger Versicherung
18 Julia Martisova (Rus) Gauss RDZ Ormu                     0.12
19 Zulfia Zabirova (Kaz) Bigla Cycling Team
20 Elke Gebhardt (Ger) German National Team                 0.14
21 Regina Bruins (Ned) Dutch National Team                  0.15
22 Sharon Laws (GBr) Great Britain National Team
23 Emma Pooley (GBr) Great Britain National Team
24 Rebecca Much (USA) Webcor Builders Cycling Team
25 Loes Gunnewijk (Ned) Dutch National Team
26 Sara Carrigan (Aus) Lotto-Belisol Ladiesteam             0.16
27 Adrie Visser (Ned) Team DSB Bank                         0.17
28 Brooke Miller (USA) USA National Team                    0.18
29 Amber Rais (USA) USA National Team
30 Alexandra Wrubleski (Can) Webcor Builders Cycling Team
31 Noemie Cantele (Ita) Bigla Cycling Team
32 Emma Johansson (Swe) AA-Drink Cycling Team               0.19
33 Amanda Spratt (Aus) Australian National Team
34 Eva Lutz (Ger) Equipe Nürnberger Versicherung
35 Christina Ruitter (USA) USA National Team
36 Claudia Hausler (Ger) Equipe Nürnberger Versicherung
37 Trixi Worrack (Ger) Equipe Nürnberger Versicherung       0.20
38 Tatiana Antoshina (Rus) Fenixs
39 Christelle Ferrer-Bruneau (Fra) French National Team     0.21
40 Anke Wichmann (USA) Team High Road Women
41 Nikki Egyed (Aus) Australian National Team
42 Lorain Graham (Aus) Australian National Team
43 Edita Pucinskaite (Ltu) Equipe Nürnberger Versicherung
44 Nathalie Bates (Aus) Menikini - Selle Italia
45 Emma Davies-Jones (GBr) Swift Racing                     0.22
46 Luise Keller (Ger) Team High Road Women
47 Agne Bagdonaviciute (Ltu) Lithuanian National Team
48 Andrea Graus (Aut) Bigla Cycling Team
49 Sanne Van Paassen (Ned) Dutch National Team              0.23
50 Bianca Knopfle (Ger) German National Team                0.24
51 Monica Holler (Swe) Bigla Cycling Team                   0.25
52 Erinne Willock (Can) Webcor Builders Cycling Team
53 Andrea Bosman (Ned) Team DSB Bank
54 Suzanne De Goede (Ned) Equipe Nürnberger Versicherung
55 Natalia Boyarskaya (Rus) Fenixs
56 Irene Van Den Broek (Ned) AA-Drink Cycling Team          0.26
57 Urte Juodvalkyte (Ltu) Lithuanian National Team
58 Jessica Allen (GBr) Great Britain National Team          0.27
59 Vera Koedooder (Ned) Lotto-Belisol Ladiesteam
60 Corinna Thumm (Ger) German National Team                 0.29
61 Veronica Andreasson (Swe) Bigla Cycling Team
62 Angela Brodtka (Ger) Team DSB Bank
63 Jolanta Polikeviciute (Ltu) Lithuanian National Team
64 Paulina Brzezna (Pol) AA-Drink Cycling Team              0.30
65 Carla Ryan (Aus) Australian National Team
66 Thomas Béatrice (Fra) French National Team
67 Magali Le Floch (Fra) French National Team               0.31
68 Latoya Brulee (Ger) AA-Drink Cycling Team
69 Tania Belvederesi (Ita) Gauss RDZ Ormu
70 Jennifer Hohl (Swi) Bigla Cycling Team
71 Catherine Delfosse (Bel) Lotto-Belisol Ladiesteam        0.32
72 Rasa Polikeviciute (Ltu) Lithuanian National Team
73 Silvia Valsecchi (Ita) Menikini - Selle Italia           0.33
74 Martina Corazza (Ita) Gauss RDZ Ormu
75 Martine Bras (Ned) Dutch National Team
76 Sharon Van Essen (Ned) Team DSB Bank
77 Helen Wyman (GBr) Swift Racing                           0.34
78 Laure Werner (Bel) AA-Drink Cycling Team
79 Florence Girardet (Fra) French National Team             0.35
80 Marlijn Binnendijk (Ned) AA-Drink Cycling Team           0.36
81 Marieke Van Wanroij (Ned) Team DSB Bank
82 Marlen Johrend (Ger) German National Team                0.37
83 Tina Liebig (Ger) Team DSB Bank
84 Catherine Hare (GBr) Great Britain National Team
85 Sophie Goor (Bel) Lotto-Belisol Ladiesteam               0.38
86 Olga Slyvisareva (Rus) Menikini - Selle Italia
87 Erika Vilunaite (Ltu) Lithuanian National Team           0.39
88 Tatiana Guderzo (Ita) Gauss RDZ Ormu
89 Elodie Touffet (Fra) Gauss RDZ Ormu                      0.41
90 Lieselot Decroix (Bel) Lotto-Belisol Ladiesteam
91 Marina Duvnjak (NZl) Swift Racing                        0.42
92 Gina Grain (Can) Webcor Builders Cycling Team            0.45
93 Emilie Blanquefort (Fra) French National Team            0.46
94 Toni Bradshaw (NZl) Swift Racing
95 Virginia Hennig (Ger) German National Team
96 Emma Mackie (Aus) Lotto-Belisol Ladiesteam               0.48
97 Nadezda Vlasova (Rus) Fenixs
98 Sigrid Corneo (Slo) Menikini - Selle Italia              0.49
99 Romy Kasper (Ger) German National Team                   0.52
100 Amy Dombroski (USA) Webcor Builders Cycling Team        0.53
101 Gabriella Day (GBr) Swift Racing                       0.54
102 Miho Oki (Jpn) Menikini - Selle Italia                  0.55
103 Debby Van Den Berg (Ned) Swift Racing                   0.56
104 Leda Cox (GBr) Great Britain National Team              1.00
105 Suzie Godart (Lux) Fenixs                               1.04
106 Eleonora Suelotto (Ita) Gauss RDZ Ormu                  1.26
 
Points classification
 
1 Katie Mactier (Aus) Australian National Team                30 pts
2 Ellen Van Dijk (Ned) Dutch National Team                    24
3 Alison Powers (USA) USA National Team                       20
4 Susanne Ljungskog (Swe) Menikini - Selle Italia             17
5 Mirjam Melchers (Ned) Dutch National Team                   14
6 Ina Teutenberg (Ger) Team High Road Women                   11
7 Amber Neben (USA) USA National Team                          9
8 Alexis Rhodes (Aus) Team High Road Women                     8
9 Christine Thorburn (USA) Webcor Builders Cycling Team        7
10 Diana Ziliute (Ltu) Lithuanian National Team                6
11 Judith Arndt (Ger) Team High Road Women                     5
12 Maryline Salvetat (Fra) French National Team                4
13 Linda Villumsen (Ger) Team High Road Women                  3
14 Nicole Cooke (GBr) Great Britain National Team              2
15 Katherine Carroll (USA) USA National Team                   1
 
Young rider classification
 
1 Ellen Van Dijk (Ned) Dutch National Team                  5.03
2 Alexis Rhodes (Aus) Team High Road Women                  0.04
3 Linda Villumsen (Ger) Team High Road Women                0.09
4 Regina Bruins (Ned) Dutch National Team                   0.14
5 Rebecca Much (USA) Webcor Builders Cycling Team
6 Alexandra Wrubleski (Can) Webcor Builders Cycling Team    0.17
7 Amanda Spratt (Aus) Australian National Team              0.18
8 Claudia Hausler (Ger) Equipe Nürnberger Versicherung
9 Agne Bagdonaviciute (Ltu) Lithuanian National Team        0.21
10 Sanne Van Paassen (Ned) Dutch National Team              0.22
11 Bianca Knopfle (Ger) German National Team                0.23
12 Monica Holler (Swe) Bigla Cycling Team                   0.24
13 Urte Juodvalkyte (Ltu) Lithuanian National Team          0.25
14 Jessica Allen (GBr) Great Britain National Team          0.26
15 Corinna Thumm (Ger) German National Team                 0.28
16 Carla Ryan (Aus) Australian National Team                0.29
17 Latoya Brulee (Ger) AA-Drink Cycling Team                0.30
18 Jennifer Hohl (Swi) Bigla Cycling Team
19 Florence Girardet (Fra) French National Team             0.34
20 Marlijn Binnendijk (Ned) AA-Drink Cycling Team           0.35
21 Marlen Johrend (Ger) German National Team                0.36
22 Tatiana Guderzo (Ita) Gauss RDZ Ormu                     0.38
23 Lieselot Decroix (Bel) Lotto-Belisol Ladiesteam          0.40
24 Emilie Blanquefort (Fra) French National Team            0.45
25 Virginia Hennig (Ger) German National Team
26 Emma Mackie (Aus) Lotto-Belisol Ladiesteam               0.47
27 Romy Kasper (Ger) German National Team                   0.51
28 Amy Dombroski (USA) Webcor Builders Cycling Team         0.52
29 Gabriella Day (GBr) Swift Racing                        0.53
30 Eleonora Suelotto (Ita) Gauss RDZ Ormu                   1.25
 
Teams classification
 
1 Team High Road Women                                     15.21
2 Etats-Unis                                                0.01
3 Pays-Bas                                                  0.04
4 Australian National Team                                  0.15
5 Webcor Builders Cycling                                   0.25
6 Grande-Bretagne
7 Equipe Nurnberger Versicherung                            0.34
8 Bigla Cycling Team                                        0.37
9 Lituanian National Team                                   0.40
10 Menikini-Selle Italia                                    0.41
11 French National Team                                     0.45
12 Allemagne                                                0.52
13 Team DSB Bank                                            0.56
14 Lotto-Belisol Ladiesteam                                 1.00
15 AA-Drink Cycling Team
16 Gauss RDZ Ormu                                           1.01
17 Fenixs                                                   1.18
18 Swift Racing                                             1.23

Back to top