News feature, March 30, 2008
Harelbeke's E3 Prijs: CSC plays its cards
Kurt-Asle Arvesen topped a day of hard work by Denmark's Team CSC. The 33 year-old Norwegian, winner of the stage eight in last year's Giro d'Italia, profited from team-work in the closing kilometres of the E3 Prijs to capture his first win in Belgium. Cyclingnews' Gregor Brown was in Harelbeke as Arvesen darted clear of his escape companions on the Gentsestraat.
Norwegian Kurt-Asle Arvesen of CSC team celebrates
Photo ©: AFP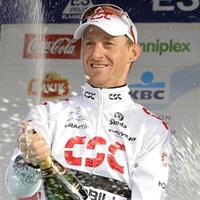 "It is always good to win a bike race; this is my first win in Belgium. It is great," said a content Arvesen at the end of the 200-kilometre E3 Prijs in Flanders.
Arvesen made the 14-man escape group that took shape at kilometre 42. Team CSC made a smart tactical move by placing not only Arvesen in the move, but Dane Lars Bak.
"It was a tactical move on the team's part to get guys in the escape, so we could have Fabian [Cancellara] and the others protected behind. I thought this break could go well, we had a good combination of riders from the major teams. At least it was good to take the climbs in the front," he laughed. "For me, I am always fighting go to be at the front on the climbs, so it was a relief to be in the escape.
"I am good shape at the moment, and I showed that last week in Milano-Sanremo. Tirreno-Adriatico helped me get to the form. I put myself in a position to win when I got in the break. It was not an individual effort; there were a lot of guys who could win. [Team-mate] Matti Breschel won the sprint behind [for seventh], and we had Bak in the move with me."
Bak and Arvesen presence at the front of the race eased the pressure on team lead Cancellara. The Swiss is a well-marked man after winning Tirreno-Adriatico and Milano-Sanremo and was riding in the E3 Prijs as a form-builder for next Sunday's Ronde van Vlaanderen. However, he marked Tom Boonen (Quick Step) when he attacked on the Taaienberg (km 146), and it gave CSC more cards to play.
"I have won in Germany, Switzerland and Italy, and now here in Belgium; it is great to win a cobbled classic."
- Kurt Arvesen after his win at the E3Prijs
"I was good, but there were a lot of fast guys in the group with me," confessed Arvesen. "As long as [Cancellara] did not bring Boonen with him then it was okay. Maybe it looked stupid for a while, we were working in the escape and he was working behind. Fabian tried to drop Boonen, and then he came back. So after that point we started working only for the escape's success."
Arvesen marked fellow escape companion Greg Van Avermaet (Silence-Lotto) well on the Tiegemberg and proved to be the CSC ace of the day. "Last week, I gave almost everything for Fabian, he showed he could handle the pressure, and won." Today was Arvesen's turn.
Kurt-Asle Arvesen (Team CSC)
Photo ©: AFP

The 14 man move was shaped down to six, which meant the loss of Bak, who faded back to Cancellara's group at kilometre 180. Arvesen was left with David Kopp (Cycle Collstrop), Thomas Voeckler (Bouygues Telecom), Bernhard Eisel (High Road), Janek Tombak (Mitsubishi-Jartazi) and the strongest looking member, Greg Van Avermaet (Silence-Lotto).
"I did not know about Greg Van Avermaet. For sure he is a good bike rider, but I don't study all the results. I have been around for ten years now, so the guys get to know who I am."
Kopp fired at three kilometres remaining, Eisel faded and then Van Avermaet went on the hunt at 1500 metres remaining; however, throughout all of this Arvesen kept his tranquillity. "I was waiting. I thought the others were playing with me. I thought Greg Van Avermaet and Voeckler were stronger. Voeckler went a little bit and then I tried to bridge to the Lotto guy [Van Avermaet - ed.], when I caught him Voeckler sat up and waited. It was only Kopp left, and he was really tired from his long attack."
He caught and passed Kopp with 200 metres remaining. The win is the first of the year for Arvesen, who finished 10th in Milano-Sanremo and won the Fiorano Modenese stage in the 2007 Giro d'Italia.
"I have won in Germany, Switzerland and Italy, and now here in Belgium; it is great to win a cobbled classic."
The pressure is now on for the Danish team in next Sunday's Ronde van Vlaanderen, particularly Cancellara. "I am good for next Sunday. We are one of the strongest teams for next Sunday, we have showed that. We won in Eroica, Tirreno, Sanremo and now this, we will start in Flanders relaxed. [CSC] is respected in the peloton. It will not be easy with Quick Step and Lotto, and all the other teams."
The booming start to the 2008 does not hurt General Manager Bjarne Riis' chances of finding a new sponsor. CSC announced it is leaving the sport at the end of 2008, but Arvesen said that he would ride at his best regardless. "We are really motivated to do our best. And for sure the boys in Critérium International will try to do their best. We had the best placed ProTour team in the last few years. I am sure Riis will find someone."
Look for Arvesen to appear again as he will almost certainly play a key role in Cancellara's bid for a win the Ronde van Vlaanderen next Sunday.