7th Le Tour du Grand Montréal - 2.1
Canada, June 2-5, 2008
Main Page Results Overall standings Previous Stage
Stage 5 - June 5: Mont-Saint-Hilaire road race, 115km
High Road claims Grand Tour du Montreal
By Kirsten Robbins in St. Hilaire, Montreal
Judith Arndt (High Road) was ecstatic, knowing that
Photo ©: CJ Farquharson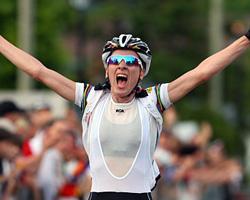 After her World Cup win in Montreal just one week ago, Judith Arndt (High Road) attacked at the crest of the final climb in stage five of the Tour du Grand Montreal and gained an eight second advantage over the field to take the final stage and the overall. The sprint for second was won by Brooke Millar (Tibco) from Audrey Cordon (Vienne Futuroscope).
"I attacked over the climb at a point when I knew De Goede could not continue to chase," said Arndt.
Arndt first took the jersey after her solo victory in Mont Saint Hillarie. That win set her up for the final overall win ahead of Suzanne De Goede (Nurnberger) and Oenone Wood (High Road).
"I didn't have to think too much, this is what we have Petra Rosner for - She thinks and we do," said Arndt regarding High Road's perfect execution of team tactics used to take leaders jersey off of Nurnberger's Suzanne Ge Goede and claim it for their own.
"There is always a team effort behind every victory because without the team you are nothing," continued Arndt. "We wanted to stick together as a team and the plan she had worked out perfectly today. We always try to win the races we go to and we were a good team here and we had to try hard to achieve this victory."
De Goede admitted that her team anticipated the work they had ahead of them if they hoped to hold onto the leader's jersey. While they did not succeed in retaining the yellow jersey, she was pleased with her teams overall performance during the weeklong event.
"I think we did a really good team effort here," said De Goede. "We won two stages and started the last stage in the leaders jersey. We tried to do what we could and we did our very best."
"We expected this to happen this morning already and the girls did a really good job trying to go with all of the attacks but in the end I also had work a lot," said De Goede regarding her team's reaction to the relentless High Road attacks.
"There were just too many High Roads on the last climb and they did really well trying to get me tired--I could not follow Judith in the end. The problem is you cannot follow everyone but because the time gaps are so close here you really have to follow everyone."
Christine Thorburn (Webcor) can see the summit
Photo ©: CJ Farquharson

Second place on the day Brook Millar was happy with her result in such a world-class field. "It's always an honor to sprint against these women and I love it," said Millar.
"This tour is my first bunch sprints against this type of peloton. Last year I was finishing fifth or sixth against these girls and this year I really wanted to be able to sprint with them. Just being up there to contend the sprint is a big progression for me."
How it unfolded
Nurnberger had their work cut out for them at the start of the women's five-lap road race over Mont Saint Hilaire totaling 114 kilometres. De Goede started the race seven seconds ahead of Arndt, not nearly enough padding to hold off the former World Champion in the end.
Canadian legend Clara Hughes (Specialized) made the first move of the day within five kilometers of the start and was quickly followed by Victoria Bastide (Tibco) and Beatrice Thomas (ESGL 93).
A four-rider chase group that included QOM leader Felicia Gomez (Aaron's), Erinne Willock (Webcor), Emma Pooley (Specialized) and Mara Abbott (High Road) bridged across to the trio at the top of the first ascent over Mont Saint Hilaire.
The seven rider break forced Nurnberger to organize themselves at the front in what turned into an epic chase that would last nearly 100 kilometers.
"I jumped on the climb and the motivation was to make Nurnberger do as much chasing as possible as soon as possible," said current US national road champion Mara Abbott, whose sole focus was to maintain a more than one minute gap over the peloton.
"It was great that the break had already started, that way we didn't have to create it, we just had to bridge across to it. I was working hard to keep the break going as long as we could."
Felicia Gomez solidified her lead in the climber's competition picking up full points on each lap. "Emma Pooley went for one of the climbs but that was it," said Gomez who also won the ladies plus thirty-five competitions.
The Canadians 'do it tough'
Photo ©: CJ Farquharson

"We worked really well together in the break. I went today because I needed to defend the polka dot. I saw Mara go and then Erinne and I just went with it, there was a lot of horsepower and we drove it over the top. We caught the other three on the decent right after."
High Road director Petra Rosner commented on her the team's secret to success that paid off in the team's fifth victory this week. "There has been a lot of work that goes into High Road, we have great ambitions but we are always smart in the race, we work for each other and we do it for the moment when we realize we have won and we are better than the others."
"We decided in our meeting that we were going to try to win it, even if we had to take risks lose it - we race for the victory," said Rosner who sent each member of the team who was a threat on the GC in a pursuit to tire Nurnberger before the final lap.
"We had to put Nurnberger in a position where they had to chase all day and then be patient and wait for them to lose each of their team members with our attacks," continued Rosner. "We could have won the tour with each of our riders and we were calculating in that we knew De Goede would have to chase each of our riders once her team got tired. She had to chase on her own."
Nurnberger used each of their five riders to bring back the lengthy break on the fifth and final lap where High Road started to launch riders one after another until De Goede was left to defend the race on her own.
"It isn't about Judith being so powerful to stay away in the last few kilometers, it's about the other team members making the race so hard that they couldn't chase Judith in the end," reiterated Rosner. "We didn't care who would win this tour its important that one of our members gain the seconds needed to win."
Arndt was the last to attack over the crest of Mont Saint Hilaire, after De Goede had responded to several earlier attacks on the ascent. The German barreled down the twisty descent alone and gained eight seconds on the field.
Photography
For a thumbnail gallery of these images, click here
Images by CJ Farquharson/WomensCycling.net
Images by Mitch Friedman/www.mitchophoto.com
Images by John Pierce/Photosport International
Results
1 Judith Arndt (Ger) High Road Women                              2.59.34
2 Brooke Miller (USA) Team TIBCO                                     0.08
3 Audrey Cordon (Fra) Vienne Futuroscope                                 
4 Rochelle Gilmore (Aus) Menikini-Selle Italia Master colour             
5 Dalila Rodriguez (Cub) Cuban National Team                             
6 Tanja Hennes (Ger) Specialized Designs for Women                       
7 Meredith Miller (USA) Aaron's Professional Cycling                     
8 Sophie Creux (Fra) ESGL 93 GSD Gestion                                 
9 Nikki Egyed (Aus) Australian National Team                             
10 Yeima Torres (Cub) Cuban National Team                                
11 Lorian Graham (Aus) Australian National Team                          
12 Yong Li Liu (Chn) Giant Pro Cycling                                   
13 Karin Aune (Swe) UNIQA                                                
14 Christine Majerus (Lux) ESGL 93 GSD Gestion                           
15 Tiffany Cromwell (Aus) Australian National Team                       
16 Joelle Numainville (Can) ESGL 93 GSD Gestion                          
17 Suzanne De Goede (Ned) Equipe Nürnberger Versicher                    
18 Leigh Hobson (Can) Canadian National Team                             
19 Yeugeniya Vysotska (Ukr) Ukrainian National Team                      
20 Trine Schmidt (Den) Menikini-Selle Italia Master colour               
21 Oenone Wood (Aus) High Road Women                                     
22 Fei Wang (Chn) Giant Pro Cycling                                      
23 Lauren Franges (USA) Team TIBCO                                       
24 Kori Kelley Seehafer (USA) Menikini-Selle Italia Master colour        
25 Jen Stephenson (Can) Ultralink                                        
26 Mirjam Hauser-Senn (Swi) Specialized Designs for Women                
27 Erinne Willock (Can) Webcor Builders                                  
28 Sarah Grab (Swi) Specialized Designs for Women                        
29 Lang Meng (Chn) Giant Pro Cycling                                     
30 Felicia Gomez (Can) Aaron's Professional Cycling                      
31 Christine Thorburn (USA) Webcor Builders                              
32 Anne Samplonius (Can) Canadian National Team                          
33 Chantal Beltman (Ned) High Road Women                                 
34 Daniela Pintarelli (Aut) UNIQA                                        
35 Monika Schachl (Aut) UNIQA                                            
36 Sara Carrigan (Aus) Australian National Team                          
37 Karol-Ann Canuel (Can) Specialized Carrefour Multis               0.14
38 Janel Holcomb (USA) Webcor Builders                                   
39 Min Gao (Chn) Giant Pro Cycling                                   0.20
40 Kateryna Krasova (Ukr) Ukrainian National Team                    0.25
41 Mara Abbott (USA) High Road Women                                 0.08
42 Katherine Bates (Aus) High Road Women                                 
43 Kristin Sanders (USA) Aaron's Professional Cycling                    
44 Iraida Garcia (Cub) Cuban National Team                           0.44
45 Eugenie Mermillod (Fra) Team Pro Feminin Les Carroz                   
46 Nathalie Lamborelle (Lux) UNIQA                                       
47 Kristen Lasasso (USA) Specialized Designs for Women                   
48 Johanne Cyr (Can) Equipe Cascades                                     
49 Emmanuelle Merlot (Fra) Vienne Futuroscope                        0.56
50 Bettina Hold (Can) Canadian National Team                         0.57
51 Emma Pooley (GBr) Specialized Designs for Women                       
52 Joanie Caron (Can) Equipe Cascades                                    
53 Jocelyn Loane (Aus) Australian National Team                          
54 Kimberly Anderson (USA) High Road Women                               
55 Yumari Gonzalez (Cub) Cuban National Team                         1.06
56 Julie Marceau (Can) Specialized Carrefour Multis                      
57 Julie Bellerose (Can) Equipe Cascades                                 
58 Moriah Jo Macgregor (Can) Canadian National Team                      
59 Louise Moriarty (Irl) Specialized Carrefour Multis                    
60 Li Ping Zhang (Chn) Giant Pro Cycling                                 
61 Victoria Bastide (Swe) Team TIBCO                                     
62 Bernadette Schober (Aut) UNIQA                                        
63 Rachel Heal (GBr) Team TIBCO                                          
64 Carissa Wilkes (NZl) Team Pro Feminin Les Carroz                  1.25
65 Brei Gudsell (NZl) Team Pro Feminin Les Carroz                        
66 Modesta Vzesniauskaite (Ltu) Equipe Nürnberger Versicher          0.08
67 Helen Kelly (Aus) Team TIBCO                                      2.08
68 Larissa Kleinmann (Ger) Equipe Nürnberger Versicher                   
69 Veronique Labonte (Can) Equipe Cascades                               
70 Audrey Lemieux (Can) Specialized Carrefour Multis                 3.22
71 Thomas Béatrice (Fra) ESGL 93 GSD Gestion                         3.27
72 Marie Lindberg (Swe) Equipe Nürnberger Versicher                  4.39
73 Regina Schleicher (Ger) Equipe Nürnberger Versicher                   
74 Jenny Trew (Can) Canadian National Team                           5.10
75 Alison Testroete (Can) Aaron's Professional Cycling               5.30
76 Sufen Ma (Chn) Giant Pro Cycling                                      
77 Andrea Knecht (Swi) Specialized Designs for Women                 7.12
78 Mary Zider (USA) Advil-Chapstick                                      
79 Alyssa Mellon (Can) Ultralink                                    10.57
80 Mathilde Hupin (Can) Specialized Carrefour Multis                13.54
81 Svitlana Galyuk (Ukr) Ukrainian National Team                         
82 Clara Hughes (Can) Specialized Carrefour Multis                  24.02
DNF Alex Wrubleski (Can) Webcor Builders                                 
DNF Julie Dheruelle (Fra) Vienne Futuroscope                             
DNF Sarah Coney (Can) Ultralink                                          
DNF Elisa Gagnon (Can) Advil-Chapstick                                   
DNF Aude Pollet (Fra) Team Pro Feminin Les Carroz                        
DNF Yoanka Gonzalez (Cub) Cuban National Team                            
DNF Julia Farell (Can) Ultralink                                         
DNF Olena Andruk (Ukr) Ukrainian National Team                           
DNF Julie Beveridge (Can) Aaron's Professional Cycling                   
DNF Fiona Dutriaux (Fra) Vienne Futuroscope                              
DNF Fanny Riberot (Fra) Team Pro Feminin Les Carroz                      
DNS Susan Palmer-Komar (Can) Advil-Chapstick                             
 
Sprints
 
1 Judith Arndt (Ger) High Road Women                                   10 pts
2 Brooke Miller (USA) Team TIBCO                                        7
3 Audrey Cordon (Fra) Vienne Futuroscope                                5
4 Rochelle Gilmore (Aus) Menikini-Selle Italia Master colour            3
5 Dalila Rodriguez (Cub) Cuban National Team                            1
 
Teams
 
1 High Road Women                                                 8.58.58
2 Equipe Nationale Australia                                         0.08
3 ESGL 93 GSD Gestion                                                    
4 Menikini-Selle Italia Master colors                                    
5 Specialized Designs for Women                                          
6 Giant Pro Cycling                                                      
7 UNIQA                                                                  
8 Aaron's Professional Cycling Team                                  0.09
9 Team TIBCO                                                             
10 Equipe Nürnberger Versicherung                                    0.10
11 Webcor Builders                                                   0.14
12 Equipe Nationale Cuba                                             0.44
13 Equipe Nationale Canada                                           0.57
14 Equipe Cascades                                                   1.34
15 Specialized Carrefour Multisport Mazd                             2.10
16 Team Pro Feminin Les Carroz                                       3.18
17 Equipe Nationale Ukraine                                         14.11
 
Final General classification
 
1 Judith Arndt (Ger) High Road Women                              8.48.54
2 Suzanne De Goede (Ned) Equipe Nürnberger Versicher                 0.16
3 Oenone Wood (Aus) High Road Women                                  0.29
4 Brooke Miller (USA) Team TIBCO                                     0.35
5 Katherine Bates (Aus) High Road Women                                  
6 Erinne Willock (Can) Webcor Builders                               0.36
7 Felicia Gomez (Can) Aaron's Professional Cycling                       
8 Trine Schmidt (Den) Menikini-Selle Italia Master colour            0.40
9 Larissa Kleinmann (Ger) Equipe Nürnberger Versicher                0.41
10 Anne Samplonius (Can) Canadian National Team                          
11 Sara Carrigan (Aus) Australian National Team                      0.44
12 Kori Kelley Seehafer (USA) Menikini-Selle Italia Master colour    0.45
13 Rochelle Gilmore (Aus) Menikini-Selle Italia Master colour        0.47
14 Chantal Beltman (Ned) High Road Women                                 
15 Meredith Miller (USA) Aaron's Professional Cycling                0.49
16 Lauren Franges (USA) Team TIBCO                                   0.50
17 Lorian Graham (Aus) Australian National Team                      0.53
18 Tiffany Cromwell (Aus) Australian National Team                       
19 Karin Aune (Swe) UNIQA                                            0.54
20 Nikki Egyed (Aus) Australian National Team                            
21 Christine Thorburn (USA) Webcor Builders                              
22 Audrey Cordon (Fra) Vienne Futuroscope                            0.55
23 Yong Li Liu (Chn) Giant Pro Cycling                               0.56
24 Dalila Rodriguez (Cub) Cuban National Team                        0.57
25 Leigh Hobson (Can) Canadian National Team                         0.58
26 Monika Schachl (Aut) UNIQA                                        1.01
27 Christine Majerus (Lux) ESGL 93 GSD Gestion                       1.02
28 Joelle Numainville (Can) ESGL 93 GSD Gestion                          
29 Sophie Creux (Fra) ESGL 93 GSD Gestion                            1.03
30 Modesta Vzesniauskaite (Ltu) Equipe Nürnberger Versicher              
31 Lang Meng (Chn) Giant Pro Cycling                                     
32 Mara Abbott (USA) High Road Women                                 1.04
33 Yeima Torres (Cub) Cuban National Team                            1.05
34 Kristin Sanders (USA) Aaron's Professional Cycling                1.07
35 Sarah Grab (Swi) Specialized Designs for Women                    1.08
36 Yeugeniya Vysotska (Ukr) Ukrainian National Team                  1.11
37 Daniela Pintarelli (Aut) UNIQA                                    1.12
38 Helen Kelly (Aus) Team TIBCO                                      1.13
39 Janel Holcomb (USA) Webcor Builders                               1.14
40 Karol-Ann Canuel (Can) Specialized Carrefour Multis               1.15
41 Mirjam Hauser-Senn (Swi) Specialized Designs for Women            1.16
42 Tanja Hennes (Ger) Specialized Designs for Women                  1.18
43 Min Gao (Chn) Giant Pro Cycling                                   1.31
44 Nathalie Lamborelle (Lux) UNIQA                                   1.36
45 Iraida Garcia (Cub) Cuban National Team                           1.39
46 Kateryna Krasova (Ukr) Ukrainian National Team                    1.40
47 Kristen Lasasso (USA) Specialized Designs for Women               1.41
48 Kimberly Anderson (USA) High Road Women                           1.42
49 Emma Pooley (GBr) Specialized Designs for Women                   1.53
50 Louise Moriarty (Irl) Specialized Carrefour Multis                1.54
51 Bettina Hold (Can) Canadian National Team                         1.58
52 Emmanuelle Merlot (Fra) Vienne Futuroscope                            
53 Eugenie Mermillod (Fra) Team Pro Feminin Les Carroz               2.01
54 Jocelyn Loane (Aus) Australian National Team                      2.03
55 Joanie Caron (Can) Equipe Cascades                                2.06
56 Rachel Heal (GBr) Team TIBCO                                      2.08
57 Moriah Jo Macgregor (Can) Canadian National Team                      
58 Yumari Gonzalez (Cub) Cuban National Team                             
59 Victoria Bastide (Swe) Team TIBCO                                 2.10
60 Julie Bellerose (Can) Equipe Cascades                             2.16
61 Carissa Wilkes (NZl) Team Pro Feminin Les Carroz                  2.17
62 Li Ping Zhang (Chn) Giant Pro Cycling                             2.19
63 Julie Marceau (Can) Specialized Carrefour Multis                  2.20
64 Bernadette Schober (Aut) UNIQA                                    2.22
65 Veronique Labonte (Can) Equipe Cascades                           3.14
66 Fei Wang (Chn) Giant Pro Cycling                                  3.18
67 Audrey Lemieux (Can) Specialized Carrefour Multis                 4.23
68 Thomas Béatrice (Fra) ESGL 93 GSD Gestion                         4.42
69 Regina Schleicher (Ger) Equipe Nürnberger Versicher               5.14
70 Brei Gudsell (NZl) Team Pro Feminin Les Carroz                    5.21
71 Marie Lindberg (Swe) Equipe Nürnberger Versicher                  5.27
72 Jen Stephenson (Can) Ultralink                                    6.03
73 Alison Testroete (Can) Aaron's Professional Cycling               6.19
74 Sufen Ma (Chn) Giant Pro Cycling                                  6.43
75 Mary Zider (USA) Advil-Chapstick                                  8.24
76 Alyssa Mellon (Can) Ultralink                                    13.31
77 Svitlana Galyuk (Ukr) Ukrainian National Team                    14.35
78 Johanne Cyr (Can) Equipe Cascades                                16.48
79 Andrea Knecht (Swi) Specialized Designs for Women                17.14
80 Jenny Trew (Can) Canadian National Team                          25.58
81 Clara Hughes (Can) Specialized Carrefour Multis                  29.56
82 Mathilde Hupin (Can) Specialized Carrefour Multis                35.04
 
Sprints
 
1 Suzanne De Goede (Ned) Equipe Nürnberger Versicher                   46 pts
2 Judith Arndt (Ger) High Road Women                                   33
3 Oenone Wood (Aus) High Road Women                                    20
4 Regina Schleicher (Ger) Equipe Nürnberger Versicher                  17
5 Rochelle Gilmore (Aus) Menikini-Selle Italia Master colour           16
6 Felicia Gomez (Can) Aaron's Professional Cycling                     15
7 Katherine Bates (Aus) High Road Women                                13
8 Brooke Miller (USA) Team TIBCO                                       13
9 Erinne Willock (Can) Webcor Builders                                 10
10 Audrey Cordon (Fra) Vienne Futuroscope                               5
11 Lorian Graham (Aus) Australian National Team                         5
12 Larissa Kleinmann (Ger) Equipe Nürnberger Versicher                  5
13 Anne Samplonius (Can) Canadian National Team                         5
14 Trine Schmidt (Den) Menikini-Selle Italia Master colour              5
15 Louise Moriarty (Irl) Specialized Carrefour Multis                   4
16 Iraida Garcia (Cub) Cuban National Team                              3
17 Thomas Béatrice (Fra) ESGL 93 GSD Gestion                            3
18 Carissa Wilkes (NZl) Team Pro Feminin Les Carroz                     3
19 Lauren Franges (USA) Team TIBCO                                      2
20 Dalila Rodriguez (Cub) Cuban National Team                           2
21 Mara Abbott (USA) High Road Women                                    1
22 Tanja Hennes (Ger) Specialized Designs for Women                     1
23 Nathalie Lamborelle (Lux) UNIQA                                      1
24 Emma Pooley (GBr) Specialized Designs for Women                      1
 
Mountains
 
1 Felicia Gomez (Can) Aaron's Professional Cycling                     57 pts
2 Emma Pooley (GBr) Specialized Designs for Women                      18
3 Erinne Willock (Can) Webcor Builders                                 17
4 Mara Abbott (USA) High Road Women                                    11
5 Tanja Hennes (Ger) Specialized Designs for Women                     10
6 Judith Arndt (Ger) High Road Women                                   10
7 Modesta Vzesniauskaite (Ltu) Equipe Nürnberger Versicher              7
8 Joelle Numainville (Can) ESGL 93 GSD Gestion                          7
9 Sara Carrigan (Aus) Australian National Team                          7
10 Nikki Egyed (Aus) Australian National Team                           6
11 Christine Majerus (Lux) ESGL 93 GSD Gestion                          5
12 Suzanne De Goede (Ned) Equipe Nürnberger Versicher                   5
13 Elizaveta Bochkarova (Ukr) Ukrainian National Team                   5
14 Rachel Heal (GBr) Team TIBCO                                         4
15 Thomas Béatrice (Fra) ESGL 93 GSD Gestion                            2
16 Yong Li Liu (Chn) Giant Pro Cycling                                  1
17 Victoria Bastide (Swe) Team TIBCO                                    1
 
Teams
 
1 High Road Women                                                26.28.30
2 Equipe Nürnberger Versicherung                                     0.28
3 Menikini-Selle Italia Master colors                                0.30
4 Aaron's Professional Cycling Team                                  0.42
5 Equipe Nationale Australia                                         0.43
6 Webcor Builders                                                    0.50
7 Team TIBCO                                                         0.58
8 UNIQA                                                              1.07
9 Specialized Designs for Women                                      1.16
10 ESGL 93 GSD Gestion                                               1.19
11 Giant Pro Cycling                                                     
12 Equipe Nationale Canada                                           1.44
13 Equipe Nationale Cuba                                             1.53
14 Equipe Cascades                                                   3.04
15 Specialized Carrefour Multisport Mazda GSD                        3.20
16 Team Pro Feminin Les Carroz                                       5.03
17 Equipe Nationale Ukraine