Commerce Bank Triple Crown
USA, June 3-8, 2008
Main Page Results Overall standings Live report Previous Race
Race 6 - June 8: Liberty Classic, 57.6 miles /92.7km
Beltman soloes in Philly; High Road sweeps Triple Crown
By Kirsten Robbins in Philadelphia, Pennsylvania
Chantal Beltman (Team High Road) takes the Liberty Classic
Photo ©: Jon Devich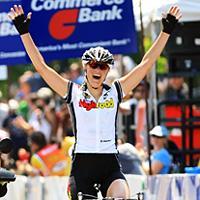 After recently solidifying her ticket to Beijing this August with the Dutch Olympic team, Chantal Beltman (High Road Women) turned her excitement into a solo victory for High Road during the Liberty Classic held in Philadelphia. All the more gratifying given that success in this criterium-like event typically comes in a field sprint.
"This was a really big race on the women's calendar and the atmosphere was wonderful," said Beltman who made her move over the top of Lemon Hill, three kilometres from the finish. "For our team, being an American based team now, we were really focused on winning this race. It's so exciting that we were able to do it again."
The Dutch woman separated herself from a late-break of four that contained two of her own team-mates, soloing to the win, while her three companions were swallowed up by the main field. American Brooke Millar (Tibco) surprised the crowd when she initiated the gallop to the line with three hundred meters to go, holding off Triple Crown winner Ina Teutenberg (High Road Women) to take second place.
"I wasn't sure at all if I was going to be able to stay away from a sprinters field but that's the great thing about being on such a strong team - You don't have to worry about that, you can just go," continued Beltman. "That made it easy for me to give it everything I had."
The Palo Alto, California native, Millar was happy to have taken second place, the best result of her career. "This was a race I was really gunning for and we had a great team presence, ready to win," said Millar who was vying to be the first American to win the event and break the German winning streak.
"It was thrilling to have these kinds of sprinters coming up behind me," continued Millar who has had few opportunities to test her legs against riders like Teutenberg. "Ina is such a great sprinter and she knows her sprint so well. If you wait on her wheel, even if you're faster, you're not going to come around her. So I knew I had to race my own sprint."
Teutenberg took both the Allentown Classic and Reading Classic before taking third place in the Liberty Classic today to take the overall win in the Triple Crown. "Today was great, I didn't win but my team-mate did and so it feels good to have also won the Triple Crown too," she said.
Kristin Armstrong (Cervelo Lifeforce)
Photo ©: CJ Farquharson

"If we had not won today then I think the Triple Crown would not have meant so much to us because it was this race that we really wanted to win. Now that we have won both, it is very nice."
Rounding the traffic circle that marked one-kilometre to go Teutenberg used her remaining team-mates to position herself at the front of the field. "I came into the sprint the fastest in the last 150 meters but I started it too late," continued the veteran sprinter. "If Brooke Millar has two bike lengths on me in the sprint there is no way I can close it. She made the right move going early. But I'm happy to have still made it on the podium and win the Triple Crown series."
How it unfolded
One hundred women lined up in extremely warm conditions to start the Liberty Classic's 56-mile event, taking on four laps that included the notorious Manyunk Wall.
Top American teams Tibco, Aaron's, Cheerwine and Webcor rallied for a strong presence at the front of the field along the winding Kelly Dr. However, at the Manyunk Wall, team's High Road and Cervelo-Life Force, vying for the first set of QOM points, set the stage for their climbers, Mara Abbott and Kristin Armstrong respectively.
Armstrong led the field up the base of Manyunk's 600-meter climb that include sections as steep as 20 percent. Abbott held Armstrong's wheel until the sprint for the QOM points. Armstrong was too strong, pulling away from the rest of the filed to gain a 30 second advantage.
"I didn't plan to go on my own for so long," said Armstrong who rode two of the four laps alone and gained nearly two minutes on the peloton. "I wanted the QOM and I looked back and no one was with me. I decided to take the opportunity even though I wasn't sure how long High Road and Nurnberger was going to let me go for."
Armstrong covered two full laps alone and gained a maximum of nearly two minutes on a relatively calm peloton. Meredith Millar (Aaron's) dangled between Armstrong and the field for one lap before being reabsorbed into the dwindled field.
Armstrong picked up full points enrooted on more half of the events QOM sprints at the top of Manyunk Wall and Lemon Hill to solidify her lead in the climber's competition.
Oenone Wood (High Road)
Photo ©: CJ Farquharson

"It was the first hot day of the year and it took its toll," said Armstrong who didn't attend the podium presentation due to heat exhaustion. "I had nothing left after being out there for two laps. In the Liberty classic it [the queen of the mountains] is an important jersey because there are only three jersey's available for the podium. It is really good for the sponsors and with out having a sprinter here I wanted to be able to do something."
A break of nine riders formed behind Armstrong that included High Road riders Mara Abbott, Kim Anderson, Chantal Beltman and Ina Teutenberg along with Alison Powers (Colavita/Sutter Home), Brooke Miller, Joanne Kiesanowski (Tibco) and Laura Van Gilder (Cheerwine). However, by the time they began the start of the third lap the entire field was back together.
With the field together and spread wide across the road at the start of the penultimate lap gave an opportunity to Value Act Capital, Tibco and Aaron's. The three teams were able to form new tactics and play a role in several break aways that held the speeds high.
A nine rider break formed two kilometres before the Wall that included Tiffany Cromwell (Colavita/Sutter Home), Rebecca Larson (Aaron's), Sarah Duster and Priska Doppmann (Cervelo-Lifeforce), Suzanne De Goede (Nurnberger), Oenone Wood (High Road), Ambar Rais (Tibco), Steph Roorda (Juice Plus) and Melissa Sanborn (Vanderkitten). The break swelled to twenty-five riders before Lemon Hill after a large chase group bridged across. The action continued when Kim Anderson, Lauren Franges (Tibco) and Emma Rickards (Cervelo-Lifeforce) jumped over the crest of Lemon Hill.
The peloton regrouped for the start of the final lap where the constant string of attacks to continue. Chrissy Ruiter (VAC) took the pressure off of her teammates when she separated herself from the field for more than ten kilometers heading in the final climb over Manyunk.
High Road began an impressive train into Manyunk's final hurrah that marked the most significant tactic affecting the event's outcome. "It was our plan to attack the climb together on the last lap and it is what we focused on," explained Beltman on the beginnings of her winning break. "Oenone Wood and Kate Bates drove the fast pace into the first three hundred meters of the climb so we were already in line before the climb started. It was a perfect position."
Best under 23 US rider
Photo ©: CJ Farquharson

Three High Road riders Kim Anderson, Mara Abbott and Chantal Beltman rode over the top of the Wall with New Zealander Joanne Kiesanowski attached to their train. "When you have three riders from the same team in a break, we could never take a risk coming to the line with Joanne Kiesanowski," said Beltman regarding Keisonwoski impressive sprint palmers.
High Road played a combination of tactics against Joanne Kiesanowski providing the platform for Beltman to make her winning move over the top of Lemon Hill. "Kim drove the break, Mara attacked on Lemon hill and made Joanne chase and that's where she lost it and I jumped in that moment."
The Dutch woman gained fifteen seconds while the remaining break away riders were pulled back into the peloton. With the win in sight and just two kilometres remaining, Beltman put her head down and dug deep as the main field tried to drag her back.
"This is a really great feeling and I also surprised myself," said Beltman who, before the start, predicted her team-mate Ina Teutenberg to take a second consecutive victory. "Ina was the big favourite on our team but we also know that it is hard because all the sprinters are looking at her."
"We have a strong team here and we wanted to play all our cards. We rode full-on on the last climb and we were only with four riders left. We attacked one by one and I was the lucky one who stayed away. It was really a team win."
Photography
For a thumbnail gallery of these images, click here
Images by Jonathan Devich/

Images by CJ Farquharson/WomensCycling.net
Images by Zui Hanafusa/www.keirin.us
Images by Marco Quezada/www.nyvelocity.com
Results

1 Chantal Beltman (Ned) Team High Road - Women                     2.28.52 (37.36km/h)
2 Brooke Miller (USA) Team Tibco                                      0.06
3 Ina Teutenberg (Ger) Team High Road - Women                             
4 Jen Mcrae (USA) Team Advil/Chapstik                                     
5 Regina Schleicher (Ger) Equipe Nürnberger Versicherung                  
6 Tina Pic (USA) Colavita/Sutter Home p/b Cooking Light                   
7 Joanne Kiesanowski (NZl) Team Tibco                                     
8 Shelley Olds (USA) Proman Racing                                        
9 Steph Roorda (Can) Juice Plus+ Women's Cycling Team                     
10 Erica Allar (USA) Aaron's Women's Professional Cycling Team            
11 Carmen Mcnellis (USA) Aaron's Women's Professional Cycling Team        
12 Sarah Düster (Ger) Cervelo Lifeforce Pro Cycling Team                  
13 Lauren Franges (USA) Team Tibco                                        
14 Catherine Cheatley (NZl) Cheerwine Cycling                             
15 Lorena Candrian (USA) HPC Powered by Altarum                           
16 Stacy Marple (USA) Cheerwine Cycling                                   
17 Laura Van Gilder (USA) Cheerwine Cycling                               
18 Melissa Sanborn (USA) Vanderkitten Racing                              
19 Leigh Valletti (USA) Vanderkitten Racing                               
20 Tiffany Cromwell (Aus) Colavita/Sutter Home p/b Cooking Light          
21 Iona Wynter Parks (Jam) Colavita/Sutter Home p/b Cooking Light     0.12
22 Katharine Carroll (USA) Aaron's Women's Professional Cycling Team      
23 Kristin Sanders (USA) Aaron's Women's Professional Cycling Team        
24 Mara Abbott (USA) Team High Road - Women                               
25 Rebecca Larson (USA) Aaron's Women's Professional Cycling Team         
26 Sharon Allpress (USA) ValueAct Capital Cycling Team                    
27 Melodie Metzger (USA) Proman Racing                                    
28 Modesta Vzesniauskaite (Ltu) Equipe Nürnberger Versicherung            
29 Kim Anderson (USA) Team High Road - Women                          0.23
30 Oenone Wood (Aus) Team High Road - Women                           0.27
31 Kacey Manderfield (USA) Verducci Breakaway Racing                  0.33
32 Flavia Oliveira (Bra) Vanderkitten Racing                              
33 Meredith Miller (USA) Aaron's Women's Professional Cycling Team    0.37
34 Alison Powers (USA) Colavita/Sutter Home p/b Cooking Light             
35 Amity Elliot (USA) Juice Plus+ Women's Cycling Team                0.41
36 Christine Thorburn (USA) Webcor Builders Cycling Team                  
37 Gina Grain (Can) Webcor Builders Cycling Team                          
38 Lauren Ellis (NZl) Jazz Apple                                      0.49
39 Rachel Lloyd (USA) Proman Racing                                   0.52
40 Kelly Benjamin (USA) Cheerwine Cycling                             0.56
41 Erinne Willock (Can) Webcor Builders Cycling Team                  1.21
42 Amber Rais (USA) Team Tibco                                            
43 Priska Doppmann (Swi) Cervelo Lifeforce Pro Cycling Team           1.58
44 Emma Rickards (Aus) Cervelo Lifeforce Pro Cycling Team             3.25
45 Kristin Armstrong (Swi) Cervelo Lifeforce Pro Cycling Team             
46 Marni Hambleton (Can) ValueAct Capital Cycling Team                    
47 Suzanne De Goede (Ger) Equipe Nürnberger Versicherung                  
48 Sarah Bamberger (USA) Cheerwine Cycling                            7.55
49 Holli Steelman (USA) Juice Plus+ Women's Cycling Team              8.00
50 Jennifer Wilson (USA) Vanderkitten Racing                              
51 Pascale Schnider (Swi) Cervelo Lifeforce Pro Cycling Team              
52 Virginia Perkins (USA) Proman Racing                                   
53 Sonja Evers (USA) C3-Sollay.com                                        
54 Arley Kemmerer (USA) Hub Racing                                        
55 Kate Flore (USA) HPC Powered by Altarum                                
56 Marjan Huizing (USA) Team Kenda Tire                                   
57 Patricia Schwager (Swi) Cervelo Lifeforce Pro Cycling Team             
58 Rachel Warner (USA) Juice Plus+ Women's Cycling Team                   
59 Andrea Myers (USA) Team Kenda Tire                                     
60 Kristy Scheffenacker (USA) HPC Powered by Altarum                      
61 Marie Lindberg (Swe) Equipe Nürnberger Versicherung                    
62 Robin Farina (USA) Cheerwine Cycling                               8.04
63 Emma Petersen (NZl) Jazz Apple                                     9.27
64 Tricia Carnila (USA) Verducci Breakaway Racing                         
65 Martina Patella (USA) ValueAct Capital Cycling Team                    
66 Kathryn Clark (USA) Team Kenda Tire                                    
67 Nichole Wangsgard (USA) Colavita/Sutter Home p/b Cooking Light         
68 Leeanne Manderson (Aus) Hub Racing                                11.50
DNS Theresa Cliff-Ryan (USA) Verducci Breakaway Racing                    
DNS Alex Wrubleski (Can) Webcor Builders Cycling Team                     
DNS Belinda Goss (Aus) Jazz Apple                                         
DNS Susy Pryde (NZl) Jazz Apple                                           
DNS Laura Mccaughey (Aus) Juice Plus+ Women's Cycling Team                
DNS Gina Voci (USA) Juice Plus+ Women's Cycling Team                      
DNF Kate Bates (Aus) Team High Road - Women                               
DNF Larissa Kleinmann (Ger) Equipe Nürnberger Versicherung                
DNF Jessie Maclean (Aus) Verducci Breakaway Racing                        
DNF Kele Murdin (USA) Verducci Breakaway Racing                           
DNF Lisa Jellet (USA) Verducci Breakaway Racing                           
DNF Janel Holcomb (USA) Webcor Builders Cycling Team                      
DNF Cora Olson (USA) BMW-Bianchi                                          
DNF Nicole Bossie (USA) BMW-Bianchi                                       
DNF Laura Weislo (USA) BMW-Bianchi                                        
DNF Jennifer Petosa (USA) BMW-Bianchi                                     
DNF Cara Mccauley (USA) BMW-Bianchi                                       
DNF Janet Olney (USA) C3-Sollay.com                                       
DNF Lorraine Lipfert (USA) C3-Sollay.com                                  
DNF Beth Mason (USA) C3-Sollay.com                                        
DNF Diane Castor-Grimm (USA) C3-Sollay.com                                
DNF Heidi Von Teitenberg (USA) C3-Sollay.com                              
DNF Shontell Gauthier (USA) Colavita/Sutter Home p/b Cooking Light        
DNF Jenette Williams (USA) HPC Powered by Altarum                         
DNF Jen Rasmussen (USA) HPC Powered by Altarum                            
DNF Lesley Golenor (USA) HPC Powered by Altarum                           
DNF Dale Tye (NZl) Hub Racing                                             
DNF Emma Giddens (NZl) Hub Racing                                         
DNF Sheba Farrin (USA) Hub Racing                                         
DNF Liz Leyden (Aus) Hub Racing                                           
DNF Malindi Maclean (NZl) Jazz Apple                                      
DNF Helene Drumm (USA) Proman Racing                                      
DNF Kristin Drumm (USA) Proman Racing                                     
DNF Sue Palmer-Komar (Can) Team Advil/Chapstik                            
DNF Brenda Lyons (USA) Team Advil/Chapstik                                
DNF Natalie Klemko (USA) Team Advil/Chapstik                              
DNF Sarah Tillotson (USA) Team Advil/Chapstik                             
DNF Laura Bowles (USA) Team Advil/Chapstik                                
DNF Marni Harker (USA) Team Kenda Tire                                    
DNF Jennifer Maxwell (USA) Team Kenda Tire                                
DNF Yukie Nakamura (Jpn) Team Kenda Tire                                  
DNF Rachel Heal (GBr) Team Tibco                                          
DNF Helen Kelly (Aus) Team Tibco                                          
DNF Lara Kroepsch (USA) ValueAct Capital Cycling Team                     
DNF Emily Zell (USA) ValueAct Capital Cycling Team                        
DNF Christina Ruiter (USA) ValueAct Capital Cycling Team                  
DNF Liz Hatch (USA) Vanderkitten Racing                                   
DNF Jennifer Tilley (USA) Vanderkitten Racing                             

Women's Triple Crown final standings

1 Ina Teutenberg (Team High Road - Women)