23rd Tour de Beauce - 2.2
Canada, June 10-15, 2008
Main Page Results Overall standings Previous Stage Next Stage
Stage 5 - June 14: Circuit Urbain Saint-Georges, 144km
Perfect tactics give Sparkasse one-two finish
Tuft heads into finale with yellow
By Mark Zalewski, North American Editor in Saint-Georges, Québec
Andreas Shillinger and Eric Baumann (Sparkasse)
Photo ©: Mark Zalewski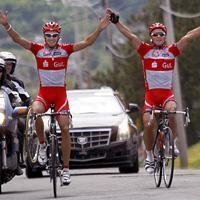 Andreas Shillinger and Eric Baumann (Sparkasse) out rode a large breakaway group on the tough circuit course in Saint-Georges, which featured 15 laps up a 1.5km climb to the finish. Each lap shed a few more riders until the penultimate lap when the German duo attacked up the climb, leaving all but Frenchman Paul Brousse (A-Style Stomn) behind. The two Sparkasse riders attacked Brousse on top of the course, easily escaping him before rejoining on the final descent and climb for an impressive shared victory.
"For both us it was a hard day," Shillinger told Cyclingnews. "The breakaway group went on the first lap and every team had one rider, so we all worked together." Sparkasse was one of three teams with two riders apiece in the break, along with Team Type 1 and Pezula. "All the time we tried to be in the first group because many riders did not want to ride - they saw three teams with two riders," said Baumann. "So we had to always be in a good position."
While Baumann took a podium spot on the opening stage, he told his team-mate in the break that today was not his day. "At the beginning of the race my legs did not feel so good, so I went to Shilli and told him it is your day and I will ride for you. But then my legs came around and I saw the group [I was in] was tiring."
Part of the breakaway
Photo ©: Mark Zalewski

The group had rolled up to more than a four-minute gap before the Symmetrics team started pulling back the time. With the split coming down and remaining riders beginning to suffer on the finish climb, Shillinger put the first back-breaking attack in. "Five laps before the end I just decided to go up the hill faster," he said simply.
Baumann watched the rest of the break's reactions to his team-mate's attack before deciding his legs had finally come around. "There was a group away with Shilli and Chris Jones was riding full block to get back to this group," he said. Baumann took the ride behind Jones to reach his team-mate which then set-up the final attack. "On the second to last climb Shilli attacked and I was waiting, waiting. Everyone was tired and then I went to make two of us on the front."
Only two riders were able to come over the top within sight of the Sparkasse riders - Paul Brousse (A-Style Stomn) and Ian MacGregor (Team Type 1). While MacGregor never made it back to the lead, Brousse did. But it was not to be a blessing as the two Germans has plans for the French rider. "We told him we did not want him there," joked Baumann.
"I came back and then they attacked once, then another and that was it," said Brousse. "It was a very difficult race. The climb was tough and then the part with the wind after."
Symmetrics protected race leader Svein Tuft all day,
Photo ©: Mark Zalewski

After successfully dropping Brousse the two Germans hooked up and descended together. Riding into town towards the start of the climb for the final time, an escort motorcycle came to a quick stop to prevent a car from entering the course, but nearly taking out the leaders. "From one moment to the other he was going and then he was standing still!" said Baumann. "Shilli saw him by luck and yelled - I was behind him looking down and bam! I think I broke a spoke... but I was lucky."
Baumann rode the final climb with an imperfect wheel, but the win for his teammate and the team was perfect - after a week of many quiet seconds and thirds. "Normally we wanted to set everything on the second stage, but at 500 metres I had a flat tire. But the other days have been on the podium, but now to have a win is good!"
Back in the field it was all eyes on Symmetrics and race leader Svein Tuft. As the race wore on Team Type 1 pushed the issue by sending KOM leader Glen Chadwick up the road on the climb multiple times. "With three of us up there on GC one of us had to do it and I didn't mind," said Chadwick about this attacks. "We were trying to get rid of a few Symmetrics guys which we did, there were only three of them in the end. But Cam Evans was the key to their success today. The third time when I attacked Tuft was even having trouble holding Cam's wheel!"
The break begins to hurt
Photo ©: Mark Zalewski

Tuft said he expected the attacks from Chadwick and his team was as prepared as they could be for them. "It was what we expected, Chadwick has so much horsepower - he can attack 20 times and still ride away from you, so he is always a danger guy. With him softening it up and having Aldape, Kobzarenko and Colex sitting on getting a free ride, it was our concern getting isolated."
But Tuft was all smiles regarding his team's jersey defence on the day, which never left him alone. "My team rode so strong, I was so shocked!" he said. "I think it was three to go and my guys are still rolling up after crazy attacks on the climb! It was an awesome ride by the team, and I think that actually motivated us even more - that we were able to control and no one put us under real serious pressure. I'm sure it will motivate [the other teams] too but tomorrow is a shorter day and that false flat at the top after the steep climb is enough for my horsepower guys to bring me back."
Team Type 1 with three GC riders was clearly the instigator on the day, and Tecos-Trek let them take the initiative. However, Bernardo Colex is still the closest on the overall just six seconds back.
"We were trying to tell Tecos to do something with us, but they couldn't seem to do anything," said Chadwick, hoping to motivate the team to work in Sunday's finale in Ville de Québec. His teammates Moises Aldape and 2006 champion Valeriy Kobzarenko are 46 and 49 seconds behind Tuft respectively.
Photography
For a thumbnail gallery of these images, click here
Images by Mark Zalewski / Cyclingnews.com
Images by Jerome Lessard
Results
1 Andreas Schillinger (Ger) Team Sparkasse                          3.48.08 (37.872 km/h)
2 Eric Baumann (Ger) Team Sparkasse                                        
3 Paul Brousse (Fra) A-Style Stomn                                     0.51
4 Ian MacGregor (USA) Team Type 1                                      1.06
5 Cameron Jennings (Aus) Pezula Racing                                 1.08
6 Robert Partridge (GBr) Rapha Condor Recyclingcouk                    1.12
7 Jean-Sébastien Perron (Can) Eva Devinci                              1.18
8 Chris Jones (USA) Team Type 1                                        1.29
9 Carlos Oyarzun Guinez (Chi) Tecos Trek Uag                           1.41
10 Moises Aldape (Mex) Team Type 1                                     1.54
11 Bernardo Colex Tepoz (Mex) Tecos Trek Uag                           1.55
12 Svein Tuft (Can) Symmetrics                                         1.56
13 Gregorio Ladino Vega (Col) Tecos Trek Uag                           1.58
14 Valeriy Kobzarenko (Ukr) Team Type 1                                1.59
15 Matt Shriver (USA) Jittery Joe's                                        
16 Christopher Newton (GBr) Rapha Condor Recyclingcouk                 2.00
17 Michael Stevenson (Swe) Amore & Vita-McDonald's                     2.01
18 Darren Lapthorne (Aus) Team Sparkasse                               2.02
19 Cameron Evans (Can) Symmetrics                                      2.04
20 Glen Chadwick (NZl) Team Type 1                                         
21 Soren Nissen (Den) Amore & Vita-McDonald's                          2.07
22 Jacob Erker (Can) Symmetrics                                            
23 François Parisien (Can) Team Race Pro                               2.09
24 Derrick St-John (Can) Garneau-Crocs                                 2.19
25 Rob Britton (Can) Trek-Red Truck Racing                             2.20
26 Johann Rabie (RSA) South African U23 National Team                  2.22
27 Jacobus Venter (RSA) South African U23 National Team                2.23
28 Aristide Ratti (Ita) A-Style Stomn                                  2.25
29 Patrique Gama Azevedos (Bra) Garneau-Crocs                          2.29
30 Dan Timmerman (USA) Team Race Pro                                       
31 Ryan Bonser (GBr) Rapha Condor Recyclingcouk                        2.31
32 Travis Allen (RSA) Konica-Minolta                                   2.32
33 Dennis Van Niekerk (RSA) Konica-Minolta                                 
34 Graziano Gasparre (Ita) Amore & Vita-McDonald's                         
35 Bruno Langlois (Can) Équipe Volkswagen                                  
36 Miguel Martinez (Fra) Amore & Vita-McDonald's                       2.56
37 Francisco Javier Matamoros (Mex) Tecos Trek Uag                         
38 Luis Macias Hernandez (Mex) Tecos Trek Uag                          2.57
39 Ramos Kleber (Bra) Garneau-Crocs                                        
40 Kristian House (GBr) Rapha Condor Recyclingcouk                     3.06
41 Graham Briggs (GBr) Rapha Condor Recyclingcouk                          
42 George-Édouard Duquette (Can) Eva Devinci                           3.15
43 Arles Antonio Castro Laverde (Col) Équipe Nationale Colombienne     3.24
44 Jairo Perez Suarez (Col) Équipe Nationale Colombienne                   
45 Neil Shirley (USA) Jittery Joe's                                        
46 Ryan Sullivan (Aus) Jittery Joe's                                   3.25
47 Charles Dionne (Can) Équipe Québec                                      
48 Matt Wilson (Aus) Team Type 1                                       3.26
49 Philipp Mamos (Ger) Team Sparkasse                                  3.30
50 Christian Meier (Can) Symmetrics                                    3.47
51 Ryan Roth (Can) Team Race Pro                                       3.58
52 Benjamin Martel (Can) 2Peercom                                      4.45
53 Siphiwe Sowella (RSA) South African U23 National Team               5.41
54 Christoff Van Heerden (RSA) Konica-Minolta                              
55 Herman Fouche (RSA) Konica-Minolta                                      
56 Mathieu Toulouse (Can) Eva Devinci                                      
57 Evan Elken (USA) Jittery Joe's                                          
58 Dominique Perras (Can) Eva Devinci                                      
59 Yuriy Metlushenko (Ukr) Amore & Vita-McDonald's                     5.42
60 Juan Esteban Arango Carvajal (Col) Équipe Nationale Colombienne         
61 Jamie Sparling (Can) Trek-Red Truck Racing                              
62 Lars Wackernagel (Ger) Team Sparkasse                                   
63 Sylvain Georges (Fra) A-Style Stomn                                 9.25
64 Omar Cervantes Diaz (Mex) Tecos Trek Uag                            9.28
65 Pascal Bussières (Can) 2Peercom                                    10.40
66 Tilo Schüler (Ger) Team Sparkasse                                       
67 Mark Pozniak (Can) Team Race Pro                                   10.41
68 Alexandre Cloutier (Can) Équipe Québec                                  
69 Sebastian Frey (Ger) Team Sparkasse                                10.42
70 Ciaran Power (Irl) Pezula Racing                                   10.43
71 Zachary Bell (Can) Symmetrics                                      10.44
72 Andrew Randell (Can) Symmetrics                                         
73 Florencio Ramos Torres (Mex) Tecos Trek Uag                             
74 Phil Cortes (Can) Amore & Vita-McDonald's                          12.23
75 Fabio Calabria (Aus) Team Type 1                                   13.59
76 Derek Burke (Irl) Pezula Racing                                    16.05
77 Hichem Chaabane (Alg) Konica-Minolta                               16.53
78 Jean-François Racine (Can) Garneau-Crocs                           19.12
79 Tyler Trace (Can) Trek-Red Truck Racing                            19.13
80 Rhys Lloyd (GBr) Rapha Condor Recyclingcouk                             
81 Bradley Potgieter (RSA) South African U23 National Team                 
82 Michael Joanisse (Can) Garneau-Crocs                                    
83 Ben Kneller (USA) Jittery Joe's                                         
84 Fournet-Fayard Sébastien (Fra) A-Style Stomn                            
85 Matthew Bell (Can) Équipe Québec                                        
86 Andrew Pinfold (Can) Symmetrics                                    19.14
87 David O'Loughlin (Irl) Pezula Racing                                    
88 Kevin Noils (Can) Trek-Red Truck Racing                                 
89 Dustin Macburnie (Can) Team Race Pro                                    
90 Dave Vukets (Can) Trek-Red Truck Racing                            21.57
91 Martyn Irvine (Irl) Pezula Racing                                  24.24
92 Tomas Roba (Cze) Rocky Mountain Bikes                              33.07
DNF Kevin Buck Miller (Can) Team Race Pro                                  
DNF Morgan Fox (Irl) Pezula Racing                                         
DNF Mohamed Aoun Seghir (Alg) Konica-Minolta                               
DNF Tim Hucker (Aus) Garneau-Crocs                                         
DNF Peter Ladd (Aus) Garneau-Crocs                                         
DNF Arnaud Papillon (Can) Équipe Volkswagen                                
DNF Jean-Michel Lachance (Can) Équipe Québec                               
DNF Matt Guse (Can) Équipe Québec                                          
DNF John Bairo Casallas (Col) 2Peercom                                     
DNF Pierre Boilard (Can) 2Peercom                                          
DNF Jonathan Kinnear (RSA) South African U23 National Team                 
DNF Carlos Eduardo Alzate Escobar (Col) Équipe Nationale Colombienne       
DNF Forero Carreño Juan Pablo (Col) Équipe Nationale Colombienne           
DNF Norman Bryner (USA) Rocky Mountain Bikes                               
DNF Courtney Guck (USA) Rocky Mountain Bikes                               
DNF Randy Reichardt (USA) Rocky Mountain Bikes                             
DNF Guillaume Boivin (Can) Eva Devinci                                     
 
Sprint
 
1
1 Eric Baumann (Ger) Team Sparkasse                                       3 pts
2 Chris Jones (USA) Team Type 1                                           2
3 Andreas Schillinger (Ger) Team Sparkasse                                1
 
2
1 Eric Baumann (Ger) Team Sparkasse                                       3 pts
2 Andreas Schillinger (Ger) Team Sparkasse                                2
3 Ian MacGregor (USA) Team Type 1                                         1
 
Stage finish
1 Andreas Schillinger (Ger) Team Sparkasse                               15 pts
2 Eric Baumann (Ger) Team Sparkasse                                      14
3 Paul Brousse (Fra) A-Style Stomn                                       13
4 Ian MacGregor (USA) Team Type 1                                        12
5 Cameron Jennings (Aus) Pezula Racing                                   11
6 Robert Partridge (GBr) Rapha Condor Recyclingcouk                      10
7 Jean-Sébastien Perron (Can) Eva Devinci                                 9
8 Chris Jones (USA) Team Type 1                                           8
9 Carlos Oyarzun Guinez (Chi) Tecos Trek Uag                              7
10 Moises Aldape (Mex) Team Type 1                                        6
11 Bernardo Colex Tepoz (Mex) Tecos Trek Uag                              5
12 Svein Tuft (Can) Symmetrics                                            4
13 Gregorio Ladino Vega (Col) Tecos Trek Uag                              3
14 Valeriy Kobzarenko (Ukr) Team Type 1                                   2
15 Matt Shriver (USA) Jittery Joe's                                       1
 
Mountains
 
1
1 Chris Jones (USA) Team Type 1                                          10 pts
2 Charles Dionne (Can) Équipe Québec                                      8
3 Neil Shirley (USA) Jittery Joe's                                        6
4 Paul Brousse (Fra) A-Style Stomn                                        5
5 Jean-Sébastien Perron (Can) Eva Devinci                                 4
6 Robert Partridge (GBr) Rapha Condor Recyclingcouk                       3
7 Ciaran Power (Irl) Pezula Racing                                        2
8 Ryan Roth (Can) Team Race Pro                                           1
2
1 Chris Jones (USA) Team Type 1                                          10 pts
2 Carlos Oyarzun Guinez (Chi) Tecos Trek Uag                              8
3 Andreas Schillinger (Ger) Team Sparkasse                                6
4 Ian MacGregor (USA) Team Type 1                                         5
5 Cameron Jennings (Aus) Pezula Racing                                    4
6 Jean-Sébastien Perron (Can) Eva Devinci                                 3
7 Paul Brousse (Fra) A-Style Stomn                                        2
8 Jairo Perez Suarez (Col) Équipe Nationale Colombienne                   1
 
3
1 Andreas Schillinger (Ger) Team Sparkasse                               10 pts
2 Paul Brousse (Fra) A-Style Stomn                                        8
3 Carlos Oyarzun Guinez (Chi) Tecos Trek Uag                              6
4 Ian MacGregor (USA) Team Type 1                                         5
5 Cameron Jennings (Aus) Pezula Racing                                    4
6 Jean-Sébastien Perron (Can) Eva Devinci                                 3
7 Chris Jones (USA) Team Type 1                                           2
8 Robert Partridge (GBr) Rapha Condor Recyclingcouk                       1
 
Teams
 
1 Team Sparkasse                                                   11.26.26
2 Team Type 1                                                          2.27
3 Tecos Trek Uag                                                       3.32
4 Rapha Condor Recyclingcouk                                           3.41
5 Symmetrics                                                           4.05
6 Amore & Vita-McDonald's                                              4.38
7 Garneau-Crocs                                                        5.43
8 Team Race Pro                                                        6.34
9 Jittery Joe's                                                        6.46
10 Eva Devinci                                                         8.12
11 South African U23 National Team                                     8.24
12 Konica-Minolta                                                      8.43
13 Équipe Nationale Colombienne                                       10.28
14 A-Style Stomn                                                      10.39
15 Trek-Red Truck Racing                                              25.13
16 Pezula Racing                                                      25.54
17 Équipe Québec                                                      31.17
 
General Classification after Stage 5
 
1 Svein Tuft (Can) Symmetrics                                      18.39.08
2 Bernardo Colex Tepoz (Mex) Tecos Trek Uag                            0.06
3 Moises Aldape (Mex) Team Type 1                                      0.46
4 Valeriy Kobzarenko (Ukr) Team Type 1                                 0.49
5 Glen Chadwick (NZl) Team Type 1                                      1.13
6 Darren Lapthorne (Aus) Team Sparkasse                                1.40
7 Andreas Schillinger (Ger) Team Sparkasse                             2.14
8 François Parisien (Can) Team Race Pro                                2.20
9 Soren Nissen (Den) Amore & Vita-McDonald's                           2.36
10 Gregorio Ladino Vega (Col) Tecos Trek Uag                           2.38
11 Cameron Evans (Can) Symmetrics                                      2.56
12 Paul Brousse (Fra) A-Style Stomn                                    3.00
13 Christopher Newton (GBr) Rapha Condor Recyclingcouk                 3.05
14 Patrique Gama Azevedos (Bra) Garneau-Crocs                          3.17
15 Michael Stevenson (Swe) Amore & Vita-McDonald's                         
16 Rob Britton (Can) Trek-Red Truck Racing                             3.19
17 Jacob Erker (Can) Symmetrics                                        3.57
18 Miguel Martinez (Fra) Amore & Vita-McDonald's                       4.03
19 Johann Rabie (RSA) South African U23 National Team                  4.06
20 Carlos Oyarzun Guinez (Chi) Tecos Trek Uag                          4.48
21 Kristian House (GBr) Rapha Condor Recyclingcouk                     4.52
22 Cameron Jennings (Aus) Pezula Racing                                5.09
23 Chris Jones (USA) Team Type 1                                       5.13
24 Graziano Gasparre (Ita) Amore & Vita-McDonald's                     6.17
25 Christian Meier (Can) Symmetrics                                    6.25
26 Jacobus Venter (RSA) South African U23 National Team                6.37
27 Eric Baumann (Ger) Team Sparkasse                                   6.40
28 Ryan Bonser (GBr) Rapha Condor Recyclingcouk                        7.00
29 Aristide Ratti (Ita) A-Style Stomn                                  7.17
30 Robert Partridge (GBr) Rapha Condor Recyclingcouk                   8.15
31 Charles Dionne (Can) Équipe Québec                                  8.18
32 Luis Macias Hernandez (Mex) Tecos Trek Uag                          8.57
33 Bruno Langlois (Can) Équipe Volkswagen                              9.14
34 Graham Briggs (GBr) Rapha Condor Recyclingcouk                      9.33
35 Ryan Sullivan (Aus) Jittery Joe's                                   9.56
36 Dominique Perras (Can) Eva Devinci                                 10.00
37 Jean-Sébastien Perron (Can) Eva Devinci                            10.10
38 Jairo Perez Suarez (Col) Équipe Nationale Colombienne              10.28
39 Benjamin Martel (Can) 2Peercom                                     10.32
40 Travis Allen (RSA) Konica-Minolta                                  10.33
41 Francisco Javier Matamoros (Mex) Tecos Trek Uag                    10.50
42 Matt Wilson (Aus) Team Type 1                                      11.07
43 Dennis Van Niekerk (RSA) Konica-Minolta                            11.08
44 Neil Shirley (USA) Jittery Joe's                                   11.14
45 Ian MacGregor (USA) Team Type 1                                    11.28
46 Matt Shriver (USA) Jittery Joe's                                   11.40
47 Ramos Kleber (Bra) Garneau-Crocs                                   11.58
48 Yuriy Metlushenko (Ukr) Amore & Vita-McDonald's                    12.39
49 Ryan Roth (Can) Team Race Pro                                      12.55
50 Sylvain Georges (Fra) A-Style Stomn                                13.45
51 Mathieu Toulouse (Can) Eva Devinci                                 14.05
52 Siphiwe Sowella (RSA) South African U23 National Team              15.42
53 Evan Elken (USA) Jittery Joe's                                     16.25
54 Jamie Sparling (Can) Trek-Red Truck Racing                         16.47
55 Dan Timmerman (USA) Team Race Pro                                  17.41
56 Philipp Mamos (Ger) Team Sparkasse                                 18.53
57 Alexandre Cloutier (Can) Équipe Québec                             20.02
58 Derrick St-John (Can) Garneau-Crocs                                20.22
59 Florencio Ramos Torres (Mex) Tecos Trek Uag                        20.40
60 Zachary Bell (Can) Symmetrics                                      21.38
61 Ciaran Power (Irl) Pezula Racing                                   22.23
62 Mark Pozniak (Can) Team Race Pro                                        
63 Pascal Bussières (Can) 2Peercom                                    22.32
64 Hichem Chaabane (Alg) Konica-Minolta                               23.21
65 Dustin Macburnie (Can) Team Race Pro                               23.46
66 Omar Cervantes Diaz (Mex) Tecos Trek Uag                           24.01
67 Juan Esteban Arango Carvajal (Col) Équipe Nationale Colombienne    24.09
68 Sebastian Frey (Ger) Team Sparkasse                                24.56
69 George-Édouard Duquette (Can) Eva Devinci                          25.04
70 Lars Wackernagel (Ger) Team Sparkasse                              26.23
71 Christoff Van Heerden (RSA) Konica-Minolta                         26.32
72 Herman Fouche (RSA) Konica-Minolta                                 27.23
73 David O'Loughlin (Irl) Pezula Racing                               28.03
74 Michael Joanisse (Can) Garneau-Crocs                               29.04
75 Tilo Schüler (Ger) Team Sparkasse                                  29.40
76 Fabio Calabria (Aus) Team Type 1                                   29.43
77 Phil Cortes (Can) Amore & Vita-McDonald's                          30.00
78 Ben Kneller (USA) Jittery Joe's                                    30.19
79 Matthew Bell (Can) Équipe Québec                                   31.11
80 Dave Vukets (Can) Trek-Red Truck Racing                            31.36
81 Bradley Potgieter (RSA) South African U23 National Team            31.52
82 Andrew Randell (Can) Symmetrics                                    32.42
83 Fournet-Fayard Sébastien (Fra) A-Style Stomn                       33.33
84 Kevin Noils (Can) Trek-Red Truck Racing                            34.41
85 Rhys Lloyd (GBr) Rapha Condor Recyclingcouk                        38.31
86 Arles Antonio Castro Laverde (Col) Équipe Nationale Colombienne    41.51
87 Andrew Pinfold (Can) Symmetrics                                    46.03
88 Martyn Irvine (Irl) Pezula Racing                                  48.50
89 Tyler Trace (Can) Trek-Red Truck Racing                            54.11
90 Tomas Roba (Cze) Rocky Mountain Bikes                            1.00.18
91 Jean-François Racine (Can) Garneau-Crocs                         1.06.40
92 Derek Burke (Irl) Pezula Racing                                  1.38.44
 
Sprint classification
 
1 Moises Aldape (Mex) Team Type 1                                        47 pts
2 Bernardo Colex Tepoz (Mex) Tecos Trek Uag                              46
3 Eric Baumann (Ger) Team Sparkasse                                      40
4 Andreas Schillinger (Ger) Team Sparkasse                               38
5 Valeriy Kobzarenko (Ukr) Team Type 1                                   32
6 Glen Chadwick (NZl) Team Type 1                                        30
7 Svein Tuft (Can) Symmetrics                                            29
8 Miguel Martinez (Fra) Amore & Vita-McDonald's                          27
9 Ramos Kleber (Bra) Garneau-Crocs                                       24
10 Yuriy Metlushenko (Ukr) Amore & Vita-McDonald's                       23
11 Evan Elken (USA) Jittery Joe's                                        20
12 Paul Brousse (Fra) A-Style Stomn                                      20
13 Michael Stevenson (Swe) Amore & Vita-McDonald's                       19
14 Darren Lapthorne (Aus) Team Sparkasse                                 19
15 Gregorio Ladino Vega (Col) Tecos Trek Uag                             18
16 François Parisien (Can) Team Race Pro                                 16
17 Soren Nissen (Den) Amore & Vita-McDonald's                            15
18 Graziano Gasparre (Ita) Amore & Vita-McDonald's                       15
19 Ciaran Power (Irl) Pezula Racing                                      14
20 Sebastian Frey (Ger) Team Sparkasse                                   14
21 Ian MacGregor (USA) Team Type 1                                       14
22 David O'Loughlin (Irl) Pezula Racing                                  14
23 Sylvain Georges (Fra) A-Style Stomn                                   14
24 Kristian House (GBr) Rapha Condor Recyclingcouk                       13
25 Luis Macias Hernandez (Mex) Tecos Trek Uag                            13
26 Dan Timmerman (USA) Team Race Pro                                     12
27 Charles Dionne (Can) Équipe Québec                                    12
28 Cameron Jennings (Aus) Pezula Racing                                  11
29 Dominique Perras (Can) Eva Devinci                                    11
30 Christoff Van Heerden (RSA) Konica-Minolta                            11
31 Robert Partridge (GBr) Rapha Condor Recyclingcouk                     10
32 Chris Jones (USA) Team Type 1                                         10
33 Jean-Sébastien Perron (Can) Eva Devinci                                9
34 Christopher Newton (GBr) Rapha Condor Recyclingcouk                    9
35 Fournet-Fayard Sébastien (Fra) A-Style Stomn                           9
36 Matt Wilson (Aus) Team Type 1                                          8
37 Ryan Roth (Can) Team Race Pro                                          8
38 Herman Fouche (RSA) Konica-Minolta                                     8
39 Carlos Oyarzun Guinez (Chi) Tecos Trek Uag                             7
40 Juan Esteban Arango Carvajal (Col) Équipe Nationale Colombienne        7
41 Zachary Bell (Can) Symmetrics                                          6
42 Hichem Chaabane (Alg) Konica-Minolta                                   6
43 Rob Britton (Can) Trek-Red Truck Racing                                5
44 Patrique Gama Azevedos (Bra) Garneau-Crocs                             5
45 Dennis Van Niekerk (RSA) Konica-Minolta                                4
46 Philipp Mamos (Ger) Team Sparkasse                                     4
47 Phil Cortes (Can) Amore & Vita-McDonald's                              4
48 Johann Rabie (RSA) South African U23 National Team                     3
49 Cameron Evans (Can) Symmetrics                                         2
50 Jacob Erker (Can) Symmetrics                                           2
51 Aristide Ratti (Ita) A-Style Stomn                                     2
52 Matt Shriver (USA) Jittery Joe's                                       1
53 Derek Burke (Irl) Pezula Racing                                        1
 
Mountains classification
 
1 Glen Chadwick (NZl) Team Type 1                                        54 pts
2 Bernardo Colex Tepoz (Mex) Tecos Trek Uag                              31
3 Phil Cortes (Can) Amore & Vita-McDonald's                              29
4 Fournet-Fayard Sébastien (Fra) A-Style Stomn                           23
5 Chris Jones (USA) Team Type 1                                          22
6 Miguel Martinez (Fra) Amore & Vita-McDonald's                          20
7 Andreas Schillinger (Ger) Team Sparkasse                               20
8 Paul Brousse (Fra) A-Style Stomn                                       20
9 Gregorio Ladino Vega (Col) Tecos Trek Uag                              18
10 Patrique Gama Azevedos (Bra) Garneau-Crocs                            18
11 Moises Aldape (Mex) Team Type 1                                       16
12 Carlos Oyarzun Guinez (Chi) Tecos Trek Uag                            14
13 Martyn Irvine (Irl) Pezula Racing                                     14
14 Ian MacGregor (USA) Team Type 1                                       12
15 Jean-Sébastien Perron (Can) Eva Devinci                               10
16 Svein Tuft (Can) Symmetrics                                            9
17 Derek Burke (Irl) Pezula Racing                                        9
18 Charles Dionne (Can) Équipe Québec                                     8
19 Cameron Jennings (Aus) Pezula Racing                                   8
20 Neil Shirley (USA) Jittery Joe's                                       7
21 Soren Nissen (Den) Amore & Vita-McDonald's                             6
22 Valeriy Kobzarenko (Ukr) Team Type 1                                   6
23 Hichem Chaabane (Alg) Konica-Minolta                                   6
24 Luis Macias Hernandez (Mex) Tecos Trek Uag                             6
25 François Parisien (Can) Team Race Pro                                  6
26 Cameron Evans (Can) Symmetrics                                         6
27 Francisco Javier Matamoros (Mex) Tecos Trek Uag                        5
28 Matt Wilson (Aus) Team Type 1                                          5
29 Florencio Ramos Torres (Mex) Tecos Trek Uag                            5
30 Christian Meier (Can) Symmetrics                                       5
31 Zachary Bell (Can) Symmetrics                                          4
32 Robert Partridge (GBr) Rapha Condor Recyclingcouk                      4
33 Andrew Pinfold (Can) Symmetrics                                        3
34 Ciaran Power (Irl) Pezula Racing                                       2
35 Siphiwe Sowella (RSA) South African U23 National Team                  2
36 Christopher Newton (GBr) Rapha Condor Recyclingcouk                    2
37 Darren Lapthorne (Aus) Team Sparkasse                                  1
38 Jairo Perez Suarez (Col) Équipe Nationale Colombienne                  1
39 Ryan Roth (Can) Team Race Pro                                          1
40 Matt Shriver (USA) Jittery Joe's                                       1
 
Young rider classification
 
1 Johann Rabie (RSA) South African U23 National Team               18.43.14
2 Christian Meier (Can) Symmetrics                                     2.19
3 Jacobus Venter (RSA) South African U23 National Team                 2.31
4 Ryan Bonser (GBr) Rapha Condor Recyclingcouk                         2.54
5 Robert Partridge (GBr) Rapha Condor Recyclingcouk                    4.09
6 Jean-Sébastien Perron (Can) Eva Devinci                              6.04
7 Ramos Kleber (Bra) Garneau-Crocs                                     7.52
8 Siphiwe Sowella (RSA) South African U23 National Team               11.36
9 Mark Pozniak (Can) Team Race Pro                                    18.17
10 Hichem Chaabane (Alg) Konica-Minolta                               19.15
11 Omar Cervantes Diaz (Mex) Tecos Trek Uag                           19.55
12 Juan Esteban Arango Carvajal (Col) Équipe Nationale Colombienne    20.03
13 George-Édouard Duquette (Can) Eva Devinci                          20.58
14 Christoff Van Heerden (RSA) Konica-Minolta                         22.26
15 Herman Fouche (RSA) Konica-Minolta                                 23.17
16 Michael Joanisse (Can) Garneau-Crocs                               24.58
17 Fabio Calabria (Aus) Team Type 1                                   25.37
18 Matthew Bell (Can) Équipe Québec                                   27.05
19 Dave Vukets (Can) Trek-Red Truck Racing                            27.30
20 Bradley Potgieter (RSA) South African U23 National Team            27.46
21 Fournet-Fayard Sébastien (Fra) A-Style Stomn                       29.27
22 Rhys Lloyd (GBr) Rapha Condor Recyclingcouk                        34.25
23 Martyn Irvine (Irl) Pezula Racing                                  44.44
24 Derek Burke (Irl) Pezula Racing                                  1.34.38
 
Teams classification
 
1 Team Type 1                                                      55.56.29
2 Symmetrics                                                           6.19
3 Tecos Trek Uag                                                       6.20
4 Amore & Vita-McDonald's                                              8.58
5 Team Sparkasse                                                       9.12
6 Rapha Condor Recyclingcouk                                          13.08
7 Team Race Pro                                                       16.39
8 A-Style Stomn                                                       23.02
9 South African U23 National Team                                     25.15
10 Garneau-Crocs                                                      26.41
11 Jittery Joe's                                                      27.58
12 Eva Devinci                                                        29.49
13 Konica-Minolta                                                     34.32
14 Trek-Red Truck Racing                                              49.12
15 Équipe Nationale Colombienne                                       50.47
16 Pezula Racing                                                      52.54
17 Équipe Québec                                                      58.15