Tour of Qinghai Lake - 2.HC
China, July 11-20, 2008
Main Page Results Overall standings Stage Details Next Stage
Stage 1 - July 11: Xining prologue, 3.8 km
Rasmussen reigns supreme
By Paul Verkuylen in Xining, China
Alex Rasmussen (Denmark)
Photo ©: Mark Gunter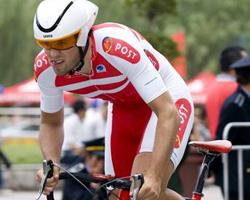 Blasting around the almost flat 3.8 kilometer prologue circuit at over 56km/h, Alex Rasmussen (Danish National team) clocked a time of 4.03.82 to take the first leaders yellow jersey of the 2008 Tour of Qinghai Lake. The Dane blew away the competition, finishing just over ten seconds clear of David McCann (Giant Asia Racing) with a further two seconds back to Oscar Sevilla (Rock Racing).
Rasmussen and the rest of the Danish National track team are taking part in the worlds highest bike race to put the final preparations on their training before they travel to Beijing to contest the 4000m team pursuit. The distance, combined with the wide open roads and sweeping corners were well-suited to Rasmussen.
"I felt perfect. It was like 4km on the track; exactly the same, same strategy of racing so I knew it was going to go pretty well," he told Cyclingnews.
"I took it easy in the start because of the slight uphill but I finished hard. I knew that if you get your heart rate too high with the altitude, then you cannot get it down so I had to save myself for the finishing straight."
Rasmussen's time stunned the huge crowd which lined the course, but none were more surprised than he himself.
"Yeah, I was hoping to win, but I didn't know that I was going to finish 10 seconds ahead of Sevilla. It was a really huge surprise!"
Second place on the stage and long time occupant of the hot seat, which was set up for the leading rider, McCann was almost as surprised with his time as Rasmussen.
Oscar Sevilla (Rock Racing)
Photo ©: Mark Gunter

"I got sick at the start of the tour of Korea," said McCann, who hails from Northern Ireland. "I felt better as the race went on and eventually I won a stage. Then we had only six days to travel here to Qinghai and rest. It just worked out perfect for me.
"Rasmussen's time was phenomenal. He is a world class track rider so second is good for me."
Oscar Sevilla, Rock Racing's team leader for this event, showed the rest of the peloton with his third place, that he is on form and should be regarded as the hot favorite for the overall.
After a tough few days of travelling, Sevilla was happy to be finally racing and is looking forward to a strong competition. "I felt a little bit out of sync because I haven't ridden my bike in the last two and half days," Sevilla said. "I did everything that I could in order to get going.
I am carrying some good form from Columbia, Philadelphia and the Nationals and I have been training pretty hard for this race, so I will be playing it day-by-day. The altitude is going to be a major factor but I am pretty confident that I will be able to do well."
How it unfolded
With the Irish National team stuck in transit the Tour got underway with a depleted field of 129 riders.
At the chief commissaries discretion the Irish team, which will arrive tonight, will start tomorrow's first stage, with the same time as the last placed rider in the Tour.
The Danish squad were the hot favorites to take the prologue and got things off to a great start. Their first rider Daniel Kreutzfeldt took the early lead in a time of 4:30.44 and was bettered only by his team-mate Michael Morkov Christensen with 4:29.42.
Joseph Lewis (FRF Couriers)
Photo ©: Mark Gunter

From there the lead changed five more times until McCann set the blistering time of 4.13.89. Many believed that his time was going to be impossible to beat as he sliced more than 11 seconds off the previous best time.
As McCann sat in the hot seat, ticking off the more fancied favorites such as Tyler Hamilton (Rock Racing), Sebastian Siedler (Skil-Shimano), Brian Vandborg (Danish National Team) and Oscar Sevilla, a win in the opening prologue seemed almost assured.
Rasmussen using the knowledge passed onto him from his team-mates launched himself out of the start gate as the fifth to last rider. "They told me to save myself because many of them went full gas from the beginning because it was so short they died at the end," he explained.
Rasmussen squeezed every last hundredth of a second out of the course to better McCann by ten seconds.
Photography
For a thumbnail gallery of these images, click here
Images by Mark Gunter/www.pbase.com/gunterphotograph
Results

1 Alex Rasmussen (Den) Denmark                                                                         4.03.83 (56.3km/h)
2 David Mccann (Irl) Giant Asia Racing Team                                                            0.10.07
3 Oscar Sevilla Ribera (Spa) Rock Racing                                                               0.12.72
4 Charles Bradley Huff (USA) Jelly Belly Cycling Team                                                  0.13.92
5 Michael Creed (USA) Rock Racing                                                                      0.16.01
6 Gregor Gazvoda (Slo) Perutnina Ptuj                                                                  0.18.06
7 Joseph Lewis (Aus) FRF Couriers - NSWIS                                                              0.18.73
8 Casper Jorgensen (Den) Denmark                                                                       0.18.84
9 Gabriele Missaglia (Ita) Serramenti Diquigiovanni-Androni                                            0.21.06
10 Xitao Ji (Chn) Qinghai,China                                                                        0.21.66
11 Jens-Erik Madsen (Den) Denmark                                                                      0.21.96
12 Tyler Hamilton (USA) Rock Racing                                                                    0.22.10
13 Van Ulden Bernard (USA) Jelly Belly Cycling Team                                                    0.22.28
14 Hossein Nateghi (Irn) Tabriz Petrochemical Team                                                     0.22.34
15 Erik Hoffmann (Nam) Giant Asia Racing Team                                                          0.22.63
16 Jeremy Powers (USA) Jelly Belly Cycling Team                                                        0.22.97
17 Nicholas Sanderson (Aus) Jelly Belly Cycling Team                                                   0.24.05
18 Sebastian Siedler (Ger) Skil-Shimano                                                                0.24.35
19 Ruslan Ivanov (Mda) Serramenti Diquigiovanni-Androni                                                0.24.47
20 Hossein Askari (Irn) Tabriz Petrochemical Team                                                      0.24.74
21 Rhys Pollock (Aus) GE - Marco Polo Team P/B Trek                                                    0.25.11
22 Mitja Mahoric (Slo) Perutnina Ptuj                                                                  0.25.15
23 Khalmuratov Muradjan (Uzb) Uzbekistan                                                               0.25.37
24 Volodymyr Zagorodnyy (Ukr) Ukraine                                                                  0.25.47
25 Ghader Mizbani Iranagh (Irn) Tabriz Petrochemical Team                                              0.25.51
26 Matej Stare (Slo) Perutnina Ptuj                                                                    0.25.54
27 Michael Morkov Christensen (Den) Denmark                                                            0.25.60
28 Oleksandr Kvachuk (Ukr) Ukraine                                                                     0.25.66
29 Kristjan Koren (Slo) Perutnina Ptuj                                                                 0.25.86
30 Robert Wagner (Ger) Skil-Shimano                                                                    0.26.36
31 Daniel Kreutzfeldt (Den) Denmark                                                                    0.26.62
32 Sergey Lagutin (Uzb) Cycle Collstrop                                                                0.26.75
33 Fred Rodriguez (USA) Rock Racing                                                                    0.26.82
34 Marcin Osinski (Pol) Poland                                                                         0.27.28
35 Mirko Selvaggi (Ita) Cycle Collstrop                                                                0.27.76
36 Jason Hegert (Aus) FRF Couriers - NSWIS                                                             0.27.92
37 Tom Veelers (Ned) Skil-Shimano                                                                      0.28.19
38 Frantisek Kloucek (Cze) Psk Whirlpool - Author                                                      0.28.35
39 Fumiyuki Beppu (Jpn) Skil-Shimano                                                                   0.28.97
40 Brian Vandborg (Den) Denmark                                                                        0.29.24
41 Thierry Hupond (Fra) Skil-Shimano                                                                   0.29.24
42 Hossein Jahabanian (Irn) Tabriz Petrochemical Team                                                  0.29.43
43 Chris Jory (Aus) FRF Couriers - NSWIS                                                               0.29.68
44 Kristjan Fajt (Slo) Perutnina Ptuj                                                                  0.29.81
45 Blazej Janiaczyk (Pol) Poland                                                                       0.30.07
46 Lucas Persson (Swe) Cycle Collstrop                                                                 0.30.50
47 Stanislav Kozubek (Cze) Psk Whirlpool - Author                                                      0.30.65
48 Sergey Rudaskov (Rus) Cycle Collstrop                                                               0.31.84
49 Michael Faerk Christensen (Den) Denmark                                                             0.31.96
50 Troels Ronning Vinther (Den) Cycle Collstrop                                                        0.31.98
51 Marek Rutkiewicz (Pol) Poland                                                                       0.32.07
52 Ahad Kazemi Sarai (Irn) Tabriz Petrochemical Team                                                   0.32.19
53 Song Baoqing (Chn) China                                                                            0.32.31
54 Luca Solari (Ita) Serramenti Diquigiovanni-Androni                                                  0.32.49
55 Nick Reistad (USA) Jelly Belly Cycling Team                                                         0.32.96
56 Emiliano Donadello (Ita) Serramenti Diquigiovanni-Androni                                           0.32.97
57 Matthew Rice (Aus) Jelly Belly Cycling Team                                                         0.33.22
58 Carlos José Ochoa (Ven) Serramenti Diquigiovanni-Androni                                            0.33.37
59 Starchyk Volodymyr (Ukr) Ukraine                                                                    0.34.69
60 Leopold Konig (Cze) Psk Whirlpool - Author                                                          0.34.91
61 Rongxi Zou (Chn) China                                                                              0.35.73
62 Kam Po Wong HGK Hong Kong Team                                                                      0.35.94
63 Sergey Koudentsov (Rus) GE - Marco Polo Team P/B Trek                                               0.36.29
64 Metlushenko Yuriy (Ukr) Ukraine                                                                     0.36.58
65 Nebojsa Jovanovic SRB Cosmote Kastro                                                                0.36.60
66 Matija Kvasina (Cro) Perutnina Ptuj                                                                 0.36.60
67 Wu Chen (Chn) Qinghai,China                                                                         0.36.64
68 Peter John Herzig (Aus) FRF Couriers - NSWIS                                                        0.36.89
69 Mariusz Witecki (Pol) Poland                                                                        0.36.99
70 Liang Zhang (Chn) China                                                                             0.37.00
71 Tom Criel (Bel) Cycle Collstrop                                                                     0.37.00
72 Michael Lange (USA) Jelly Belly Cycling Team                                                        0.37.21
73 Roger Beuchat (Swi) Serramenti Diquigiovanni-Androni                                                0.37.43
74 Mukmenov Eldar (Uzb) Uzbekistan                                                                     0.37.61
75 Li Fu Yu (Chn) GE - Marco Polo Team P/B Trek                                                        0.37.92
76 Robert Cater (Aus) FRF Couriers - NSWIS                                                             0.37.93
77 Doug Ollerenshaw (USA) Rock Racing                                                                  0.38.56
78 Bo Liu (Chn) China                                                                                  0.38.98
79 Bartosz Huzarski (Pol) Poland                                                                       0.39.10
80 Pakhtusov Anatoliy (Ukr) Ukraine                                                                    0.39.22
81 Stefan Löffler (Ger) Giant Asia Racing Team                                                         0.39.32
82 Michal Golas (Pol) Cycle Collstrop                                                                  0.39.39
83 Jai Crawford (Aus) GE - Marco Polo Team P/B Trek                                                    0.39.61
84 Robert Radosz (Pol) Poland                                                                          0.39.97
85 Jackson Rodriguez (Ven) Serramenti Diquigiovanni-Androni                                            0.40.39
86 Scarfe Dale (Aus) FRF Couriers - NSWIS                                                              0.40.69
87 Abdurahimov Azizbek (Uzb) Uzbekistan                                                                0.41.06
88 Marcin Gebka (Pol) Poland                                                                           0.41.22
89 Martin Mares (Cze) Psk Whirlpool - Author                                                           0.42.13
90 Sergio Hernandez (USA) Rock Racing                                                                  0.42.58
91 Petr Bencik (Cze) Psk Whirlpool - Author                                                            0.42.73
92 Benjamin Johnson (Aus) FRF Couriers - NSWIS                                                         0.43.45
93 Kayle Leo Grande (USA) Rock Racing                                                                  0.43.90
94 Jure Kocjan (Slo) Perutnina Ptuj                                                                    0.43.92
95 Christoph Springer (Ger) Cosmote Kastro                                                             0.44.09
96 Shengjun Wu (Chn) Qinghai,China                                                                     0.44.98
97 Ivoljatov Yuriy (Uzb) Uzbekistan                                                                    0.45.22
98 Long Jin (Chn) Skil-Shimano                                                                         0.45.34
99 Wolter Henrik (Ger) Cosmote Kastro                                                                  0.45.75
100 Reza Bagheri (Irn) Tabriz Petrochemical Team                                                       0.46.46
101 Zabava Volodymyr (Ukr) Ukraine                                                                     0.47.30
102 Ji Cheng (Chn) Skil-Shimano                                                                        0.47.84
103 Wenlong Zhang (Chn) China                                                                          0.49.37
104 Vahid Chaffare (Irn) Tabriz Petrochemical Team                                                     0.49.38
105 Alex Coutts (GBr) Giant Asia Racing Team                                                           0.49.61
106 Fotis Antonarakis (Gre) Cosmote Kastro                                                             0.50.41
107 Peng Liu (Chn) China                                                                               0.50.86
108 Joshua Page (NZl) Giant Asia Racing Team                                                           0.51.79
109 Ho Ting Kwok (HKg) Hong Kong Team                                                                  0.52.32
110 Jakub Danacik (Cze) Psk Whirlpool - Author                                                         0.52.33
111 Liu Biao (Chn) Qinghai,China                                                                       0.52.45
112 King Wai Cheung (HKg) Hong Kong Team                                                               0.53.48
113 Yue Tu (Chn) China                                                                                 0.53.61
114 Chun Hing Chan (HKg) Hong Kong Team                                                                0.53.77
115 Yuan Wei (Chn) Qinghai,China                                                                       0.55.09
116 Marko Tomic SRB Cosmote Kastro                                                                     0.57.33
117 Wang Yip Tang (HKg) Hong Kong Team                                                                 0.58.47
118 Ruisong Zhang (Chn) Qinghai,China                                                                  1.00.32
119 Yan Dong Xing (Chn) GE - Marco Polo Team P/B Trek                                                  1.00.61
120 Turaev Mavlon (Uzb) Uzbekistan                                                                     1.00.96
121 Karimov Ismailjon (Uzb) Uzbekistan                                                                 1.01.49
122 Ying Hon Yeung (HKg) Hong Kong Team                                                                1.01.54
123 Pria Lars ROM Cosmote Kastro                                                                       1.01.67
124 Kin San Wu (HKg) Hong Kong Team                                                                    1.01.82
125 Naumenko Dmytro (Ukr) Ukraine                                                                      1.02.04
126 Jiri Skrobanek (Cze) Cosmote Kastro                                                                1.08.28
127 Loh Sea Keong (Mas) GE - Marco Polo Team P/B Trek                                                  1.11.74
128 Yi Lu (Chn) Qinghai,China                                                                          1.13.29
129 Abrekov Yusup (Uzb) Uzbekistan                                                                     1.36.82
130 Morgan Fox (Irl) Pezula Racing                                                                            
130 Ciaran Power (Irl) Pezula Racing                                                                          
130 Derek Burke (Irl) Pezula Racing                                                                           
130 Kieran Page (GBr) Pezula Racing                                                                           
130 Martyn Irvine (Irl) Pezula Racing                                                                         
130 David O'loughlin (Irl) Pezula Racing                                                                      
130 Cameron Jennings (Aus) Pezula Racing                                                                      
                                                            
 
Points
 
1 Alex Rasmussen (Den) Denmark                                                                              16 pts
2 David Mccann (Irl) Giant Asia Racing Team                                                                 14
3 Oscar Sevilla Ribera (Spa) Rock Racing                                                                    13
4 Charles Bradley Huff (USA) Jelly Belly Cycling Team                                                       12
5 Michael Creed (USA) Rock Racing                                                                           11
6 Gregor Gazvoda (Slo) Perutnina Ptuj                                                                       10
7 Joseph Lewis (Aus) FRF Couriers - NSWIS                                                                    9
8 Casper Jorgensen (Den) Denmark                                                                             8
9 Gabriele Missaglia (Ita) Serramenti Diquigiovanni-Androni                                                  7
10 Xitao Ji (Chn) Qinghai,China                                                                              6
11 Jens-Erik Madsen (Den) Denmark                                                                            5
12 Tyler Hamilton (USA) Rock Racing                                                                          4
13 Van Ulden Bernard (USA) Jelly Belly Cycling Team                                                          3
14 Hossein Nateghi (Irn) Tabriz Petrochemical Team                                                           2
15 Erik Hoffmann (Nam) Giant Asia Racing Team                                                                1
 
Asian rider
 
1 Xitao Ji (Chn) Qinghai,China                                                                            4.25
2 Hossein Nateghi (Irn) Tabriz Petrochemical Team                                                         0.01
3 Hossein Askari (Irn) Tabriz Petrochemical Team                                                          0.03
4 Khalmuratov Muradjan (Uzb) Uzbekistan                                                                   0.04
5 Ghader Mizbani Iranagh (Irn) Tabriz Petrochemical Team                                                      
6 Hossein Jahabanian (Irn) Tabriz Petrochemical Team                                                      0.08
7 Ahad Kazemi Sarai (Irn) Tabriz Petrochemical Team                                                       0.11
8 Song Baoqing (Chn) China                                                                                    
9 Rongxi Zou (Chn) China                                                                                  0.14
10 Kam Po Wong HGK Hong Kong Team                                                                             
11 Wu Chen (Chn) Qinghai,China                                                                            0.15
12 Liang Zhang (Chn) China                                                                                    
13 Mukmenov Eldar (Uzb) Uzbekistan                                                                        0.16
14 Li Fu Yu (Chn) GE - Marco Polo Team P/B Trek                                                               
15 Bo Liu (Chn) China                                                                                     0.17
16 Abdurahimov Azizbek (Uzb) Uzbekistan                                                                   0.19
17 Shengjun Wu (Chn) Qinghai,China                                                                        0.23
18 Ivoljatov Yuriy (Uzb) Uzbekistan                                                                       0.24
19 Reza Bagheri (Irn) Tabriz Petrochemical Team                                                           0.25
20 Wenlong Zhang (Chn) China                                                                              0.28
21 Vahid Chaffare (Irn) Tabriz Petrochemical Team                                                             
22 Peng Liu (Chn) China                                                                                   0.29
23 Ho Ting Kwok (HKg) Hong Kong Team                                                                      0.31
24 Liu Biao (Chn) Qinghai,China                                                                               
25 King Wai Cheung (HKg) Hong Kong Team                                                                   0.32
26 Yue Tu (Chn) China                                                                                         
27 Chun Hing Chan (HKg) Hong Kong Team                                                                        
28 Yuan Wei (Chn) Qinghai,China                                                                           0.33
29 Wang Yip Tang (HKg) Hong Kong Team                                                                     0.37
30 Ruisong Zhang (Chn) Qinghai,China                                                                      0.39
31 Yan Dong Xing (Chn) GE - Marco Polo Team P/B Trek                                                          
32 Turaev Mavlon (Uzb) Uzbekistan                                                                             
33 Karimov Ismailjon (Uzb) Uzbekistan                                                                     0.40
34 Ying Hon Yeung (HKg) Hong Kong Team                                                                        
35 Kin San Wu (HKg) Hong Kong Team                                                                            
36 Loh Sea Keong (Mas) GE - Marco Polo Team P/B Trek                                                      0.50
37 Yi Lu (Chn) Qinghai,China                                                                              0.52
38 Abrekov Yusup (Uzb) Uzbekistan                                                                         1.15
 
Teams
 
1 Denmark                                                                                                12.50
2 Rock Racing                                                                                             0.10
3 Jelly Belly Cycling Team                                                                                0.19
4 Perperutnina Ptuj                                                                                       0.28
5 Giant Asia Racing Team                                                                                  0.32
6 Tabriz Petrochemical Tea                                                                                0.33
7 FRF Couriers - NSWIS                                                                                    0.36
8 Sdaserramenti Diquigiovanni-Andr                                                                        0.38
9 Skil-Shimano                                                                                            0.40
10 Coscycle Collstrop                                                                                     0.45
11 Ukraine                                                                                                0.46
12 Poland                                                                                                 0.49
13 Pskpsk Whirlpool - Author                                                                              0.54
14 Ge - Marco Polo Team Pb Trek                                                                           0.59
15 Qinghai, China                                                                                         1.03
16 Uzbekistan                                                                                             1.04
17 China                                                                                                  1.05
18 Tktcosmote Kastro                                                                                      1.26
19 Hong Kong Team                                                                                         1.42
20 Pezula Racing                                                                                          4.10
 
Asian team
 
1 Tabriz Petrochemical Tea                                                                               13.23
2 Qinghai,China                                                                                           0.30
3 Uzbekistan                                                                                              0.31
4 China                                                                                                   0.32
5 Hong Kong Team                                                                                          1.09
6 Ge - Marco Polo Team Pb Trek                                                                            1.37
 
General classification after prologue
 
1 Alex Rasmussen (Den) Denmark                                                                            4.03
2 David Mccann (Irl) Giant Asia Racing Team                                                               0.10
3 Oscar Sevilla Ribera (Spa) Rock Racing                                                                  0.13
4 Charles Bradley Huff (USA) Jelly Belly Cycling Team                                                     0.14
5 Michael Creed (USA) Rock Racing                                                                         0.16
6 Gregor Gazvoda (Slo) Perutnina Ptuj                                                                     0.18
7 Joseph Lewis (Aus) FRF Couriers - NSWIS                                                                 0.19
8 Casper Jorgensen (Den) Denmark                                                                              
9 Gabriele Missaglia (Ita) Serramenti Diquigiovanni-Androni                                               0.21
10 Xitao Ji (Chn) Qinghai,China                                                                           0.22
11 Jens-Erik Madsen (Den) Denmark                                                                             
12 Tyler Hamilton (USA) Rock Racing                                                                           
13 Van Ulden Bernard (USA) Jelly Belly Cycling Team                                                       0.23
14 Hossein Nateghi (Irn) Tabriz Petrochemical Team                                                            
15 Erik Hoffmann (Nam) Giant Asia Racing Team                                                                 
16 Jeremy Powers (USA) Jelly Belly Cycling Team                                                               
17 Nicholas Sanderson (Aus) Jelly Belly Cycling Team                                                      0.24
18 Sebastian Siedler (Ger) Skil-Shimano                                                                   0.25
19 Ruslan Ivanov (Mda) Serramenti Diquigiovanni-Androni                                                       
20 Hossein Askari (Irn) Tabriz Petrochemical Team                                                             
21 Rhys Pollock (Aus) GE - Marco Polo Team P/B Trek                                                           
22 Mitja Mahoric (Slo) Perutnina Ptuj                                                                         
23 Khalmuratov Muradjan (Uzb) Uzbekistan                                                                  0.26
24 Volodymyr Zagorodnyy (Ukr) Ukraine                                                                         
25 Ghader Mizbani Iranagh (Irn) Tabriz Petrochemical Team                                                     
26 Matej Stare (Slo) Perutnina Ptuj                                                                           
27 Michael Morkov Christensen (Den) Denmark                                                                   
28 Oleksandr Kvachuk (Ukr) Ukraine                                                                            
29 Kristjan Koren (Slo) Perutnina Ptuj                                                                        
30 Robert Wagner (Ger) Skil-Shimano                                                                       0.27
31 Daniel Kreutzfeldt (Den) Denmark                                                                           
32 Sergey Lagutin (Uzb) Cycle Collstrop                                                                       
33 Fred Rodriguez (USA) Rock Racing                                                                           
34 Marcin Osinski (Pol) Poland                                                                            0.28
35 Mirko Selvaggi (Ita) Cycle Collstrop                                                                       
36 Jason Hegert (Aus) FRF Couriers - NSWIS                                                                    
37 Tom Veelers (Ned) Skil-Shimano                                                                         0.29
38 Frantisek Kloucek (Cze) Psk Whirlpool - Author                                                             
39 Fumiyuki Beppu (Jpn) Skil-Shimano                                                                          
40 Brian Vandborg (Den) Denmark                                                                           0.30
41 Thierry Hupond (Fra) Skil-Shimano                                                                          
42 Hossein Jahabanian (Irn) Tabriz Petrochemical Team                                                         
43 Chris Jory (Aus) FRF Couriers - NSWIS                                                                      
44 Kristjan Fajt (Slo) Perutnina Ptuj                                                                         
45 Blazej Janiaczyk (Pol) Poland                                                                              
46 Lucas Persson (Swe) Cycle Collstrop                                                                    0.31
47 Stanislav Kozubek (Cze) Psk Whirlpool - Author                                                             
48 Sergey Rudaskov (Rus) Cycle Collstrop                                                                  0.32
49 Michael Faerk Christensen (Den) Denmark                                                                    
50 Troels Ronning Vinther (Den) Cycle Collstrop                                                               
51 Marek Rutkiewicz (Pol) Poland                                                                              
52 Ahad Kazemi Sarai (Irn) Tabriz Petrochemical Team                                                      0.33
53 Song Baoqing (Chn) China                                                                                   
54 Luca Solari (Ita) Serramenti Diquigiovanni-Androni                                                         
55 Nick Reistad (USA) Jelly Belly Cycling Team                                                                
56 Emiliano Donadello (Ita) Serramenti Diquigiovanni-Androni                                                  
57 Matthew Rice (Aus) Jelly Belly Cycling Team                                                            0.34
58 Carlos José Ochoa (Ven) Serramenti Diquigiovanni-Androni                                                   
59 Starchyk Volodymyr (Ukr) Ukraine                                                                       0.35
60 Leopold Konig (Cze) Psk Whirlpool - Author                                                                 
61 Rongxi Zou (Chn) China                                                                                 0.36
62 Kam Po Wong HGK Hong Kong Team                                                                             
63 Sergey Koudentsov (Rus) GE - Marco Polo Team P/B Trek                                                  0.37
64 Metlushenko Yuriy (Ukr) Ukraine                                                                            
65 Nebojsa Jovanovic SRB Cosmote Kastro                                                                       
66 Matija Kvasina (Cro) Perutnina Ptuj                                                                        
67 Wu Chen (Chn) Qinghai,China                                                                                
68 Peter John Herzig (Aus) FRF Couriers - NSWIS                                                               
69 Mariusz Witecki (Pol) Poland                                                                               
70 Liang Zhang (Chn) China                                                                                    
71 Tom Criel (Bel) Cycle Collstrop                                                                            
72 Michael Lange (USA) Jelly Belly Cycling Team                                                           0.38
73 Roger Beuchat (Swi) Serramenti Diquigiovanni-Androni                                                       
74 Mukmenov Eldar (Uzb) Uzbekistan                                                                            
75 Li Fu Yu (Chn) GE - Marco Polo Team P/B Trek                                                               
76 Robert Cater (Aus) FRF Couriers - NSWIS                                                                    
77 Doug Ollerenshaw (USA) Rock Racing                                                                     0.39
78 Bo Liu (Chn) China                                                                                         
79 Bartosz Huzarski (Pol) Poland                                                                              
80 Pakhtusov Anatoliy (Ukr) Ukraine                                                                       0.40
81 Stefan Löffler (Ger) Giant Asia Racing Team                                                                
82 Michal Golas (Pol) Cycle Collstrop                                                                         
83 Jai Crawford (Aus) GE - Marco Polo Team P/B Trek                                                           
84 Robert Radosz (Pol) Poland                                                                                 
85 Jackson Rodriguez (Ven) Serramenti Diquigiovanni-Androni                                               0.41
86 Scarfe Dale (Aus) FRF Couriers - NSWIS                                                                     
87 Abdurahimov Azizbek (Uzb) Uzbekistan                                                                       
88 Marcin Gebka (Pol) Poland                                                                              0.42
89 Martin Mares (Cze) Psk Whirlpool - Author                                                                  
90 Sergio Hernandez (USA) Rock Racing                                                                     0.43
91 Petr Bencik (Cze) Psk Whirlpool - Author                                                                   
92 Benjamin Johnson (Aus) FRF Couriers - NSWIS                                                            0.44
93 Kayle Leo Grande (USA) Rock Racing                                                                         
94 Jure Kocjan (Slo) Perutnina Ptuj                                                                           
95 Christoph Springer (Ger) Cosmote Kastro                                                                    
96 Shengjun Wu (Chn) Qinghai,China                                                                        0.45
97 Ivoljatov Yuriy (Uzb) Uzbekistan                                                                       0.46
98 Long Jin (Chn) Skil-Shimano                                                                                
99 Wolter Henrik (Ger) Cosmote Kastro                                                                         
100 Reza Bagheri (Irn) Tabriz Petrochemical Team                                                          0.47
101 Zabava Volodymyr (Ukr) Ukraine                                                                        0.48
102 Ji Cheng (Chn) Skil-Shimano                                                                               
103 Wenlong Zhang (Chn) China                                                                             0.50
104 Vahid Chaffare (Irn) Tabriz Petrochemical Team                                                            
105 Alex Coutts (GBr) Giant Asia Racing Team                                                                  
106 Fotis Antonarakis (Gre) Cosmote Kastro                                                                0.51
107 Peng Liu (Chn) China                                                                                      
108 Joshua Page (NZl) Giant Asia Racing Team                                                              0.52
109 Ho Ting Kwok (HKg) Hong Kong Team                                                                     0.53
110 Jakub Danacik (Cze) Psk Whirlpool - Author                                                                
111 Liu Biao (Chn) Qinghai,China                                                                              
112 King Wai Cheung (HKg) Hong Kong Team                                                                  0.54
113 Yue Tu (Chn) China                                                                                        
114 Chun Hing Chan (HKg) Hong Kong Team                                                                       
115 Yuan Wei (Chn) Qinghai,China                                                                          0.55
116 Marko Tomic SRB Cosmote Kastro                                                                        0.58
117 Wang Yip Tang (HKg) Hong Kong Team                                                                    0.59
118 Ruisong Zhang (Chn) Qinghai,China                                                                     1.01
119 Yan Dong Xing (Chn) GE - Marco Polo Team P/B Trek                                                         
120 Turaev Mavlon (Uzb) Uzbekistan                                                                            
121 Karimov Ismailjon (Uzb) Uzbekistan                                                                    1.02
122 Ying Hon Yeung (HKg) Hong Kong Team                                                                       
123 Pria Lars ROM Cosmote Kastro                                                                              
124 Kin San Wu (HKg) Hong Kong Team                                                                           
125 Naumenko Dmytro (Ukr) Ukraine                                                                             
126 Jiri Skrobanek (Cze) Cosmote Kastro                                                                   1.09
127 Loh Sea Keong (Mas) GE - Marco Polo Team P/B Trek                                                     1.12
128 Yi Lu (Chn) Qinghai,China                                                                             1.14
129 Abrekov Yusup (Uzb) Uzbekistan                                                                        1.37
130 Morgan Fox (Irl) Pezula Racing                                                                            
130 Ciaran Power (Irl) Pezula Racing                                                                          
130 Derek Burke (Irl) Pezula Racing                                                                           
130 Kieran Page (GBr) Pezula Racing                                                                           
130 Martyn Irvine (Irl) Pezula Racing                                                                         
130 David O'loughlin (Irl) Pezula Racing                                                                      
130 Cameron Jennings (Aus) Pezula Racing                                                                      
 
Points classification
 
1 Alex Rasmussen (Den) Denmark                                                                              16 pts
2 David Mccann (Irl) Giant Asia Racing Team                                                                 14
3 Oscar Sevilla Ribera (Spa) Rock Racing                                                                    13
4 Charles Bradley Huff (USA) Jelly Belly Cycling Team                                                       12
5 Michael Creed (USA) Rock Racing                                                                           11
6 Gregor Gazvoda (Slo) Perutnina Ptuj                                                                       10
7 Joseph Lewis (Aus) FRF Couriers - NSWIS                                                                    9
8 Casper Jorgensen (Den) Denmark                                                                             8
9 Gabriele Missaglia (Ita) Serramenti Diquigiovanni-Androni                                                  7
10 Xitao Ji (Chn) Qinghai,China                                                                              6
11 Jens-Erik Madsen (Den) Denmark                                                                            5
12 Tyler Hamilton (USA) Rock Racing                                                                          4
13 Van Ulden Bernard (USA) Jelly Belly Cycling Team                                                          3
14 Hossein Nateghi (Irn) Tabriz Petrochemical Team                                                           2
15 Erik Hoffmann (Nam) Giant Asia Racing Team                                                                1
 
Asian rider classification
 
1 Xitao Ji (Chn) Qinghai,China                                                                            4.25
2 Hossein Nateghi (Irn) Tabriz Petrochemical Team                                                         0.01
3 Hossein Askari (Irn) Tabriz Petrochemical Team                                                          0.03
4 Khalmuratov Muradjan (Uzb) Uzbekistan                                                                   0.04
5 Ghader Mizbani Iranagh (Irn) Tabriz Petrochemical Team                                                      
6 Hossein Jahabanian (Irn) Tabriz Petrochemical Team                                                      0.08
7 Ahad Kazemi Sarai (Irn) Tabriz Petrochemical Team                                                       0.11
8 Song Baoqing (Chn) China                                                                                    
9 Rongxi Zou (Chn) China                                                                                  0.14
10 Kam Po Wong HGK Hong Kong Team                                                                             
11 Wu Chen (Chn) Qinghai,China                                                                            0.15
12 Liang Zhang (Chn) China                                                                                    
13 Mukmenov Eldar (Uzb) Uzbekistan                                                                        0.16
14 Li Fu Yu (Chn) GE - Marco Polo Team P/B Trek                                                               
15 Bo Liu (Chn) China                                                                                     0.17
16 Abdurahimov Azizbek (Uzb) Uzbekistan                                                                   0.19
17 Shengjun Wu (Chn) Qinghai,China                                                                        0.23
18 Ivoljatov Yuriy (Uzb) Uzbekistan                                                                       0.24
19 Reza Bagheri (Irn) Tabriz Petrochemical Team                                                           0.25
20 Wenlong Zhang (Chn) China                                                                              0.28
21 Vahid Chaffare (Irn) Tabriz Petrochemical Team                                                             
22 Peng Liu (Chn) China                                                                                   0.29
23 Ho Ting Kwok (HKg) Hong Kong Team                                                                      0.31
24 Liu Biao (Chn) Qinghai,China                                                                               
25 King Wai Cheung (HKg) Hong Kong Team                                                                   0.32
26 Yue Tu (Chn) China                                                                                         
27 Chun Hing Chan (HKg) Hong Kong Team                                                                        
28 Yuan Wei (Chn) Qinghai,China                                                                           0.33
29 Wang Yip Tang (HKg) Hong Kong Team                                                                     0.37
30 Ruisong Zhang (Chn) Qinghai,China                                                                      0.39
31 Yan Dong Xing (Chn) GE - Marco Polo Team P/B Trek                                                          
32 Turaev Mavlon (Uzb) Uzbekistan                                                                             
33 Karimov Ismailjon (Uzb) Uzbekistan                                                                     0.40
34 Ying Hon Yeung (HKg) Hong Kong Team                                                                        
35 Kin San Wu (HKg) Hong Kong Team                                                                            
36 Loh Sea Keong (Mas) GE - Marco Polo Team P/B Trek                                                      0.50
37 Yi Lu (Chn) Qinghai,China                                                                              0.52
38 Abrekov Yusup (Uzb) Uzbekistan                                                                         1.15
 
Teams classification
 
1 Denmark                                                                                                12.50
2 Rock Racing                                                                                             0.10
3 Jelly Belly Cycling Team                                                                                0.19
4 Perperutnina Ptuj                                                                                       0.28
5 Giant Asia Racing Team                                                                                  0.32
6 Tabriz Petrochemical Tea                                                                                0.33
7 FRF Couriers - NSWIS                                                                                    0.36
8 Sdaserramenti Diquigiovanni-Andr                                                                        0.38
9 Skil-Shimano                                                                                            0.40
10 Coscycle Collstrop                                                                                     0.45
11 Ukraine                                                                                                0.46
12 Poland                                                                                                 0.49
13 Pskpsk Whirlpool - Author                                                                              0.54
14 Ge - Marco Polo Team Pb Trek                                                                           0.59
15 Qinghai, China                                                                                         1.03
16 Uzbekistan                                                                                             1.04
17 China                                                                                                  1.05
18 Tktcosmote Kastro                                                                                      1.26
19 Hong Kong Team                                                                                         1.42
20 Pezula Racing                                                                                          4.10
 
Asian team classification
 
1 Tabriz Petrochemical Tea                                                                               13.23
2 Qinghai,China                                                                                          0.30
3 Uzbekistan                                                                                              0.31
4 China                                                                                                   0.32
5 Hong Kong Team                                                                                          1.09
6 Ge - Marco Polo Team Pb Trek                                                                            1.37