Tour of Qinghai Lake - 2.HC
China, July 11-20, 2008
An open race as Missaglia attempts to defend title
By Paul Verkuylen
Gabriele Missaglia (Serramenti PVC Diquigiovanni-Selle Italia)
Photo ©: Mark Gunter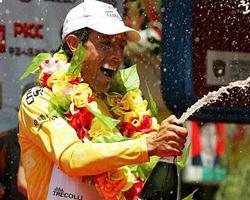 With an average elevation of 3000 meters, altitude may well be the biggest challenge for the majority of riders racing the Tour of Qinghai Lake. Gabriele Missaglia (Serramenti PVC Diquigiovanni-Androni Giocattoli) is back to defend his title from last year, but he will no doubt face stiff competition from the mountain goats on the Rock Racing Team.
But don't be fooled by the altitude. Although the race does feature a lot of elevation gain, some stages will undoubtedly come down to a bunch sprint. Last year, Alan Davis, then riding for the Discovery Channel team won five of the nine stages in a sprint finish.
For the first time, a prologue will kick the tour off which should see some time gaps emerge and tag those looking to do well overall. Last year Missaglia finished just one second ahead of Daniel Lloyd, which was the second time in as many years the race had come down to such as small margin. Making a good time in the prologue all the more important.
Hot favorites for the 2008 title would have to come from either Rock Racing or the Serramenti PVC Diquigiovanni-Androni Giocattoli.
Tyler Hamilton, Oscar Sevilla and Victor Hugo Pena provide the American team with a strong set of legs for the mountains, while Fred Rodriguez will provide them with the necessary speed, should it come down to a sprint.
Missaglia knows what is takes to win this race and will apply the knowledge he gained last year to try and out fox the others. His strong Serramenti will rally around him in their attempt to be the first to successfully defend the previous years title.
With riders the caliber of Leon van Bon (Trek-Marco Polo) and Steffen Wesemann (Cycle Collstrap) as well as unknown quantities such as the Danish National team and FRF-Couriers in the field, it would also be no surprise to see an early break take enough time to hold onto the overall lead all the way to the finish in Xining City.
The Tour of Qinghai Lake is now in its seventh year. It takes place high on the Tibetan plateau around China's largest inland salt water lake. Starting and finishing in the capital of the Qinghai Provence, Xining, the race will see 147 riders from 21 international teams cover 1342 kilometers before the winner of the 2.HC event is crowned in Xining.
The race has a fine pedigree with many of its previous winners going on to win some of the biggest races all over the world. Damiano Cunego took the title in 2003 before going on to win the Giro in 2004.