Jayco Bay Cycling Classic - NE
Geelong, Australia, January 2-6, 2008
Main Page Results Overall standings Previous Stage Next Stage
Stage 3 - January 4: Geelong - Ritchie Boulevard - Elite women
Dunn dons yellow jersey after winning attack
By Malcolm Sawford in Geelong
Megan Dunn (CBD Cycles)
Photo ©: WomensCycling.net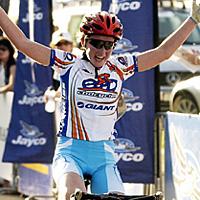 Just a day after watching training partner Lauren Kitchen take a stage win, 16 year-old Megan Dunn (CBD/NSWIS Development Team) matched her achievement, and in the process became the youngest ever wearer of the coveted yellow jersey in Jayco Bay Classic history.
"I don't have the legs to sprint, and I saw the opportunity to break-away and I just took it. I had nothing to lose and I came into this just looking to learn: I didn't have a reputation to defend so I just took the opportunity and it paid off."
Dunn profited from a fast but tactical race that saw the Pitcher Partners team frustrated in its efforts to set the race up either for overnight-leader Alexis Rhodes, or her designated successor, team leader Kate Bates. "We had a few plans," Rhodes said after the race, "obviously none of them worked out!"
How it unfolded
Peta Mullens (Jayco VIS).
Photo ©: WomensCycling.net

Tess Downing (Pitcher Partners) was the first to attack, and set the tone for the next forty-five minutes around the 700-metre hotdog circuit on the Geelong waterfront. Rhodes was also aggressive in the opening laps, but as a two-time winner on the circuit was heavily marked. The bunch was still together approaching the first sprint, which saw Kitchen (NSWIS/Degani Café) take the points ahead of Peta Mullens (Jayco VIS) and extend her lead in the green jersey competition.
Mullens kept the pressure on after the sprint, and drew a small group clear, including Kitchen, Gina Grain (Volvo), Jenny Macpherson (Rapido Cycles), Kate Finnegan, and Dunn, forcing Bates to move to the front of the bunch to shut the break down.
The next attack came from Sara Carrigan (Rapido Cycles) and Helen Kelly (Jayco VIS), prompting a reaction from Rhodes, only to see Oenone Wood (Geelong Mazda) slip away. Wood looked good as she sped away, opening the gap until Emma Coulson (CBD/NSWIS Development Team) lent some horsepower to the chase, limiting Wood's advantage to ten seconds.
Sara Carrigan (Rapido Cycles)
Photo ©: WomensCycling.net

Carrigan and Kitchen bridged to Wood with eighteen minutes to race, but once again the Pitcher Partners team was able to respond, with Josie Tomic towing the bunch back up just as Kitchen took the points in the second intermediate sprint. Rhodes launched another counter-attack on the following lap, and was followed by Mullens, Dunn, Leonie Burford (NSWIS/Degani Café) and Belinda Goss (Volvo).
This combination looked threatening, but once Bates powered across the gap, Wood sprang into action and worked hard until the bunch, reduced to only 19 riders by the constant attacking, regrouped. Burford broke the deadlock with seven minutes remaining, with her attack initially going unanswered.
With only three minutes showing on the race clock, Rhodes launched her final attack, but couldn't quite close the gap to Burford. As the bunch, led by Coulson, reached Rhodes, Wood countered decisively and shot straight past both women into the race lead.
Bates immediately took up the chase, and once again had the field re-united. At the call of three to go, Emma Rickards (Jayco VIS) shot away, with Dunn the only rider to respond. Wood crashed out on the top corner, disrupting the chase, and the leading pair worked hard to capitalize on its advantage and was five seconds clear at two to go. Rhodes took up the chase, and reached Rickards as the bell rang, but as Rickards faded, Dunn found the strength to kick again and take a twenty-metre advantage into the first corner, a margin the diminutive youngster was able to maintain to the line in an impressive show of strength.
Alexis Rhodes (Pitcher Partners)
Photo ©: WomensCycling.net

"I try to win every race I'm in," Dunn said, "This is what I came for!" Like Kitchen, Dunn refuses to be over-awed by her vastly more experienced rivals. "You have to go into the race treating them just like any other riders, otherwise you let it go to your head and the whole race you're thinking 'well, I can't beat them, they're world champions!' and you'll never beat them."
Belinda Goss was a clear winner in the bunch sprint, taking second ahead of Teressa Cliff-Ryan and Burford, with Rhodes fifth. Dunn's win moved her five points clear of both Rhodes and Goss in the overall standings. Goss was full of praise for Dunn's performance. "I'm always trying for the win, but Megan rode exceptionally well to hold us off today. I've started feeling better each day, so hopefully I can come through and finally win one of them."
Rhodes echoed Goss' thoughts. "We've seen in the last couple of days what a quality young rider she is. I'm a little bit disappointed with how I lost it, I shouldn't have chased when I did and Megan was so strong and she held on. It's definitely awesome to see how well she's going. It'll be exciting to see how she does in the next couple of years."
Photography
For a thumbnail gallery of these images, click here
Images by WomensCycling.net
Results
1 Megan Dunn (CBD/NSWIS)                                       12 pts
2 Belinda Goss (Volvo)                                         10
3 Teressa Cliff-Ryan (Geelong Mazda)                            8
4 Leonie Burford (NSWIS Degani Café)                            7
5 Alexis Rhodes (Pitcher Partners)                              6
6 Emma Mackie (Swanston Hotel)                                  5
7 Kate Bates (Pitcher Partners)                                 4
8 Gina Grain (Volvo)                                            3
9 Tiffany Cromwell (Richmond Cyclery)                           2
10 Sara Carrigan (Rapido Cycles)                                1
 
Sprints
 
1 Lauren Kitchen (NSWIS Degani Café)                           11 pts
2 Olivia Gollan ( NSWIS/Degani Café)                            6
2 Sara Carrigan (Rapido Cycles)                                 6
 
General classification after stage 3
 
1 Megan Dunn (CBD/NSWIS)                                       27 pts
2 Alexis Rhodes (Pitcher Partners)                             22
3 Belinda Goss (Volvo)                                         22
4 Kate Bates (Pitcher Partners)                                14
5 Lauren Kitchen (NSWIS Degani Café)                           12
6 Oenone Wood (Geelong Mazda)                                  11
7 Josephine Tomic (Pitcher Partners)                            8
7 Teressa Cliff-Ryan (Geelong Mazda)                            8
9 Leonie Burford (NSWIS Degani Café)                            7
10 Emma Rickard (Jayco VIS)                                     6
10 Jenny Macpherson (Rapido Cycles)                             6