Australian Open Road Championships - CN
Ballarat, Australia, January 9-January 12, 2008
Main Page Results Overall standings Stage Details Previous Stage Next Stage
Stage 3 - January 10: Elite men's time trial, 39 km
Hansen takes first national title
By Paul Verkuylen in Ballarat, Victoria
Queensland's Adam Hansen (Team High Road) couldn't
Photo ©: John Veage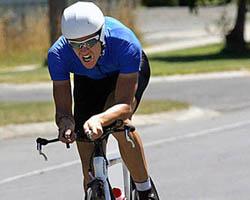 Team High Road's Adam Hansen has started the 2008 season on a high note by taking out the Australian Elite Men's Time Trial Championship in a dominate performance that saw the Queenslander take a commanding 56 second victory over second placed Rory Sutherland. Hansen is best known for his two wins in the Crocodile Trophy, but today showed that he is more than capable when it comes to the race of truth.
"I can't believe it, it hasn't really sunk in yet," 26 year-old Hansen said after receiving his first national champion jersey. "I trained very hard for this race. The good thing about the TT is the best man wins; it's not a gamble like the road race. I was really geared up to try and win this."
Hansen hails from the far north Queensland town of Cairns, where temperatures are regularly up around the same 40 degrees seen in Ballarat today. Despite the steamy conditions, Hansen described the weather as comparatively cool to his home town.
"Today was cool compared to Cairns, we get 100 percent humidity…so when it is hot, it is really hot, so here it's just warm I guess" he explained.
The tough course, which featured long climbs connected by open straights in the tough wind, took its toll on many of the competitors, but Hansen's plan paid off as he steamed to an early lead before extending that by the finish.
Rory Sutherland (HealthNet-Maxxis) gave his all
Photo ©: John Veage

"I felt it was a spinner's course with the hills at the start and end and if you grind hard, you would cook yourself," he explained. "I am a big spinner - I averaged 107 (revolutions per minute) cadence across the whole course - which is high - and I think it helped me."
Sutherland, who rode for American squad HealthNet-Maxxis in 2007, was satisfied with his ride for second over the challenging circuit. "I felt good; as good as you can feel I think," he said. "If you have a good day or a bad day, it's still going to hurt, if it doesn't hurt you are not going hard enough."
Just two days ago, when the start list was released, Sutherland was not down to ride, but a late entry secured his place on the start line replacing West Australian Henk Vogels, who forfeited his place. Sutherland's late draft into the event had the 2007 runner-up starting further down the start sheets than would be expected under normal circumstances, something Sutherland believes didn't impact the final outcome.
"Some people think that when you are able to catch more riders, it is going to propel you faster," he started. "But I generally think that you are going to as hard as you can anyway. It tends to knock me off my rhythm a little once you have caught somebody and you go around them, you lose where you were trying to get too. So it is probably a good thing and a bad thing at the same time."
How it unfolded
Ben Day (Toyota-United) was one of the favourites,
Photo ©: John Veage

The men's Time Trial course was held over a tough 39 kilometre route that features varying types of terrain. The strongest all-round rider was definitely going to excel on such a tough course, in the sweltering conditions.
Following one of the pre-race favourites, Rory Sutherland, as he powered around the course gave Cyclingnews a unique insight into the gruelling regional Victoria course. The route starts with a tough three kilometre climb that could win or lose the race, if riders had not prepared well enough for the race and came to the start without a great warm up.
Sutherland quickly found a good rhythm after leaving the start house, spinning his gear quickly as he attacked the climb. By the time he reached the top of that first climb he'd already taken back 30 of the 60 seconds lead that his minute marker had, emphasising the climb's importance in achieving a good result.
The ensuing descent saw Sutherland touching speeds of up to 70 km/h. Taping out a strong tempo on the flat roads after the descent, Sutherland quickly caught his minute marker, before setting about to catch his competitors ahead.
The Australian Capital Territory's Rory Sutherland (HealthNet-Maxxis)
Photo ©: John Veage

An undulating road towards the first of two rail crossings followed, with Sutherland showing his strength as he powered to the top of each small rise before increasing his pedal cadence and quickly bringing himself up to speed once again.
A strong headwind greeted riders after the first rail crossing. This was where the race could be won or lost, as pushing too big a gear into the wind would lead to riders blowing themselves up too early. Along this five kilometres stretch, Sutherland caught and passed two more riders as he displayed the type of strength that saw him win the overall 2007 American NRC title.
The second rail crossing gave riders a brief respite before once again turning into the headwind for another five kilometre stretch that saw riders tackle not only the strong wind, but also a number of leg zapping undulations. It was along this stretch of road that the first indication of a Hansen victory was given, with the Queenslander having crossed the mark 20 seconds faster than Sutherland.
Podium (L-R): Rory Sutherland (HealthNet-Maxxis), Adam Hansen (Team High Road)
Photo ©: John Veage

From here riders turned into a crosswind for a series of climbs that would require all the strength ariders had as they powered towards the finish, only 10 kilometres down the road. Sutherland again proved that his form, powering past a succession of riders as he attacked each climb out of the saddle.
A fast decent, which had Sutherland again touching 70km/h lead into the final, practically straight stretch to the finish. From here Sutherland maintained his speed as he powered towards the line after an impressive performance.
Unfortunately for rider from Australia's Capital Territory, who has had to deal with the disappointment of coming second at the nationals on two other occasions, Hansen was able to give just that little bit more on the tough course to clinch his first national title.
Photography
For a thumbnail gallery of these images, click here
Images by John Veage
Images by Shane Goss/www.licoricegallery.com
Results
1 Adam Hansen (QLD)               51.41 (45.275 km/h)
2 Rory Sutherland (ACT)            0.56
3 Ben Day (QLD)                    1.13
4 Cameron Wurf (TAS)               1.21
5 Richie Porte (TAS)               1.36
6 Peter Milostic (NSW)             3.02
7 Chris Jongewaard (SA)            3.03
8 Robert Williams (NSW)            3.13
9 Damien Turner (VIC)              4.31
10 Robert Hodgson (NSW)            4.34
11 Brent Miller (ACT)              4.52
12 Nicholas Mitchell (VIC)         5.51
13 Gavin Nicholls (QLD)            5.58
14 Robert Regester (VIC)           6.01
15 Samuel Rix (VIC)                6.35
16 Graeme Allbon (NSW)             6.43
17 Mark Hooper (VIC)               7.06
18 Giuseppe Cirella (QLD)          7.21
19 Will Wettenhall (VIC)           7.24
20 Jacob Sutherland (VIC)          7.34
21 Michael Stallard (SA)           8.02
22 James Steinhauser (ADF)         9.00
23 Mark Wall (NSW)                 9.00
24 Reece Stephens (VIC)            9.15
25 Brad Edmunds (VIC)              9.39
26 James Pugh (VIC)               10.09
27 Niels-Henrik Laugesen (NSW)    10.50
28 Luke Dale (NSW)                16.34
29 Joseph Van Haren (QLD)         18.54
30 Stuart Gribble (WA)            19.00
31 Martin Tobin (VIC)             21.06
32 Joshua Chugg (TAS)             26.57
DNS Shaun Higgerson (NSW)              
DNF David Pell (VIC)                   
DNF Peter Riseley (VIC)