Geelong Women's Tour - 2.2
Australia, February 21-22, 2008
Main Page Results Overall standings Next Stage
Stage 1 - February 21: Portarlington time trial, 8km
Soeder demolishes the competition
By Paul Verkuylen in Portarlington, Victoria
Pushing hard: Christiane Soeder (Cervelo-Lifeforce Pro Cycling Team)
Photo ©: John Veage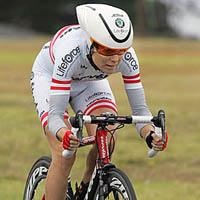 Cool conditions and a breeze greeted the 89 women who lined up for the opening prologue of the 2008 Geelong Women's Tour, the warm up event to this weekend's Women's World Cup opener to be held on Sunday, also in Geelong. After three days of high temperatures, the unseasonal weather caught a few off guard.
Christiane Soeder (Cervelo-Lifeforce) repeated her fine win in the prologue from two years ago, after blasting around the eight kilometre coastal circuit in 11.28.03. Soeder's lightening fast time put 35.71 seconds into second placed Susanne Ljungskog (Meneikini Selle Italia) and a further two seconds into German powerhouse Ina Teutenberg (Team High Road).
"I wasn't expecting to win by 30 seconds, I expected to win, but not by 30 seconds," a delighted Soeder said after receiving the first leader's jersey of the Tour.
The Austrian Time Trial Champion has been training in Melbourne for the past four weeks in order to be in good shape for what is an important Olympic Games year. "I prepared very well this year," she said. "I was not sick and had no problems. It was a very good winter; I could skate in Austria and cycle on the track a little. I have been here in Australia for one month. It has been very nice, nice weather to train. But 30 seconds for me is very good.
"This [the tour] is the final preparations for Sunday and for the whole season," she continued. "It is very important for us being the Olympic season. It is very important for us to be in good shape early because we have qualification races. Fleche Wallone, Flanders and all those races."
Olivia Gollan (Menikini Selle Italia)
Photo ©: John Veage

Soeder's team includes American Time Trial Champion Kristin Armstrong, who along with Soeder, Karin Thurig and Priska Doppmann are aiming to do well later in the season when the squads face a team time trial as part of the World Cup. Soeder's performance, coupled with Armstrong's sixth place, will surely put the Cervelo-Lifeforce team as one of the favorites for the TTT later in the season.
"We have a good team so I think that it is possible," said Soeder. "We are a very strong time trial team. We are looking forward to this race, but there is a little problem that it is very close to the Olympic Games, so we will have to see who can ride there."
The top Australian in the prologue was Leonie Burford (NSWIS - CBD - Denagi), who surprised even herself with a fine fourth place. "[I didn't expect it] at all, I was thinking top thirty," a happy Burford said of her ride. "I just kept thinking that I was late for work, so I will just ride as fast as I can!"
Suzanne Ljungskog, newly signed to Menikini Selle Italia,
Photo ©: CJ Farquharson

The 24 year-old has been living in Cobar, a remote mining community in New South Wales, working as a Geologist since completing her University degree in Wollongong recently, and admits that "getting to races has been a bit tough".
Burford's fourth place here will hopefully garner her some attention from the top professional squads in Europe, where she plans on racing for at least five months this season. Sitting in fourth overall also makes her the team's highest ranked rider and with a flat stage along Portarlington coastal circuit later today, we may well see her make a move to capture the leader's jersey.
"Hopefully they will work for me now," she said jokingly of her team, before adding; "prologues are a little different than a road race and we have some good sprinters here, so whoever is going good out on the road, I think we will work for. We will tell as we go along."
Photography
For a thumbnail gallery of these images, click here
Images by John Veage
Images by CJ Farquharson/WomensCycling.net
Results
1 Christiane Soeder (Aut) Cervelo-Lifeforce Pro Cycling Team          11.28 (41.858 km/h)
2 Susanne Ljungskog (Swe) Menikini Selle Italia                        0.36
3 Ina Teutenberg (Ger) Team High Road                                  0.37
4 Leonie Burford (Aus) NSWIS - CBD - Degani                            0.49
5 Katheryn Mattis (USA) Webcor Builders Cycling Team                   0.54
6 Kristin Armstrong Savola (USA) Cervelo-Lifeforce Pro Cycling Team    0.55
7 Katherine Bates (Aus) Team High Road                                 1.00
8 Judith Arndt (Ger) Team High Road                                    1.00
9 Alex Wrubleski (Can) Webcor Builders Cycling Team                    1.01
10 Linda Villumsen Serup (Den) Team High Road                          1.06
11 Christine Thorburn (USA) Webcor Builders Cycling Team               1.10
12 Vicki Whitelaw (Aus) Landlink ACTAS Cycling Team                    1.13
13 Charlotte Becker (Ger) Equipe Nürnberger Versicherung               1.14
14 Oenone Wood (Aus) Team High Road                                    1.14
15 Chantal Beltman (Ned) Team High Road                                1.14
16 Alison Powers (USA) US National Team                                1.15
17 Edita Pucinskaite (Ltu) Equipe Nürnberger Versicherung              1.18
18 Bridie O'donnell (Aus) Australian National Team                     1.20
19 Amanda Spratt (Aus) Australian National Team                        1.21
20 Katharine Carroll (USA) US National Team                            1.21
21 Sara Carrigan (Aus) Lotto-Belisol Ladies Team                       1.22
22 Sarah Düster (Ger) Cervelo-Lifeforce Pro Cycling Team               1.24
23 Suzanne De Goede (Ned) Equipe Nürnberger Versicherung               1.24
24 Sharon Laws (GBr) Landlink ACTAS Cycling Team                       1.26
25 Trixi Worrack (Ger) Equipe Nürnberger Versicherung                  1.27
26 Karin Thurig (Swi) Cervelo-Lifeforce Pro Cycling Team               1.28
27 Lauren Franges (USA) US National Team                               1.29
28 Lorian Graham (Aus) Vrienden Van Het Platteland                     1.29
29 Natalie Bates (Aus) Menikini Selle Italia                           1.31
30 Peta Mullens (Aus) Australian National Team                         1.31
31 Carla Ryan (Aus) Australian National Team                           1.32
32 Serena Sheridan (NZl) BikeNZ                                        1.32
33 Christina Ruiter (USA) US National Team                             1.33
34 Tiffany Cromwell (Aus) Australian National Team                     1.34
35 Miho Oki (Jpn) Menikini Selle Italia                                1.36
36 Felicia Greer-Gomez (Can) Vrienden Van Het Platteland               1.36
37 Priska Doppmann (Swi) Cervelo-Lifeforce Pro Cycling Team            1.37
38 Ruth Corset (Aus) QAS                                               1.42
39 Jenny Macpherson (Aus) Landlink ACTAS Cycling Team                  1.43
40 Erinne Willock (Can) Webcor Builders Cycling Team                   1.45
41 Louise Kerr (Aus) QAS                                               1.46
42 Kathryn Watt (Aus) Lotto-Belisol Ladies Team                        1.46
43 Carlee Taylor (Aus) QAS                                             1.47
44 Marina Duvnjak (NZl) BikeNZ                                         1.48
45 Fei Wang (Chn) Giant Pro Cycling                                    1.50
46 Eva Lutz (Ger) Equipe Nürnberger Versicherung                       1.55
47 Toni Bradshaw (NZl) BikeNZ                                          2.01
48 Emma Rickards (Aus)  Cervelo-Lifeforce Pro Cycling Team             2.01
49 Catherine Cheatley (NZl) BikeNZ                                     2.03
50 Belinda Goss (Aus) VIS                                              2.03
51 Josephine Tomic (Aus) Landlink ACTAS Cycling Team                   2.04
52 Zoe Appel (Aus) QAS                                                 2.04
53 Lang Meng (Chn) Giant Pro Cycling                                   2.05
54 Olivia Gollan (Aus) Menikini Selle Italia                           2.07
55 Carissa Wilkes (NZl) BikeNZ                                         2.07
56 Helen Kelly (Aus) VIS                                               2.08
57 Xiao Mei Huang (Chn) Giant Pro Cycling                              2.09
58 Monique Hanley (Aus) VIS                                            2.11
59 Carmen Mcnellis (USA) US National Team                              2.13
60 Yong Li Liu (Chn) Giant Pro Cycling                                 2.15
61 Rochelle Gilmore (Aus) Menikini Selle Italia                        2.17
62 Regina Schleicher (Ger) Equipe Nürnberger Versicherung              2.18
63 Brei Gudsell (NZl) BikeNZ                                               
64 Tina Mayolo Pic (USA) Vrienden Van Het Platteland                   2.20
65 Katherine O'shea (Aus) VIS                                          2.22
66 Liz Young (Aus) MB Cycles Womens Cycling Team                       2.23
67 Amy Dombroski (USA) Webcor Builders Cycling Team                    2.23
68 Sheree Mckenzie (Aus) MB Cycles Womens Cycling Team                 2.23
69 Carly Hibberd (Aus) MB Cycles Womens Cycling Team                   2.25
70 Nicole Whitburn (Aus) VIS                                           2.28
71 Rachel Neylan (Aus) QAS                                             2.28
72 Emma Mackie (Aus) Lotto-Belisol Ladies Team                         2.29
73 Jaccolien Wallaard (Ned) Vrienden Van Het Platteland                2.30
74 Tahlia Paskin (Aus) QAS                                             2.31
75 Lauren Kitchen (Aus) NSWIS - CBD - Degani                           2.31
76 Min Gao (Chn) Giant Pro Cycling                                     2.34
77 Ashleee Ankudinoff (Aus) NSWIS - CBD - Degani                       2.35
78 Theresa Cliff-Ryan (USA) Landlink ACTAS Cycling Team                2.35
79 Kerryn Charman (Aus) VIS                                            2.39
80 Lisa Friend (Aus) NSWIS - CBD - Degani                              2.40
81 Jemma O'brien (Aus) NSWIS - CBD - Degani                            2.41
82 Michelle Mewing (Aus) MB Cycles Womens Cycling Team                 2.44
83 Li Chen (Chn) Giant Pro Cycling                                     2.48
84 Patricia Palmer (Aus) MB Cycles Womens Cycling Team                 2.51
85 Hayley Wright (Aus) MB Cycles Womens Cycling Team                   2.54
86 Linn Torp (Nor) Lotto-Belisol Ladies Team                           2.54
87 Marina Riomoli (Ita) Menikini Selle Italia                          2.57
88 Sasha Harvey (Aus) Lotto-Belisol Ladies Team                        3.00
89 Kim Schoonbaert (Bel) Lotto-Belisol Ladies Team                     3.00
DNS Jocelyn Loane (Aus) Australian National Team                           
 
General Classification after Stage 1
 
1 Christiane Soeder (Aut) Cervelo-Lifeforce Pro Cycling Team          11.28
2 Susanne Ljungskog (Swe) Menikini Selle Italia                        0.36
3 Ina Teutenberg (Ger) Team High Road                                  0.37
4 Leonie Burford (Aus) NSWIS - CBD - Degani                            0.49
5 Katheryn Mattis (USA) Webcor Builders Cycling Team                   0.54
6 Kristin Armstrong Savola (USA) Cervelo-Lifeforce Pro Cycling Team    0.55
7 Katherine Bates (Aus) Team High Road                                 1.00
8 Judith Arndt (Ger) Team High Road                                    1.00
9 Alex Wrubleski (Can) Webcor Builders Cycling Team                    1.01
10 Linda Villumsen Serup (Den) Team High Road                          1.06
11 Christine Thorburn (USA) Webcor Builders Cycling Team               1.10
12 Vicki Whitelaw (Aus) Landlink ACTAS Cycling Team                    1.13
13 Charlotte Becker (Ger) Equipe Nürnberger Versicherung               1.14
14 Oenone Wood (Aus) Team High Road                                    1.14
15 Chantal Beltman (Ned) Team High Road                                1.14
16 Alison Powers (USA) US National Team                                1.15
17 Edita Pucinskaite (Ltu) Equipe Nürnberger Versicherung              1.18
18 Bridie O'donnell (Aus) Australian National Team                     1.20
19 Amanda Spratt (Aus) Australian National Team                        1.21
20 Katharine Carroll (USA) US National Team                            1.21
21 Sara Carrigan (Aus) Lotto-Belisol Ladies Team                       1.22
22 Sarah Düster (Ger) Cervelo-Lifeforce Pro Cycling Team               1.24
23 Suzanne De Goede (Ned) Equipe Nürnberger Versicherung               1.24
24 Sharon Laws (GBr) Landlink ACTAS Cycling Team                       1.26
25 Trixi Worrack (Ger) Equipe Nürnberger Versicherung                  1.27
26 Karin Thurig (Swi) Cervelo-Lifeforce Pro Cycling Team               1.28
27 Lauren Franges (USA) US National Team                               1.29
28 Lorian Graham (Aus) Vrienden Van Het Platteland                     1.29
29 Natalie Bates (Aus) Menikini Selle Italia                           1.31
30 Peta Mullens (Aus) Australian National Team                         1.31
31 Carla Ryan (Aus) Australian National Team                           1.32
32 Serena Sheridan (NZl) BikeNZ                                        1.32
33 Christina Ruiter (USA) US National Team                             1.33
34 Tiffany Cromwell (Aus) Australian National Team                     1.34
35 Miho Oki (Jpn) Menikini Selle Italia                                1.36
36 Felicia Greer-Gomez (Can) Vrienden Van Het Platteland               1.36
37 Priska Doppmann (Swi) Cervelo-Lifeforce Pro Cycling Team            1.37
38 Ruth Corset (Aus) QAS                                               1.42
39 Jenny Macpherson (Aus) Landlink ACTAS Cycling Team                  1.43
40 Erinne Willock (Can) Webcor Builders Cycling Team                   1.45
41 Louise Kerr (Aus) QAS                                               1.46
42 Kathryn Watt (Aus) Lotto-Belisol Ladies Team                        1.46
43 Carlee Taylor (Aus) QAS                                             1.47
44 Marina Duvnjak (NZl) BikeNZ                                         1.48
45 Fei Wang (Chn) Giant Pro Cycling                                    1.50
46 Eva Lutz (Ger) Equipe Nürnberger Versicherung                       1.55
47 Toni Bradshaw (NZl) BikeNZ                                          2.01
48 Emma Rickards (Aus)  Cervelo-Lifeforce Pro Cycling Team          2.01
49 Catherine Cheatley (NZl) BikeNZ                                     2.03
50 Belinda Goss (Aus) VIS                                              2.03
51 Josephine Tomic (Aus) Landlink ACTAS Cycling Team                   2.04
52 Zoe Appel (Aus) QAS                                                 2.04
53 Lang Meng (Chn) Giant Pro Cycling                                   2.05
54 Olivia Gollan (Aus) Menikini Selle Italia                           2.07
55 Carissa Wilkes (NZl) BikeNZ                                         2.07
56 Helen Kelly (Aus) VIS                                               2.08
57 Xiao Mei Huang (Chn) Giant Pro Cycling                              2.09
58 Monique Hanley (Aus) VIS                                            2.11
59 Carmen Mcnellis (USA) US National Team                              2.13
60 Yong Li Liu (Chn) Giant Pro Cycling                                 2.15
61 Rochelle Gilmore (Aus) Menikini Selle Italia                        2.17
62 Regina Schleicher (Ger) Equipe Nürnberger Versicherung              2.18
63 Brei Gudsell (NZl) BikeNZ                                               
64 Tina Mayolo Pic (USA) Vrienden Van Het Platteland                   2.20
65 Katherine O'shea (Aus) VIS                                          2.22
66 Liz Young (Aus) MB Cycles Womens Cycling Team                       2.23
67 Amy Dombroski (USA) Webcor Builders Cycling Team                    2.23
68 Sheree Mckenzie (Aus) MB Cycles Womens Cycling Team                 2.23
69 Carly Hibberd (Aus) MB Cycles Womens Cycling Team                   2.25
70 Nicole Whitburn (Aus) VIS                                           2.28
71 Rachel Neylan (Aus) QAS                                             2.28
72 Emma Mackie (Aus) Lotto-Belisol Ladies Team                         2.29
73 Jaccolien Wallaard (Ned) Vrienden Van Het Platteland                2.30
74 Tahlia Paskin (Aus) QAS                                             2.31
75 Lauren Kitchen (Aus) NSWIS - CBD - Degani                           2.31
76 Min Gao (Chn) Giant Pro Cycling                                     2.34
77 Ashleee Ankudinoff (Aus) NSWIS - CBD - Degani                       2.35
78 Theresa Cliff-Ryan (USA) Landlink ACTAS Cycling Team                2.35
79 Kerryn Charman (Aus) VIS                                            2.39
80 Lisa Friend (Aus) NSWIS - CBD - Degani                              2.40
81 Jemma O'brien (Aus) NSWIS - CBD - Degani                            2.41
82 Michelle Mewing (Aus) MB Cycles Womens Cycling Team                 2.44
83 Li Chen (Chn) Giant Pro Cycling                                     2.48
84 Patricia Palmer (Aus) MB Cycles Womens Cycling Team                 2.51
85 Hayley Wright (Aus) MB Cycles Womens Cycling Team                   2.54
86 Linn Torp (Nor) Lotto-Belisol Ladies Team                           2.54
87 Marina Riomoli (Ita) Menikini Selle Italia                          2.57
88 Sasha Harvey (Aus) Lotto-Belisol Ladies Team                        3.00
89 Kim Schoonbaert (Bel) Lotto-Belisol Ladies Team                     3.00