Tour of California Women's Criterium - NE
Santa Rosa, California, USA, February 18, 2008
Miller victorious at inaugural race
By Kirsten Robbins in Santa Rosa, California
Brooke Miller (Team Tibco)
Photo ©: Mitch Clinton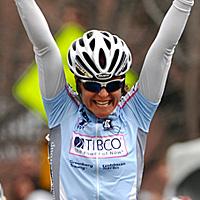 A strong peloton lined up in front thousands of cycling fans in Santa Rosa to kick off the inaugural Amgen Tour of California women's criterium held in conjunction with the men's eight day stage race this weekend. Brooke Miller (Team Tibco) created a milestone in her cycling career when she came around Laura Van Gilder (Cheerwine) with 50 meters to go to take the win. Emilia Fahlin (Team High Road) blasted out of the bunch sprint from behind to take third place.
"It was thrilling to be able to win here but I have to thank my team-mates for that," said Miller regarding her team-mates' aggressive activity within 10 laps of the finish. "We are all starting to work the kinks out and learning each other. The team was aggressive the whole race and they were doing a great job in particular we had one of our riders attack on the last lap to help string things out so that I could move around in the field a bit better."
How it unfolded
The race was aggressive from the gun but the flat 1.2-mile circuit did not lend itself well to a breakaway succeeding to the finish line. Kim Anderson (High Road) and Katie Mactier (VAC) gained 20 seconds on the field for several laps, but even the powerhouse duo couldn't hold off the field sprint.
With two laps to go Cheerwine put together its trademark train for sprinter Van Gilder and held it through the last corner. Shelly Olds (Proman) started her sprint from 500 meters to go with Van Gilder in tow. As opportunity knocked, Miller took the sweet spot and to jump on Van Gilder's wheel. The drag race between the two top ranked American sprinters started with 200 meters to go with Miller overtaking her competition at the line.
Laura Van Gilder charged off the front
Photo ©: Emory Ball

"The field was very competitive the race was very fast so I hope they can build this event," said Van Gilder. "We planned to start our lead out a little later because it was such a long course. I'm absolutely thrilled that this criterium was held today because it is hard to get the women's field mixed in with these big races.
"I'm really happy that Amgen decided to start with the first step in having a criterium," added Van Gilder. "It was a great venue and great for our sponsors. Sometimes I feel like so many people don't know about women's cycling so having thousands of people coming out to watch us is going to show them that we are exciting to watch; we are fun."
The fans gathered outside the city streets two hours ahead of the scheduled arrival of the men's stage one finish to see first hand what women's bike racing was all about. "I think this race was great and I really hope they will be able to build on what they created here," said Van Gilder. "Certainly we have a captive audience and I think if the people are able to see what a show that women bike races can put on then we can really create a good following.
"I think the crowd was tremendous and Santa Rosa is a great cycling community so it was a great place to start," she added.
Photography
For a thumbnail gallery of these images, click here
Images by Mitch Clinton/www.clintonphoto.com
Images by Emory Ball/Cyclingnews.com
Images by Nathan Dauglash/www.mitchophoto.com
Images by John Pierce/Photosport International
Images by Garrett Lau/www.pbase.com/garrettlau
Results
1 Brooke Miller (Team Tibco)                      
2 Laura Van Gilder (Cheerwine)                    
3 Emila Fahlin (Team High Road)                   
4 Shelley Olds (Proman Racing)                    
5 Nichole Wangsgard (Colavita Racing)             
6 Jennifer Wilson (SouthBay Wheelman)             
7 Virginia Perkins (PROMAN)                       
8 Jadine Riley (Sound Velo)                       
9 Jenny Trew (Vanderkitten Racing)                
10 Shontell Gauthier (Colavita/Sutter Home)       
11 Alison Rosenthal (Team Tibco)                  
12 Kori Seehafer (Colavita Racing)                
13 Leah Guloien (Vanderkitten Racing)             
14 Taitt Sato (ValueAct Capitol)                  
15 Olivia Dillon (Touchstone Climbing)            
16 Yukie Nakumura (Team Kenda Tire)                   
17 Jane Robertson (Metromint)                     
18 Jane Despas (Vanderkitten Racing)              
19 Stacy Marple (Cheerwine)                       
20 Meredith Miller (Aaron's Team)                 
21 Morgan Kapp (SouthBay Wheelman)                
22 Leigh Valletti (Vanderkitten Racing)           
23 Melissa Sanborn (Vanderkitten Racing)          
24 Ashlee Staroba (NorCal Womens Cycling Team)    
25 Kristin Drumm (Proman Racing)                  
26 Anna Davenport (Village Peddler)               
27 Bonnie Bourque (Acqua al 2/SDBC)               
28 Megan Guarnier (PROMAN)                        
29 Amanda Eaken (Metromint)                       
30 Elizabeth Hatch (Vanderkitten)                 
31 Helene Drumm (Proman Racing)                   
32 Lara Krospsch (ValueAct Capitol)               
33 Victoria Bastide (Team Tibco)                  
34 Kristin Sanders (Aaron's Team)                 
35 Martina Patella (ValueAct Capitol)             
36 Kristen Meshberg (Flatlandia)                  
37 Janel Holcomb (Webcor)                         
38 Claire House (NorCal Womens Cycling Team)      
39 Alison Littlefield (Contender Bicycles)        
40 Hannah Banks (ValueAct Capitol)                
41 Elis Bradshaw (Metromint)                      
42 Katie Mactier (ValueAct Capitol)               
43 Laurel Green (Dolce Vita Cycling)              
44 Rushlee Buchanan (Team Tibco)                  
45 Kim Anderson (Team High Road)                  
46 Mara Abbott (Team High Road)                   
47 Heather Sborz (Vanderkitten Racing)            
48 Amanda Seigle (Code Three Women)               
49 Moriah Jo MacGregor (Vanderkitten Racing)      
50 Megan Elliott                                  
51 Tracy Barhydt (NorCal Womens Cycling Team)     
52 Erica Allar (Aaron's Team)                     
53 Madeleine Sandig (Team High Road)              
54 Kelly Benjamin (Cheerwine)                     
55 Amber Rais (Team Tibco)                        
56 Nicole Evans (ValueAct Capitol)                
57 Cheryl Fuller-Muller (Nouveau Velo)            
58 Jennifer Reither (SouthBay Wheelman)           
59 Patricia Bell (Morgan Stanley)                 
60 Abby Lynn Cooper (PROMAN)                      
61 Jennifer Van Muckey (Easton)                   
62 Sharon Allpress (ValueAct Capitol)             
63 Anke Wichmann (Team High Road)                 
64 Emily Zell (Proman Racing)                     
65 Marni Hambleton (ValueAct Capitol)             
66 Kristina Seley (Proman Racing)                 
67 Sarah Bamberger (Cheerwine)