Tales from the peloton, February 21, 2008
Bissell is looking for the stage races
The California-based Bissell team has decided to spend its 2008 sponsorship dollars on adding more diesel fuel to their engine tank, standing out amongst the teams who have followed a recent shift to stacking up multiple sprinters. Cyclingnews' Kirsten Robbins joined the team camp held in Santa Rosa, California, to find out what directeur sportif Glen Mitchell had planned for the week's training regimen to be used as a selection process for the Tour of California.
The whole team assembles before heading out
Photo ©: Kirsten Robbins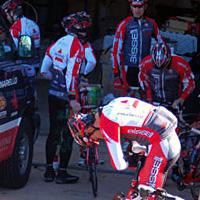 Mark Bissell, owner of Grand Rapids, a Michigan-based floor-care company, decided to enter into the sixth year of cycling sponsorship, returning as the title sponsor of the previous 2007 Priority Health team. Team director Glen Mitchell commented on the renewed signing and strong relationship between the team and company, stating Bissell's commitment as being one of the biggest factors in the young team's progression. "The passion that both Mark Bissell of Bissell and Bob Huges of Advantage Benefits [show] has been here from day one, even when the team was very small," said the more than eight-year professional and former Priority Health rider. "They have helped the team grow to the point that they have taken the program to the next level. We stemmed off of what we had last year, which was a break-out year with results from riders like Ben and Tom who lifted the profile of the team."
Landing on the podium in the 2007 Tour of California prologue and ending with five victories in the Tour of Southland, New Zealand proved a worthy foundation to build an aspiring stage race team with an additional four riders. "I wanted to use our results as our base and then strengthen the team from there," said Mitchell with regards to welcoming ProTour-experienced Aaron Olson back into American racing, along with former NRC champion Burke Swindlehurst, Jeremy Vennell and Joao Miguel da Silva. "Last year we had twelve riders and this year we've moved to fourteen. We tried to keep the core group of guys together because the chemistry between them worked really well and we could see the results coming from that. We had a lot of team effort behind those individual results that we had."
"Money is a big factor, the sprinters cost a lot of money."
- Glen Mitchell on the team's slow evolvement into the GC market..
While the prize money is heavily tied to criterium racing in America, according to Mitchell the prestige is actually still in the stage racing events. Hence, the selection of diesel engines are intended to enhance the performance of the team as a whole, while allowing powerhouse time trialists, Ben Jacques-Maynes and Tom Zirbel, to focus on their GC positions in select UCI tours that include California, Georgia and Missouri, along with domestic events like the Nature Valley Grand Prix, Cascade Classic, Mt Hood and the Tour of Utah that will make up for a minimum of eight weeks of the racing year.
"Money is a big factor, the sprinters cost a lot of money and at this stage we are still growing, every year we are getting a little bit better but we haven't all of a sudden exploded into having multi millions of dollars to spend," said Mitchell. "Some teams are a little bit more heavy focused in the criterium side and the sprint finishes, while we chose to spend our money more heavily on the GC, climbing and time trialing. It evolved that way mainly because of myself and the way that I saw the team going. We decided on this as our priority last year and the Tour of California was one of those areas where we wanted to take a chance in the GC and be able to get guys over the climbs."
Tom Zirbel is in a good mood
Photo ©: Kirsten Robbins

For now, Bissell is adapting to the slow but sure process of developing a budget increase, with hopes of building a full blown cycling team in the future. One that can win in every area of bike racing, including sprinting. "So it's more of an adaptation and the aim is to hopefully next year be able to have two or three specialized sprinters added to the team we have," said Mitchell. "At the moment, I am confident we can do well in every tour and every hard one-day race there is in the USA. That's where we've put our money, in the tours."
Santa Rosa Rally
Decked out in the Bissell team colours of black, red and white, aboard a classic Pinarello Prince, set the tone for the start of the team's first stage race of the 2008 season, a five-day mock event against each other through the scenic backdrop of the surrounding Santa Rosa, located one hour north of San Francisco. While most of the team gathered in New Zealand for the Tour of Southerland, for some it was their first introduction to their new team.
"We rented three houses in the Fountain Grove area for one month, a good amount of time for the guys to gel," said Mitchell who wanted the team closer to a small city to promote team-bonding activities like movie night and grocery shopping. "The chemistry looks great and if that's an indication of things to come than we are going to have a good year."
Aaron Olson brings the experience of the ProTour
Photo ©: Kirsten Robbins

Former Saunier-Duval and T-Mobile rider Aaron Olson has returned to the American racing after a two-year stint in Europe. According to Olson, he was looking to come back to a smaller team with a family atmosphere, something he found in Bissell. "Glen gave me good advice and Bissell seemed like a team that was making progress every year and had a good group of guys," said Olson. "Other teams seemed like they had bigger budgets or more depth, but I think it's nice to be on a team that is a little bit smaller so I can share my experience with some of the younger guys. I want to contribute to raising the team to a higher level."
While he does not expect himself to be a GC contender in a race like the Tour of California, Olson is looking forward to helping his team-mates get the job done. A rider known for his opportunistic breakaways, he is motivated to experience racing in America once again, to see what kinds of improvements he made after his two years in the overseas peloton.
"I really loved racing in events like the Tour of Italy and I will certainly miss racing in front of those huge crowds," said Olson. "I must have improved but it's hard to see that over there because there are so many good guys. I thought it would be fun to come back to America and see how much I've improved, win a race or help someone on Bissell win a race.
The riding in Santa Rosa is known to be phenomenal, for its hard to beat variety of terrain offered. It also requires less travel to the Tour of California and provides the riders with the opportunity to train on several of the circuits they will compete on. According to Mitchell, who has made the stage one finish and stage two start city his hometown, the team will undergo vigorous training in a mock, five-day training race to simulate race efforts.
"The training camp race will sort out the final team selected for the Tour of California," said Mitchell. "Out of ten riders we can only start eight. The availability of such good training next to a good city that provides us with entertainment and we are not stuck out in the middle of nowhere. We can go to a movie, the super market - it's all right there for us. The weather looks like it's going to be good for us the whole week and hopefully a sign of good things to come."
For the full roster, see the Cyclingnews teams database.
Photography
For a thumbnail gallery of these images, click here
Images by Kirsten Robbins/Cyclingnews.com