U.S. National Criterium Championships - NE
Downers Grove Village, Illinois, USA, August 16-17, 2008
Main Page Results Overall standings Race Details Previous Race Next Race
Race 2 - August 16: Men's Pro-am 1/2 International Challenge,
Magnell wins US crit champs warm-up
By Mark Zalewski, North American Editor in Downers Grove, Illinois
Sterling Magnell (Rock Racing) used his team to take the win
Photo ©: Mark Zalewski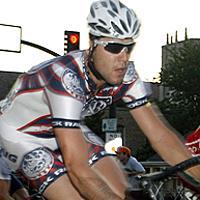 The Saturday evening before the US criterium championships always features pro-amateur races over half the distances for both the men and women. For some it is a prime chance to win some cash, for others it is a nice leg-stretch to show your rivals what you have, and for others it is sit on the sidelines and save the legs for the real races on Sunday. All of that showed with Sterling Magnell and Rock Racing showing they came to win the men's race.
"Rahsaan was like, 'Do you wanna win tonight?' And I said sure, and he pointed to his wheel!" Magnell said about his team-mate who is a favorite for Sunday. "Colavita and Jelly Belly were doing the lead-out and it was our plan to jump on the back side. Rahsaan went first and I was behind Kayle – it all started to slow up a bit so I knew I had to go. I went with two corners to go, just like Downer Avenue. I knew I had Kayle behind me so if I didn't win he would. It was good practice for tomorrow!"
While Rock did go one-two for the race, there were some flashes from other riders who could contend. Defending champ Kirk O'Bee (Health Net-Maxxis) looked at ease, taking a couple of flyers off the front. As well Sebastian Haedo (Colavita-Sutter Home) took a big cash prime before shutting it off early. Former winner Brad Huff (Jelly Belly) was active on the front all night until flatting with five to go, outside of free laps.
Defending race winners Kelly Benefits Strategies-Medifast made some early waves with riders off the front but kept the rest of their cards close to the vest.
Photography
For a thumbnail gallery of these images, click here
Images by Mark Zalewski/Cyclingnews.com
Results
1 Sterling Magnell (USA) Rock Racing                                 1.06.40
2 Kayle Leogrande (USA) Rock Racing                                         
3 Jonathan Cantwell (Aus) Jittery Joe's Pro Cycling Team                    
4 Kirk O'Bee (USA) Health Net p/b Maxxis                                    
5 Luca Damiani (Ita) Colavita Sutter Home p/b CookingLight                  
6 John Murphy (USA) Health Net p/b Maxxis                                   
7 Mark Hekman (USA) Toshiba - Santo Pro Cycling p/b Herbalife               
8 Mike Sayers (USA) BMC Racing Team                                         
9 Chad Hartley (USA) Jittery Joe's Pro Cycling Team                         
10 Adam Myerson (USA) Time Pro Cycling                                      
11 Antonio Cruz (USA) BMC Racing Team                                       
12 Ben Rady (USA)                                                           
13 Paul Esposti (USA) Team Legacy Energy Ciclismo                           
14 Chad Cagle (USA) Mercy                                                   
15 Paul Martin (USA) Texas Roadhouse                                        
16 Alejandro Alberto Borrajo (Arg) Colavita Sutter Home p/b CookingLight    
17 Andrew Dahlheim (USA) Metro VW                                           
18 Yasvany Falcon (Cub) Toshiba - Santo Pro Cycling p/b Herbalife           
19 Jake Rytlewski (USA) Rite Aid Pro Cycling p/b Shebell & Shebell          
20 Richard Geng (Ger) Rite Aid Pro Cycling p/b Shebell & Shebell            
21 Stephen Kincaid (USA) Rite Aid Pro Cycling p/b Shebell & Shebell         
22 Cody Stevenson (Aus) Jittery Joe's Pro Cycling Team                      
23 Jaime Gandara (USA) Team Inferno Pro Cycling                             
24 Maxime Vives (Can) Calyon Pro Cycling Team                               
25 Adam Bergman (USA) Texas Roadhouse                                       
26 Zach Watson (USA) ABD/Geargrinder                                        
27 Michael Woell (USA) Minneapolis Bicycle Racing                           
28 Nicholas Sanderson (Aus) Jelly Belly Cycling Team                        
29 Timothy Henry (USA) Jittery Joe's Pro Cycling Team                       
30 Ryan White (USA) ABD/Geargrinder                                         
31 Jeremy Powers (USA) Jelly Belly Cycling Team                             
32 Justin England (USA) Toyota - United Pro Cycling Team                    
33 Elliot Gaunt (USA) Penn State Cancer Institute                           
34 Ryan Baumann (USA) CRCA / Sakonnet Technology                            
35 Phil Mann (USA) Team Legacy Eergy Ciclismo                               
36 Matthew Busche (USA) IS Corp                                             
37 Hayden Godfrey (USA) Team Inferno Pro Cycling                            
38 Isaac Neff (USA) Alderfer Bergen                                         
39 Tom Burke (USA) West MI coast riders                                     
40 Davide Frattini (Ita) Colavita Sutter Home p/b CookingLight              
41 Evan Elken (USA) Jittery Joe's Pro Cycling Team                          
42 Casey Saunders (USA) Dogfish                                             
43 Rahsaan Bahati (USA) Rock Racing                                         
44 Mike Telega (USA) California Giant Berry                                 
45 Lawrence Warbasse (USA) Priority Health U23                              
46 Jeff Schroetlin (USA) ABD/Geargrinder                                    
47 Sergio Hernandez (USA) Rock Racing                                       
48 Andrew Minier (USA) Grandstand Hotels                                    
49 Bryan Fawley (USA) Park Place Lexus                                      
50 Luis Amaran (Cub) Colavita Sutter Home p/b CookingLight                  
51 Ryan Mckinney (USA) Clean Currents p/b Don Beyer                         
52 Nicholaus Schreiber (USA) Landis/Trek                                    
53 Ryan Parnes (USA) Metromint Cycling on Marin                             
54 Devon Vigus (USA) California Giant Berry                                 
55 Paul Ellis (USA) Bianchi / Grand Performance                             
56 Mat Ankney (USA) Mercy Cycling Team                                      
57 Mike Sherer (USA) Alderfer Bergen Cycling                                
58 Ryan Knapp (USA) Alderfer Bergen                                         
59 Ryan Wohlrabe (USA) Bicycle Heaven                                       
60 Scott Barnes (USA) Mercy Cycling                                         
61 Nicholas Bennette (USA) MetLife                                          
62 Chris Hall (USA) HRRC/Trek Stores                                        
63 Clark Prieta (USA) Team Mack Racing                                      
64 Cesar Correa (USA) Get a grip                                            
65 Adam Switters (USA) Rock Racing                                          
66 Kevin Miller (Can) Team R.A.C.E. Pro                                     
67 Greg Christian (USA) Turin/Barker+Nestor                                 
68 Brock Curry (USA) Rock Racing                                            
69 Thomas Soladay (USA) Time Pro Cycling                                    
70 Ken Hanson (USA) California Giant Berry                                  
71 Guido Palma (Arg) Rite Aid Pro Cycling p/b Shebell & Shebell             
72 Frederick Stamm (USA) Metromint Cycling On                               
73 Frank Travieso (Cub) Toshiba - Santo Pro Cycling p/b Herbalife