USA Crits Series - NE
USA and Canada, April 26-September 25, 2008
Main Page Results Overall standings Previous Race Next Race
Race 4 - June 21: AT&T Downtown Austin Crit, Austin, Texas
Borrajo is back in business
By Kirsten Robbins
Borrajo wins the Austin criterium
Photo ©: Rick Kent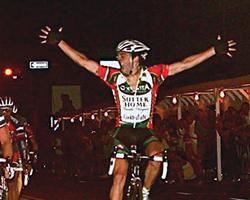 After a severe bout of gastroenteritis eliminated him from one month of racing, Alejandro Borrajo (Colavita/Sutter Home) proved to be back on top form by winning the AT&T down town Austin criterium in a heated sprint finale ahead of Toyota-United speedsters Henk Vogels and Ivan Dominguez.
"It took me so long to recover from having the stomach flu, about one month," said the Argentinean race winner who had dominated in the early season NRC events. "We had four riders here but we worked well together and I made it my goal to be into the last corner first – which was not easy."
Some seventy riders fielded the 5th annual AT&T down town Austin criterium in its second year on the NRC calendar and the USA Crit Series' fourth event.
The pro men's field navigated a relatively basic four-corner course that was packed with more than 15,000 bike race enthusiasts out to watch the 70-minute criterium.
"There were so many people out watching," continued Borrajo who patiently waited protected in the peloton until emerging on the final lap. "It was really a great venue."
Team's Toyota-United, Rock Racing and the home town's favourite outfit Texas-Tough-Team Hotel San Jose lined up full squads and took control of the race in it's early stages. However, the short one kilometre circuit aided in a fast momentum that seemed to suck all attempts at a break away back into the sprint hungry bunch.
"There were a lot of attacks, and the race was very fast," said Borrajo. "But nothing worked for more than ten seconds."
Freddie Rodriguez (Rock Racing)
Photo ©: Nathan Sanchez

With ten laps to go Toyota-United looked to be on target for the victory after they displayed an impressive full squad train, set up for their Cuban sprinter Ivan Dominguez, overpowering all other team until one lap to go.
"My brother Anibal [Borrajo] tried to jump beside the Toyota-United train after we passed through with one lap to go," said Borrajo describing the last 800 meters that played out in his favour. "There was a bit of a mix up with between our team and Toyota but I got to the last corner first."
The typically dicey nature of a final lap field sprint caused a small separation the sprinters setting Dominguez back a few bike lengths from Vogels and Borrajo into the final turn. Borrajo flew out of the last corner in front with one hundred meters to go, not enough length for the remaining sprinters to recover by the finish line.
Benjamin victorious in Austin
Kelly Benjamin (Cheerwine) animated the final one hundred meters of the AT&T down town Austin criterium sweeping out of the final corner in prime position to take the victory ahead of US national criterium champion Tina Pic (Colavita/Sutter Home) and hometown favourite Jen McRae (Advil/ChapStick).
"If ever there were a race that was won by my team-mates it was today," said race winner Kelly Benjamin who was caught up in a mid-race crash that mangled her race bike.
"My team-mate Ally [Brandt] was out front, riding so well so that Laura [Van Gilder] and I could really relax after the accident. I took a few laps to compose myself and get it together, there were only three of us and we were out numbered. Ally kept putting herself in the right moves."
The women's racing action.
Photo ©: Nathan Sanchez

With six laps to go a threatening six riders separated themselves from the peloton in what looked to be a winning move. The riders included Katharine Carroll (Aarons's), Brenda Lyons (Advil/ChapStick), Chrissy Ruiter (Value Act-Capital) and Ally Brandt (Cheerwine).
"We wanted the break with Ally to stick," said Benjamin, who hoped her teammate would win in front of her hometown fans. "But, we caught them with one lap to go and I was in good position with Laura."
Brooke Miller (Tibco) surprised the peloton when she nearly single handedly brought back the escapees before the start of the final lap. "Miller pretty much brought the whole thing back together," said Benjamin. "She was on the front for three laps. I respect that she did that because she didn't let the race go up the road."
Too outnumbered to compose a lead out train, Cheerwine sent their notorious sprinter Laura Van Gilder up the road at the start of the last lap. "We needed to draw out all the people that I wanted it to draw out. I had 5th position in the last stretch, in perfect position."
Benjamin took the advantage into to the last corner first, ahead of the remaining sprinters. "It was a race to the last corer, less than 100 meters from the last corner to the end," recalled Benjamin.
"I felt like we came out of there shoulder to shoulder with Tina and we pedaled for what felt like five times, it was so short, it was a race to the last turn," continued Benjamin. "I tried to get to the last corner first and from there it was too close to the finish line for anyone to be able to pass."
Photography
For a thumbnail gallery of these images, click here
Images by Rick Kent
Images by Nathan Sanchez/Nathan Sanchez
Images by Vanessa Ford/www.thebikechick.com
Results
1 Alejandro Borrajo (Colavita Sutter Home)                 
2 Henk Vogels (Toyota-United Pro Cycling Team)             
3 Ivan Dominguez (Toyota-United Pro Cycling Team)          
4 Hilton Clarke (Toyota-United)                            
5 Anibal Borrajo (Colavita Sutter Home)                    
6 Carlos Vargas (TxTough/Team Hotel San Jose)              
7 Kyle Wamsley (Colavita/Sutter Home p/b Cookin)           
8 Rashad Bahati (Rock Racing)                              
9 Yosvany Falcono (TOSHIBA-Santo presented by Herb)        
10 Adam Myerson (TIME Pro Cycling)                         
11 Jaime Gandara (Team Inferno Pro Cycling)                
12 Andrew Dahlheim (TxTough/Team Hotel San Jose)           
13 alexi Martinez (Successful Living Pro Cycling T)        
14 Jonny Sundt (Kelly Benefit Strategies/Medifa)           
15 Jared Barrilleaux (The Jittery Joes Pro Cycling Te)     
16 Jorge Espinoza                                          
17 Ian Dille (Bicycle Sport Shop pb Girling)               
18 Christian Helmig (FCS Cycling Club)                     
19 Thomas Soladay (TIME Pro Cycling)                       
20 Jorge Alvarado (Kahala La Grange)                       
21 remi Mcmanus (Team Inferno Pro Cycling)                 
22 Frank Travieso (TOSHIBA-Santo presented by Herb)        
23 Red Mumford (Kelly Benefits)                            
24 Tyler Hamilton (Rock Racing)                            
25 David Wenger (Bicycle Sport Shop pb Girling)            
26 Craig Dodson (Richmond Pro Cycling)                     
27 Max Miley (Matrix Cycling Club)                         
28 Ryan Wohlrabe (Bicycle-Heaven)                          
29 Peter Dawson (Rock Racing)                              
30 Tristan Uhl (TxTough/Team Hotel San Jose)               
31 Philip Wikoff (Bicycle Sport Shop pb Girling)           
32 Thom Coupe (MetLife p/b unlose.it)                      
33 Freddie Rodriguez (Rock Racing)                         
34 Caleb Manion (Toyota-United)                            
35 Kayle Leo Grande (Rock Racing)                          
36 Justin Williams (Rock Racing)                           
37 Stefan Rothe (Mercy Cycling Team)                       
38 Karl Kupecz (Velossimo Racing)                          
39 Matt Gordon (Team Six)                                  
40 Bill Marshall (Mercy Cycling Team)                      
41 John Mcallister (Velossimo Racing)                      
42 J. Alain Ferry (MetLife p/b unlose.it)                  
43 Seth Hansley (Locos Grill & Pub)                        
44 Sol Frost (Austinbikes/Revenant)                        
45 Patrick Mccarty (Slipstream-Chipotle)                   
46 Bret Crosby (TxTough/Team Hotel San Jose)               
47 Tyler Jewell (TxTough/Team Hotel San Jose)              
48 William Ross (TxTough/Team Hotel San Jose)              
49 Mat Stephens (Mercy Cycling)                            
50 Nicholas Reistad (Jelly Belly Cycling Team)             
51 Leo Frayre (FCS Cycling Club)                           
52 Brad Huff (Jelly Belly Cycling Team)                    
53 Nic Sanderson (Jelly Belly Cycling Team)                
54 Kevin Kremke (Bike Barn (Texas))                        
55 Adam Mills (HRRC/ Trek Stores)                          
56 Max Clauson (Wild Oats/Al's Barbershop)                 
57 Brent Turner (Bike Barn (Texas))                        
58 Kristian House (Rapha-Condor-Recycling)                 
59 Daniel Carruthers (Hanserton Hearing)                   
 
Women
 
1 Kelly Benjamin (Cheerwine Cycling)                       
2 Tina Pic (Colavita/Sutter Home p/b Cookin)               
3 Jen Mcrae (Team Advil-ChapStick)                         
4 Anna Lang (Aaron's Professional Women's Cy)              
5 Erica Allar (Aaron's Professional Women's Cy)            
6 Brooke Miller (Team TIBCO)                               
7 Christina Ruiter (ValueAct Capital Cycling Team)         
8 Martina Patella (ValueAct Capital Cycling Team)          
9 Laura Van Gilder (Cheerwine Cycling)                     
10 Katharine Carroll (Aaron's Professional Women's Cy)     
11 Shontell Gauthier (Colavita/Sutter Home p/b Cookin)     
12 Jennifer Wilson (Vanderkitten Racing)                   
13 Jen Purcell (Colavita/Sutter Home/Texas)                
14 Taitt Sato (ValueAct Capital Cycling Team)              
15 Liz Hatch (Vanderkitten Racing)                         
16 Meredith Miller (Aaron's Professional Women's Cy)       
17 Christina Smith (LoneStarWorks.com)                     
18 Allyson Brandt (Cheerwine Cycling)                      
19 Catherine Powers (Aaron's Professional Women's Cy)      
20 Shannon Koch (FCS Cycling Club)                         
21 Samantha Schneider (Colavita/Sutter Home p/b Cookin)    
22 Kate Sherwin (Austin Flyers)                            
23 Brenda Lyons (Team Advil-ChapStick)                     
24 Michelle Montoya (LoneStarWorks.com)                    
25 Ashley Anderson (FCS Cycling Club)                      

Standings after four races

1 Jeff Hopkins (Team Inferno Pro Cycling)                                     593 pts
2 Rahsaan Bahati (Rock Racing)                                                502
3 Yosvany Falcon (TOSHIBA-Santo presented by Herbalife)                       496
4 Seth Hansley (Locos Grill & Pub)                                            477
5 Jake Keough (CRCA/Sakonnet Technologies U25)                                440
6 Frank Travieso (TOSHIBA-Santo presented by Herbalife)                       431
7 Ryan Mele (Richmond Pro Cycling fueled by Nature's Path)                    378
8 Adam Myerson (Time Pro Cycling)                                             363
9 Esteban Jukich (Richmond Pro Cycling fueled by Nature's Path)               359
10 Justin Williams (Rock Racing)                                              347
11 Craig Dodson (Richmond Pro Cycling fueled by Nature's Path)                327
12 Ivan Dominguez (Toyota- United Pro Cycling Team)                           299
13 Mark Hekman (TOSHIBA-Santo presented by Herbalife)                         282
14 Chad Burdzilauskas (Texas Roadhouse)                                       265
15 Gerardo Castro (Richmond Pro Cycling fueled by Nature's Path)              264
16 Jonnie Clarke (Toyota- United Pro Cycling Team)                            263
17 Ivan Stevic (Toyota- United Pro Cycling Team)                              261
18 Devon Vigus (California Giant)                                             256
19 Mike Stoop (Time Pro Cycling)                                              253
20 Kyle Wamsley (Colavita Sutter Home p/b Cooking Light)                      252
21 Eric Barlevav (Time Pro Cycling)                                           250
22 Kevin Atkisson (Texas Roadhouse)                                           241
23 Sebastian Haedo (Colavita Sutter Home p/b Cooking Light)                   241
24 Caleb Manion (Toyota- United Pro Cycling Team)                             240
25 Kenneth Hanson (California Giant)                                          232
26 Hilton Clarke (Toyota- United Pro Cycling Team)                            229
27 Cheyne Hoag (CRCA/Sakonnet Technologies U25)                               227
28 Fred Rodriquez (Rock Racing)                                               225
29 Lacombe Keven (Kelly Benefit Strategies/Medifast)                          225
30 Demis Aleman (Argentina Telefonicos)                                       223
31 Henk Vogels (Toyota- United Pro Cycling Team)                              220
32 Matt Winstead (Team Inferno Pro Cycling)                                   217
33 Alejandro Borrajo (Colavita Sutter Home p/b Cooking Light)                 210
34 Dave Guttenplan (Time Pro Cycling)                                         208
35 Chris Wherry (Toyota- United Pro Cycling Team)                             205
36 Alexi Martinez (Successful Living.com P/B Park)                            200
37 Lisbon Quintero (CRCA/Foundation)                                          200
38 Chad Cagle (Mercy Cycling)                                                 195
39 Alejandro Guzman (CRCA/Foundation)                                         195
40 Gustavo Artacho (Colavita Sutter Home p/b Cooking Light)                   191
41 Oneil Samuels (Locos Grill & Pub)                                          188
42 Kyle Gritters (HealthNet presented by Maxxis)                              188
43 Ben Raby (SRAM)                                                            187
44 Andrew Dalhiem (TxTough/Team Hotel San Jose)                               184
45 Oscar Henao (Clinica Union)                                                183
46 John Parra (TOSHIBA-Santo presented by Herbalife)                          180
47 Paul Martin (Texas Roadhouse)                                              179
48 John Grant (Texas Roadhouse)                                               179
49 Anthony Taylor (TARGETTRAINING)                                            179
50 Jermaine Burroughs (We Stand United/Sheepshed Cycles)                      177
51 James (jim) Baldesare (Team Inferno Pro Cycling)                           176
52 Chris Scott (Locos Grill & Pub)                                            176
53 daniel Holloway (VMG/Felt)                                                 171
54 Kirk Albers (Texas Roadhouse)                                              171
55 Jason Snow (Team Metra/Wendy's/Victor Homes)                               171
56 Christan Helmig (Metro Volkswagen)                                         168
57 Matt Hansley (Locos Grill & Pub)                                           164
58 Jaime Gandara (Team Inferno Pro Cycling)                                   159
59 Martin Gilbert (Kelly Benefit Strategies/Medifast)                         159
60 John"Rolf" Eisinger (Team Legacy Energy)                                   155
61 Gary Yates (Naples Cyclery)                                                155
62 Mat Stephens (Mercy Cycling)                                               152
63 Bruno Langlois (Myogenesis.com)                                            151
64 Vladimir Esteves (Champion Systems Racing)                                 147
65 Leo Frayre (Metro Volkswagen)                                              146
66 Phil Mann (Team Legacy Energy)                                             144
67 John Durso (Liberty Cycles)                                                144
68 Wilson Vasquez (G.S. Mengoni)                                              141
69 Brent Hanlin (THF Racing)                                                  138
70 Richard (rich) Harper (Team Inferno Pro Cycling)                           138
71 Jackie Simes (Time Pro Cycling)                                            134
72 Tucker Brown (Colavita Sutter Home p/b Cooking Light)                      134
73 Rob White (ABD/GEARGRINDER Cycling Team)                                   132
74 Ryan Baumann (CRCA/Sakonnet Technologies U25)                              127
75 Alex Boyd (Team Waste Management)                                          123
76 Juan Carlos Almonte (G.S. Mengoni)                                         123
77 Andy Baker (Time Pro Cycling)                                              122
78 Josh England (Team Inferno Pro Cycling)                                    121
79 Ryan Nye (Prefered Care Elite Cycling)                                     120
80 Luca Damiani (Colavita Sutter Home p/b Cooking Light)                      120
81 Gregg Brant (Bianchi / Grand Performance)                                  120
82 Ryan White (ABD/GEARGRINDER Cycling Team)                                  120
83 Kurt Fletcher (St Louis Cyclones)                                          117
84 Cole House (Bianchi / Grand Performance)                                   115
85 Matt Decanio (Haymarket Bicycles/Function Drinks)                          114
86 Nick Keough (CRCA/Sakonnet Technologies U25)                               113
87 Davide Frattini (Colavita Sutter Home p/b Cooking Light)                   113
88 Jared Nieters (Haymarket Bicycles/Function Drinks)                         111
89 Eugene Boronow (G.S. Mengoni)                                              111
90 Chris Winn (RMCEF Racing/MOB Cyclery)                                      108
91 Nick Bennette (Metlife Pro-Am Cycling presented by unlose.it)              108
92 Michael Mcginley (Somerville Sports)                                       105
93 Josh Carter (ABD/GEARGRINDER Cycling Team)                                 105
94 Barry Lee (TxTough/Team Hotel San Jose)                                    102
95 John Durango (TOSHIBA-Santo presented by Herbalife)                        102
96 Gustavo Borcard (Argentina Telefonicos)                                    102
97 Shane Braley (Wheel and Sprocket)                                          100
98 Steve Tilford (Trek)                                                       100
99 Matt Inconiglios (Stage 1 Cycling)                                          99
100 Oscar Clark (Kudzu.com U23)                                                99
101 Daniel Bowman (Kelly Benefit Strategies/Medifast)                          99
102 Dirk Pohlman (Texas Roadhouse)                                             96
103 Marcel Groothuismink (ZWIEP Mountainbike Team the Netherlands)             95
104 Justin Beard (Black Sheep Cartel)                                          93
105 Karl Kupecz (Velossimo Racing Team)                                        90
106 Carlos Alzate (TOSHIBA-Santo presented by Herbalife)                       90
107 Bryan Borgia (CRCA/Jonathan Adler)                                         90
108 David Mccook (Z Team)                                                      87
109 Mark Light (Liberty Cycles)                                                87
110 Owen Nielsen (DLP Racing)                                                  87
111 Jarred Berger (Team Legacy Energy)                                         84
112 Euri Madera (G.S. Mengoni)                                                 84
113 Mat Ankney (Mercy Cycling)                                                 81
114 Alex Candelario (Kelly Benefit Strategies/Medifast)                        81
115 Igor Misicki (CRCA/Foundation)                                             81
116 Andy Jacques-Maynes (California Giant)                                     81
117 Stefano Barberi (THF Racing)                                               80
118 Sterling Magnell (Rock Racing)                                             79
119 Austin Allison (THF Racing)                                                75
120 Peter Dawson (Rock Racing)                                                 75
121 Raymond Newton (CRCA/Foundation)                                           75
122 John Puffer (Texas Roadhouse)                                              72
123 Ben King (Kelly Benefit Strategies/Medifast)                               72
124 Christopher Ernst (Industry Nine)                                          72
125 Joshua Alexander (CRCA/Foundation)                                         72
126 Eddy Kwon (RMCEF Racing/MOB Cyclery)                                       69
127 Michael Norton (CALYON PRO CYCLING TEAM)                                   69
128 Robert Bush (Texas Roadhouse)                                              68
129 Graham Garber (Metlife Pro-Am Cycling presented by unlose.it)              66
130 Casey Magner (Blue Competition Cycles)                                     66
131 Jose Manual Garcia (Toyota- United Pro Cycling Team)                       64
132 David Veilleux (Kelly Benefit Strategies/Medifast)                         64
133 Haldane Morris (Rock Racing)                                               63
134 Tyler Hamilton (Rock Racing)                                               63
135 William Stolte (HRRC/Trek)                                                 63
136 Adam Bergman (Texas Roadhouse)                                             62
137 Stefan Rothe (Mercy Cycling)                                               62
138 Jonathan Hamblen (Time Pro Cycling)                                        61
139 Brad Cole (Team Legacy Energy)                                             61
140 Sergio Hermandez (Rock Racing)                                             61
141 Phil Riggio (CRCA/Jonathan Adler)                                          61
142 Dave Fuentes (Battley Harley-Davidson/Hudson Trail)                        61
143 Carlos Vargas (TxTough/Team Hotel San Jose)                                60
144 Tristan Uhl (TxTough/Team Hotel San Jose)                                  60
145 Heath Blackgrove (Toyota- United Pro Cycling Team)                         60
146 Ben Day (Toyota- United Pro Cycling Team)                                  60
147 Terrence Keenan (THF Racing)                                               60
148 Paul Ziminski (Team Metra/Wendy's/Victor Homes)                            60
149 Chuck Coyle (Successful Living.com P/B Park)                               60
150 Salvatore R Scotto Divetta (Somerville Sports)                             60
151 Dave Sommerville (Somerville Sports)                                       60
152 Alex Welch (Mercy Cycling)                                                 60
153 Rufus Pichler (Kissena Cycling Club)                                       60
154 Rashad Guerra (Kissena Cycling Club)                                       60
155 J.P. Partland (Kissena Cycling Club)                                       60
156 Jim Mohan (Horizon Organic)                                                60
157 Chris Hayes (Haymarket Bicycles/Function Drinks)                           60
158 Robert Lyons (GS Gotham/Toga)                                              60
159 Ken Harris (CRCA/Jonathan Adler)                                           60
160 Pat Lemieux (Bianchi / Grand Performance)                                  60
161 Leandro Botasso (Argentina Telefonicos)                                    60
162 Matthew Johnson (CRCA/Empire Cycling)                                      55
163 John Murphy (HealthNet presented by Maxxis)                                54
164 Anibal Borrajo (Colavita Sutter Home p/b Cooking Light)                    53
165 Jeremiah Wiscovitch (Rock Racing)                                          52
166 Jonathan Mumford (Kelly Benefit Strategies/Medifast)                       52
167 Joao Correia (Bissel Pro Cycling Team)                                     52
168 Tommy Nankervis (TOSHIBA-Santo presented by Herbalife)                     51
169 Bill Marshall (Mercy Cycling)                                              51
170 Jonny Sundt (Kelly Benefit Strategies/Medifast)                            51
171 Chad Hartley (Jittery Joe's Pro Cycling)                                   51
172 Kirk O'bee (HealthNet presented by Maxxis)                                 51
173 Karl Rahn (CRCA/Empire Cycling)                                            51
174 David Wiswell (CRCA/Empire Cycling)                                        51
175 Eric Marcotte (Bianchi / Grand Performance)                                51
176 Marcos Santucho (Argentina Telefonicos)                                    51
177 Andrew Crater (Wheel and Sprocket)                                         50
178 Anthony Lowe (We Stand United/Sheepshed Cycles)                            50
179 Horace Burroughs (We Stand United/Sheepshed Cycles)                        50
180 Paul Burroughs (We Stand United/Sheepshed Cycles)                          50
181 Brian Cooblall (We Stand United/Sheepshed Cycles)                          50
182 Loren Dodson (Velossimo Racing)                                            50
183 Gregory Christian (Turin/Barker+Nestor)                                    50
184 Brian Toome (Tria Market)                                                  50
185 Brandon Cunningham (TOSHIBA-Santo presented by Herbalife Elite Amateur)    50
186 Keith Norris (TOSHIBA-Santo presented by Herbalife)                        50
187 David Duncan (Time Pro Cycling)                                            50
188 Brian Alfermann (THF Racing)                                               50
189 Nolan Froese (THF Racing)                                                  50
190 Zak Grabowski (THF Racing)                                                 50
191 Daniel Schmatz (THF Racing)                                                50
192 Keith Skiles (Texas Roadhouse)                                             50
193 marco Rios (team zombies)                                                  50
194 Timothy Hargrave (Team Type 1)                                             50
195 Joe Eldridge (Team Type 1)                                                 50
196 Bennet Van Der Genugten (Team Inferno Pro Cycling)                         50
197 Marco Aledia (Team Inferno Pro Cycling)                                    50
198 Remi Mcmanus (Team Inferno Pro Cycling)                                    50
199 Abdul Kabia (TARGETTRAINING)                                               50
200 Tom Benciviengo (Somerville Sports)                                        50
201 Tom Dolan (Somerville Sports)                                              50
202 Ron Fantano (Somerville Sports)                                            50
203 Rob Wing (Somerville Sports)                                               50
204 Joseph Siciliano (RMCEF Racing/MOB Cyclery)                                50
205 Guido Palma (Rite Aid)                                                     50
206 Jeffrey Buckles (Richmond Pro Cycling fueled by Nature's Path)             50
207 Isaac Howe (Revolution Cycles U-23 Development Team)                       50
208 Todd Scheske (Prefered Care Elite Cycling)                                 50
209 Charles Rossignol (Pacesetter Steel Service)                               50
210 Darren Comer (Pacesetter Steel Service)                                    50
211 Jacob Fetty (Myogenesis.com)                                               50
212 Cleve Blackwell (Myogenesis.com)                                           50
213 Eric Boily (Myogenesis.com)                                                50
214 Chris Klem (Myogenesis.com)                                                50
215 Joel Lewis (Myogenesis.com)                                                50
216 Brady Rogers (Myogenesis.com)                                              50
217 Nathan Rogut (Metro Volkswagen)                                            50
218 Peter Carey (Metro Volkswagen)                                             50
219 Mack Chew (McGuire Cycling Team)                                           50
220 Andrew Armstrong (Matrix/RBM)                                              50
221 Marc Anderson (Locos Grill & Pub)                                          50
222 Whit Clifford (Locos Grill & Pub)                                          50
223 Rob Giannini (Locos Grill & Pub)                                           50
224 Travis Hagner (Locos Grill & Pub)                                          50
225 Ryan Saylor (Lindner Capital)                                              50
226 Karel Sumbal (Lindner Capital)                                             50
227 Curtis Long (Lindner Capital)                                              50
228 Jeff Kopp (Lindner Capital)                                                50
229 jorge Alvarado (La Grange)                                                 50
230 Jafer Beizer (Kudzu.com U23)                                               50
231 Joey Rosskopf (Kudzu.com U23)                                              50
232 Thomas Brown (Kudzu.com U23)                                               50
233 Brian Buchholz (Kelly Benefit Strategies/Medifast)                         50
234 Timothy Henry (Jittery Joe's Pro Cycling)                                  50
235 Ben Kneller (Jittery Joe's Pro Cycling)                                    50
236 Michael Cody (Jelly Belly)                                                 50
237 Andrew Erskine (Industry Nine)                                             50
238 Adam Ray (Industry Nine)                                                   50
239 Grant Potter (Herbal Life/ Bike America)                                   50
240 Willie Gonzalez (Herbal Life/ Bike America)                                50
241 Frank Lopez (Herbal Life/ Bike America)                                    50
242 Hector Oscar (Herbal Life/ Bike America)                                   50
243 Steven Gordon (Haymarket Bicycles/Function Drinks)                         50
244 Gonzalo Escobar (Haymarket Bicycles/Function Drinks)                       50
245 John Parks (Haymarket Bicycles/Function Drinks)                            50
246 Chris Jones (Haymarket Bicycles/Function Drinks)                           50
247 Edwin Morel (GS Gotham/Toga)                                               50
248 Ray Diaz (GS Gotham/Toga)                                                  50
249 Chris Long (GS Gotham/Toga)                                                50
250 Nick Friesen (G.S. Mengoni)                                                50
251 Roselvert Marte (G.S. Mengoni)                                             50
252 Peter Salon (Felt/VMG U23 National Team)                                   50
253 Torsten Wambold (DLP Racing)                                               50
254 Spencer Beamer (DLP Racing)                                                50
255 Joseph Coddington (DLP Racing)                                             50
256 John Tomlinson (Deno's Wonder Wheels)                                      50
257 Chris Loudon (CRCA/Sid's-Cannondale)                                       50
258 Adam Alexander (CRCA/Sakonnet Technologies U25)                            50
259 Adam Branfman (CRCA/Sakonnet Technologies U25)                             50
260 Dylan O'sullivan (CRCA/Sakonnet Technologies U25)                          50
261 Glenroy Griffith (CRCA/Foundation)                                         50
262 Gavin Robertson (CRCA/Foundation)                                          50
263 Eric Brownell (CRCA/Empire Cycling)                                        50
264 John Loehner (CRCA/Empire Cycling)                                         50
265 Chris Romero (CRCA/AXIS)                                                   50
266 Bradley Tisdahl (Connecticut Coast Cycling)                                50
267 Rodney Santiago (Colavita Sutter Home p/b Cooking Light)                   50
268 Michael Wolf (Clinica Union)                                               50
269 Sebastian Sinisterra (Clinica Union)                                       50
270 Jason Meidhof (Clean Currents p/b Don Beyer Volvo)                         50
271 David Bozak (Clean Currents p/b Don Beyer Volvo)                           50
272 Kenneth Young (Clean Currents p/b Don Beyer Volvo)                         50
273 Franklin Burgos (Champion Systems Racing)                                  50
274 Luis Aquino (Champion Systems Racing)                                      50
275 Somraj Seepersaud (Champion Systems Racing)                                50
276 Jorma Mueller (Champion Systems Racing)                                    50
277 Mathieu Roy (CALYON PRO CYCLING TEAM)                                      50
278 Matt Guse (CALYON PRO CYCLING TEAM)                                        50
279 Maxime Vives (CALYON PRO CYCLING TEAM)                                     50
280 Viktar Rapinski (BPG/Montano Velo)                                         50
281 Ryan Barnett (Blue Competition Cycles)                                     50
282 Will Hoffarth (Black Sheep Cartel)                                         50
283 Ben Coleman (BikeReg.com)                                                  50
284 Jens Brabbit (Bianchi / Grand Performance)                                 50
285 Gaston Aguero (Argentina Telefonicos)                                      50
286 Luis Alejandro Zamudio (American R.A.D.D. presented by)                    50
287 Thomas Nelson (American R.A.D.D. presented by)                             50
288 Bryson Perry (American R.A.D.D. presented by)                              50
289 Robert Mcconville (AeroCat/ Latino Cycling Team)                           50
290 Emilio Asconeguy (AeroCat/ Latino Cycling Team)                            50
291 Diego Garavito (AeroCat/ Latino Cycling Team)                              50
292 Leonardo Marquez (AeroCat/ Latino Cycling Team)                            50
293 Chris Demarchi (5 Star Waste Vegetable)                                    50
294 Brandon Gritters (5 Star Waste Vegetable)                                  50
 
Women
 
1 Kelly Benjamin (Cheerwine Cycling)                                          712 pts
2 Jennifer Wilson (Vanderkitten Racing)                                       601
3 Allyson Brandt (Cheerwine Cycling)                                          555
4 Taitt Sato (ValueAct Capital)                                               546
5 Tina Pic (Colavita/Sutter Home p/b Cooking Light)                           479
6 Jennifer Mcrae (Advil/ChapStick)                                            475
7 Shannon Koch (Metro Volkswagen Cycling Team)                                473
8 Liz Hatch (Vanderkitten Racing)                                             433
9 Anna Lang (Aaron's Professional Women's Cycling Team)                       430
10 Erica Allar (Aaron's Professional Women's Cycling Team)                    407
11 Ashley Anderson (Metro Volkswagen Cycling Team)                            406
12 Laura Van Gilder (Cheerwine Cycling)                                       403
13 Shontell Gauthier (Colavita/Sutter Home p/b Cooking Light)                 388
14 Leigh Valletti (Vanderkitten Racing)                                       349
15 Samantha Schnider (Calanta)                                                345
16 Jenny Trew (Vanderkitten Racing)                                           339
17 Meredith Miller (Aaron's Professional Women's Cycling Team)                327
18 Rebecca Larson (Aaron's Professional Women's Cycling Team)                 305
19 Christina Smith (LoneStarWorks.com)                                        300
20 Melissa Sanborn (Vanderkitten Racing)                                      292
21 Catherine Powers (Aaron's Professional Women's Cycling Team)               265
22 Michelle Montoya (LoneStarWorks.com)                                       252
23 Catherine Cheatley (Cheerwine Cycling)                                     243
24 Jacquelyn Crowell (Team Kenda Tire)                                        234
25 Shelley Olds (PROMAN/Paradigm)                                             233
26 Belinda Goss (Jazz Apple Cycling Team)                                     232
27 Sarah Caravella (Tibco Pro Cycling)                                        229
28 Tiffany Cromwell (Colavita/Sutter Home p/b Cooking Light)                  224
29 Bri Kovac (Team Revolution)                                                220
30 Brooke Miller                                                              215
31 Cari Higgins (America's Dairyland)                                         215
32 Jen Purcell                                                                210
33 Katharine Carroll                                                          206
34 Martina Patella                                                            205
35 Carrie Cash-Wootten (Team Revolution)                                      205
36 Elizabeth Morse Hill (Hub Racing)                                          191
37 Kendi Thomas (Team Revolution)                                             191
38 Christina Ruiter                                                           189
39 Catherine Walberg (Team Kenda Tire)                                        175
40 Jenny Willhite (Metro Volkswagen Cycling Team)                             173
41 Amanda Miller (Mesa Cycles Racing Team)                                    171
42 Stacy Marple (Cheerwine Cycling)                                           170
43 Jacqueline Kurth (Team Kenda Tire)                                         168
44 Leeanne Manderson (Hub Racing)                                             164
45 Kirsten Davis (Sorella Cycling/BVM Engineering)                            161
46 Kristin Sanders (Aaron's Professional Women's Cycling Team)                160
47 Andrea Wilson (Team Kenda Tire)                                            160
48 Tamyra Barnard (Herbalife)                                                 155
49 Hannah Banks (ValueAct Capital)                                            152
50 Holli Steelman (Juice Plus/NC cycling)                                     151
51 Kate Sherwin                                                               147
52 Cheryl Fuller (Reality Bikes & Skateboards)                                147
53 Brenda Lyons                                                               145
54 Renee Eastman (Vitamin Cottage)                                            145
55 Laura Bowles (Advil/ChapStick)                                             143
56 Rachel Byus (Metro Volkswagen Cycling Team)                                140
57 Dana Martin (Peachtree Bikes)                                              138
58 Gwen Erffmeyer (RMCEF Racing/MOB Cyclery)                                  138
59 Robin Farina (Cheerwine Cycling)                                           135
60 Monique Hanley (Team Type 1)                                               132
61 Sydney Brown (Team Revolution)                                             131
62 Nicole Bossie (hincapie-barkleydevo)                                       130
63 Flavia Oliveira (Vanderkitten Racing)                                      129
64 Julie Bishop (Team Bents)                                                  126
65 Kacey Manderfield (Verducci/Breakaway)                                     125
66 Jennifer Greenberg (Punk Rock Cycling)                                     123
67 Kathryn Clark (Team Kenda Tire)                                            117
68 Patricia Black (Morgan Stanley/Specialized/24H)                            117
69 Marisa Asplund-Owens (Cheerwine Cycling)                                   109
70 Kate Ross (America's Dairyland)                                            105
71 Casey Gale (unattached)                                                    103
72 Susy Pryde (Jazz Apple Cycling Team)                                       102
73 Betsy Galenti (Southern California Velo)                                   101
74 Morgan Patton (Team Type 1)                                                100
75 Carol Hutton (Vitamin Cottage)                                              99
76 Kele Murdin (Vanderkitten Racing)                                           98
77 Kimberly Geist (Metro Volkswagen Cycling Team)                              96
78 Jenna Allen (Vitamin Cottage)                                               93
79 Daniele Staskal                                                             62
80 Alison Shanks (Jazz Apple Cycling Team)                                     55
81 Rushlee Buchanan                                                            51
82 Clare Vlahopoulos (America's Dairyland)                                     51
83 Betsy Galenti (SC Velo/Incycle)                                             51
84 Nichole Wangsgard (Colavita/Sutter Home p/b Cooking Light)                  50
85 Tammy Wallace                                                               50
86 Whitney Schultz                                                             50
87 Alison Rosenthal                                                            50
88 Lara Kroepsch                                                               50
89 Natalie Klemko                                                              50
90 Helen Kelly                                                                 50
91 Reem Jishi                                                                  50
92 Rachel Gunn                                                                 50
93 kim Ciolli                                                                  50
94 Rachel Byus                                                                 50
95 Lori Barrett                                                                50
96 Jamie Dinkins (Vantaggio/Specialized/Devo)                                  50
97 Kathryn Wilder (Team Somerset)                                              50
98 Jackie Soladay (Team MedPlan)                                               50
99 Amy Gravlee (Team MedPlan)                                                  50
100 Katie Reynolds (Team MedPlan)                                              50
101 Christi-An Hansley (Team MedPlan)                                          50
102 Catherine Walbert (Team Kenda Tire)                                        50
103 Heather Davis (Team Florida)                                               50
104 Kimberly Sawyer (Reality Bikes & Skateboards)                              50
105 Lisa Witzlib (Peachtree Bikes)                                             50
106 Gina Voci (Juice Plus/NC cycling)                                          50
107 Laura Mccaughey (Juice Plus/NC cycling)                                    50
108 Rachel Warner (Juice Plus/NC cycling)                                      50
109 Madeline Possant (IS Corp)                                                 50
110 Sheba Farrin (Hub Racing)                                                  50
111 Sherri Stedje (Hub Racing)                                                 50
112 Carla Swart (Fulton Flyers)                                                50
113 Kristen Meshberg (Flatlandia Cycling Team)                                 50
114 Jacqueline Dougherty (Boston Bicycle)                                      50
115 Cara Mccauley (BMW-Bianchi presented by Hendrick BMW)                      50
116 Jen Petosa (BMW-Bianchi presented by Hendrick BMW)                         50
117 Laura Weislo (BMW-Bianchi presented by Hendrick BMW)                       50
118 Christy Blakely (BMW-Bianchi presented by Hendrick BMW)                    50
119 Bonnie Bourque (ACQUA AL 2/SDBC)                                           50
120 Leda Cox (America's Dairyland)                                             50
121 Miranda Long (Austin Flyers)                                               50
122 Linsey Bradshaw (DeWalt)                                                   50
123 Lauren Ellis (Jazz Apple Cycling Team)                                     50
124 MalinDills Maclean (Jazz Apple Cycling Team)                               50
125 Emma Petersen (Jazz Apple Cycling Team)                                    50
126 Jennifer Herrell (Mercy Cycling Team)                                      50
127 Michelle Michelle (Mercy Cycling Team)                                     50
128 Maegan Daigler (RMCEF Racing/MOB Cyclery)                                  50
129 Danielle Haulman (RMCEF Racing/MOB Cyclery)                                50
130 Megan Hottman (RMCEF Racing/MOB Cyclery)                                   50
131 Cheryl Moffett (RMCEF Racing/MOB Cyclery)                                  50
132 Rebekah Mullen (RMCEF Racing/MOB Cyclery)                                  50
133 Neva Day (SouthBay Wheelmen)                                               50
134 Pam Loebig (Team Revolution)                                               50
135 Amity Elliot (Van Dessel)                                                    
136 Judy Balza (unattached)                                                      
137 Sheila Lopez (Herbalife)                                                     
138 Iona Wynter Parks (Colavita/Sutter Home p/b Cooking Light)                   
139 Melissa Weddell (Bi-Lo)                                                      
140 Kirsten Robbins (Advil/ChapStick)