Recently on Cyclingnews.com
An interview with Juan Antonio Flecha, April 5, 2008
Juan Antonio Flecha: "Trusting that the victory comes"
Admired for his combativity, Juan Antonio Flecha is one of the first names that springs to mind when listing the Classics specialists. This non-typical pavé-craving Spaniard – born in Junin, Argentina – is eager to end his victory drought. Cyclingnews' Hernan Alvarez caught up the 30 year-old while he was in his hometown Castelldefels following the first round of spring races.
Flecha was second in the 2007 Paris-Roubaix, finishing behind Stuart O'Grady and showing he can produce great performances in spring Classics like the Hell of the North. He is aiming for revenge on France's harsh tracks this April 13.
Juan Antonio Flecha
Spain's Juan Antonio Flecha (Rabobank), 30, giving it full gas in the recent Brabantse Pijl
Photo ©: Roberto Bettini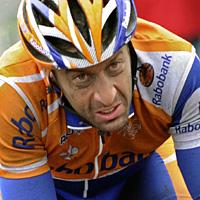 Born: Septerber 19, 1977
Junin, Argentina
Teams
2006-2008 Rabobank
2004-2005 Fassa Bortolo
2002-2003 ibanesto.com
2000-2001 Colchon Relax - Fuenlabradan
Jan Anton Pijl
Inside the team, Flecha's co-workers started translating his name literally: Jan Anton Pijl, whereas the English version would be John Anthony Arrow. "When we go to the sign-on, and there is always a speaker who is entertaining the people, the crowd. When I go up, sometimes they ask me if I know how my name is written in Dutch and I say 'yes.'
"In fact the mechanics put 'De Pijl' on the bike, which means 'the arrow.' And this year they put my name back [in Spanish], but they put a Dutch flag. Now, I have added a Spaniard flag and I changed the Dutch one. I took off the red part and painted another [dark] blue strip. So now there is a Spaniard and an Argentinean flag. I don't have light blue paint [the Argentinean flag is not dark blue, but light blue - ed.], and doesn't look very good, but so far it is more similar to an Argentinean flag than a Dutch flag."
Mate Horrillo
Flecha's best mate in the squad is his countryman Pedro Horrillo. "I get along well with him. He is a person I have always admired before meeting him through the team. We have the same interests, especially the Paris-Roubaix, and this got us united. He is a person with whom I spent a lot of time with leading to races, like Roubaix. He is the person whom I can trust more in the team," Flecha commented.
"I started racing at the Majorca Tour, Vuelta a Andalucía and Paris-Nice," he began, describing his first months of racing. "I also did Het Volk and Kuurne-Brussel-Kuurne. The sensations were pretty good, especially in Vuelta a Andalucía. I did a good race, I had a lot confidence for Het Volk, but I was sick that week and the truth is that I did very badly in Het Volk. I wasn't feeling right. In Kuurne I was up at the front, but I wasn't totally recovered yet. It wasn't exactly disappointing because I knew the reason; I knew I had a good condition, but having a sore throat added to add to the cold really hurt my possibilities.
Good day sunshine
Rabobank's 'Jan Anton Pijl' (or Juan Antonio Flecha) rides in the 2006 Ronde van Vlaanderen
Photo ©: Roberto Bettini

"Then came Paris-Nice" – Flecha continued in an upbeat tone – "and I was truly happy with my performance. We had to work a lot for Robert Gesink, which did not allow me to shine at all. There were a couple of stages when I had hoped to do well. But I had to work [for the team leader] and my goals in the season are yet to come."
His main targets are the Ronde van Vlaanderen and Paris-Roubaix. "In terms of personal sensations, I am pretty satisfied about how I am, about how I felt at those races. Indeed, I would liked to be able to say that I have already achieved a good result – to gain confidence and to go into the coming races calmer...  The days I had to work for the team; I consider they went well, and that gives me confidence," stated Flecha.
Flecha's employer, Team Rabobank, didn't do so well in Paris-Nice. "The circumstances – injuries – I think that in general we weren't at the same level as Gesink. It was obvious. It is true that he lost the race going down the Tanneron, but he was alone. He should have been with more team-mates, especially in the final part. When there were 30, 40 riders and he was already alone. I think [the team] lacked climbers, riders who could have done well to resist on those last climbs, like the Tanneron. ... Honestly, we weren't at the level he deserved," Flecha stated.
"There are people who have the abilities for pavé and people who don't. It is obvious that in my case I have abilities that help me riding well on pavé."
- Flecha on performing beyond pundits' preconceptions
Italy's Davide Rebellin's victory wasn't surprising at all for Flecha even though the Gerolsteiner rider is already 36 years old. "He was second last year," said Flecha. "He lost Paris-Nice against [Alberto] Contador, against the one who was the Tour [de France] winner. He lost Paris-Nice on the last climb's descent; he lost 10 seconds. I keep on thinking Rebellin's result is a good one. I had said it again this year, 'one should not forget that Rebellin was about to win Paris-Nice last year.' But people always remember the one who wins. It didn't surprise me at all that he won this year. He is a very good professional, he knows how to get the most of his performance and has a lot experience."
Back to the pavé
Just off the mark in the 2007 Paris-Roubaix, but Juan Antonio Flecha will be back to win in 2008
Photo ©: Roberto Bettini

Juan Antonio wasn't enjoying perfect health prior to Het Volk. "I couldn't finish the first training session in Belgium that Monday before the race," he commented. "I was already sick; I got into the car. I was that way the whole week; in bed and trying to recover for Saturday. I got over it; I wanted to be fine even though I wasn't at my very best and I couldn't perform as I expected. I reached Paris-Nice and I was still recovering myself."
His bad health state persisted in Kuurne-Brussel-Kuurne. "I was up in the front, I was better than in Het Volk, but certainly I wasn't at one-hundred percent. We battled against eight Quick Step [riders]; it was me and Sebastian Langeveld alone from our team. We tried to break the Quick Step bunch with [Tom] Boonen and [Gert] Steegmans and play our cards. We launched an attack, then another... In the end, he [Langeveld - ed.] was able to get a good result [second], which was good for the team," Flecha noted.
Unlike many people, Flecha has a long relationship with pavé. "I lived on a pavé street [in Junin, Argentina]. I always had to ride a few kilometres on pavé to get out of town," he continued. "Pavé was always linked to me; here in Europe they see me like a weird one, the Spaniard who likes pavé, however, I have come back to my origins, to my roots. ... So, pavé is not so strange for me as they think."
It might be an advantage for the Northern Europeans who are used to the cold weather and the conditions – including pavé – for the spring competitions. "Especially for the way we compete on pavé, which is totally different [from standard roads]," said Flecha. "They are different races from the rest, and they are used to these kind of races more than knowing how to ride on pavé."
In the Spaniard's opinion, a rider's strengths are more important than the kind of roads he is accustomed to riding. Flecha takes his team-mate Gesink as an example. "Robert is a climber and lives in Holland. He didn't have a single mountain to climb in his whole career. It is a question of qualities too. There are people who have the abilities for pavé and people who don't. It is obvious that in my case I have abilities that help me riding well on pavé."
Winning one for the team
Going hard on the pavé: Juan Antonio Flecha
Photo ©: Roberto Bettini

Unfortunately Flecha has not had a single victory since staring with Rabobank in 2006. "One of my goals is to win something. I am spending time without winning, but this doesn't mean I have been far from winning. I was even second in the Eneco Tour prologue last year, which is not my specialty, second in Het Volk, second in Paris-Roubaix," Juan Antonio explained. "I was truly close to a victory. What happens is that winning is not easy, it depends on many factors. It is so far and so close at the same time. I was so very close to win, but at the same time something happens that prevents me from taking the win. Victory is not a thing that scares me. There have been a lot of races that I have ridden with the goal of winning and I couldn't achieve it. I have to keep on the same line without despair, trusting that the victory comes."
Undoubtedly Paris-Roubaix in on top of Flecha's victory wish list, followed by the Ronde van Vlaanderen. "I feel pretty good. I know I am going to do well in those races. I am very fit at the moment. I hope that the team supports me, I hope that I have the team backing, which is very important in those races. I have demonstrated that I can do it very well in those races. I work for the team throughout the year – we should not forget that. The work that I do for the team many times deprives me from fighting for the win. I hope that in those weeks the team backs me like I have back them in the rest of the year."
If not the Ronde, Flecha pins his hopes on Paris-Roubaix's smooth velodrome finish. "After such a hard road it is the easiest place, but at the same time it is the place where you are risking everything. You reach the track, you passed through the worst part to get in that velodrome – that lap and a half – and you are in the defining moment of the race. You cannot lose concentration. You have to spend your remaining strengths because if not everything you have done before that point becomes useless."
Photography
For a thumbnail gallery of these images, click here
Images by Roberto Bettini/www.bettiniphoto.net