World Championships - CM
Stuttgart, Germany, September 26-30, 2007
Main Page Results Overall standings Race Details Live report Previous Race Next Race
Race 2 - September 26: Women's time trial - 2 laps, 25.1km
Kupfernagel gets first women's time trial title for Germany
Tears of joy for home champion
By Shane Stokes in Stuttgart, with additional reporting by Bjorn Haake
Hanka Kupfernagel (Germany) grits her teeth
Photo ©: Roberto Bettini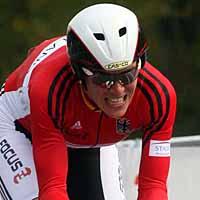 Taking victory in the elite worlds time trial is a huge moment for any rider, but for a non-favourite to win gold on home soil is truly a dream come true. 33 year old Hanka Kupfernagel (Germany) has medalled before in the championships, but finally taking gold after placing third in previous road and time trial worlds was clearly an incredible emotion for her.
Kupfernagel went off as part of the first wave of riders, starting tenth, and smashed the initial time checks, ending her effort 2 minutes 8.69 seconds of previous leader Martina Ruzickova (Czech Republic). She had to endure an extremely nervous wait, though, with the top-seeded riders to follow and defending champion Kristin Armstrong not starting until two hours after the German.
In the end, it was worth the stress. Her average speed of 43.432 km/h around the tough 25.1 kilometre course eventually saw her finish 23.47 seconds clear of Armstrong, with Christiane Soeder (Austria) 41.53 seconds down in third.
"It is almost impossible to describe how I am feeling at the moment," she said after donning the rainbow jersey of world time trial champion, this adding to her trio of gold medals in cyclo cross. "I am not just happy, but really more than that. I am still not able to realise that I have the jersey on me right now."
"Before the last block started I was sitting there [in the leader's hot seat] for more than one hour. This was difficult because you are watching everybody go all the time. I was happy with my result at that point because I knew I gave it 100 percent and, thinking about it after the race, I didn't know where I could have gone faster. But the best riders started much later and then you have to wait another thirty or forty minutes. This was more exciting than the race!"
Kupfernagel shed quite a few tears this afternoon. The first ones were of tension as she waited to see if her time was good enough; later on, joy was the reason. Part of that happiness was the location of her win. "Of course it is something very special when you win in your country. I have perhaps not been riding as well on the road as I was before, because I was focussing everything on cyclo-cross as it has become very important to me.
"But cyclo-cross has been very good preparation for this time trial, because the course was very good for me. There were downhills with a lot of bends, and also climbing, so it was something like a cyclo-cross circuit."
Armstrong rode well
Photo ©: Sirotti

Armstrong was favoured by many after what has been a very strong season, but on the day she didn't quite have enough. She was asked at the conference if she thought the climatic conditions could have changed and thus favoured the earlier starters. To her credit, she didn't give this much attention, emphasising instead the German's strong ride.
"Today was definitely a difficult course. Hanka rode a very good race. I rode the course yesterday and said today that I thought that the strongest would win. It had a little bit of everything – it had technical parts, hilly parts and the descending so you have to be a pretty good all rounder.
"As far as the conditions out there, this was I think the first time that the women have been in waves. The separation was three hours apart. But I was in a warm car before the race and I wasn't really out there, able to see if the winds had changed. I just rode my own race and went as hard as I could today."
She was understandably disappointed not to defend her title, but vowed to return. "As regards second place, it is not easy after having the world championship jersey. But the only way to do better is to win again and it is hard to be a world champion every year. I look forward to a year for now, going for it again. I also look forward to Beijing next year."
Bronze medallist Soeder was happy with her performance. She was actually born in Germany but declared for Austria during her career. "It was a big surprise for me," she admitted. "It is true that I had good results before, but I did not expect something so good in the world championship."
As she said, Kupfernagel has focussed a lot on cyclo cross in recent years, and has a clutch of medals to her credit. However her success today has given her further motivation to aim for big road results in 2008. "I am thinking about the Olympic Games and hope I will make selection for that. I will once again do cyclo-cross, but not as intensively as before. I do like it, though, I will do it for fun. I believe it is also important to think about the Olympic Games and do good training for that, so I can be selected.".
How it unfolded
Defending Champion Kristin Armstrong
Photo ©: Roberto Bettini

The initial rider off was Giuseppina Grassi Herrera (Mexico). This first starting group contained mostly lower-ranked riders, but there were also a few that were expected to do well, for example Eleonora Van Dijk (Netherlands), who started at 13:07:30. The women went off in 90-second intervals. But six minutes later all eyes were on German Hanka Kupfernagel. She hadn't ridden a World Championships race on the road in four years.
Kupfernagel went out fast and set a first best time after five kilometres in 6'29". Van Dijk was only seven seconds slower, though. Kupfernagel was on fire on home soil and went on to pulverize the second time check mark as well, with 16'33". Van Dijk had now lost a bit of her momentum, and came through 49 seconds after the German. This was after 12 kilometres of racing.
In the mean time Rasa Polikeviciute (Lithuania) went out on the course as part of the second start group. She started exactly three minutes ahead of Amber Neben (USA), who was poised to do a good ride. She has had great year and finished second in her national time trial championships. Neben was 12 seconds slower at the first check and 36 seconds at the second check.
Kupfernagel continued to dominate the early racing and came through the third check at kilometre 18 with a 24'40". Van Dijk now sat at 1'36" and Neben was 44 seconds down. While the battle in the first two start groups unfolded, the third wave was sent on the road.
Sarra Carrigan (Australia), Meifang Li of China and local Charlotte Becker were the next to head out. But all eyes were already on Aussie Oenone Wood and then, of course, on the grande dame of cycling, Jeannie Longo-Ciprelli, who was the last one to go in the third group. Longo went out conservatively and was 27 seconds down after five kilometres of racing. At the second check she had moved up in her placing, but was now down almost a minute.
Christiane Soeder (Austria) did a a gutsy ride and finished third.
Photo ©: Roberto Bettini

Kupfernagel finished with a 34'43"8, which was an average speed of 43.432 km/h, on a tough course.
Li came through the start-finish area to start her second and final lap with the third-best time, while Becker was losing ground and was tenth after 12 kilometres.
Carrigan finished 2'30" down on Kupfernagel. The Australian's finish also marked the start of the last wave of riders, at precisely 15:00 local time. Austrian Christiane Soeder was the first to head out, while Li made her way through to the finish, for a provisional third place.
In the mean time the French motor of Longo-Ciprelli had warmed up and she came through the 18-kilometre check with the third best time, 1'02" behind Kupfernagel. Susanne Ljungskog (Sweden) and Emma Pooley (Great Britain) were the next to start, while Becker came to the line, 2'14" down on her compatriot.
Among the last five starters were two Swiss riders with Priska Doppmann and Karin Thürig and two Americans, with Christine Thorburn and defending champion Kristin Armstrong. While the final riders were en route, Longo-Ciprelli snuck into third place and joined Kupfernagel and Neben, who came in with a 35'45", in the hot seat area.
The podium
Photo ©: Roberto Bettini

Soeder was 13 seconds on the first check and 22 on the second. Thorburn was close to her, with 19 and 35 seconds, respectively, behind. Armstrong showed her ambitions and powered up the roads in the capital of Baden-Wuerttemberg. At the first check she was nine seconds behind and on the second 15. This was not impossible to overcome.
But as the riders approached the third check, things became a bit clearer. Soeder went through 34 seconds slower than Kupfernagel, Thorburn 47 seconds, Doppmann 1'02", Pooley 1'10", Mirjam Melchers-Van Poppel (Netherlands) 1'18" and Ljungskog 1'27".
So all eyes were on Armstrong to see if she gained ground on Kupfernagel, but she was now 21 seconds down and with only seven kilometres remaining the first tears of joy came running down Kupfernagel's face. In the end the German held on to 23 seconds over the American, with Soeder getting bronze, 41 seconds in arrears. Neben and Thornborn finished out the top five and demonstrating the strength of the American team. Longo-Ciprelli was deprived of another medal, but still got an outstanding seventh place, behind Swiss rider Doppmann. Pooley, Thürig and Li completed the top ten.
Photography
For a thumbnail gallery of these images, click here
Images by Roberto Bettini/www.bettiniphoto.net
Images by Cyclingnews.com
Images by Fotoreporter Sirotti
Images by AFP Photo
Images by Monika Prell/Cyclingnews.com
Images by Mike Mc Garry/PhotoSport International
Results
1 Hanka Kupfernagel (Germany)                     34.43.8 (43.432 km/h)
2 Kristin Armstrong (United States of America)     0.23.5
3 Christiane Soeder (Austria)                      0.41.5
4 Amber Neben (United States of America)           1.02.8
5 Christine Thorburn (United States of America)    1.11.1
6 Priska Doppmann (Switzerland)                    1.21.2
7 Jeannie Longo-Ciprelli (France)                  1.21.8
8 Emma Pooley (Great Britain)                      1.32.6
9 Karin Thürig (Switzerland)                       1.35.2
10 Meifang Li (China)                              1.37.8
11 Mirjiam Melchers-Van Poppel (Netherlands)       1.49.7
12 Zulfiya Zabirova (Kazakhstan)                   1.50.5
13 Susanne Ljungskog (Sweden)                      1.55.3
14 Tereza Hurikova (Czech Republic)                1.55.5
15 Anne Samplonius (Canada)                        2.02.9
16 Martina Ruzickova (Czech Republic)              2.08.7
17 Eleonora Van Dijk (Netherlands)                 2.13.6
18 Charlotte Becker (Germany)                      2.14.8
19 Maryline Salvetat (France)                      2.20.8
20 Alison Powers (United States of America)        2.22.1
21 Oenone Wood (Australia)                         2.22.4
22 Edita Pucinskaite (Lithuania)                   2.25.5
23 Sara Carrigan (Australia)                       2.30.2
24 Maribel Moreno Allue (Spain)                    2.35.6
25 Wendy Houvenaghel (Great Britain)               2.40.0
26 Emma Johansson (Sweden)                         2.41.5
27 Trine Schmidt (Denmark)                         2.51.5
28 An Van Rie (Belgium)                            3.00.1
29 Svetlana Bubnenkova (Russia)                    3.03.8
30 Ana Paola Madrinan Villegas (Colombia)          3.12.2
31 Alex Wrubleski (Canada)                         3.13.8
32 Anna Zugno (Italy)                              3.16.7
33 Lesya Kalitovska (Ukraine)                      3.18.2
34 Marta Vila Josana Andreu (Spain)                3.18.7
35 Anita Valen De Vries (Norway)                   3.19.9
36 Silvia Valsecchi (Italy)                        3.24.6
37 Tatiana Antoshina (Russia)                      3.38.7
38 Rasa Polikeviciute (Lithuania)                  3.56.9
39 Giuseppina Grassi Herrera (Mexico)              4.03.5
40 Min Hye Lee (Korea)                             4.05.5
41 Svetlana Galuk (Ukraine)                        4.11.2
42 Yong Li Liu (China)                             4.31.1
43 Nontasin Chanpeng (Thailand)                    4.37.0
44 Lang Meng (China)                               5.03.3
45 Elissavet Chantzi (Greece)                      5.04.5
46 Aurelie Halbwachs (Mauritius)                   5.45.4
47 Chapookam Monrudee (Thailand)                   5.57.8
48 Evelyn Garcia (El Salvador)                     6.07.6
49 Lyubov Dombitskaya (Kazakhstan)                 7.28.3

Check 1: 5.11 km

1 Hanka Kupfernagel (Germany)                       6.29
2 Eleonora Van Dijk (Netherlands)                   0.07
3 Kristin Armstrong (United States of America)      0.09
4 Mirjiam Melchers-Van Poppel (Netherlands)         0.12
5 Amber Neben (United States of America)            0.12
6 Christiane Soeder (Austria)                       0.13
7 Priska Doppmann (Switzerland)                     0.13
8 Charlotte Becker (Germany)                        0.14
9 Meifang Li (China)                                0.18
10 Christine Thorburn (United States of America)    0.19
11 Alison Powers (United States of America)         0.19
12 Maryline Salvetat (France)                       0.19
13 Karin Thürig (Switzerland)                       0.20
14 Trine Schmidt (Denmark)                          0.20
15 Emma Pooley (Great Britain)                      0.20
16 Svetlana Bubnenkova (Russia)                     0.21
17 Anna Zugno (Italy)                               0.22
18 An Van Rie (Belgium)                             0.23
19 Martina Ruzickova (Czech Republic)               0.24
20 Emma Johansson (Sweden)                          0.25
21 Sara Carrigan (Australia)                        0.25
22 Tereza Hurikova (Czech Republic)                 0.25
23 Marta Vila Josana Andreu (Spain)                 0.25
24 Oenone Wood (Australia)                          0.25
25 Min Hye Lee (Korea)                              0.27
26 Jeannie Longo-Ciprelli (France)                  0.27
27 Zulfiya Zabirova (Kazakhstan)                    0.28
28 Edita Pucinskaite (Lithuania)                    0.29
29 Lesya Kalitovska (Ukraine)                       0.29
30 Anne Samplonius (Canada)                         0.30
31 Silvia Valsecchi (Italy)                         0.31
32 Wendy Houvenaghel (Great Britain)                0.31
33 Tatiana Antoshina (Russia)                       0.32
34 Anita Valen De Vries (Norway)                    0.32
35 Susanne Ljungskog (Sweden)                       0.33
36 Yong Li Liu (China)                              0.34
37 Maribel Moreno Allue (Spain)                     0.34
38 Ana Paola Madrinan Villegas (Colombia)           0.38
39 Giuseppina Grassi Herrera (Mexico)               0.38
40 Svetlana Galuk (Ukraine)                         0.41
41 Rasa Polikeviciute (Lithuania)                   0.42
42 Alex Wrubleski (Canada)                          0.42
43 Lang Meng (China)                                0.44
44 Evelyn Garcia (El Salvador)                      0.47
45 Nontasin Chanpeng (Thailand)                     0.56
46 Elissavet Chantzi (Greece)                       1.01
47 Aurelie Halbwachs (Mauritius)                    1.03
48 Lyubov Dombitskaya (Kazakhstan)                  1.04
49 Chapookam Monrudee (Thailand)                    1.12
 
Check 2: 12.27 km

1 Hanka Kupfernagel (Germany)                     16.33
2 Kristin Armstrong (United States of America)     0.15
3 Christiane Soeder (Austria)                      0.22
4 Christine Thorburn (United States of America)    0.35
5 Amber Neben (United States of America)           0.36
6 Karin Thürig (Switzerland)                       0.39
7 Meifang Li (China)                               0.43
8 Charlotte Becker (Germany)                       0.44
9 Mirjiam Melchers-Van Poppel (Netherlands)        0.45
10 Emma Pooley (Great Britain)                     0.45
11 Priska Doppmann (Switzerland)                   0.48
12 Eleonora Van Dijk (Netherlands)                 0.49
13 Jeannie Longo-Ciprelli (France)                 0.56
14 Zulfiya Zabirova (Kazakhstan)                   1.00
15 Tereza Hurikova (Czech Republic)                1.00
16 Alison Powers (United States of America)        1.00
17 Martina Ruzickova (Czech Republic)              1.03
18 Oenone Wood (Australia)                         1.04
19 Maryline Salvetat (France)                      1.05
20 Sara Carrigan (Australia)                       1.07
21 Edita Pucinskaite (Lithuania)                   1.08
22 Anne Samplonius (Canada)                        1.09
23 Susanne Ljungskog (Sweden)                      1.09
24 Emma Johansson (Sweden)                         1.12
25 Trine Schmidt (Denmark)                         1.14
26 Svetlana Bubnenkova (Russia)                    1.18
27 Wendy Houvenaghel (Great Britain)               1.20
28 Maribel Moreno Allue (Spain)                    1.21
29 An Van Rie (Belgium)                            1.21
30 Anna Zugno (Italy)                              1.29
31 Tatiana Antoshina (Russia)                      1.32
32 Anita Valen De Vries (Norway)                   1.33
33 Marta Vila Josana Andreu (Spain)                1.36
34 Lesya Kalitovska (Ukraine)                      1.40
35 Alex Wrubleski (Canada)                         1.41
36 Ana Paola Madrinan Villegas (Colombia)          1.42
37 Min Hye Lee (Korea)                             1.43
38 Silvia Valsecchi (Italy)                        1.45
39 Yong Li Liu (China)                             1.47
40 Giuseppina Grassi Herrera (Mexico)              1.54
41 Rasa Polikeviciute (Lithuania)                  1.55
42 Svetlana Galuk (Ukraine)                        1.57
43 Nontasin Chanpeng (Thailand)                    2.23
44 Elissavet Chantzi (Greece)                      2.26
45 Lang Meng (China)                               2.28
46 Aurelie Halbwachs (Mauritius)                   2.38
47 Evelyn Garcia (El Salvador)                     2.53
48 Chapookam Monrudee (Thailand)                   3.05
49 Lyubov Dombitskaya (Kazakhstan)                 3.26

Check 3: 17.98 km

1 Hanka Kupfernagel (Germany)                     24.40
2 Kristin Armstrong (United States of America)     0.21
3 Christiane Soeder (Austria)                      0.34
4 Amber Neben (United States of America)           0.44
5 Christine Thorburn (United States of America)    0.47
6 Jeannie Longo-Ciprelli (France)                  1.02
7 Priska Doppmann (Switzerland)                    1.02
8 Karin Thürig (Switzerland)                       1.03
9 Meifang Li (China)                               1.09
10 Emma Pooley (Great Britain)                     1.10
11 Mirjiam Melchers-Van Poppel (Netherlands)       1.18
12 Tereza Hurikova (Czech Republic)                1.19
13 Susanne Ljungskog (Sweden)                      1.27
14 Zulfiya Zabirova (Kazakhstan)                   1.29
15 Anne Samplonius (Canada)                        1.30
16 Martina Ruzickova (Czech Republic)              1.31
17 Alison Powers (United States of America)        1.34
18 Eleonora Van Dijk (Netherlands)                 1.36
19 Maryline Salvetat (France)                      1.38
20 Charlotte Becker (Germany)                      1.41
21 Edita Pucinskaite (Lithuania)                   1.42
22 Sara Carrigan (Australia)                       1.43
23 Oenone Wood (Australia)                         1.46
24 Maribel Moreno Allue (Spain)                    1.55
25 Emma Johansson (Sweden)                         1.56
26 Wendy Houvenaghel (Great Britain)               1.57
27 Trine Schmidt (Denmark)                         2.04
28 An Van Rie (Belgium)                            2.07
29 Svetlana Bubnenkova (Russia)                    2.10
30 Anna Zugno (Italy)                              2.13
31 Marta Vila Josana Andreu (Spain)                2.16
32 Ana Paola Madrinan Villegas (Colombia)          2.18
33 Lesya Kalitovska (Ukraine)                      2.22
34 Anita Valen De Vries (Norway)                   2.24
35 Alex Wrubleski (Canada)                         2.27
36 Silvia Valsecchi (Italy)                        2.32
37 Tatiana Antoshina (Russia)                      2.34
38 Rasa Polikeviciute (Lithuania)                  2.49
39 Svetlana Galuk (Ukraine)                        2.52
40 Min Hye Lee (Korea)                             2.52
41 Giuseppina Grassi Herrera (Mexico)              2.55
42 Yong Li Liu (China)                             3.07
43 Nontasin Chanpeng (Thailand)                    3.21
44 Lang Meng (China)                               3.38
45 Elissavet Chantzi (Greece)                      3.39
46 Aurelie Halbwachs (Mauritius)                   4.06
47 Chapookam Monrudee (Thailand)                   4.28
48 Evelyn Garcia (El Salvador)                     4.32
49 Lyubov Dombitskaya (Kazakhstan)                 5.17