An interview with Emma Pooley, September 26, 2007
Moving on up
Emma Pooley (Team Specialized) has had a strong season
Photo ©: CJ Farquharson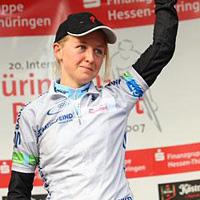 Great Britain's Emma Pooley is a fresh, new and successful presence in women's cycling. In only her first professional year, Pooley claimed third at the Grand Boucle Feminine, sixth at the Albstadt Frauen Etappenrennen and fifth in the Thüringen Rundfahrt. To crown off her successful season, she will ride both the Time Trial and road race for Britain in the World Championships. Cyclingnews' Susan Westemeyer caught up with her in Stuttgart, Germany.
Emma Pooley is 25 and in her first professional season with Specialized Designs for Women squad, a small Swiss team sponsored by the American bike manufacturer. The Briton has been involved in organised sports for years, starting with tri- and duathlons. Such was her duathlon ability that she was World Champion in her age group, a title she plays down saying, "I only beat about eight other people in my age group". Pooley never made it to the elite level, she says, because her running was simply not good enough. Duathlon consists of running-cycling-running, and she soon discovered that if her running wasn't good enough that cycling was a good career path to take.
While still studying at Cambridge University, Pooley switched to cycling. She did some races as training, came in a surprising fourth in the 2005 British nationals and decided to drop running in favour of cycling. "It was a very rapid learning curve," observed Pooley. She even went to the 2005 World Championships, but crashed out and had an equally as memorable experience at the event last year. Pooley isn't yet a fulltime cyclist, she is currently completing research part time in the engineering field for her Ph.D.
Since Pooley only started racing two years ago she is still a little nervous in the peloton. Not that Pooley worries about her bike-handling skills, she quickly pointed out, but because she worries about the others around here. "I'm still not brilliant at getting up to the front by coming through the middle of the pack," Pooley admitted. "I've been brought down enough by other people that I don't like being stuck at the back. I get nervous about crashing or getting stuck at the back at the wrong time.
"I will never do as well on flat terrain or downhill. I like climbing!"
-Emma Pooley knows what she's good at
"I will never do as well on flat terrain or downhill," Pooley added, looking honestly at her abilities. "I like climbing!"
On those occasions that Pooley successfully navigates her way to the front she's proven to be a force to be reckoned with. In the third stage of this year's Thüringen Rundfahrt, Pooley took off from the peloton at kilometre 40, on a short but steep climb and then was on her own for nearly three hours. She built up a lead of up to 12 minutes, and arrived at the finish line with a comfortable lead of 4 minutes 46 seconds. This gave her the overall lead, placed her at the head of both the sprint and mountain rankings, as well as the day's most aggressive rider award.
Pooley's first World Championships appearance didn't go according to plan,
Photo ©: Roberto Bettini

She wasn't able to hold out for the overall victory, although she did keep the mountain classification title and finished fifth overall. But this day was important in other ways as well. It brought her the Amy Gillett Award at the end of the Rundfahrt, an award in memory of the Australian rider who was killed during training shortly before the 2005 Rundfahrt. The award is given to the rider who best exhibits outstanding fairness and competitiveness in the race.
"I think in the end being given the Amy Gillett Award meant more to me than the race result," admitted Pooley at the time. "It was a great honour not just because it's in memory of a very good cyclist, but also because of what it stands for.
"Competing fairly and giving everything you can in a race is more worthy on a personal level than winning," she added. "To that extent my team deserved the award more than me, because they rode just as hard in the race and got less recognition."
All alone on route to victory: Emma Pooley (Team Specialized) pulled out an impressive
Photo ©: CJ Farquharson

It was also important because it brought attention to her team, which had been ranked only 39th the previous season and thus missed out on being invited to many races. Pooley's success helped the team receive invitations to further races this season. At the end of August the squad rode the Albstadt Frauen Etappenrennen, where Pooley joined escape groups with the favorites in the second of three stages, winning five of the six mountain climbs on her way to sixth place and once again ending up with the mountain jersey.
"She first joined us in May and started riding in June," said team manager Roger Rüegg. One of her first races for the team was the Grand Boucle Feminine, a five-stage race in France. Pooley was just barely outsprinted by Karin Thürig in the first stage, then a third place on the event's final stage locked away third place overall for the Briton.
"She has constantly gotten stronger," Rüegg noted. "It is unbelievable what she has accomplished this year. In Thüringen she was pretty much on her own,. She brought in a great performance, which is all due to her own strength."
Pooley counts Thüringen and Grande Boucle as her season highlights, the French race because it was her first success. "I was really excited," she said. "Thüringen was great, too. It was good with the team, great camaraderie and good results. It's especially good when the team goes into a race without expectations and then you come away with good results."
Emma Pooley's season didn't get off to the best of starts,
Photo ©: John Flynn

Pooley's 2007 season low point was a crash the end of April. "I couldn't train for a while because of my knee, and I had to re-learn how to descend," she explained. "My coach came to me in Switzerland and that helped me a lot."
Looking to this week's World Championships, where Pooley will contest both the Time Trial and road race events, she is not sure of her condition going in and whether her recent training has been right. "I wish I had been in Tuscany racing," she noted. "I feel like I've been taking it too easy."
Her most recent race was the Chrono Champenois, a Time Trial in which she finished fourth, 42 seconds behind Karin Thürig. "I felt real good at the Chrono," admitted Pooley. "I was looking forward to it and I raced quite easily."
Despite her strong showing at the Time Trial event, Pooley doesn't believe she's a contender for today's World Championship race in the discipline. "I don't think I have great chances," she confessed. "I think they are just giving me a chance to get some experience. But one of us has to finish in the top 10 to make the Olympic qualification, so there is a little more pressure. We are not expecting to get on the podium."
Pooley got to wear the Thüringen-Rundfahrt's leader's jersey
Photo ©: CJ Farquharson

Her other recent races were two mountain climbs, the Mountain Champion in Nidderbop and the Bergrennen Chur-Arosa - both of which she won. "They were more for fun, to be honest," smiled Pooley. "It would have been better if they were two weeks ago instead of four weeks ago. One of them was actually a Time Trial, just for fun. It gave me a bit of confidence, since I won it by four minutes."
Pooley is also unsure of how she will go in Saturday's road race. While the course should suit her abilities better than that of today's Time Trial, Pooley believes staying in the race will be the most crucial element for the road race in order vie for a place at the 133.7 kilometre event's finish line. "Anything can happen in a road race," she laughed. "I think it will be a war of attrition, lots of people falling off the back. It would be unusual for a break to get away, because no one wants to let anyone get away. I think the group will be whittled down on the road. I would prefer to be in a break, although there are some technical and narrow bits on the road, which could make it difficult."
Pooley's team manager has a lot of confidence in what the up and coming rider can achieve on a course of this profile. "[She's] the best climber in the world at the moment," he stated. "With this steep course in Stuttgart she will surely be involved. The question would be what might happen if it came down to a sprint. But I am sure that she will be very active. We think that anything is possible. She certainly has to be considered one of the dark horse favorites."
Pooley says it's a shame the Great Britain squad is missing former World Cup champion Nicole Cooke, who is out after undergoing a knee operation last week, as the course would have suited her style. With Cooke out of the equation, Pooley believes that Italy's Noemi Cantele and the local German squad will be strong rivals, but also knows with the season nearly over mental preparation will be as important as brute strength. "It is almost more important at this point in the season," she explained. "You have to work out your races to peak at a specific part of the season. Training is a daily routine for me. I go out training every day anyway, whether I've got worlds coming up or not.
Pooley showed she can mix with the best in Germany earlier this season,
Photo ©: CJ Farquharson
"The mental aspect is very important," she stated. "You have to be not too nervous, but also nervous enough. At some point someone has to say, that's enough, back off and take it easy. You look at how your rivals have done in other races, you chew your fingernails off and say 'oh no'. You have to learn to back off and not worry."
While Pooley is entering the worlds with a clear head, one thing that makes the mental preparation tougher is the fact she's not with her team. While she's happy to be racing alongside her countrywomen, missing the familiarity of the trade team she spends most her year with is an added challenge. "It's tricky being here with a team that's not my team, where I have a routine and a group of friends," she said. "That reduces the stress of racing. I miss my team!"
"Specialized is a great team," continued Pooley. "I have very much enjoyed racing with them and I would like to ride with them again next year. They are a great group of girls and the management is excellent. We are only tiny team and don't have a big budget, but it looks better. I have my fingers crossed to be able to stay with them."
According to Rüegg, Pooley need not worry about her future with the squad and should just focus on doing her best for Great Britain in the meantime. "She will stay with us," he declared. "Nothing has been finalized yet, but it looks good for next season."
Like any other athlete Pooley has some Olympic ambitions she's hoping to fill, but as a Briton none are bigger than contesting her home Olympic Games in 2012. "I'm looking first at Beijing, but also at London down the road," she admitted. "I'll be 30 in 2012, that sounds old! The Olympic race on my home grounds would be wonderful, but I'm concentrating right now on short-term goals. I hope to qualify for Beijing."