An interview with Nicole Cooke, April 13, 2007
Cooke-in' on gas
Nicole Cooke wins Flanders
Photo ©: AFP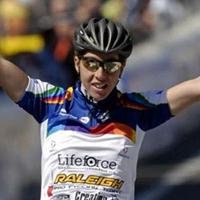 With five victories already this season - including both rounds of the World Cup - and having been at the top level of women's racing for a number of years now, it's difficult to believe that the young woman from South Wales is still in her early twenties. Cyclingnews UK Editor Ben Atkins caught up with British Champion Nicole Cooke to reflect on a phenomenal season so far.
She does, in fact, turn 24 today (April 13), but won't be celebrating in the same way as most 24 year olds tonight. Instead she'll be traveling from her home in Lugano, Switzerland to the Netherlands to see if she can further extend her World Cup lead in tomorrow's Ronde van Drenthe.
A highly amused "couldn't have started better!" is the slightly understated response to my initial question about how her season is going (we'd meant to catch up before she won the Tour of Flanders, but this was just after), but it couldn't be more true. With a 100 percent record in World Cup races, plus overall victory in the Geelong Tour and one-day wins at the Grand Prix Costa Etrusca and Trofeo Alfedo Binda, it's been an almost perfect start to 2007 for the Welsh sensation.
Sunday's victory at the Tour of Flanders clearly ranks as a high point in an already highly prestigious palmares that features three wins at Flèche Wallone, an Amstel Gold, and stage races like the Giro d'Italia - as well as an incredible seven British national championships. "Definitely one of the Classics." she says, reflecting on her favourite victory.
"It definitely works... for the simple fact that the journalists go for the men's races, not the women's races on their own effort."
-Cooke on the joint running of men's and women's Classics
"Women's cycling developed a lot later, and doesn't have the history going back hundreds of years like the men's, so to be racing on the same course, the prestigious factor of the men's race counts almost double for the women. [To win] on such a famous course means my name will be alongside some of the great men of cycling, so that's what means so much about being able to win a race like the Tour of Flanders, and I'm very happy to have that on my palmares."
The piggy-backing of classic men's races by the women's peloton seems to have paid great dividends for the exposure of women's cycling. "It definitely works," states Cooke, matter-of-factly. "For the simple fact that the journalists go for the men's races, not the women's races on their own effort.
"So it takes the racing to the journalists by putting the women's races on... it means the women are racing with crowds that are hundreds of thousands strong, so it really is best all round for the sport, the riders and the crowds, as they get to see double racing. I really do think it's something that should be supported by the UCI, and the organisers that put on the races along side the men do a fantastic job."
Opening on a high:
Photo ©: John Flynn

More of the same is what Cooke would like to see: more women's versions of the classic men's races. Would she like to tackle a women's version of this weekend's Paris-Roubaix? "Yes - yeah - bring it on!" she laughs.
With that eagerness to ride the classic courses in women's versions of the historic races, it's not good to see them lost. In recent years, the Primavera Rosa (women's Milano-SanRemo) and the women's Amstel Gold Race have disappeared from the calendar, and this year's World Cup is reduced to nine races, where it was twelve last year.
"Well, it's hard to say - is it quality rather than quantity?" asks Cooke, regarding the changes to the World Cup structure. "It's disappointing to loose San Remo and Amstel Gold and others we've had in previous years. I really think the organisers of the World Cup at the moment should be supported and that it falls to the UCI to make the best decisions in taking women's racing forward."
With three World Cup races in as many weeks (last week's Tour of Flanders is followed by tomorrow's Ronde van Drenthe and la Fleche Wallone on April 25), can the form that has been so devastating for the rest of the peloton be maintained? "I hope so. Things are going okay at the moment," says Cooke. "I've also, in previous years had a good spring, and what we planned at the start of the year, we're putting the plan into action at the moment."
Last year's Flèche Wallone podium.
Photo ©: Mitch Friedman
With three victories to her name in la Flèche, including the last two editions based on being the strongest rider on the final ascent of the Mur de Huy, it's hard to see her beaten in this race, although Cooke refuses to see things that way. "Well - anyone can beat me," she says. "That's the whole thing about road racing - anyone can have a chance!"
Scenes at the end of last weekend's Tour of Flanders showed that the team are all willing to work for each other and victories for one are victories for all, but according to Cooke, there's no big secret: "I think every rider puts a lot of hard work into their own training and preparation and I think from that source of motivation, everyone has high expectations and we set high standards.
"It's not just myself, it's the other riders as well that are going on to setting these standards for themselves. So I'm sure it wont be long before my teammates are winning an I'll be sharing in their glory and am able to help them."
A lot of riders and teams start their year with a trip to the southern hemisphere, and with such a dominant showing in Geelong, it was obvious that the Raleigh-Lifeforce team hadn't just gone there to top up their suntans. A lot of Europeans don't necessarily aim to win that much as they begin their season, just when the locals are in the middle of theirs.
"We knew the racing was part of the trip and definitely took it professionally in our approach," says Cooke. "We went there with ambition for the stage race and World Cup, but couldn't really say 'til it was racing time exactly how it was going to go. It was a case of riding as best we could when the racing came, we were very pleased with the Australian leg of the season!"
In seventh heaven:
Photo ©: Gerry McManus

As the women's calendar develops, there are more and more prestigious races to consider, and with performances like they've had so far this season, Raleigh-Lifeforce shouldn't be left wanting for invitations, but the team is keen to keep its options open. "We haven't made a decision on the stage races yet so I think we're going to wait till the spring is over and then decide. We've got a lot of options because of the number of riders in the team and the strength of different riders. Whether it's Thuringen or the Giro, they're both hard races and both prestigious stage races. Both will be a challenge whichever we go for."
Despite being one of the outstanding riders of her - or any - generation, Cooke has notoriously lacked support when racing for her nation, due to the lack of depth in women's cycling in Britain. Riding for Great Britain at various World Championships and an Olympic Games has reaped a few - non gold - medals.
As a Welsh rider, she famously won the Commonwealth Games road race in Manchester 2002 without a team, and still managed to take bronze behind Natalie Bates in Melbourne 2006 despite being forced to take on several strong teams single-handedly. But things are looking up in Britain with more women coming through into the elite peloton, like the Global Racing Team who were on the start line in Oudenaarde last Sunday.
It's at the grass roots level that Cooke sees the important changes happening, based on her own experiences as a developing rider. "I'd say that the process had taken a long time to get going. When you think of where women's cycling was coming from - 10 years ago in 1997 there was no junior or youth road championships for girls, and now there is and you see how many people ride them.
"I don't think many of them could imagine there not being a youth girls' championships so few years ago. That's where I come from. I've got a very different experience as a British cyclist getting up the categories. [Cooke went straight from racing against boys to racing against senior women, but then she did win the first of her seven national titles in 1999, at the age of 16] Things were bleak when I was a youth."
If Cooke's success on the bike works at the grass roots of British cycling, to both attract young girls into the sport, and support and nurture them, then it will be a further victory to add to her considerable palmares. But with more seasons like the one she's having so far, that palmares could take a lot of reading.