Recently on Cyclingnews.com
News Feature, April 26, 2007
Unibet's nightmarish year
The Grand Tour/ProTour battle nearly brought the sport to its knees when Unibet.com was denied entry to the first ProTour event, Paris-Nice. Following a compromise agreement, the ProTour went on with business as usual while leaving Unibet.com out of the majority of races. As the sport's power brokers battle it out in the courts, it's easy to forget about the 'collateral damage' to the riders' seasons and careers. Unibet.com's Matt Wilson gives Cyclingnews a candid view of his miserable year so far.
Baden Cooke and Matt Wilson in happier times
Photo ©: Régis Garnier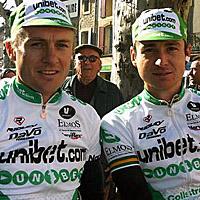 This season is turning out to be a nightmare! Last year was frustrating to say the least. Baden and I came over from Francaise des Jeux last year, and we were prepared to be doing a lot less of the bigger races, but we hoped that we would be granted a wild card for at least one of the Grand Tours. But no. In hindsight, that frustration is nothing compared to what we've faced this year.
In November of last year, after months and months and months of deliberating, the UCI finally granted us the ProTour licence we had been hoping for, and things we're finally looking on track. Immediately Baden, Jeremy Hunt and I sat down and punched out a program for the upcoming year, and started training with three goals in mind: Tour of Flanders, Paris-Roubiax, and the Tour de France.
However, pretty much since the moment we landed in Europe, rumours were circulating that we'd been snubbed by the Grand Tours. Assured by our team management and the UCI that this was impossible, we all tried to block out the rumours and continue to stay focused on our goals.
From the first race at Marseilles, there were problems with our sponsor's jerseys, but with the 'question mark' jerseys up our sleeves, we took the start anyway and won with Jez. Then straight up after that was the tour de Bessage were Baden won a stage and the team morale was on a high. It seemed as if our sponsor's advertising issues had been overcome, and the form was right on target for our first two goals of the year. Then it went pear-shaped big time.
"Trying waking up every morning not knowing if you're racing tomorrow or the next day or if your goals are not even there anymore?"
- Matt Wilson describes the effect of uncertainty on his motivation

For the early season classics, Tirreno-Adriatico and Paris-Nice are essential preparation races - races we had banked on doing. When the news finally broke that the ASO had denied us a start in Paris-Nice, it was clear that the battle had just begun.

Tirreno followed suit, and it was like a big hurdle had been placed in front of us. The team scrambled to get us some races to do, but managed only to get a small five day stage race in Spain and a three day race in Belgium. We made the best of the bad situation and hoped that the problems would stop there. Our last minute inclusion in Milan-Sanremo was a glimmer of hope on the horizon, but that glimmer turned out to be just that, a glimmer.

Jeremy Hunt wins Marseilles
Photo ©: Sirotti

We went to Belgium focused and angry, knowing that perhaps our only hope was a good result at The Tour of Flanders. First, because it was our only guaranteed ProTour start along with Gent-Wevelgem and secondly, because a good result there might at least force our team into Paris-Roubiax.

Baden had good form going in, after running sixth at Het Volk and eighth at E3 on less than perfect preparation, and I was finally going well after getting a bit of racing under my belt. On the day, things went perfectly until Baden crashed on the Berendries and that was that.

Gent-Wevelgem was going well, too, until I hit the deck on the Kemmel, fracturing my hand. Baden, without much help in the front, ran eighth. Good but not good enough.

What now? Despite all the problems so far, we've all managed to stay pretty focused and bank on the few starts we've got, but the team is quickly losing morale. For Baden and I this is a contract year, and not only are we not getting the starts we had been guaranteed, but in the few starts we do have, we don't have the preparation races to be able to compete in them in the best condition possible.

Matt and his girlfriend
Photo ©: Matt Wilson

This is effectively ruining our season because we appear not to have the form to win at the top level, where in fact we're racing guys who've had weeks of good hard stage races in their legs while we've been at home training.

Not to mention the effect all this has on your mental focus and emotional well being. To wake up every morning knowing what you're doing and where you're going and what your goals are is essential to performance. Trying waking up every morning not knowing if you're racing tomorrow or the next day or if your goals are not even there anymore?

The other problem we've faced in all this is what are we? We're not a continental team and we certainly appear not to be a ProTour team, so where does that leave us as far as races to ride?

In non-ProTour races, only 50% ProTour teams are allowed to start. These races are more often than not already complete with their quota of ProTour teams, so we can't enter them! We can't ride ProTour races or a lot of the continental races! We were better off last year by a long shot!

I can't go into any of the legal issues here, or who's right and wrong or who's responsible, I don't have all the facts, but one things for certain: we aren't responsible, and we're the ones who careers are being ruined through it.

Can we just get back to doing this?
Photo ©: Matt Wilson

Even our sponsors have enjoyed a lot of publicity through all this, although I know that it wasn't the publicity they had hoped for. The solidarity of the ProTour teams has been a joke - lot's of talk, but when push came to shove it's appears that it was every team for themselves.

But that unfortunately seems to be a tradition in cycling: all for one and every man for himself. How can such a beautiful sport be so ugly? Any age in a cyclist's career is an important year. Your career can span as little as 10 or 15 years at the most, and one or two years in cycling limbo like this could affect a quarter of your career.

We're going to go on this year and keep training and hoping, but for a lot of us the damage has been done. A last minute selection into the Tour de France (as unlikely as that is) is not going to help us when we've been riding criteriums somewhere in Mars as preparation, and drinking a little too much vino with dinner to forget about our problems.

Matt