Univest Grand Prix - 1.2
Souderton, Pennsylvania, USA, September 8, 2007
Univest GP expanding in second year with pros
By Mark Zalewski, North American Editor
Danny Pate (Team Slipstream) will be a force in the 172 kilometre race
Photo ©: John Pierce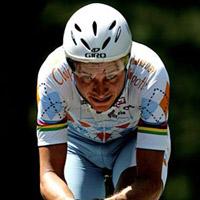 Formerly an exclusively amateur-only one-day race for eight years, the Univest Grand Prix is in its second year as a difficult and testing race for UCI professional teams. One of the goals of the race is to offer a stage for the top North American teams to race with invited European squads and this year's race will continue that goal.
The format of the Satuday road race is similar to those one-day races found in Europe, such as the Belgian kermesses. The main circuit is a challenging 109 km loop starting and finishing in Souderton, Pennsylvania and rolling through the unrelenting hillsides of eastern Pennsylvania. Three sprint lines come in the first 40 kilometres and three KOM rated climbs before the race returns to Souderton for 13 finishing circuits of five kilometres each. Sunday features a 89 km circuit race in nearby Doylestown.
One of the aspects that the race prided itself on during the amateur years was helping top performers secure professional contracts. Now many of those former amateurs are returning as professionals.
On paper, the top two teams are the UCI continental Slipstream-Chipotle and Navigators Insurance teams. Slipstream is leading with Danny Pate, who nearly took the national Time Trial championship last weekend by a mere second and finished fifth in the road race. Mike Friedman is more at home with these smaller power climbs compared to last weekend's Paris Mountain. Friedman won a race on a similar course in western Pennsylvania at the Tour de Toona this July.
The Navigators team won the race last year, the first year it accepted pros. The team is looking to race after most of the squad was ineligible to race the national championships in Greenville last weekend. New Zealand's Glen Chadwick will be wearing the number one bib and is a good choice after racing in Belgium before coming to the States - in fact, he still maintains his permanent residence there. Chadwick will be joined by dangerous riders such as Sergey Lagutin and Valeriy Kobzarenko.
Toyota-United's Ivan Stevic will be on the start line wearing his B world championship rainbow jersey. He and teammate Ivan Dominguez are danger men if they can make it onto the finishing circuits with the lead group.
The German team Sparkasse leads the foreign contingent with riders such as Christian Lademann and Sebastian Frey. This team has had experience racing in North America at the Tour de Beauce the past two years. The Kio Een-Tonazzo-DMT team brings young Italian riders trying to make a name for themselves. Other foreign teams come from a little closer to home, including the always opportunistic Tecos-Trek team from Mexico and the Equipe Vallee de l'Aluminum from Canada
Cyclingnews will be providing live coverage of the Univest Grand Prix road race this Saturday.