Tour of Britain - 2.1
Great Britain, September 9-15, 2007
Main Page Results Overall standings Next Stage
Prologue - September 9: Crystal Palace Part (ITT), 2.5 km
Cavendish powers to prologue win
Toothsome Manxman overcomes oral surgery to gain ninth season win
Mark Cavendish (T-Mobile)
Photo ©: Gerry McManus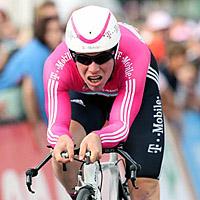 T-Mobile's British sprint sensation Mark Cavendish won the opening prologue time trial of the 2007 Tour of Britain at Crystal Palace with a mad dash around the 2.5km course which saw him finish over a second ahead of the next closest rider, Nikolai Trusov (Tinkoff). The win puts Cavendish's total victories in his debut season as a professional to nine, and more importantly makes him the first Briton to wear the yellow jerseys at this Tour since it was revived in 2004.
Having undergone surgery to remove a painful wisdom tooth last week, there were mixed expectations for the British sprinter who is not known as a time trial specialist, but his background as track racer clearly paid dividends on the short Crystal Palace course. "I was surprised with the result but it's not a complete shock to me that I did well given my background on the track," Cavendish declared after the stage. "I didn't actually think it had been too good when I crossed the finish line. I didn't go as well as I had hoped in the first half of the race but I was flying coming into the finish. I am really proud to be wearing the yellow tomorrow and to get it a day earlier than I had hoped is a nice surprise."
With such a short course, the time gaps were understandably slim, with only six seconds separating the top ten finishers. Tinkoff Credit Systems placed two riders in the top ten, as did T-Mobile, and the Barloworld team has sprinter Robbie Hunter just 6.6 seconds from the lead, giving Cavendish something to fret about. "The win only puts more pressure on me," Cavendish admitted. "Tomorrow should be a bunch sprint, but I haven't done any longer stages since my operation so we'll have to see how it goes."
The Tour of Britain continues tomorrow with the first of six full stages from Reading to Southampton (139km). The race then continues around the UK, on to Somerset, West Midlands, Yorkshire, the Northwest, before finally finishing in Scotland on Saturday 15th September.
Photography
For a thumbnail gallery of these images, click here
Images by Gerry McManus/www.gerrymcmanus.co.uk
Images by John Pierce/Photosport International
Images by Rick Wilson
Results
1 Mark Cavendish (GBr) T- Mobile                                   2.27.6 (61.2 km/h)
2 Nikolai Trusov (Rus) Tinkoff Credit Systems                      0.01.2
3 Alexander Serov (Rus) Tinkoff Credit Systems                     0.03.6
4 Zakkari Dempster (Aus) South Australia.com-AIS                   0.03.9
5 Luke Roberts (Aus) Team CSC                                      0.04.3
6 Frantisek Rabon (Cze) T- Mobile                                  0.04.4
7 Geraint Thomas (GBr) Barloworld                                  0.04.6
8 Ed Clancy (GBr) Great Britain                                    0.05.8
9 Cristopher Newton (GBr) Recycling.co.uk                          0.05.9
10 Emilien Berges (Fra) Agritubel                                  0.06.3
11 Robbie Hunter (RSA) Barloworld                                  0.06.6
12 Tom Veelers (Ned) Rabobank                                      0.07.2
13 Daniele Contrini (Ita) Tinkoff Credit Systems                   0.07.3
14 David Blanco (Spa) Duja Tavira                                  0.07.4
15 Romain Feillu (Fra) Agritubel                                   0.07.5
16 Andrew Tennant (GBr) Great Britain                              0.07.6
17 Coen Vermelfoort (Ned) Rabobank                                       
18 Salvatore Commesso (Ita) Tinkoff Credit Systems                 0.07.8
19 Piet Rooijakkers (Ned) Skil-Shimano                                   
20 Matthew Goss (Aus) Team CSC                                           
21 Martin Garrido (Arg) Duja Tavira                                      
22 Gene Bates (Aus) South Australia.com-AIS                        0.08.1
23 Paul Manning (GBr) Great Britain                                0.08.3
24 Simon Clarke (Aus) South Australia.com-AIS                      0.08.4
25 Maarten Tjallingii (Ned) Skil-Shimano                           0.08.8
26 Daniel Lloyd (GBr) DFL-Cycling News-Litespeed                   0.09.0
27 Alex Dowsett (GBr) Great Britain                                0.09.2
28 Nicolas Vogondy (Fra) Agritubel                                       
29 Manuel Lloret Zaragozi (Spa) Fuerteventura-Canarias             0.09.4
30 Aart Vierhouten (Ned) Skil-Shimano                              0.09.6
31 John Bellis (GBr) Great Britain                                       
32 Servais Knaven (Ned) T- Mobile                                  0.09.7
33 Bernardo Riccio (Ita) Tinkoff Credit Systems                    0.09.8
34 Wesley Sulzberger (Aus) South Australia.com-AIS                 0.10.1
35 Samuel Caldeira (Por) Duja Tavira                                     
36 Tony Gibb (GBr) Plowman Craven-Evans Cycles                     0.10.4
37 David Munoz Banon (Spa) Fuerteventura-Canarias                  0.10.7
38 Thomas Berkhout (Ned) Rabobank                                  0.10.8
39 Johnnie Walker (Aus) South Australia.com-AIS                    0.11.3
40 Nico Mattan (Bel) DFL-Cycling News-Litespeed                    0.11.6
41 Martijn Keizer (Ned) Rabobank                                   0.11.8
42 James Millard (GBr) Plowman Craven-Evans Cycles                 0.12.0
43 Linus Gerdemann (Ger) T- Mobile                                 0.12.1
44 Paul Sneeboer (Ned) Duja Tavira                                       
45 Vicente David Bernabeu Armengol (Spa) Fuerteventura-Canarias    0.12.2
46 Juan Jose Haedo (Arg) Team CSC                                  0.12.4
47 Russell Hampton (GBr) Great Britain                             0.12.5
48 Evan Oliphant (GBr) DFL-Cycling News-Litespeed                        
49 Roger Hammond (GBr) T- Mobile                                   0.12.6
50 Martijn Maaskant (Ned) Rabobank                                 0.12.7
51 Ben Swift (GBr) Barloworld                                      0.12.9
52 Ian Stannard (GBr) T- Mobile                                    0.13.0
53 Jose Adrian Bonilla Bonilla (CRc) Fuerteventura-Canarias        0.13.2
54 Boy Van Poppel (Ned) Rabobank                                         
55 Serge Pauwels (Bel) Chocolade Jacques-Topsport Vlaanderen       0.13.3
56 Hans Dekkers (Ned) Agritubel                                    0.13.6
57 Lars Bak (Den) Team CSC                                               
58 Enrico Degano (Ita) Barloworld                                      
59 Christoff Van Heerden (RSA) Team Konica Minolta                 0.13.7
60 David Deroo (Fra) Skil-Shimano                                  0.14.0
61 Adrian Palomares Vilaplana (Spa) Fuerteventura-Canarias               
62 Elio Aggiano (Ita) Tinkoff Credit Systems                       0.14.4
63 Kenny De Ketele (Bel) Chocolade Jacques-Topsport Vlaanderen         
64 Martin Pedersen (Den) Team CSC                                        
65 Gordon McCauley (NZl) Plowman Craven-Evans Cycles               0.14.8
66 Evert Verbist (Bel) Chocolade Jacques-Topsport Vlaanderen       0.15.2
67 Steven Caethoven (Bel) Chocolade Jacques-Topsport Vlaanderen    0.15.3
68 Diego Caccia (Ita) Barloworld                                   0.15.5
69 Christopher Froome (Ken) Team Konica Minolta                        
70 Freddy Bichot (Fra) Agritubel                                   0.15.6
71 Simon Gaywood (GBr) Plowman Craven-Evans Cycles                 0.15.8
72 Kristian House (GBr) Navigators Insurance                       0.16.1
73 Floris Goesinnen (Ned) Skil-Shimano                             0.16.2
74 Giosue' Bonomi (Ita) Barloworld                                 0.16.3
75 Cedrid Coutouly (Fra) Agritubel                                 0.16.4
76 Hamish Haynes (GBr) DFL-Cycling News-Litespeed                  0.17.1
77 Tom Stubbe (Bel) Chocolade Jacques-Topsport Vlaanderen          0.17.6
78 Anders Lund (Den) Team CSC                                      0.17.7
79 Nelson Vitorino (Por) Duja Tavira                               0.18.7
80 Ricardo Mestre (Por) Duja Tavira                                0.19.0
81 Michael Wolf (USA) Navigators Insurance                         0.19.4
82 Rob Partridge (GBr) Recycling.co.uk                             0.19.7
83 Simon Richardson (GBr) Plowman Craven-Evans Cycles              0.19.9
84 Roel Vanmuysen (Bel) Navigators Insurance                       0.20.5
85 Tom Diggle (GBr) Recycling.co.uk                                0.20.6
86 Bernie Sulzberger (Aus) DFL-Cycling News-Litespeed              0.20.7
87 Travis Allen (RSA) Team Konica Minolta                          0.21.3
88 Mikel Artetxte Gezeuraga (Spa) Fuerteventura-Canarias               
89 Daniel Fleeman (GBr) DFL-Cycling News-Litespeed                 0.21.9
90 Rodney Green (RSA) Team Konica Minolta                          0.22.2
91 Kurt Hovelijnck (Bel) Chocolade Jacques-Topsport Vlaanderen     0.22.9
92 Bert De Backer (Bel) Navigators Insurance                       0.24.0
93 David Rodriguez (USA) Navigators Insurance                            
94 Matt Cooke (USA) Navigators Insurance                           0.24.4
95 Simon Holt (GBr) Recycling.co.uk                                0.24.7
96 Adam Bonser (GBr) Recycling.co.uk                               0.27.4
97 Dennis Van Niekerk (RSA) Team Konica Minolta                    0.27.5
98 Jay Thompson (RSA) Team Konica Minolta                          0.27.8
99 Ryan Bonser (GBr) Recycling.co.uk                               0.29.2
100 Kenny Van Hummel (Ned) Skil-Shimano                            0.46.7
101 James McCallum (GBr) Plowman Craven-Evans Cycles               0.55.9
 
Mountains
 
KOM Cat 3: at 1.6km
1 Mark Cavendish (GBr) T- Mobile                                        4 pts
2 Samuel Caldeira (Por) Duja Tavira                                     3
3 Frantisek Rabon (Cze) T- Mobile                                       2
4 Alexander Serov (Rus) Tinkoff Credit Systems                          1
 
General classification after stage 1
 
1 Mark Cavendish (GBr) T- Mobile                                       2.27
2 Nikolai Trusov (Rus) Tinkoff Credit Systems                          0.01
3 Alexander Serov (Rus) Tinkoff Credit Systems                         0.04
4 Zakkari Dempster (Aus) South Australia.com-AIS                           
5 Luke Roberts (Aus) Team CSC                                              
6 Frantisek Rabon (Cze) T- Mobile                                      0.05
7 Geraint Thomas (GBr) Barloworld                                          
8 Ed Clancy (GBr) Great Britain                                        0.06
9 Cristopher Newton (GBr) Recycling.co.uk                                  
10 Emilien Berges (Fra) Agritubel                                          
11 Robbie Hunter (RSA) Barloworld                                      0.07
12 Tom Veelers (Ned) Rabobank                                              
13 Daniele Contrini (Ita) Tinkoff Credit Systems                           
14 David Blanco (Spa) Duja Tavira                                          
15 Romain Feillu (Fra) Agritubel                                       0.08
16 Andrew Tennant (GBr) Great Britain                                      
17 Coen Vermelfoort (Ned) Rabobank                                         
18 Salvatore Commesso (Ita) Tinkoff Credit Systems                         
19 Piet Rooijakkers (Ned) Skil-Shimano                                     
20 Matthew Goss (Aus) Team CSC                                             
21 Martin Garrido (Arg) Duja Tavira                                        
22 Gene Bates (Aus) South Australia.com-AIS                                
23 Paul Manning (GBr) Great Britain                                        
24 Simon Clarke (Aus) South Australia.com-AIS                          0.09
25 Maarten Tjallingii (Ned) Skil-Shimano                                   
26 Daniel Lloyd (GBr) DFL-Cycling News-Litespeed                           
27 Alex Dowsett (GBr) Great Britain                                        
28 Nicolas Vogondy (Fra) Agritubel                                         
29 Manuel Lloret Zaragozi (Spa) Fuerteventura-Canarias                 0.10
30 Aart Vierhouten (Ned) Skil-Shimano                                      
31 John Bellis (GBr) Great Britain                                         
32 Servais Knaven (Ned) T- Mobile                                          
33 Bernardo Riccio (Ita) Tinkoff Credit Systems                            
34 Wesley Sulzberger (Aus) South Australia.com-AIS                         
35 Samuel Caldeira (Por) Duja Tavira                                       
36 Tony Gibb (GBr) Plowman Craven-Evans Cycles                         0.11
37 David Munoz Banon (Spa) Fuerteventura-Canarias                          
38 Thomas Berkhout (Ned) Rabobank                                          
39 Johnnie Walker (Aus) South Australia.com-AIS                            
40 Nico Mattan (Bel) DFL-Cycling News-Litespeed                        0.12
41 Martijn Keizer (Ned) Rabobank                                           
42 James Millard (GBr) Plowman Craven-Evans Cycles                         
43 Linus Gerdemann (Ger) T- Mobile                                         
44 Paul Sneeboer (Ned) Duja Tavira                                         
45 Vicente David Bernabeu Armengol (Spa) Fuerteventura-Canarias            
46 Juan Jose Haedo (Arg) Team CSC                                          
47 Russell Hampton (GBr) Great Britain                                 0.13
48 Evan Oliphant (GBr) DFL-Cycling News-Litespeed                          
49 Roger Hammond (GBr) T- Mobile                                           
50 Martijn Maaskant (Ned) Rabobank                                         
51 Ben Swift (GBr) Barloworld                                              
52 Ian Stannard (GBr) T- Mobile                                            
53 Jose Adrian Bonilla Bonilla (CRc) Fuerteventura-Canarias                
54 Boy Van Poppel (Ned) Rabobank                                           
55 Serge Pauwels (Bel) Chocolade Jacques-Topsport Vlaanderen               
56 Hans Dekkers (Ned) Agritubel                                        0.14
57 Lars Bak (Den) Team CSC                                                 
57 Enrico Degano (Ita) Barloworld                                          
59 Christoff Van Heerden (RSA) Team Konica Minolta                         
60 David Deroo (Fra) Skil-Shimano                                          
61 Adrian Palomares Vilaplana (Spa) Fuerteventura-Canarias                 
62 Elio Aggiano (Ita) Tinkoff Credit Systems                               
62 Kenny De Ketele (Bel) Chocolade Jacques-Topsport Vlaanderen             
64 Martin Pedersen (Den) Team CSC                                      0.15
65 Gordon McCauley (NZl) Plowman Craven-Evans Cycles                       
66 Evert Verbist (Bel) Chocolade Jacques-Topsport Vlaanderen               
67 Steven Caethoven (Bel) Chocolade Jacques-Topsport Vlaanderen            
68 Diego Caccia (Ita) Barloworld                                       0.16
68 Christopher Froome (Ken) Team Konica Minolta                            
70 Freddy Bichot (Fra) Agritubel                                           
71 Simon Gaywood (GBr) Plowman Craven-Evans Cycles                         
72 Kristian House (GBr) Navigators Insurance                               
73 Floris Goesinnen (Ned) Skil-Shimano                                     
74 Giosue' Bonomi (Ita) Barloworld                                         
75 Cedrid Coutouly (Fra) Agritubel                                         
76 Hamish Haynes (GBr) DFL-Cycling News-Litespeed                      0.17
77 Tom Stubbe (Bel) Chocolade Jacques-Topsport Vlaanderen              0.18
78 Anders Lund (Den) Team CSC                                              
79 Nelson Vitorino (Por) Duja Tavira                                   0.19
80 Ricardo Mestre (Por) Duja Tavira                                        
81 Michael Wolf (USA) Navigators Insurance                             0.20
82 Rob Partridge (GBr) Recycling.co.uk                                     
83 Simon Richardson (GBr) Plowman Craven-Evans Cycles                      
84 Roel Vanmuysen (Bel) Navigators Insurance                           0.21
85 Tom Diggle (GBr) Recycling.co.uk                                        
86 Bernie Sulzberger (Aus) DFL-Cycling News-Litespeed                      
87 Travis Allen (RSA) Team Konica Minolta                                  
87 Mikel Artetxte Gezeuraga (Spa) Fuerteventura-Canarias                   
89 Daniel Fleeman (GBr) DFL-Cycling News-Litespeed                     0.22
90 Rodney Green (RSA) Team Konica Minolta                                  
91 Kurt Hovelijnck (Bel) Chocolade Jacques-Topsport Vlaanderen         0.23
92 Bert De Backer (Bel) Navigators Insurance                           0.24
93 David Rodriguez (USA) Navigators Insurance                              
94 Matt Cooke (USA) Navigators Insurance                                   
95 Simon Holt (GBr) Recycling.co.uk                                    0.25
96 Adam Bonser (GBr) Recycling.co.uk                                   0.27
97 Dennis Van Niekerk (RSA) Team Konica Minolta                        0.28
98 Jay Thompson (RSA) Team Konica Minolta                                  
99 Ryan Bonser (GBr) Recycling.co.uk                                   0.29
100 Kenny Van Hummel (Ned) Skil-Shimano                                0.47
101 James McCallum (GBr) Plowman Craven-Evans Cycles                   0.56
 
Mountains classification
 
1 Mark Cavendish (GBr) T- Mobile                                          4 pts
2 Samuel Caldeira (Por) Duja Tavira                                       3
3 Frantisek Rabon (Cze) T- Mobile                                         2
4 Alexander Serov (Rus) Tinkoff Credit Systems                            1
 
Team classification
 
1 Tinkoff Credit Systems                                               7.33
2 T- Mobile                                                            0.03
3 South Australia.com-AIS                                              0.09
4 Great Britain                                                        0.10
5 Agritubel                                                            0.11
6 CSC                                                                  0.12
7 Barloworld                                                           0.13
8 Duja Tavira                                                              
9 Rabobank                                                             0.14
10 Skil-Shimano                                                        0.15
11 Fuerteventura-Canarias                                              0.21
12 DFL-Cycling News-Litespeed                                          0.22
13 Plowman Craven-Evans Cycles                                         0.26
14 Chocolade Jacques-Topsport                                          0.30
15 Recycling.co.uk                                                     0.35
16 Team Konica Minolta                                                 0.39
17 Navigators Insurance                                                0.45