USA Cycling Pro championships - CN
USA, September 1-2, 2007
Main Page Results Overall standings Race Details Live report Previous Race
Race 2 - September 2: USA professional road race championships, 177 km
Leipheimer rides alone to national title
Hincapie settles for second and teammate's win
By Mark Zalewski, North American Editor in Greenville, South Carolina
Levi Leipheimer (Discovery Channel)
Photo ©: Jonathan Devich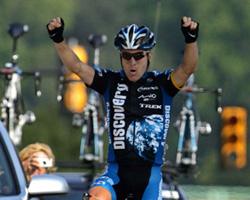 After giving a best supporting actor performance in last year's race to Discovery Channel teammate George Hincapie, Levi Leipheimer took the top step of the national championship podium by simply throwing tactics aside and riding away from the 108-rider field with almost 40 kilometres to go. The solo win and stars and stripes jersey make for the perfect cap on what is clearly Leipheimer's strongest season in his career.
"Regardless of which team I ride for next year, to be the US national road champion is... honestly I didn't even believe it today," said Leipheimer. "I was taking [the race] how it came, I was aggressive and if I was out front giving it everything I knew that George was behind chasing me. In the end it worked out and I was pretty tired, but thankfully there wasn't a lot of cooperation behind me."
Leipheimer found himself in a chase group behind the remnants of an earlier break up the road. With two more ascents up Paris Mountain looming ahead, Leipheimer attacked out of the group with only Chris Baldwin (Toyota-United) following his wheel. "[Leipheimer] just put it in the big ring and went," said Baldwin. "By the time I reacted and realized what it was, I was committed."
Leipheimer and Baldwin caught up to the leaders and a few other riders managed to bridge up as the peloton closed in. But no team actually closed the deal and this group then rode to the climb for the final time, making Leipheimer lead while everyone waited for the other shoe to drop. "I realize that when I'm in a group like that I have to take the responsibility with me as the favourite," said Leipheimer. "So I have to do the most work and assume they are being conservative."
Andrew Bajadali (Jelly Belly)
Photo ©: Jonathan Devich

Conservative or not, Leipheimer's ProTour pace up the climb made everyone show their cards. Only Andy Bajadali (Jelly Belly), last year's domestic star at this race, was able to hang with Leipheimer - but only until one kilometre from the top. "I got popped with maybe a kilometre to go, stuck in no man's land, chasing one of the world's best time trialists," said Bajadali. "I gave it my all, and I feel good that I raced my bike even though we were outnumbered."
"Bajadali had a good ride," said Leipheimer. "I honestly thought we were going to go over the top together. I thought he was being conservative but then he got dropped. At that moment I was like, 'Whoa, this is a long ways to go.' But I was committed and George was behind following the other favourites. They were going to have to chase and if they caught me, he would be fresh."
Bobby Julich (CSC)
Photo ©: Jonathan Devich

The rest of the remaining 30 or so riders in the race could only pick their jaws up off the ground as Levi put on a time trial clinic. "Levi was just... what can you say, he was third in the Tour and probably should have won it," said former USPRO champ Chris Wherry (Toyota-United). "He is incredible and just rode away from everyone; there were no tactics he was just the strongest one. He went up the climb with two to go and just kept going, it was unbelievable."
Everyone seemed to agree that it was a mistake to let Leipheimer have so much rope - even though it seemed to be far too early to be the winning move. "I thought that Levi went too early, attacking with two big laps to go," said CSC's Bobby Julich. "My plan was to get him out there knowing that he would have to drop anyone that was with him - he's like me, he has to ride by himself. Then I was hoping to get to the circuits and get up to him with guys like George, but I was having total seize-cramps for the small circuits."
George Hincapie (Discovery)
Photo ©: Jonathan Devich

"That was pretty impressive, he never lost time on us and kept putting time on us!" said Julich. "Once Levi was up the road Slipstream rode interesting... it made for a simple race since they chased everything down. But the best guy definitely won the race."
"I made a crucial mistake when Levi went," said Predictor-Lotto's Freddie Rodriguez, another former USPRO champ who finished fourth today. "I got five seconds from them but then thought it wasn't the right card to play, so I sat up and waited. I knew it was going to stick but it wasn't going to do me any good trying to stay with Levi on the climb. I thought we might come together on the last climb but it just didn't work out."
Though Bajadali was the last rider standing when the hammer hit the nail, Neil Shirley (Jittery Joe's) came out as the top domestic rider, hanging with the elite group and finishing an impressive third place just behind a sprinting George Hincapie (Discovery Channel). "It was hard but I've been training for this the last six weeks," said Shirley. "I just tried to mark the main guys and it paid off today. You know, it's George Hincapie."
Neil Shirley (Jittery Joes)
Photo ©: Jonathan Devich

Speaking of the defending champion, Hincapie did not seem very happy with his second place behind his teammate's win. "This year was a lot more negative racing," he said. "When Levi went up the road it was up to the other teams to chase and they just sat there and watched everyone else. If I tried to go they would come after me. I had to play my cards from the back, there wasn't much cooperation, but the team worked well today. Last year was a lot faster and more aggressive racing."
When asked what it was like racing for a team that would not exist next season he said, "The team is disbanding but we are all under contract until December 31, 2007 and we are professional riders, doing our jobs until the last day."
As for the team tactics, Leipheimer said, "We just figured if we could make it hard on the hill it would be to our advantage. I think it became obvious that I was going to have go from a long ways out because everyone was looking at George - he was the defending champion, it was his hometown and I think it was the right thing to do for me."
Photography
For a thumbnail gallery of these images, click here
Images by Jonathan Devich /www.epicimages.us
Images by Kurt Jambretz/www.actionimages.cc
Results

1 Levi Leipheimer (Discovery Channel Pro Cycling Team)                      4.22.19 (40.279 km/h)
2 George Hincapie (Discovery Channel Pro Cycling Team)                         1.11
3 Neil Shirley The Jittery Joe's - Zero Gravity Pro Cycling Team)              1.14
4 Freddie Rodiguez (Predictor-Lotto)                                           1.18
5 Danny Pate (Team Slipstream powered by Chipotle)                             1.29
6 Shawn Milne (HealthNet presented by Maxxis)                                  1.56
7 Kirk O'bee (HealthNet presented by Maxxis)                                   2.00
8 Bobby Julich (Team CSC)                                                          
9 Christopher Jones (Nerac Pro Cycling Team)                                       
10 Burke Swindlehurst (Toyota - United Pro Cycling Team)                       2.04
11 Jeffry Louder (HealthNet presented by Maxxis)                               2.08
12 Tyler Hamilton (Tinkoff Credit Systems)                                     2.11
13 Dan Bowman (Kelly Benefit Strategies / Medifast)                            2.59
14 Frank Pipp (HealthNet presented by Maxxis)                                  3.04
15 Ben Jacques-Maynes (Priority Health presented by Bissell Pro Cycling Team)      
16 Michael Grabinger (Succesfulliving.com presented by Parkpre)                3.06
17 Jake Rytlewski (Rite Aid Pro Cycling Team)                                      
18 Phil Zajicek (Navigators Insurance Cycling Team)                            3.07
19 Andrew Bajadali (Jelly Belly Cycling Team)                                  3.14
20 Chris Wherry (Toyota - United Pro Cycling Team)                                 
21 Blake Caldwell (Team Slipstream powered by Chipotle)                        3.20
22 Michael Creed (Team Slipstream powered by Chipotle)                         3.32
23 Jonathan Patrick Mccarty (Team Slipstream powered by Chipotle)              6.28
24 David Rodriguez (Navigators Insurance Cycling Team)                         7.23
25 Doug Ollerenshaw (HealthNet presented by Maxxis)                            9.38
26 Edward King (Priority Health presented by Bissell Pro Cycling Team)             
27 Jonathan Garcia (BMC Pro Cycling Team)                                          
28 Justin England (Toyota - United Pro Cycling Team)                               
29 Jackson Stewart (BMC Pro Cycling Team)                                     10.01
30 Daniel Vaillancourt (Colavita Olive Oil-Sutter Home)                            
DNF Tony Cruz (Discovery Channel Pro Cycling Team)                                 
DNF John Devine (Discovery Channel Pro Cycling Team)                               
DNF Winston David (AEG Toshiba - Jetnetwork Pro Cycling Team)                      
DNF Alex Hagman (AEG Toshiba - Jetnetwork Pro Cycling Team)                        
DNF Bobby Sweeting (AEG Toshiba - Jetnetwork Pro Cycling Team)                     
DNF Eric Keim (AEG Toshiba - Jetnetwork Pro Cycling Team)                          
DNF Keith Norris (AEG Toshiba - Jetnetwork Pro Cycling Team)                       
DNF Scottie Weiss (AEG Toshiba - Jetnetwork Pro Cycling Team)                      
DNF Todd Henriksen (AEG Toshiba - Jetnetwork Pro Cycling Team)                     
DNF David Galvin (BMC Pro Cycling Team)                                            
DNF Ken Hanson (BMC Pro Cycling Team)                                              
DNF Chad Hartley (BMC Pro Cycling Team)                                            
DNF Ian Mckissick (BMC Pro Cycling Team)                                           
DNF Nathan Miller (BMC Pro Cycling Team)                                           
DNF Scott Moninger (BMC Pro Cycling Team)                                          
DNF Scott Nydam (BMC Pro Cycling Team)                                             
DNF Jacob Rosenbarger (BMC Pro Cycling Team)                                       
DNF Mike Sayers (BMC Pro Cycling Team)                                             
DNF Adam Bergman (Colavita Olive Oil-Sutter Home)                                  
DNF Anthony Colby (Colavita Olive Oil-Sutter Home)                                 
DNF Andy Guptill (Colavita Olive Oil-Sutter Home)                                  
DNF Tyler Wren (Colavita Olive Oil-Sutter Home)                                    
DNF David Zabriskie (Team CSC)                                                     
DNF Bradley White (Discovery Channel Pro Cycling Team)                             
DNF Matthew Crane (HealthNet presented by Maxxis)                                  
DNF Timothy Johnson (HealthNet presented by Maxxis)                                
DNF Roman Kilun (HealthNet presented by Maxxis)                                    
DNF John Murphy (HealthNet presented by Maxxis)                                    
DNF Alex Candelario (Jelly Belly Cycling Team)                                     
DNF Michael Cody (Jelly Belly Cycling Team)                                        
DNF Brian Dziewa (Jelly Belly Cycling Team)                                        
DNF Brice Jones (Jelly Belly Cycling Team)                                         
DNF Michael Jones (Jelly Belly Cycling Team)                                       
DNF Bryce Mead (Jelly Belly Cycling Team)                                          
DNF Jeremy Powers (Jelly Belly Cycling Team)                                       
DNF Nick Reistad (Jelly Belly Cycling Team)                                        
DNF Timothy Henry The Jittery Joe's - Zero Gravity Pro Cycling Team)               
DNF Matt Shriver The Jittery Joe's - Zero Gravity Pro Cycling Team)                
DNF Thad Dulin The Jittery Joe's - Zero Gravity Pro Cycling Team)                  
DNF Reid Mumford (Kelly Benefit Strategies / Medifast)                             
DNF Jonathan Sundt (Kelly Benefit Strategies / Medifast)                           
DNF Jesse Anthony (KodakGallery.com - Sierra Nevada Brewing Co. Cycling Team)      
DNF Ben Raby (KodakGallery.com - Sierra Nevada Brewing Co. Cycling Team)           
DNF Joshua Thornton (KodakGallery.com - Sierra Nevada Brewing Co. Cycling Team)    
DNF Dan Timmerman (KodakGallery.com - Sierra Nevada Brewing Co. Cycling Team)      
DNF Matt Cooke (Navigators Insurance Cycling Team)                                 
DNF Bernard Van Ulden (Navigators Insurance Cycling Team)                          
DNF Kyle Wamsley (Navigators Insurance Cycling Team)                               
DNF Michael Wolf (Navigators Insurance Cycling Team)                               
DNF Aidan Charles (Nerac Pro Cycling Team)                                         
DNF Daniel Holt (Nerac Pro Cycling Team)                                           
DNF Todd Yezefski (Nerac Pro Cycling Team)                                         
DNF Graham Howard (Priority Health presented by Bissell Pro Cycling Team)          
DNF Omer Kem (Priority Health presented by Bissell Pro Cycling Team)               
DNF Robbie King (Priority Health presented by Bissell Pro Cycling Team)            
DNF Garrett Peltonen (Priority Health presented by Bissell Pro Cycling Team)       
DNF Morgan Schmitt (Priority Health presented by Bissell Pro Cycling Team)         
DNF Brian Sheedy (Priority Health presented by Bissell Pro Cycling Team)           
DNF Tom Zirbel (Priority Health presented by Bissell Pro Cycling Team)             
DNF Scott Zwizanski (Priority Health presented by Bissell Pro Cycling Team)        
DNF Clayton Barrows (Rite Aid Pro Cycling Team)                                    
DNF Ryan Dewald (Rite Aid Pro Cycling Team)                                        
DNF Michael Norton (Rite Aid Pro Cycling Team)                                     
DNF Curtis Gunn (Succesfulliving.com presented by Parkpre)                         
DNF Daniel Ramsay (Succesfulliving.com presented by Parkpre)                       
DNF Steven Cozza (Team Slipstream powered by Chipotle)                             
DNF Jason Donald (Team Slipstream powered by Chipotle)                             
DNF Timothy Duggan (Team Slipstream powered by Chipotle)                           
DNF Lucas Euser (Team Slipstream powered by Chipotle)                              
DNF Michael Friedman (Team Slipstream powered by Chipotle)                         
DNF William Frischkorn (Team Slipstream powered by Chipotle)                       
DNF Charles Bradley Huff (Team Slipstream powered by Chipotle)                     
DNF Michael Lange (Team Slipstream powered by Chipotle)                            
DNF Ian Macgregor (Team Slipstream powered by Chipotle)                            
DNF Thomas Peterson (Team Slipstream powered by Chipotle)                          
DNF Christopher Baldwin (Toyota - United Pro Cycling Team)