56th Jayco Herald Sun Tour - 2.1
Australia, October 14-21, 2007
Main Page Results Overall standings Stage Details Previous Stage Next Stage
Stage 4 - October 18: Beechworth - Falls Creek, 116.5km
Euro day: Morabito stage, Van Leijen overall
By John Trevorrow in Falls Creek
Steve Morabito (Astana) from Switzerland
Photo ©: Shane Goss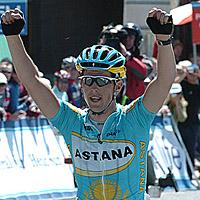 Dutchman Joost Van Leijen took the overall lead in the Jayco Herald Sun Tour after coming home second to Swiss Steve Morabito (Astana) in a punishing 116.5-kilometre stage from Beechworth to Falls Creek. This Sun Tour is shaping up to be a nail-biting finish. And, just like last year, it may be decided on the last sprint of the tour on Sunday.
Up until now the Australians have dominated the stage wins and the podium, but the gruelling slopes of Falls Creek have changed all that. Joost Van Leijen, a Dutchman from the lowlands town of Nymegen has wrestled the yellow leader's jersey from Matthew Wilson by a mere eight seconds.
"Yes it was a beautiful stage for me," a beaming Van Leijen said. "Today, I felt very good, and I believe I can win this tour. At the moment I feel I can do anything," he added.
Swiss Steve Morabito (Astana) won the stage from Van Leijen (Netherlands) and Trent Lowe (Jayco National team). The trio finished on the same time with Frenchman Julien Mazet (Astana) fourth at three seconds. Amazingly if Morabito had not been docked twenty seconds for motor-pacing in stage two he would be leading by one second. But the truth is without the assistance of the pace car to bring him back that day, he would have lost many minutes.
Wilson gave it everything
Photo ©: Shane Goss

Wilson fought like a terrier to hold on to the golden fleece of overall leader but came up short crossing the line 34 seconds back. "I gave it everything but I just couldn't go with the attacks near the finish," an exhausted Wilson said. "I decided it was best to ride steady at my own pace and try and hold them. I guess I just came up short. But this bike race is far from over," a determined Wilson added.
National champion Darren Lapthorne was just a couple of seconds back in sixth spot with Baden Cooke fighting all the way to eighth at 2'02". Leading young rider Simon Clarke was ninth at 2'08". "I just haven't had my best form on this tour," Clarke said. "I've been trying to talk it up a bit but when it came to the big climbs, especially when Stuey lit it up early after Mt Beauty, I just couldn't go with them."
How it unfolded
The leading trio of Wilson, Zwizanski and Rollin
Photo ©: Shane Goss

As has become the norm on this tour, the attacks were on from the second the flag was dropped. Canadian Dominique Rollin (Bicycle Superstore), Trent Wilson from Sydney (Jayco National Team) and American Scott Zwinzanski (Bissell –Priority Health) got clear after about five kilometres and soon opened a minute lead.
Then South Australian Tom Middleton and Yoshiyuki Shimizu from Japan (Nippo-Meitan LaTrobe) put in a chase followed by FRF Couriers / NSW IS pair Jason Hegert and Chris Jory. For the first time in this tour the main peloton eased. There was obviously a game of cat and mouse being played and the breakaways were of no danger overall. But it only lasted for 20 kilometres until the first climb.
Rollin took the first sprint into Myrtleford to put a stranglehold on the sprint jersey. "I decided to make a move early to make sure I got the points," Rollin said. "My main rivals for the jersey were more worried about the GC so I thought it would work," he added.
The leaders hit the slopes of Tawonga Gap with a gap of three and a half minutes with the other chases in between. But the race was hotting-up behind. The Jayco National Team, led by Stuart O'Grady, and the South Australia.com-AIS were setting a fast and furious pace and riders were dropping off the back like flies.
Stuart O'Grady (centre, Jayco Australian National Team)
Photo ©: Shane Goss

"Our plan was to put the pressure on up Tawonga Gap, nothing outrageous, just enough to put a bit of stress on the legs," O'Grady said. "Then, soon as we hit Mt. Beauty, it was a full team effort to blow as many out the back as possible. "The boys did a pretty good job and then the rest was up to Trent. "It will probably be a bit beyond him now but he had a good crack."
Zwizanski won the KOM at the top of Tawonga Gap from Rollin and they were finally caught by the chasing peloton about half way up the final climb. As the race reached the high slopes and into the final 10 kilometres, Cooke dropped back leaving eight in front
Lowe was attacking, and it was Wilson having to close the gaps along with Clarke, Julien Mazet, Morabito (Astana) and Van Leijen with his Dutch team-mates Maint Berkenbosh and Darren Lapthorne. Then it was Berkenbosh who dropped back, followed by Clarke, Lapthorne and then the man in yellow, Matthew Wilson, finally succumbed to the continuous attacks inside five kilometres to go.
That left four riders in front with four kilometres to the finish. Lowe continued to attack and Morabito, Van Leijen and Mazet were the only ones to close the gap. It was a brilliant battle with the leaders trying to put space between themselves and tour leader Wilson, as well as trying to open a gap on each other. In the end the Swiss won the stage and a Dutchman has grabbed the lead.
Tour leader Matt Wilson (Unibet.com)
Photo ©: Shane Goss

Lowe was philosophical about his chances. "I did give it my best shot but it's probably not the best climb in Victoria for me," Lowe said. "I like the steeper climbs like Hotham or Baw Baw. I may be only 26 seconds down but realistically I don't have the power on the flat like Baden and Matty [Wilson]. I still think Matty can win and I think he deserves it. The Unibet team have been the strongest team here."
All is set up for a doozy of a stage to Wangaratta. A serious battle for the KOM jersey will be decided in the first and final KOM sprint after 36 kilometres. Stage winner Morabito has received his first KOM points for the race but they happened to be 30 which puts him on the same points as Burney Sulzberger. Burney will have no brotherly assistance in this sprint as Wesley finished outside the time limit and has been eliminated.
Photography
For a thumbnail gallery of these images, click here
Images by Shane Goss/www.licoricegallery.com
Results
1 Steve Morabito (Swi) Astana                             3.10.06
2 Joost Van Leijen (Ned) Netherlands National Team               
3 Trent Lowe (Aus) Jayco Australian National Team                
4 Julien Mazet (Fra) Astana                                  0.03
5 Matthew Wilson (Aus) Unibet.com                            0.34
6 Darren Lapthorne (Aus) Drapac Porsche                      0.47
7 Maint Berkenbosch (Ned) Netherlands National Team          1.45
8 Baden Cooke (Aus) Unibet.com                               2.02
9 Simon Clarke (Aus) South Australia.com - AIS               2.08
10 Christian Leben (Ger) Wiesenhof-Felt                      2.28
11 Daniel Lloyd (GBr) DFL Cyclingnews Litespeed              2.30
12 Aaron Kemps (Aus) Astana                                  2.47
13 Michal Golas (Pol) Unibet.com                                 
14 Bernard Sulzberger (Aus) DFL Cyclingnews Litespeed        3.15
15 Peter Herzig (Aus) FRF Couriers-NSWIS                     3.30
16 Jörg Ludewig (Ger) Wiesenhof-Felt                         3.38
17 Cameron Wurf (Aus) Bissell-Priority Health                3.42
18 Yukiya Arashiro (Jpn) Nippo - Meitan Latrobe              3.47
19 Mark O'Brien (Aus) Drapac Porsche                             
20 Dominique Perras (Can) Bicycle Superstore -Canada             
21 Eric Wohlberg (Can) Bicycle Superstore -Canada            3.54
22 Timothy Gudsell (NZl) Mitchelton Wines - New Zealand      5.29
23 Koen De Kort (Ned) Astana                                     
24 David Pell (Aus) Savings & Loans                          5.34
25 Dominique Rollin (Can) Bicycle Superstore -Canada         7.58
26 Cameron Jennings (Aus) DFL Cyclingnews Litespeed          8.53
27 Camiel Denis (Ned) Netherlands National Team             10.13
28 Malaya Van Ruitenbeek (Ned) Netherlands National Team    10.20
29 Stuart Shaw (Aus) Drapac Porsche                         10.37
30 Aaron Tuckerman (NZl) Mitchelton Wines - New Zealand          
31 Brendan Brooks (Aus) FRF Couriers-NSWIS                       
32 Brett Tivers (NZl) Mitchelton Wines - New Zealand        11.27
33 Patrick Shaw (Aus) Jayco Australian National Team        11.44
34 Benjamin Jacques-Maynes (USA) Bissell-Priority Health         
35 Shaun Higgerson (Aus) South Australia.com - AIS               
36 Gene Bates (Aus) South Australia.com - AIS                    
37 Tom Zirbel (USA) Bissell-Priority Health                      
38 Stuart O'Grady (Aus) Jayco Australian National Team           
39 Nick Gates (Aus) Jayco Australian National Team               
40 Jeremy Vennell (NZl) DFL Cyclingnews Litespeed                
41 Scott Zwizanski (USA) Bissell-Priority Health                 
42 Will Dickeson (Aus) Savings & Loans                      13.08
43 Omer Kem (USA) Bissell-Priority Health                   16.38
44 Zachary Bell (Can) Bicycle Superstore -Canada                 
45 Benoit Joachim (Lux) Astana                              19.26
46 Trent Wilson (Aus) Jayco Australian National Team             
47 Chris Jongewaard (Aus) Jayco Australian National Team         
48 Logan Hutchings (NZl) Mitchelton Wines - New Zealand          
49 Jeremy Hunt (GBr) Unibet.com                             20.08
50 Koji Fukushima (Jpn) Nippo - Meitan Latrobe              20.09
51 Peter Dawson (Aus) South Australia.com - AIS             20.19
52 Tom Southam (GBr) Drapac Porsche                         20.22
52 Dean Windsor (Aus) Drapac Porsche                             
54 Wim Botman (Ned) Netherlands National Team                    
55 Tom Middleton (Aus) Savings & Loans                           
56 Luke Cridland (Aus) FRF Couriers-NSWIS                        
57 Johnnie Walker (Aus) South Australia.com - AIS           20.50
58 Brett Aitken (Aus) Savings & Loans                       20.57
59 Richard England (Aus) Bissell-Priority Health            25.51
60 John Ebeling (Aus) FRF Couriers-NSWIS                         
61 Ryan Anderson (Can) Bicycle Superstore -Canada                
62 Marc Ryan (NZl) Mitchelton Wines - New Zealand                
62 Craig Mccartney (Aus) Savings & Loans                         
64 Chris Jory (Aus) FRF Couriers-NSWIS                           
65 Peter Mueller (Aus) Savings & Loans                           
66 Prajak Mahawong (Tha) Nippo - Meitan Latrobe                  
67 Steffen Radochla (Ger) Wiesenhof-Felt                         
68 Felix Odebrecht (Ger) Wiesenhof-Felt                          
69 Rhys Pollock (Aus) DFL Cyclingnews Litespeed                  
70 Kane Oakley (Aus) DFL Cyclingnews Litespeed                   
71 Casey Munro (Aus) Drapac Porsche                              
72 Yoshiyuki Shimizu (Jpn) Nippo - Meitan Latrobe                
73 William Ford (Aus) South Australia.com - AIS                  
74 Jimmy Casper (Fra) Unibet.com                                 
75 Jason Hegert (Aus) FRF Couriers-NSWIS                         
76 Jason Allen (NZl) Mitchelton Wines - New Zealand              
77 Adriaan Helmantel (Ned) Netherlands National Team             
DSQ Joel Pearson (Aus) Jayco Australian National Team            
DSQ Wesley Sulzberger (Aus) South Australia.com - AIS            
 
Sprints
 
Sprint 1
1 Dominique Rollin (Can) Bicycle Superstore -Canada             6 pts
2 Scott Zwizanski (USA) Bissell-Priority Health                 4
3 Trent Wilson (Aus) Jayco Australian National Team             2
 
Sprint 2
1 Dominique Rollin (Can) Bicycle Superstore -Canada             6 pts
2 Trent Wilson (Aus) Jayco Australian National Team             4
3 Scott Zwizanski (USA) Bissell-Priority Health                 2
 
Mountains
 
Climb 1
1 Scott Zwizanski (USA) Bissell-Priority Health                12 pts
2 Dominique Rollin (Can) Bicycle Superstore -Canada             8
3 Benoit Joachim (Lux) Astana                                   4
 
Climb 2
1 Steve Morabito (Swi) Astana                                  30 pts
2 Joost Van Leijen (Ned) Netherlands National Team             24
3 Trent Lowe (Aus) Jayco Australian National Team              18
 
General classification after stage 4
 
1 Joost Van Leijen (Ned) Netherlands National Team       13.35.51
2 Matthew Wilson (Aus) Unibet.com                            0.08
3 Steve Morabito (Swi) Astana                                0.19
4 Trent Lowe (Aus) Jayco Australian National Team            0.26
5 Julien Mazet (Fra) Astana                                  0.31
6 Baden Cooke (Aus) Unibet.com                               1.53
7 Simon Clarke (Aus) South Australia.com - AIS               2.04
8 Dominique Perras (Can) Bicycle Superstore -Canada          3.55
9 Cameron Wurf (Aus) Bissell-Priority Health                 4.07
10 Eric Wohlberg (Can) Bicycle Superstore -Canada            4.27
11 David Pell (Aus) Savings & Loans                          5.46
12 Darren Lapthorne (Aus) Drapac Porsche                    10.36
13 Maint Berkenbosch (Ned) Netherlands National Team        11.01
14 Bernard Sulzberger (Aus) DFL Cyclingnews Litespeed       11.55
15 Jörg Ludewig (Ger) Wiesenhof-Felt                        12.17
16 Aaron Kemps (Aus) Astana                                 14.21
17 Daniel Lloyd (GBr) DFL Cyclingnews Litespeed             16.14
18 Yukiya Arashiro (Jpn) Nippo - Meitan Latrobe             16.19
19 Mark O'Brien (Aus) Drapac Porsche                        16.26
20 Michal Golas (Pol) Unibet.com                            16.27
21 Koen De Kort (Ned) Astana                                16.40
22 Dominique Rollin (Can) Bicycle Superstore -Canada        17.08
23 Timothy Gudsell (NZl) Mitchelton Wines - New Zealand     17.50
24 Cameron Jennings (Aus) DFL Cyclingnews Litespeed         18.12
25 Stuart Shaw (Aus) Drapac Porsche                         22.43
26 Brendan Brooks (Aus) FRF Couriers-NSWIS                  23.28
27 Benjamin Jacques-Maynes (USA) Bissell-Priority Health    25.40
28 Christian Leben (Ger) Wiesenhof-Felt                     31.06
29 Benoit Joachim (Lux) Astana                              31.49
30 Omer Kem (USA) Bissell-Priority Health                   32.12
31 Johnnie Walker (Aus) South Australia.com - AIS           35.03
32 Camiel Denis (Ned) Netherlands National Team             36.36
33 Gene Bates (Aus) South Australia.com - AIS               37.58
34 Tom Zirbel (USA) Bissell-Priority Health                 38.09
35 Malaya Van Ruitenbeek (Ned) Netherlands National Team    38.45
36 Jimmy Casper (Fra) Unibet.com                            39.30
37 Stuart O'Grady (Aus) Jayco Australian National Team      39.33
38 Jeremy Vennell (NZl) DFL Cyclingnews Litespeed           40.58
39 Jeremy Hunt (GBr) Unibet.com                             41.30
40 Tom Middleton (Aus) Savings & Loans                      41.38
41 Peter Herzig (Aus) FRF Couriers-NSWIS                    42.43
42 Will Dickeson (Aus) Savings & Loans                      45.14
43 Patrick Shaw (Aus) Jayco Australian National Team        45.56
44 Chris Jongewaard (Aus) Jayco Australian National Team    46.36
45 Dean Windsor (Aus) Drapac Porsche                        46.58
46 Aaron Tuckerman (NZl) Mitchelton Wines - New Zealand     47.07
47 Scott Zwizanski (USA) Bissell-Priority Health            47.18
48 Nick Gates (Aus) Jayco Australian National Team          48.43
49 Richard England (Aus) Bissell-Priority Health            52.05
50 Rhys Pollock (Aus) DFL Cyclingnews Litespeed             52.14
51 Brett Tivers (NZl) Mitchelton Wines - New Zealand        52.50
52 John Ebeling (Aus) FRF Couriers-NSWIS                    53.37
53 Shaun Higgerson (Aus) South Australia.com - AIS          54.25
54 Chris Jory (Aus) FRF Couriers-NSWIS                           
55 Tom Southam (GBr) Drapac Porsche                         54.52
56 Zachary Bell (Can) Bicycle Superstore -Canada            54.57
57 Peter Mueller (Aus) Savings & Loans                      56.03
58 Trent Wilson (Aus) Jayco Australian National Team        56.30
59 Adriaan Helmantel (Ned) Netherlands National Team        56.34
60 Logan Hutchings (NZl) Mitchelton Wines - New Zealand     57.41
61 Kane Oakley (Aus) DFL Cyclingnews Litespeed            1.00.49
62 Brett Aitken (Aus) Savings & Loans                     1.01.13
63 Koji Fukushima (Jpn) Nippo - Meitan Latrobe            1.01.48
64 Luke Cridland (Aus) FRF Couriers-NSWIS                 1.01.49
65 Jason Hegert (Aus) FRF Couriers-NSWIS                  1.02.21
66 Casey Munro (Aus) Drapac Porsche                       1.02.34
67 Jason Allen (NZl) Mitchelton Wines - New Zealand       1.02.57
68 Wim Botman (Ned) Netherlands National Team             1.03.03
69 Marc Ryan (NZl) Mitchelton Wines - New Zealand         1.03.55
70 William Ford (Aus) South Australia.com - AIS           1.05.06
71 Felix Odebrecht (Ger) Wiesenhof-Felt                   1.05.53
72 Craig Mccartney (Aus) Savings & Loans                  1.06.08
73 Ryan Anderson (Can) Bicycle Superstore -Canada         1.07.18
74 Steffen Radochla (Ger) Wiesenhof-Felt                  1.07.53
75 Yoshiyuki Shimizu (Jpn) Nippo - Meitan Latrobe         1.08.14
76 Prajak Mahawong (Tha) Nippo - Meitan Latrobe           1.08.59
77 Peter Dawson (Aus) South Australia.com - AIS           1.09.38
 
Under 23
 
1 Simon Clarke (Aus) South Australia.com - AIS           13.37.55
2 Mark O'Brien (Aus) Drapac Porsche                         14.22
3 Brendan Brooks (Aus) FRF Couriers-NSWIS                   21.24
4 Christian Leben (Ger) Wiesenhof-Felt                      29.02
5 Johnnie Walker (Aus) South Australia.com - AIS            32.59
6 Tom Middleton (Aus) Savings & Loans                       39.34
7 Patrick Shaw (Aus) Jayco Australian National Team         43.52
8 Dean Windsor (Aus) Drapac Porsche                         44.54
9 Chris Jory (Aus) FRF Couriers-NSWIS                       52.21
10 Luke Cridland (Aus) FRF Couriers-NSWIS                   59.45
11 Jason Hegert (Aus) FRF Couriers-NSWIS                  1.00.17
12 Casey Munro (Aus) Drapac Porsche                       1.00.30
13 Wim Botman (Ned) Netherlands National Team             1.00.59
14 William Ford (Aus) South Australia.com - AIS           1.03.02
15 Ryan Anderson (Can) Bicycle Superstore -Canada         1.05.14
 
Sprints
 
1 Dominique Rollin (Can) Bicycle Superstore -Canada            28 pts
2 Matthew Wilson (Aus) Unibet.com                              18
3 Baden Cooke (Aus) Unibet.com                                 12
4 David Pell (Aus) Savings & Loans                             12
5 Jörg Ludewig (Ger) Wiesenhof-Felt                            12
6 Aaron Kemps (Aus) Astana                                     10
7 Wesley Sulzberger (Aus) South Australia.com - AIS            10
8 Stuart Shaw (Aus) Drapac Porsche                              8
9 Joost Van Leijen (Ned) Netherlands National Team              8
10 Joel Pearson (Aus) Jayco Australian National Team            6
11 Koji Fukushima (Jpn) Nippo - Meitan Latrobe                  6
12 Trent Wilson (Aus) Jayco Australian National Team            6
13 Scott Zwizanski (USA) Bissell-Priority Health                6
14 Bernard Sulzberger (Aus) DFL Cyclingnews Litespeed           6
15 Felix Odebrecht (Ger) Wiesenhof-Felt                         6
16 Julien Mazet (Fra) Astana                                    4
17 Steve Morabito (Swi) Astana                                  4
18 Peter Herzig (Aus) FRF Couriers-NSWIS                        4
19 Simon Clarke (Aus) South Australia.com - AIS                 4
20 Malaya Van Ruitenbeek (Ned) Netherlands National Team        4
21 Trent Lowe (Aus) Jayco Australian National Team              2
22 Patrick Shaw (Aus) Jayco Australian National Team            2
23 Cameron Wurf (Aus) Bissell-Priority Health                   2
24 Cameron Jennings (Aus) DFL Cyclingnews Litespeed             2
25 Darren Lapthorne (Aus) Drapac Porsche                        2
26 Jimmy Casper (Fra) Unibet.com                                2
 
Mountains
 
1 Steve Morabito (Swi) Astana                                  30 pts
2 Bernard Sulzberger (Aus) DFL Cyclingnews Litespeed           30
3 Joost Van Leijen (Ned) Netherlands National Team             24
4 Trent Lowe (Aus) Jayco Australian National Team              18
5 Dominique Rollin (Can) Bicycle Superstore -Canada            16
6 Wesley Sulzberger (Aus) South Australia.com - AIS            14
7 Scott Zwizanski (USA) Bissell-Priority Health                12
8 Tom Southam (GBr) Drapac Porsche                             10
9 Daniel Lloyd (GBr) DFL Cyclingnews Litespeed                  8
10 Benoit Joachim (Lux) Astana                                  4
10 Michal Golas (Pol) Unibet.com                                4
10 Maint Berkenbosch (Ned) Netherlands National Team            4
 
Teams
 
1  Astana                                                41.01.33
2  Unibet.com                                                4.39
3  Bicycle Superstore -Canada                               11.16
4  DFL Cyclingnews Litespeed                                32.26
5  South Australia.Com - AIS                                32.47
6  Netherlands National Team                                33.27
7  Drapac Porsche                                           35.35
8  Bissell-Priority Health                                  41.21
9  Jayco Australian National Team                           49.33
10  Savings & Loans                                       1.11.54
11  FRF Couriers-NSWIS                                    1.26.04
12  Mitchelton Wines - New Zealand                        1.33.05
13  Wiesenfof-Felt                                        1.35.28
14  Nippo - Meitan Latrobe                                2.04.26