56th Jayco Herald Sun Tour - 2.1
Australia, October 14-21, 2007
Main Page Results Overall standings Stage Details Previous Stage Next Stage
Stage 1 - October 15: Bendigo - Nagambie, 141.9km
Wilson bets on the right move
Strong winds blow field apart
By John Trevorrow
Matt Wilson (Unibet.com)
Photo ©: Shane Goss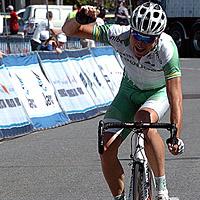 A brilliant opening stage to the Jayco Herald Sun Tour saw Unibet's Matt Wilson run away with the victory, while most of the peloton seems already out of contention after the first stage. The moment the flag was dropped the riders attacked down the road and it didn't let up. One of the best opening stages was made difficult by the howling side winds and high temperatures, which left only a tough group at the front.
His team support vehicle may have struggled to get out of the car park at the start of today's Stage One of the 2007 Jayco Herald Sun Tour and he may be two support riders short, but Unibet.com's Matt Wilson had no problem in dominating the finish 150 kilometres later in Nagambie.
And so emphatic was his effort and that of his ten fellow breakaways, that Australia's oldest stage race, now in its 56th year, might well be over after day one, with the first half of the peloton struggling to the finish more than 12 minutes after Wilson's determined lone dash for the line.
Wilson felt "Just relief, really," at the end of the day. He explained that "I've had an up and down couple of years. The last win I had was the national championship and I've been so close that many times and never really got the result and Baden was telling me coming in to town that he wasn't really good and that I should go for it myself and it was a great feeling." His lack of a victory salute was simply due to the weather. "The side wind was so strong at the finish that I wasn't game to throw my arms up."
Unibet had two game plans. Wilson said that "Obviously, if it came down to a sprint then Baden was the man and I just had to follow the moves. It was lucky enough that it was so windy that guys were getting blown all over the road and there was so much confusion and I managed to slip away about five kilometres out. The gods must have been shining on me and because there was a tail wind all the way from there to the finish and I really just punched it in the in the big gear and brought it home."
Wilson is now eager to continue in the lead. "I guess I will defend the jersey now. I'm climbing pretty well at the moment so I guess it's a ten-man race for the guys at the front. There are some pretty good climbers in there but we will just have to see. The crucial stage will be Thursday to Falls Creek."
His compatriot and team-mate Baden Cooke was pretty happy, too, even though he himself did only feel "pretty average towards the finish today." But wanting to help out his fellow, he told "Matty, if you've got the legs, go for the win, and he did. This is great for Matty. He hasn't had a win this year and it's pretty tough at the moment getting contracts and that sort of thing. So it couldn't have come at a better time. Hopefully that ride will make the difference in getting a deal for next year."
Baden Cooke (2nd from right) of the Unibet.com team
Photo ©: Shane Goss

Cooke did not have the best of preparations. "That's the longest ride I've done in three weeks. I've had the flu and so I've only had about three rides in the past weeks. I had plenty of horsepower when the break first opened. But that soon ran out and the last 50 kilometres I was just about empty. Actually, I think I gassed it a bit too much early and I paid for it in the end. A good feed tonight and a massage and I should feel a bit better tomorrow."
The tactics for him were simple. "I knew who the GC guys would be and I just made sure I didn't lose any time on them. I followed Trent [Lowe] a bit at the finish. To beat him in the overall I'm going to need a couple of minutes on him before Falls Creek. I made a little bit of a dent on that – about six seconds [smiles] but I will keep at it."
Stuart O'Grady, back in action, recalled his tough day. "Man, that was a tough day. I was on my limit for the whole time. It was a nasty start, flat out from the gun and I knew if I lost the wheel then I would be out the back for a long, long day. So for me the finish line was the top of that mountain."
Stuart O'Grady (Jayco Australian National Team) leads
Photo ©: Shane Goss

But, being reminded that many good racers were out the back, O'Grady said that "I can't believe it, to be honest. That's the first time I've gone hard in three months. I realize that I haven't got good form or any form but when you see other people suffering then you feed of that and it gives you motivation to hang in there."
O'Grady, who is racing for the Jayco Australian National Team instead of his usual CSC squad, explained that "The main thing was that Trent [Lowe, his team-mate] was up there and he's climbing very well and I think that out of that group he is the best climber. It's good we haven't got the jersey because Unibet will have to control the race for a couple of days and hopefully Trent's got the legs up Falls Creek."
Lowe for his part said that there was "A lot of suffering. We missed the first break and probably blew a few of the boys up bringing them back. It wasn't too bad at the finish. Matty got some time on us but that's better than Baden. I'd much rather Matty have some time than Cookie." Lowe is cautiously optimistic, though "I feel good but I do suffer from a few allergies at this time of year and the dry air and everything is bothering me a bit. But I should get better each day."
How it unfolded
On a day of early breaks and tortuous cross winds, the Monte Carlo based Australian, aided and abetted by his more illustrious team-mate, Baden Cooke, was very much the star. He is clearly on song, being the only one of the seven riders who finished yesterday's helter skelter Tour prelude criterium in Bendigo to feature in today's crucial break.
A stage winner into Moe on a previous Tour, the 30 year-old went on to become the Australian road champion three years ago, having taken on and beaten Hodgkin's disease.
Simon Clarke (SouthAustalia.com/AIS) chats with Canadian Eric Wohlberg (right)
Photo ©: Shane Goss

Today, he and his fellow breakaways were simply relentless, having cleared out from the pack around the 60-kilometre mark. They built on their advantage doubling their lead over 20 of the last 25 kilometres, before Wilson slipped away after a series of mini attacks within the group with around five kilometres to go.
But whilst the chances of anyone further back than eleventh now look gone, Wilson, who is still looking for a team to ride with internationally in 2008, will still have his work cut out with the talent featured amongst the next ten riders on general classification.
This is despite his sprint victories at Heathcote and at stage end, having provided Wilson with time bonuses to add to his nine second margin on the day and edging his overall lead out to 16 seconds over Savings and Loans' David Pell, with Cooke a further seven seconds adrift.
And there is plenty of reason for him to be cautious, for lurking within 30 seconds of the lead are pre-race favourite, Jayco Australia's Trent Lowe, Astana's international pairing of Julien Mazet and Steve Morabito, Dutchman Joost Van Leijen, the precocious talents of emerging Aussies Simon Clarke and Cameron Wurf and wily Canadian veterans Dominique Perras and Eric Wohlberg.
Not that Wilson is without confidence, making it clear when accepting the prized leader's jersey that – "Yellow is certainly the objective at the end of the Tour. I've got a little gap now and it's only a matter of hanging on to it."
Both Mazet and Morabito have won stages of European tours whilst Van Leijen won this year's Tour of Slovakia. The Canadians are both dual Herald Sun Tour stage winners.
The three young Aussies are each predicted to have bright futures –- Lowe maybe as early as when the Tour ends in Melbourne at the end of the week. Former Olympic rower Wurf has been riding for less than a year, having switched from the sport which took him to the Athens Olympics whilst Clarke continues to demonstrate the potential which saw him finish eight overall in this race a year ago.
Their form provides plenty to whet the appetite for the rest of the week, even if it is now a race amongst just eleven.
Riders head up Mt.Alexander
Photo ©: Shane Goss
In other news from the first full day of racing, the hard luck story was without doubt that of Bissell SRAM's Edward King, who, after scoring maximum points in the King of the Mountains classification over the first two climbs of the Tour, crashed down on the side of Mount Alexander on descent, ending up in Castlemaine Hospital, bruised, battered and out of the race.
Given the extent of his tumble down the mountain side, the American rider was considered very fortunate by race doctor, Andrew Garnham, not to have been more seriously hurt. X-rays revealed no further injury than first assessed.
The other classifications are not surprisingly dominated by Wilson, Cooke and Unibet, which despite starting the race with the minimum contingent of just five riders, compared with the maximum seven fielded by most other teams, find themselves also on top in the teams category.
South Australia.com's Clarke, who just lost the under 23 classification in 2006, looks to have a formidable lead this year after day one, with a massive margin of nearly 12 minutes over his team-mate, Johnnie Walker.
Bendigo based British rider, Tom Southam from the Drapac Porsche team leads the King of the Mountains, following King's demise, from Tasmanian Bernie Sulzberger (DFL-Cyclingnews-Litespeed).
Photography
For a thumbnail gallery of these images, click here
Images by Shane Goss/www.licoricegallery.com
Results
1 Matthew Wilson (Aus) Unibet.com                      3.37.28 (39.151 km/h)
2 David Pell (Aus) Savings & Loans                        0.09
3 Baden Cooke (Aus) Unibet.com                            0.17
4 Joost Van Leijen (Ned) Netherlands National Team            
5 Trent Lowe (Aus) Jayco Australian National Team             
6 Eric Wohlberg (Can) Bicycle Superstore -Canada              
7 Steve Morabito (Swi) Astana                                 
8 Simon Clarke (Aus) South Australia.Com - AIS                
9 Julien Mazet (Fra) Astana                                   
10 Dominique Perras (Can) Bicycle Superstore -Canada          
11 Cameron Wurf (Aus) Bissell-Priority Health                 
12 Dominique Rollin (Can) Bicycle Superstore -Canada     12.03
13 Timothy Gudsell (NZl) Mitchelton Wines - New Zealand       
14 Johnnie Walker (Aus) South Australia.Com - AIS             
15 Chris Jory (Aus) FRF Couriers-NSWIS                     
16 Malaya Van Ruitenbeek (Ned) Netherlands National Team      
17 Camiel Denis (Ned) Netherlands National Team               
18 Christian Leben (Ger) Wiesenhof-Felt                       
19 Jimmy Casper (Fra) Unibet.com                              
20 Thomas Frei (Swi) Astana                                   
20 Benoit Joachim (Lux) Astana                                
22 Koen De Kort (Ned) Astana                                  
23 Adriaan Helmantel (Ned) Netherlands National Team          
24 Kazuo Inoue (Jpn) Nippo - Meitan Latrobe                   
25 Michal Golas (Pol) Unibet.com                              
26 Omer Kem (USA) Bissell-Priority Health                     
27 Bernard Sulzberger (Aus) DFL Cyclingnews Litespeed         
28 Brendan Brooks (Aus) FRF Couriers-NSWIS                 
29 Benjamin Jacques-Maynes (USA) Bissell-Priority Health      
30 John Ebeling (Aus) FRF Couriers-NSWIS                   
31 Stuart Shaw (Aus) Drapac Porsche                           
32 Richard England (Aus) Bissell-Priority Health              
33 Jörg Ludewig (Ger) Wiesenhof-Felt                          
34 Kane Oakley (Aus) DFL Cyclingnews Litespeed                
35 Dean Windsor (Aus) Drapac Porsche                          
36 Cameron Jennings (Aus) DFL Cyclingnews Litespeed           
37 Mark O'brien (Aus) Drapac Porsche                          
38 Aaron Kemps (Aus) Astana                                   
39 Maint Berkenbosch (Ned) Netherlands National Team          
40 Stuart O'Grady (Aus) Jayco Australian National Team        
41 Darren Lapthorne (Aus) Drapac Porsche                      
42 Robbie Cater (Aus) FRF Couriers-NSWIS                   
43 Peter Mueller (Aus) Savings & Loans                        
44 Yukiya Arashiro (Jpn) Nippo - Meitan Latrobe               
45 Wesley Sulzberger (Aus) South Australia.Com - AIS          
46 Chris Jongewaard (Aus) Jayco Australian National Team      
47 Rhys Pollock (Aus) DFL Cyclingnews Litespeed               
48 Gene Bates (Aus) South Australia.Com - AIS                 
49 Jeremy Vennell (NZl) DFL Cyclingnews Litespeed             
49 Tom Zirbel (USA) Bissell-Priority Health                   
51 Daniel Lloyd (GBr) DFL Cyclingnews Litespeed               
52 Rene Haselbacher (Aut) Astana                              
53 Tom Middleton (Aus) Savings & Loans                   16.47
54 Wouter De Groot (Ned) Netherlands National Team            
55 Zachary Bell (Can) Bicycle Superstore -Canada              
56 Will Dickeson (Aus) Savings & Loans                        
57 Peter Herzig (Aus) FRF Couriers-NSWIS                   
58 Logan Hutchings (NZl) Mitchelton Wines - New Zealand       
59 William Ford (Aus) South Australia.Com - AIS               
60 Craig Mccartney (Aus) Savings & Loans                      
61 Brett Aitken (Aus) Savings & Loans                    19.55
62 Jason Hegert (Aus) FRF Couriers-NSWIS                   
63 Jeremy Hunt (GBr) Unibet.com                               
64 Jason Allen (NZl) Mitchelton Wines - New Zealand           
65 Marc Ryan (NZl) Mitchelton Wines - New Zealand             
66 Brett Tivers (NZl) Mitchelton Wines - New Zealand          
67 Peter Dawson (Aus) South Australia.Com - AIS               
68 Trent Wilson (Aus) Jayco Australian National Team          
69 Nick Gates (Aus) Jayco Australian National Team            
70 Tom Southam (GBr) Drapac Porsche                           
71 Joel Pearson (Aus) Jayco Australian National Team          
72 Casey Munro (Aus) Drapac Porsche                           
73 Luke Cridland (Aus) FRF Couriers-NSWIS                  
74 Yoshiyuki Shimizu (Jpn) Nippo - Meitan Latrobe             
75 Andrew Randall (Can) Bicycle Superstore -Canada            
76 Ryan Anderson (Can) Bicycle Superstore -Canada             
77 Felix Odebrecht (Ger) Wiesenhof-Felt                       
78 Steffen Radochla (Ger) Wiesenhof-Felt                      
79 Wim Botman (Ned) Netherlands National Team                 
80 Jefferey Sherstobitoff (Can) Bicycle Superstore -Canada    
81 Hayden Godfrey (NZl) Mitchelton Wines - New Zealand        
82 Aaron Tuckerman (NZl) Mitchelton Wines - New Zealand       
83 Prajak Mahawong (Tha) Nippo - Meitan Latrobe               
84 Simon Pearson (Aus) Savings & Loans                        
85 Scott Zwizanski (USA) Bissell-Priority Health              
86 Shaun Higgerson (Aus) South Australia.Com - AIS            
87 Patrick Shaw (Aus) Jayco Australian National Team          
88 David Harrigan (Aus) DFL Cyclingnews Litespeed             
89 Koji Fukushima (Jpn) Nippo - Meitan Latrobe           20.01
DNF Junya Sano (Jpn) Nippo - Meitan Latrobe                   
DNF Miyataka Shimizu (Jpn) Nippo - Meitan Latrobe             
DNF Andre Schulze (Ger) Wiesenhof-Felt                        
DNF Robert Wagner (Ger) Wiesenhof-Felt                        
 
Sprint 1
 
1 Baden Cooke (Aus) Unibet.com                               6 pts
2 Joost Van Leijen (Ned) Netherlands National Team           4
3 Simon Clarke (Aus) South Australia.Com - AIS               2
Sprint 2
 
1 Matthew Wilson (Aus) Unibet.com                            6 pts
2 Julien Mazet (Fra) Astana                                  4
3 Cameron Wurf (Aus) Bissell-Priority Health                 2
Finish
 
1 Matthew Wilson (Aus) Unibet.com                           10 pts
2 David Pell (Aus) Savings & Loans                           8
3 Baden Cooke (Aus) Unibet.com                               6
4 Joost Van Leijen (Ned) Netherlands National Team           4
5 Trent Lowe (Aus) Jayco Australian National Team            2
 
Mountains 1
1 Edward King (USA) Bissell-Priority Health                  6 pts
2 Bernard Sulzberger (Aus) DFL Cyclingnews Litespeed         4
3 Tom Southam (GBr) Drapac Porsche                           2
 
Mountains 2
1 Edward King (USA) Bissell-Priority Health                 12 pts
2 Tom Southam (GBr) Drapac Porsche                           8
3 Bernard Sulzberger (Aus) DFL Cyclingnews Litespeed         4
 
General classification after stage 1
 
1 Matthew Wilson (Aus) Unibet.com                      3.37.15
2 David Pell (Aus) Savings & Loans                        0.16
3 Baden Cooke (Aus) Unibet.com                            0.23
4 Joost Van Leijen (Ned) Netherlands National Team        0.28
5 Julien Mazet (Fra) Astana                                   
6 Simon Clarke (Aus) South Australia.Com - AIS            0.29
7 Cameron Wurf (Aus) Bissell-Priority Health                  
8 Trent Lowe (Aus) Jayco Australian National Team         0.30
9 Eric Wohlberg (Can) Bicycle Superstore -Canada              
10 Steve Morabito (Swi) Astana                                
11 Dominique Perras (Can) Bicycle Superstore -Canada          
12 Dominique Rollin (Can) Bicycle Superstore -Canada     12.16
13 Timothy Gudsell (NZl) Mitchelton Wines - New Zealand       
14 Johnnie Walker (Aus) South Australia.Com - AIS             
15 Chris Jory (Aus) FRF Couriers-NSWIS                     
16 Malaya Van Ruitenbeek (Ned) Netherlands National Team      
17 Camiel Denis (Ned) Netherlands National Team               
18 Christian Leben (Ger) Wiesenhof-Felt                       
19 Jimmy Casper (Fra) Unibet.com                              
20 Thomas Frei (Swi) Astana                                   
21 Benoit Joachim (Lux) Astana                                
22 Koen De Kort (Ned) Astana                                  
23 Adriaan Helmantel (Ned) Netherlands National Team          
24 Michal Golas (Pol) Unibet.com                              
25 Omer Kem (USA) Bissell-Priority Health                     
26 Bernard Sulzberger (Aus) DFL Cyclingnews Litespeed         
27 Brendan Brooks (Aus) FRF Couriers-NSWIS                 
28 Benjamin Jacques-Maynes (USA) Bissell-Priority Health      
29 John Ebeling (Aus) FRF Couriers-NSWIS                   
30 Stuart Shaw (Aus) Drapac Porsche                           
31 Richard England (Aus) Bissell-Priority Health              
32 Jörg Ludewig (Ger) Wiesenhof-Felt                          
33 Kane Oakley (Aus) DFL Cyclingnews Litespeed                
34 Dean Windsor (Aus) Drapac Porsche                          
35 Cameron Jennings (Aus) DFL Cyclingnews Litespeed           
36 Mark O'Brien (Aus) Drapac Porsche                          
37 Aaron Kemps (Aus) Astana                                   
38 Maint Berkenbosch (Ned) Netherlands National Team          
39 Stuart O'Grady (Aus) Jayco Australian National Team        
40 Darren Lapthorne (Aus) Drapac Porsche                      
41 Robbie Cater (Aus) FRF Couriers-NSWIS                   
42 Peter Mueller (Aus) Savings & Loans                        
43 Yukiya Arashiro (Jpn) Nippo - Meitan Latrobe               
44 Wesley Sulzberger (Aus) South Australia.Com - AIS          
45 Chris Jongewaard (Aus) Jayco Australian National Team      
46 Rhys Pollock (Aus) DFL Cyclingnews Litespeed               
47 Gene Bates (Aus) South Australia.Com - AIS                 
48 Tom Zirbel (USA) Bissell-Priority Health                   
49 Jeremy Vennell (NZl) DFL Cyclingnews Litespeed             
50 Daniel Lloyd (GBr) DFL Cyclingnews Litespeed               
51 Rene Haselbacher (Aut) Astana                              
52 Kazuo Inoue (Jpn) Nippo - Meitan Latrobe              12.36
53 Tom Middleton (Aus) Savings & Loans                   17.00
54 Wouter De Groot (Ned) Netherlands National Team            
55 Zachary Bell (Can) Bicycle Superstore -Canada              
56 Will Dickeson (Aus) Savings & Loans                        
57 Peter Herzig (Aus) FRF Couriers-NSWIS                   
58 Logan Hutchings (NZl) Mitchelton Wines - New Zealand       
59 William Ford (Aus) South Australia.Com - AIS               
60 Craig Mccartney (Aus) Savings & Loans                      
61 Brett Aitken (Aus) Savings & Loans                    20.08
62 Jason Hegert (Aus) FRF Couriers-NSWIS                   
63 Jeremy Hunt (GBr) Unibet.com                               
64 Jason Allen (NZl) Mitchelton Wines - New Zealand           
65 Marc Ryan (NZl) Mitchelton Wines - New Zealand             
66 Brett Tivers (NZl) Mitchelton Wines - New Zealand          
67 Peter Dawson (Aus) South Australia.Com - AIS               
68 Trent Wilson (Aus) Jayco Australian National Team          
69 Nick Gates (Aus) Jayco Australian National Team            
70 Tom Southam (GBr) Drapac Porsche                           
71 Joel Pearson (Aus) Jayco Australian National Team          
72 Casey Munro (Aus) Drapac Porsche                           
73 Luke Cridland (Aus) FRF Couriers-NSWIS                  
74 Yoshiyuki Shimizu (Jpn) Nippo - Meitan Latrobe             
75 Andrew Randall (Can) Bicycle Superstore -Canada            
76 Ryan Anderson (Can) Bicycle Superstore -Canada             
77 Felix Odebrecht (Ger) Wiesenhof-Felt                       
78 Steffen Radochla (Ger) Wiesenhof-Felt                      
79 Wim Botman (Ned) Netherlands National Team                 
80 Jefferey Sherstobitoff (Can) Bicycle Superstore -Canada    
81 Hayden Godfrey (NZl) Mitchelton Wines - New Zealand        
82 Aaron Tuckerman (NZl) Mitchelton Wines - New Zealand       
83 Prajak Mahawong (Tha) Nippo - Meitan Latrobe               
84 Simon Pearson (Aus) Savings & Loans                        
85 Scott Zwizanski (USA) Bissell-Priority Health              
86 Shaun Higgerson (Aus) South Australia.Com - AIS            
87 Patrick Shaw (Aus) Jayco Australian National Team          
88 David Harrigan (Aus) DFL Cyclingnews Litespeed             
89 Koji Fukushima (Jpn) Nippo - Meitan Latrobe           20.14
 
Under 23
 
1 Simon Clarke (Aus) South Australia.Com - AIS         3.37.44
2 Johnnie Walker (Aus) South Australia.Com - AIS         11.47
3 Chris Jory (Aus) FRF Couriers-NSWIS                      
4 Christian Leben (Ger) Wiesenhof-Felt                        
5 Thomas Frei (Swi) Astana                                    
6 Brendan Brooks (Aus) FRF Couriers-NSWIS                  
7 Dean Windsor (Aus) Drapac Porsche                           
8 Mark O'Brien (Aus) Drapac Porsche                           
9 Robbie Cater (Aus) FRF Couriers-NSWIS                    
10 Wesley Sulzberger (Aus) South Australia.Com - AIS          
11 Tom Middleton (Aus) Savings & Loans                   16.31
12 Wouter De Groot (Ned) Netherlands National Team            
13 William Ford (Aus) South Australia.Com - AIS               
14 Jason Hegert (Aus) FRF Couriers-NSWIS              19.39
15 Casey Munro (Aus) Drapac Porsche                           
16 Luke Cridland (Aus) FRF Couriers-NSWIS                  
17 Ryan Anderson (Can) Bicycle Superstore -Canada             
18 Wim Botman (Ned) Netherlands National Team                 
19 Patrick Shaw (Aus) Jayco Australian National Team          
20 David Harrigan (Aus) DFL Cyclingnews Litespeed             
 
Points
 
1 Matthew Wilson (Aus) Unibet.com                           16 pts
2 Baden Cooke (Aus) Unibet.com                              12
3 David Pell (Aus) Savings & Loans                           8
3 Joost Van Leijen (Ned) Netherlands National Team           8
5 Julien Mazet (Fra) Astana                                  4
6 Trent Lowe (Aus) Jayco Australian National Team            2
6 Cameron Wurf (Aus) Bissell-Priority Health                 2
6 Simon Clarke (Aus) South Australia.Com - AIS               2
 
Teams
 
1 Unibet.com                                          11.04.24
2 Astana                                                  0.35
3 Bicycle Superstore -Canada                              0.37
4 Netherlands National Team                              12.21
5 Bissell-Priority Health                                12.22
6 South Australia.Com - AIS                                   
7 Jayco Australian National Team                         12.23
8 Savings & Loans                                        16.53
9 DFL Cyclingnews Litespeed                              24.09
10 Drapac Porsche                                             
11 FRF Couriers-NSWIS                                      
12 Wiesenhof-Felt                                        32.01
13 Nippo - Meitan Latrobe                                32.21
14 Mitchelton Wines - New Zealand                        36.45