An interview with Cadel Evans - Part one, October 20, 2007
Evans: On the cusp of ProTour success
The disqualification of Danilo di Luca (Liquigas) means that Cadel Evans will start Saturday's Tour of Lombardy as the clear leader in the ProTour classification. The Australian may not have won big during the season but he has nevertheless had a very impressive campaign, as Cyclingnews' Shane Stokes reports.
Cadel Evans on the Tour podium
Photo ©: AFP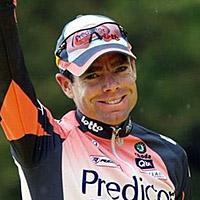 When the dust settles on the 2007 season, one of the standout riders of the year will be Predictor-Lotto's Cadel Evans. The 30 year old Australian started stockpiling results when he placed fifth on stage five of the Vuelta a Andalucia Ruta Ciclista Del Sol in February, and has continued ever since. Of those, the standout performances are second overall in the Dauphiné Libéré in June, second in the Tour de France in July, fourth in the Vuelta a España and fifth in the world road race championships in September.
Evan's consistency means that he heads into the final ProTour event of the season with an extremely strong chance of winning. On Tuesday it was announced that series leader Danilo Di Luca (Liquigas) had been suspended by the Italian Olympic Committee CONI for three months due to his part in the 'Oil for Drugs' investigation. Then two days later the UCI announced that he had been disqualified from the competition under one of its rules, this sanction propelling Evans into the white jersey.
Speaking to Cyclingnews prior to the news of Di Luca's suspension and subsequent disqualification, Evans said that he was fired up to do well in the Tour of Lombardy. This will continue to be the case, even if he is under a little less pressure now. "It is the most suitable one-day of the race for year for me, but unfortunately it is also the last race of the year," he stated early on Tuesday. "Considering that my other home race is the Tour Down Under, which is the first race of the year in January, that makes things difficult [in terms of riding the Australian event in 2008].
"The Tour of Lombardy is certainly the best one-day race for me but also, by that standard, the same for Di Luca and Bettini. He won there last year so when he is good, he can right up be there as well. Rebellin and Schleck are also climbing really well at the moment."
"I am really happy that they got Popovych, for me that was certainly my first pick, the first rider that I wanted them to chase."
-Evans is happy to have another team-mate to help in the mountains
As Evans showed with his fifth place in the world championships plus sixth in last weekend's Giro dell'Emilia, he is still going well despite what has been a very long season. "I am still riding all right," he said. "I will go to Lombardy and do what I can there. I am thinking about doing a good race, but also what happens with the ProTour."
Much of that pressure is off now that Di Luca is out, and his nearest competitor, Alejandro Valverde, has withdrawn from the race due to the flu. It would take stunning ride for third placed Oscar Freire to get over the Monte Ghisallo and the final two climbs within the last 20km and overtake Evans in the standings by winning and keeping Evans to a 8th or worse place finish.
For a breakdown of the ProTour standings, click here, and to see the current rankings, click here.
Despite having a virtual lock on the ProTour win, Evans is still gunning to win the Classic on Saturday, but he is realistic that other, less fatigued riders may have the edge. "It is a big race and I'd love to do well. I have had a very long season, though, so if I don't win there it won't be the end of the world. That is for sure."
When speaking prior to Di Luca's disqualification, Evans raised the point that he didn't yet know what would happen in relation to the stage 13 time trial at the Tour de France. Alexandre Vinokourov won there but subsequently tested positive. The UCI confirmed this week that if the Kazakh is ultimately proven guilty, Evans would get the victory plus an extra five ProTour points.
"Things like that make it a bit strange," he stated, referring to the case. "And so too the fact that the hardest one-day race of the year, the world championships, doesn't get any ProTour points. It is the biggest one-day race outside of the Olympics, after all."
Upward trend
Evans' strong time trialling
Photo ©: AFP

Evans came into the 2007 on an upward curve. He'd finished eighth and then fourth in the preceding two Tours de France and with results such as first in the 2006 Tour of Romandie and second in that season's Tour of Poland, he marked himself out as one of the main contenders for this year's Tour.
He showed good form early on, placing fifth on stage two of the Tour d'Andalousie (Ruta Del Sol) in February and then seventh in Paris Nice just under a month later. From there he added to his palmares in the Tour du Pays Basques [sixth on stage four, 13th overall] and the Tour de Romandie [fourth overall plus fourth, fifth and fifth again on stages]. But it was second in the Dauphiné Libéré in June which really indicated that he was on course for a great Tour.
"The Dauphiné was quite a nice surprise," he said. "I went there thinking more about seeing how I was going [rather than chasing a result]. I had a big period of training leading up to the Tour and it was a question of seeing how I was going and seeing what more I needed to do, in looking towards the Tour. But being right there at the front showed that I had trained well and that things were going as I wanted."
Evans finished the eight-day race 14 seconds behind the flying Frenchman Christophe Moreau. However, unlike the Ag2R-Prévoyance rider, he came out of the race in a position where he could maintain or perhaps even build his form. That meant that he went to London in a strong frame of mind.
"I was quietly confident," he confirmed, something which was apparent when talking to him early on in that race. "Everything had gone well. I had started the year a little slower because I wasn't racing in the Tour Down Under. It was my year [to try to win] and I could sort of gear things a little bit more towards the Tour, calculating everything on being at my best at the Tour. So I was quietly confident once I got to the race."
Evans was only 17th in the prologue but gave a clear sign of his form when he finished sixth on the first big mountain stage of the race. He was third on the following day's race to Briançon and then went within one place of topping the podium when he finished 1'14 behind Alexandre Vinokourov in the Albi time trial. The margin between first and second was considerable, but when the news broke that the Kazakh had tested positive for a homologous blood transfusion, he realised that he might have won his first ever Tour stage.
"It's a bit frustrating, yes," he agreed, when Cyclingnews put it to him that victory in that fashion, minus the podium presentation, the fan adulation and the big media headlines, was likely to result in mixed feelings. After all, it's hardly the same as popping the champagne on the day itself.
"Of course officially I wouldn't be the winner until the legal proceedings and that are all completed. If that does happen, I am sure that it will be out of a lot of people's minds, as we saw with Pereiro and so on. That is frustrating, of course, but when I rode that time trial I knew I had done a good time. Then when I looked at the times for some of the others, I had to scratch my head over some of them."
Evans was to the fore in both races against the clock but lost time to the then-race leader Michael Rasmussen (Rabobank) and eventual victor Alberto Contador (Discovery Channel) in the mountains. At the time he complained that he had limited team support once the road pitched steeply uphill; Chris Horner did a very good job for him, but many of the other riders on the team simply didn't have the strength on that sort of terrain.
Cadel Evans suffers
Photo ©: Luc Claessen

"The one place I really needed a team-mate was on the ride into Loudonvielle [stage 15 to Loudenvielle-Le Louron]," he said. "The Astana guys had team-mates – Klöden had a team-mate in Kashechkin, and Valverde had a team-mate with Pereiro..I think he was still there at that point. They didn't ride and I was furious after that stage because I was relying on them riding. I was figuring that they didn't want to lose the Tour either.
"That said, in the situations where I really need a team-mate, there aren't that many riders who can do that work and if they are, they are on another team being their own team leader. The team probably couldn't afford it, even if they did want to ride for us. We have got [Yaroslav] Popovych for next year, which normally in theory would see him go a bit further on the mountains than Chris does."
Evans describes as 'gossip' the speculation earlier this autumn that Levi Leipheimer might join the team. But one rider he very much wants to be part of the lineup for 2008 is Horner. He has been Evan's right hand man in many big races and has himself taken some decent results over the years, including stage victories in the Tour de Suisse and the Tour of Romandie plus a very solid fifteenth overall in this year's Tour. However, much to Evan's regret, the American still hasn't secured a place with Predictor-Lotto for 2008. This is something he hopes is soon resolved.
"I think it is a bit complicated, but I just hope they keep him because for me he is one of the best team-mates that I have ever had," he said. "For sure, I want to keep him. I am really happy that they got Popovych, for me that was certainly my first pick, the first rider that I wanted them to chase. But all I asked was for them to get Popovych and to keep Chris. There were a few other small things, but considering the Tour [result], that was all I asked for…I don't think it is too much to ask."
Nearly three months have passed since the penultimate day time trial of the Tour. Evans started the test 1 minute and 50 seconds off the GC time of race leader Contador, and was himself 59 seconds ahead of Levi Leipheimer. The Australian set out determined to try to win the Tour but despite giving his all in the TT, was still 23 seconds adrift by the end of the day. Leipheimer also closed right up, taking back all but eight seconds of the difference between him and the Predictor-Lotto rider.
When each of the podium places are taken into account, it was the closest finish in the history of the Tour de France; that's dramatic for the fans but, the dust now settled, what's his take on what happened?
Evans' ability to turn himself inside out
Photo ©: AFP

"I've mixed feelings," he said. "I went so close to winning that it is disappointing to lose. But at the same time I had come from a fair way back and both Leipheimer, especially, and Contador had really good days. I just had a pretty average day, if you look at the time differences between the Albi time trial and the final time trial.
"Leipheimer probably made up some time because of his position, which was really suited to that course, and I wasn't as good as in the other time trial... But I gave it a good shot so, yes, I have to be happy with that. Now I have to think about next year and doing a bit better then."
When it's put to him that his trend over the past three years is very much an upward one, what with his eighth, fourth and second place overall, he's quick to respond. "Yes, it would be nice to continue that progression…"
In part two of this interview with Cadel Evans, he speaks about his performances in the Vuelta a España and world road race championships, the Tour Down Under's graduation to the ProTour calendar, his plans for the months ahead and his Olympic aspirations. Read page two of the Evans interview.