News feature, October 19, 2007
Bye bye Boogie
This week sees another retirement of one of the nice guys of cycling. When he put the hammer down, Michael Boogerd's trademark grin/grimace exposed a gleaming, straight row of the whitest teeth that almost seemed to light the road in front of him. Cyclingnews' Ben Atkins looks back at the career of the Boogie-Man from Den Haag.
Boogerd won the 1999 Paris-Nice
Photo ©: AFP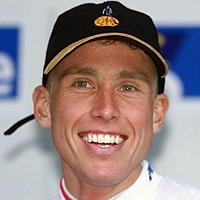 Aged 35, Michael Boogerd chose to end his fourteen season career while still riding at the top of the sport. Unlike some before him, he chose to quit while he's still able to be competitive in the Classic races that he loves and specialises in. However, an infected knee landed him in the hospital earlier this week, dashing his hopes of having Saturday's Giro di Lombardia as his last big professional race. He still plans to make a showing at his farewell criterium in the Netherlands and likely the Amstel Curaçao Race on the tropical Dutch island on November 3.
Not starting Lombardia, Boogerd's career will now end with an uncharacteristic fizzle, which is a sad end for a rider who has spent his career animating races with his relentless attacks. In 2006, his team manager Theo De Rooy that he and his older team-mate Erik Dekker looked like a couple of juniors at the start of the Dutch championships: "A heartbeat of 120, waiting for the start, then 'Whoof!', full gas y'know, like, 'Let's see if we can make a decisive split on the first lap of this circuit'," he recalled.
"A heartbeat of 120, waiting for the start, then 'Whoof!', full gas!"
- Theo De Rooy describes Boogerd at the start of the 2006 Dutch championships
This youthful spirit has followed Boogerd throughout his career, and while sometimes it propelled him to victory, such as that 2006 Dutch championship, two stages of the Tour de France, the 1999 Amstel Gold race, and the 1999 Paris-Nice, it more than not saw him overhauled in the finale by a fresher rider. Boogerd finished second in no fewer than eight Classics – twice in Lombardia, twice in Liège-Bastogne-Liège and four times in the Amstel Gold race. However, his misses never dampened his spirit, and in the next race he'd be back on the attack in his familiar manner.
One of a rare breed of riders to see out his entire career at the same team, Michael Boogerd signed for Word Perfect in 1994, aged just 21. The team changed its main sponsor the next year – briefly becoming Novell – before current sponsor Rabobank took over in 1996.
Boogie gets his first Tour stage win
Photo ©: AFP

The first couple of years of his career passed without major incident, but the world was made to sit up and notice this young Dutch talent in 1996 as he took the first of his two Tour de France stage victories. In a late solo attack in atrocious weather conditions, as the peloton entered the finish town of Aix les Bains, he managed to hold off the sprinters' teams by a single second. That day saw the abandon of a number of riders, among them a certain Lance Armstrong thinking he had bronchitis – it was actually quite a bit more serious!
The 1998 Tour de France is remembered for a lot of the wrong reasons, but for Michael Boogerd it was to be the high watermark of his general classification achievements. Clad in the driekleur of Dutch national champion – which he first took in 1997 and then retained the following year – Boogerd finished an impressive fifth in Paris, just 11'26" behind winner Marco Pantani. This position may well have been deceptively high though, due to the "elimination" of a number of overall favourites. Certainly, he would never look like finishing so high again, despite overall victory in the 1999 Paris-Nice suggesting a great future in stage races.
Although he achieved early successes in the Tour de France and Paris-Nice, Boogerd's focus has been primarily on the hilly classics of the Spring and Autumn – particularly the "Ardennes" classics in April, and specifically the Netherlands' biggest single day race: the Amstel Gold.
Boogerd about to pass Armstrong
Photo ©: AFP

Despite taking the race in 1999, in a two-up sprint – still clad in his national flag – into the old finish in Maastricht with Tour champion in waiting Lance Armstrong, Boogerd has become the nearly man of Valkenburg. That single victory of 1999 was followed by a second place behind a fast-sprinting Erik Zabel in 2000. A disappointing ninth in 2001 was followed by five successive podium finishes between 2002 and 2006 (including three consecutive second places, 2003-5). In fact, he has not been outside the top ten since 1998, but never managed to repeat his 1999 triumph.
You might say that Boogie has suffered the misfortune of being part of a generation containing several riders that target and excel at the same races: riders like Davide Rebellin, Paolo Bettini and Danilo Di Luca have all managed, on numerous occasions to pip him on the line of one of his target races. Recently, the emergence of a new talented wave including Alejandro Valverde, Stefan Schumacher and Frank Schleck has since emerged to thwart him where his own generation sometimes failed.
Successive near misses at his nation's biggest one-day race though, have been marked by a generous grace towards his vanquishers. Despite his own obvious disappointment, his genuine congratulation of the people on the podium steps above him have earned him great respect and admiration from fans and colleagues alike.
Boogerd gets his second Tour stage
Photo ©: AFP

The determination and never say die attitude that his persistence in Amstel has showed, was exemplified by his epic win in the Tour de France stage to Aime - La Plagne 2002. As the last surviving member of a breakaway, he ploughed on alone to solo away to victory on one of the Alps' most prestigious summit finishes. Since that victory though, his Tour de France ambitions have taken the form of team – rather than personal – goals, latterly riding in support of the overall ambitions of teammates Denis Menchov and Michael Rasmussen.
In the Dutch driekleur once again, he helped Menchov to what is still his personal best of sixth in 2006 (still one place lower than his own record). Showing that he is a consummate team-mate as well as a champion in his own right, Boogerd helped demolish the peloton to set Menchov up for the win in Pla de Beret on stage eleven – a feat that is emphasized on his Rabobank team profile as a day he "thoroughly enjoyed".
After long days of domestique duties
Photo ©: Cyclingnews.com

In his final Tour de France, Boogerd once again enjoyed setting a furious pace in the mountains to set up his team leader, this time Rasmussen instead of Menchov. His efforts would have been successful had the Dane not been forced to withdraw. Here, again, Boogie's character showed through, as despite the efforts of the previous two weeks having been wasted, his morale shattered, he was determined to finish his last Tour and made several attempts to salvage something personal during the final week.
Next month will be the last time we will get to see those white teeth shining like a fog lamp through the gloom of a misty European day. If his last race is Lombardia, Amstel Curaçao or some small criterium, Boogie-Man will give it his all, as he has done throughout his career, and will surely have a big smile to flash for the cameras.
For a thumbnail gallery of these images, click here
Images by AFP Photo
Images by DCP/Bert Geerts
Images by Roberto Bettini/www.bettiniphoto.net
Images by Elmar Krings
Images by Fotoreporter Sirotti
Images by Cyclingnews.com
Images by Olympia Photo
Images by Shane Stokes/Cyclingnews.com