23rd Tour de l'Aude - 2.1
France, May 18-27, 2007
Main Page Results Overall standings Stage Details Previous Stage
Stage 9 - May 27: Limoux - Limoux, 68 km
Flexpoint takes another l'Aude
By Greg Johnson
The final yellow jersey
Photo ©: CJ Farquharson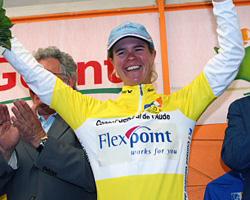 After snatching the yellow jersey in a tactical penultimate stage yesterday, Team Flexpoint kept a high pace on the final 68 kilometre stage to ensure it held on for its third consecutive Tour de l'Aude victory. The Netherlands squad's Susanne Ljungskog won her first l'Aude by finishing 15th on the final stage, in a main bunch containing all the general classification contenders while a small, non-threatening group was allowed to go down the road.
Ahead of the main bunch was a small group consisting of eight riders who finished some 55 seconds ahead. Germany's Ina Teutenberg (T-Mobile) outsprinted the other seven riders in the group to take her squad's fourth stage victory of the event.
"It was a very successful week here for us," said T-Mobile sporting director Anna Wilson. "The team won four stages, Judith wore yellow for six days and finished the race on the podium. For sure the overall win would have been the icing on the cake, but we are delighted with the results overall."
Ina Teutenberg (T-Mobile)
Photo ©: CJ Farquharson

A 13-strong break of non-general classification contenders wasn't pursued by the peloton as it formed early on the final stage. As the finish neared, the pace increased and riders fell by the wayside, leaving just eight riders to sprint to the finish.
Meanwhile back in the main bunch Team Flexpoint kept a close eye on Trixi Worrack (Equipe Nürnberger Versicherung), who was just 11 seconds behind on GC, and former race leader Judith Arndt (T-Mobile). Despite some minor attacks throughout the stage, Flexpoint's yellow jersey was never seriously threatened, allowing Ljungskog to take her first win after finishing on the podium in three previous editions.
"For publicity this race is not that important, but among the riders this race is the Tour de France for woman," said Team Flexpoint manager Paul Van Poppel. "We didn't win a stage but the most important win is for us."
"The competition has exploit a weak moment of Amber Neben, when she lost contact in a descent a few days ago," added Van Poppel. "But it's very beautiful that we won with Ljungskog. On the penultimate day she took the jersey from Arndt and she set the base for the final win."
Worrack and Arndt maintained their second and third places respectively to fill out the general classification podium.
The women's peloton now heads across the Atlantic for its next World Cup round in Montreal, Canada.
Photography
For a thumbnail gallery of these images, click here
Images by CJ Farquharson/WomensCycling.net
Results
1 Ina Teutenberg (Ger) T-Mobile Team - Women                  1.48.28 (37.615 km/h)
2 Joanne Kiesanowski (NZl) Raleigh Lifeforce Pro Cycling Team        
3 Lang Meng (Chn) Giant Pro Cycling Team                             
4 Maryline Salvetat (Fra) France                                     
5 Julia Martisova (Rus) FRW - Gauss                                  
6 Sigrid Corneo (Ita) Menikini - Gysko                               
7 Svetlana Bubnenkova (Rus) Fenixs - HPB                             
8 Claudia Häusler (Ger) Equipe Nürnberger Versicherung               
9 Priska Doppmann (Swi) Raleigh Lifeforce Pro Cycling Team       0.55
10 Tatsiana Sharakova (Blr) FRW - Gauss                              
11 Tania Belvederesi (Ita) FRW - Gauss                               
12 Kettj Manfrin (Ita) FRW - Gauss                                   
13 Edita Janeliunaite (Ltu) Lithuania                                
14 Andrea Thürig (Swi) Bigla Cycling Team                            
15 Susanne Ljungskog (Swe) Team Flexpoint                            
16 Trixi Worrack (Ger) Equipe Nürnberger Versicherung                
17 Fanny Riberot (Fra) France                                        
18 Marianne Vos (Ned) Team DSB Bank                                  
19 Dorte Lohse Rasmussen (Den) Menikini - Gysko                      
20 Amber Neben (USA) Team Flexpoint                                  
21 Oxana Kozonchuk (Rus) Fenixs - HPB                                
22 Andrea Bosman (Ned) Team DSB Bank                                 
23 Elena Kuchinskaya (Rus) FRW - Gauss                               
24 Toni Bradshaw (NZl) New Zealand                                   
25 Jennifer Hohl (Swi) Bigla Cycling Team                            
26 Suzanne De Goede (Ned) T-Mobile Team - Women                      
27 Sarah Düster (Ger) Raleigh Lifeforce Pro Cycling Team             
28 Marina Jaunatre (Fra) France                                      
29 Judith Arndt (Ger) T-Mobile Team - Women                          
30 Nicole Brändli (Swi) Bigla Cycling Team                           
31 Marlen Johrend (Ger) Germany                                      
32 Liane Bahler (Ger) Fenixs - HPB                                   
33 Kimberly Anderson (USA) T-Mobile Team - Women                     
34 Georgina Waibl (NZl) New Zealand                                  
35 Serena Sheridan (NZl) New Zealand                                 
36 Noemi Cantele (Ita) Bigla Cycling Team                            
37 Christelle Ferrier-Bruneau (Fra) Les Pruneaux D'Agen              
38 Sufen Ma (Chn) Giant Pro Cycling Team                             
39 Fei Wang (Chn) Giant Pro Cycling Team                             
40 Andrea Graus (Aut) Equipe Nürnberger Versicherung                 
41 Edita Pucinskaite (Ltu) Equipe Nürnberger Versicherung            
42 Karine Gautard (Fra) France                                       
43 Lina Skujaute (Ltu) Lithuania                                     
44 Angela Brodtka (Ger) Germany                                      
45 Debby Van De Berg (Ned) Global Racing Team                        
46 Helen Wyman (GBr) Global Racing Team                              
47 Béatrice Thomas (Fra) France                                      
48 Fabienne Sandig (Ger) Germany                                     
49 Sharon Van Essen (Ned) Team DSB Bank                              
50 Eva Lutz (Ger) Equipe Nürnberger Versicherung                     
51 Charlotte Becker (Ger) Equipe Nürnberger Versicherung             
52 Daphny Van Den Brand (Ned) Vrienden Van Het Platteland            
53 Fabiana Luperini (Ita) Menikini - Gysko                           
54 Miho Oki (Jpn) Menikini - Gysko                                   
55 Linda Villumsen Serup (Den) T-Mobile Team - Women                 
56 Alexandra Sontheimer (Ger) Germany                                
57 Anne Samplonius (Can) Team Expresscopy.com                        
58 Tatiana Antoshina (Rus) Fenixs - HPB                              
59 Tanja Slater (GBr) Raleigh Lifeforce Pro Cycling Team             
60 Silvia Valsecchi (Ita) Menikini - Gysko                           
61 Janne Brok (Ned) Vrienden Van Het Platteland                      
62 Loes Gunnewijk (Ned) Team Flexpoint                               
63 Olivia Gollan (Aus) Menikini - Gysko                          1.12
64 Marlyn Brinnendijk (Ned) Vrienden Van Het Platteland          1.25
65 Iris Slappendel (Ned) Team Flexpoint                          1.34
66 Natalia Boyarskaya (Rus) Fenixs - HPB                             
67 Luise Keller (Ger) Team Flexpoint                             2.40
68 Anke Wichmann (Ger) T-Mobile Team - Women                         
69 Jaccolien Wallaard (Ned) Vrienden Van Het Platteland          6.58
70 Linda Ringlever (Ned) Global Racing Team                          
71 Eleonora Van Dijk (Ned) Vrienden Van Het Platteland               
72 Marieke Van Wanroij (Ned) Team DSB Bank                           
73 Maria Rosario Rodriguez (Spa) Comunidad Valenciana                
74 Maribel Moreno Allue (Spa) Comunidad Valenciana                   
75 Melissa Holt (NZl) Team Expresscopy.com                       7.03
76 Marina Duvnjak (NZl) New Zealand                                  
77 Nathalie Jeuland (Fra) France                                12.13
78 Urte Juodvalkyte (Ltu) Lithuania                                  
79 Xiong Ying Ruan (Chn) Giant Pro Cycling Team                      
80 Carina Ketonen (Fra) Les Pruneaux D'Agen                     12.47
81 Céline Nivet (Fra) Les Pruneaux D'Agen                       16.13
82 Silvia Tirado Marquez (Spa) Comunidad Valenciana                  
83 Li Ping (Chn) Giant Pro Cycling Team                              
84 Agne Miliskeviciute (Ltu) Lithuania                               
85 Agne Sukutyte (Ltu) Lithuania                                     
 
Final general classification
 
1 Susanne Ljungskog (Swe) Team Flexpoint                     24.13.23
2 Trixi Worrack (Ger) Equipe Nürnberger Versicherung             0.11
3 Judith Arndt (Ger) T-Mobile Team - Women                       0.55
4 Nicole Brändli (Swi) Bigla Cycling Team                        1.33
5 Amber Neben (USA) Team Flexpoint                               2.30
6 Marianne Vos (Ned) Team DSB Bank                               2.46
7 Priska Doppmann (Swi) Raleigh Lifeforce Pro Cycling Team       2.48
8 Joanne Kiesanowski (NZl) Raleigh Lifeforce Pro Cycling Team    3.33
9 Maryline Salvetat (Fra) France                                 3.51
10 Edita Pucinskaite (Ltu) Equipe Nürnberger Versicherung        4.33
11 Julia Martisova (Rus) FRW - Gauss                             5.12
12 Andrea Bosman (Ned) Team DSB Bank                             5.52
13 Svetlana Bubnenkova (Rus) Fenixs - HPB                        7.19
14 Sigrid Corneo (Ita) Menikini - Gysko                          7.27
15 Kimberly Anderson (USA) T-Mobile Team - Women                 8.43
16 Marina Jaunatre (Fra) France                                 10.07
17 Andrea Graus (Aut) Equipe Nürnberger Versicherung            16.12
18 Loes Gunnewijk (Ned) Team Flexpoint                          16.22
19 Toni Bradshaw (NZl) New Zealand                              16.25
20 Claudia Häusler (Ger) Equipe Nürnberger Versicherung         16.41
21 Elena Kuchinskaya (Rus) FRW - Gauss                          17.52
22 Fabiana Luperini (Ita) Menikini - Gysko                      24.04
23 Tanja Slater (GBr) Raleigh Lifeforce Pro Cycling Team        24.12
24 Dorte Lohse Rasmussen (Den) Menikini - Gysko                 25.12
25 Sarah Düster (Ger) Raleigh Lifeforce Pro Cycling Team        28.05
26 Georgina Waibl (NZl) New Zealand                             32.33
27 Suzanne De Goede (Ned) T-Mobile Team - Women                 33.24
28 Serena Sheridan (NZl) New Zealand                            35.14
29 Linda Villumsen Serup (Den) T-Mobile Team - Women            36.46
30 Tatsiana Sharakova (Blr) FRW - Gauss                         47.14
31 Debby Van De Berg (Ned) Global Racing Team                   48.48
32 Daphny Van Den Brand (Ned) Vrienden Van Het Platteland       50.42
33 Andrea Thürig (Swi) Bigla Cycling Team                       51.08
34 Charlotte Becker (Ger) Equipe Nürnberger Versicherung        52.36
35 Jennifer Hohl (Swi) Bigla Cycling Team                       54.47
36 Marlyn Brinnendijk (Ned) Vrienden Van Het Platteland         55.44
37 Lang Meng (Chn) Giant Pro Cycling Team                       55.59
38 Tatiana Antoshina (Rus) Fenixs - HPB                         56.03
39 Karine Gautard (Fra) France                                  58.07
40 Luise Keller (Ger) Team Flexpoint                          1.00.40
41 Fabienne Sandig (Ger) Germany                              1.00.52
42 Anne Samplonius (Can) Team Expresscopy.com                 1.01.31
43 Eva Lutz (Ger) Equipe Nürnberger Versicherung              1.02.57
44 Christelle Ferrier-Bruneau (Fra) Les Pruneaux D'Agen       1.03.24
45 Olivia Gollan (Aus) Menikini - Gysko                       1.04.44
46 Béatrice Thomas (Fra) France                               1.10.38
47 Oxana Kozonchuk (Rus) Fenixs - HPB                         1.12.40
48 Sharon Van Essen (Ned) Team DSB Bank                       1.14.44
49 Helen Wyman (GBr) Global Racing Team                       1.15.40
50 Noemi Cantele (Ita) Bigla Cycling Team                     1.17.18
51 Ina Teutenberg (Ger) T-Mobile Team - Women                 1.19.58
52 Natalia Boyarskaya (Rus) Fenixs - HPB                      1.20.52
53 Melissa Holt (NZl) Team Expresscopy.com                    1.27.24
54 Maria Rosario Rodriguez (Spa) Comunidad Valenciana         1.28.27
55 Janne Brok (Ned) Vrienden Van Het Platteland               1.30.41
56 Tania Belvederesi (Ita) FRW - Gauss                        1.30.54
57 Maribel Moreno Allue (Spa) Comunidad Valenciana            1.33.05
58 Iris Slappendel (Ned) Team Flexpoint                       1.33.46
59 Silvia Valsecchi (Ita) Menikini - Gysko                    1.33.48
60 Angela Brodtka (Ger) Germany                               1.34.35
61 Liane Bahler (Ger) Fenixs - HPB                            1.35.25
62 Eleonora Van Dijk (Ned) Vrienden Van Het Platteland        1.37.01
63 Marlen Johrend (Ger) Germany                               1.37.18
64 Miho Oki (Jpn) Menikini - Gysko                            1.37.48
65 Alexandra Sontheimer (Ger) Germany                         1.43.22
66 Urte Juodvalkyte (Ltu) Lithuania                           1.45.15
67 Nathalie Jeuland (Fra) France                              1.47.50
68 Fei Wang (Chn) Giant Pro Cycling Team                      1.48.13
69 Sufen Ma (Chn) Giant Pro Cycling Team                      1.49.35
70 Fanny Riberot (Fra) France                                 1.50.47
71 Lina Skujaute (Ltu) Lithuania                              1.50.51
72 Kettj Manfrin (Ita) FRW - Gauss                            1.51.04
73 Linda Ringlever (Ned) Global Racing Team                   1.51.50
74 Jaccolien Wallaard (Ned) Vrienden Van Het Platteland       1.55.09
75 Carina Ketonen (Fra) Les Pruneaux D'Agen                   1.57.17
76 Edita Janeliunaite (Ltu) Lithuania                         2.02.31
77 Anke Wichmann (Ger) T-Mobile Team - Women                  2.03.20
78 Marieke Van Wanroij (Ned) Team DSB Bank                    2.03.47
79 Marina Duvnjak (NZl) New Zealand                           2.10.12
80 Xiong Ying Ruan (Chn) Giant Pro Cycling Team               2.30.13
DNF Li Ping (Chn) Giant Pro Cycling Team                             
DNF Silvia Tirado Marquez (Spa) Comunidad Valenciana                 
DNF Agne Sukutyte (Ltu) Lithuania                                    
DNF Agne Miliskeviciute (Ltu) Lithuania                              
DNF Céline Nivet (Fra) Les Pruneaux D'Agen