Trust House Women's Tour - 2.2
New Zealand, March 7-11, 2007
New Zealand women to face strong competition on home soil
The T-Mobile squad will be the team to beat.
Photo ©: John Flynn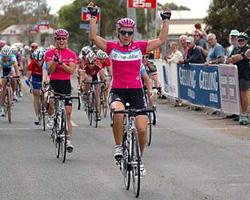 The Trust House Women's Tour of New Zealand has an impressive field for the 2007 race, particularly considering it lacks the benefit of a World Cup round following the event as in 2006. Organisers of the Wellington race say they've been blown away by the quality of the field, which includes the T-Mobile women's team that showed impressive form in last week's Geelong Women's Tour and Geelong World Cup races.
"To have the reigning champions from three of the biggest cycling nations in the world, Sweden, The Netherlands and Switzerland plus two former World Champions and current Olympic champions racing on New Zealand soil, is a privilege to any sport," said race organiser Jorge Sandoval. "On top of this, we have national teams from Australia, Germany and of course New Zealand as well as professional teams from USA, the Netherlands and Germany."
The UCI has granted international status to the new five-day women's classic for 2007, which can partly explain the field's quality. The Trust House Women's Tour of New Zealand is the country's only international cycle race for women.
With the strength of the visiting national squads in addition to the trade teams, New Zealand's riders will face stiff competition on their home soil. The Trust House and Samsung New Zealand squad's certainly wont be aided by the injuries their riders suffered in Geelong last week.
The New Zealand women's cycling team returned home just two days ago in bad shape after taking a beating at the Geelong Tour and World Cup events.
"We are pretty bruised and battered," New Zealand coach Susy Pryde told Stuff.co.nz. "Out of six athletes that rode in Geelong, four ended up crashing or being injured. We've got stitches, dislocations and cracked ribs."
Michelle Hyland returned to New Zealand with six stitches in her stomach, Marina Jduvnjak a dislocated shoulder, and Rushless Buchanan has suspected crack ribs, while Sarah Ulmer also has cuts and bruises following her involvement in a crash.
"Sarah's back is obviously not 100 per cent, but she will be riding the Wellington tour," added Pryde. "It's a day to day thing for her, but it's often more inflamed if she has sustained power output."
Despite the squad's battering, Pryde expects the majority of the riders will be ready in time for the event.