22nd Tour de Beauce - 2.2
Canada, June 12-17, 2007
Main Page Results Overall standings Stage Details Previous Stage Next Stage
Stage 3 - June 14: St-Georges-Mont-Mégantic, 153 km
Chadwick does it again, uphill
Top twelve GC shuffled like cards
By Mark Zalewski, North American Editor on top of Mont-Mégantic, Québec
Glen Chadwick (Navigators Insurance) wins Stage 3
Photo ©: Jerome Lessard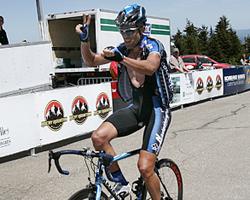 Not only did Glen Chadwick make it two-in-a-row in this year's Tour de Beauce, winning today and yesterday, but he made it two years in-a-row for his team atop Mont-Mégantic, repeating Sergey Lagutin's win here last year.
"If I was with those climbers it would have been harder," said Chadwick about his more climbing-savvy teammate. "I didn't have much in the tank today -- I could feel I did something yesterday! I was lucky to get in the one move they let go. Then I took it easy and didn't do too much work."
The only one to stay with Chadwick on the final ascent of 600 meters in just over four kilometers was Quebecor Francois Parisien (Slipstream-Chipotle), who had covered a solo attack by Dirk Müller out of the final group and rode away from the German champion at the start of the final climb.
"He and the German guy were away and I just rode my tempo," explained Chadwick. I caught each of them and when I caught Parisien he just said, 'Please don't attack me!'"
"He was gonna drop me and I didn't want to get caught by his teammate," said Parisien. "I told him to slow and he did so I could stay, and for me it is better to finish second than fifth. I really did try to win today; there was a time I was by myself. But when I saw Chadwick, he came so fast on me, I was pretty tilted then."
Glen Chadwick (Navigators Insurance) takes over the tempo. Photo ©: Mark Zalewski/Cyclingnews

"I didn't attack him but rode fairly hard and made sure at the end I gapped him," said Chadwick. "It was a good ride for him -- I don't think he is a climbing specialist either!
Finishing third was Lagutin followed closely by Columbian Gregorio Ladino Vega (Tecos Trek), which earned Ladino Vega the overall lead by fifteen seconds ahead of the next finisher, Ben Day (Navigators Insurance). "I want to win this tour!" said Day, looking forward to tomorrow morning's time trial. "It looks a little rolling so that suits me. Some days I pull out some brilliant time trials without expecting it, and other times I am just not there."
But Day is looking for a little personal payback from a previous time trial experience. "My 'if only' story was Tour of Switzerland in 2004 -- in the time trial I crashed with 5km to go and finished only 40 seconds behind Ullrich... if only!"
Also finishing in the top ten was Svein Tuft (Symmetrics) and Danny Pate (Slipstream-Chipotle), who are arguably the other two most dangerous time trialers left in the top selection. "I don't think I have quite the form I had last year," said Pate. "I anticipate doing well tomorrow but Svein and Ben Day are good time trialers. We started with one less guys and everyone is either in Europe or worn thin -- sometimes it happens. Mike and Brad got sick and weren't able to finish. Now we are just four guys out here racing. It's not ideal but we are still doing well."
Dirk Muller (Sparkasse) attacked but Francois Parisien (Slipstream-Chipotle) bridged. Photo ©: Mark Zalewski/Cyclingnews

"It's very similar to previous stages -- rough roads, false flat, windy and hard," said Tuft about tomorrow's time trial stage. Even though it is a change from last year, the change is merely cosmetic. "We drove it and once you get out on the course it is a typical Beauce style TT."
With Navigators easily the strongest in the race again this year, with four in the top eight places today, taking the jersey tomorrow and having to defend it over the final two urban circuits is quite a tall order. "In a way we almost don't want to get the jersey because those final circuits are so hard," said Tuft. "But everyone here is firing on all cylindars and if we have a chance at the win it is with this team here. It was great being able to have the firepower to call the move and be able to bring the break back."
How it unfolded
The 172km stage rolled neutral for only 1km today before the flag was dropped -- and immediately three Sparkasse riders jumped on the commissarie's vehicle like there was a prize for catching it. These moves eventually resulted in three riders breaking away: Cam Evans (Symmetrics), Ryan McKenzie (VW-Trek) and Dirk Müller (Sparkasse).
These three rode together until the first KOM at 36km, when McKenzie dropped off the pace. Evans, the best young rider, followed Müller over the KOM lines for the next 35km.
Back in the peloton, Kodak Gallery rode tempo for race leader Mark Walters. Later in the race, Navigators Insurance rode at the front to close the gap to the leading two. This eventually produced a leading group that contained some dangerous riders, such as Sergey Lagutin, Danny Pate and others. "It's not hard to read the race," said Pate. "When the important guys go I try to go, and then they stop!"
Kodak Gallery riders on the front. Photo ©: Mark Zalewski/Cyclingnews

Tacked onto that group was Müller who rode at the back, recovering. Later, over the penultimate KOM he launched a solo attack that earned him maximum points over the climb. Back in the field Symmetrics missed the break and moved to the front to bring it back.
Turning just 5km from Maine, the course headed towards Mont-Mégantic with the field dwindled down to a more select pack. Coming into the final kilometres it was Müller who was again animating the race, attacking in the final flat section and turn towards the summit finish. Bridging to his wheel was Francois Parisien who rode hard in yesterday's break.
FInally out of gas, Parisien rode away from Müller and looked to have a shot at winning as the rode kicked up. But half-way up the ascent and out of nowhere came a charging Chadwick, with a constant tempo that ate into Parisien's advantage. As Chadwick passed the Quebecor the two exchanged words, with Parisien saying he could not match the Kiwi's speed. The two agreed to ride together to the top, ensuring Parisien's second place on the stage and giving Chadwick his second win of the race.
Tomorrow features a split stage -- a 20km time trial, with a hefty climb -- and a tough criterium course with a 500 meter wall to get up and over each lap. The overall is hardly decided yet!
Photography
For a thumbnail gallery of these images, click here
Images by Mark Zalewski/Cyclingnews
Images by Jerome Lessard
Results
1 Glen Alan Chadwick (NZl) Navigators Insurance          3.58.23
2 Francois Parisien (Can) Team Slipstream                   0.09
3 Sergey Lagutin (Uzb) Navigators Insurance                 0.30
4 Gregorio Ladino Vega (Col) Tecos Trek Vh                  0.33
5 Ben Day (Aus) Navigators Insurance                        0.48
6 Svein Tuft (Can) Symmetrics                               0.52
7 Jacob Erker (Can) Symmetrics                              1.18
8 David O'loughlin (Irl) Navigators Insurance                   
9 Danny Pate (USA) Team Slipstream                          1.25
10 Hector Hugo Rangel (Mex) Tecos Trek Vh                   1.30
11 Juan Pablo Magallanes Arawda (Mex) Tecos Trek Vh         1.37
12 Timo Honstein (Ger) Team Sparkasse                       1.45
13 Christian Meier (Can) Symmetrics                         1.48
14 John Fredy Parra Calada (Col) Tecos Trek Vh                  
15 Philipp Mamos (Ger) Team Sparkasse                       1.54
16 Dominique Perras (Can) Québec                            1.59
17 Eric Wohlberg (Can) Symmetrics                           2.08
18 Dominique Rollin (Can) Kodak Gallery Pro Cycling Team    2.12
19 Rob Britton (Can) La_Z_Boy                               2.13
20 Craig Mccarney (Aus) Savings And Loans Cycling Team      2.29
21 Mark Walters (Can) Kodak Gallery Pro Cycling Team        3.11
22 Connor Trevor (Can) La_Z_Boy                             3.21
23 Ivor Bruin (Den) Farso Denmark Nat                       3.42
24 Dirk Müller (Ger) Team Sparkasse                         3.50
25 Charles Dionne (Can) Québec                              4.03
26 Lars Wackernagel (Ger) Team Sparkasse                    4.14
27 Soren Petersen (Den) Farso Denmark Nat                   4.31
28 Greg Reain (Can) Calyon-Litespeed                        4.49
29 Éric Boily (Can) Eva-Devinci                             5.06
30 Will Routley (Can) Symmetrics                            5.11
31 Cameron Evans (Can) Symmetrics                           5.14
32 David Pell (Aus) Savings And Loans Cycling Team          5.19
33 Andreas Schillinger (Ger) Team Sparkasse                 5.29
34 William Goodfellow (Can) Volkswagen Trek                 5.37
35 Jacob Nielsen (Den) Farso Denmark Nat                    6.13
36 Mathieu Roy (Can) Eva-Devinci                            6.15
37 Andrew Randell (Can) Symmetrics                          6.27
38 Ian Macgregor (USA) Team Slipstream                      6.36
39 Ben Raby (USA) Kodak Gallery Pro Cycling Team                
40 Fausto Esparza (Mex) Tecos Trek Vh                           
41 Jamie Sparling (Can) La_Z_Boy                                
42 Heberth Gutierrez Garcia (Col) Tecos Trek Vh             6.56
43 Martin Gilbert (Can) Québec                              7.03
44 Joel Dion-Poitras (Can) Eva-Devinci                      7.38
45 Keven Lacombe (Can) Volkswagen Trek                      8.31
46 Stefan Parinussa (Ger) Team Sparkasse                   11.04
47 Peter Mueller (Aus) Savings And Loans Cycling Team           
48 Ciarán Power (Irl) Navigators Insurance                 13.17
49 Oleg Grishkin (Rus) Navigators Insurance                     
50 Dan Timmerman (USA) Kodak Gallery Pro Cycling Team      13.58
51 Benjamin Martel (Can) Garneau - Crocs                   18.37
52 Cody O'rielly (USA) Kodak Gallery Pro Cycling Team      24.15
53 Derrick St-John (Can) Garneau - Crocs                        
54 Pascal Bussières (Can) Québec                                
55 Jean-Sebastien Perron (Can) Calyon-Litespeed            25.46
56 Matt Guse (Can) Calyon-Litespeed                             
57 Jesse Athony (USA) Kodak Gallery Pro Cycling Team       26.17
58 Tilo Schüler (Ger) Team Sparkasse                       26.29
59 Jean-François Racine (Can) Garneau - Crocs              26.58
60 Mark Batty (Can) Team R.A.C.E                           27.49
61 Buck Milller (Can) Team R.A.C.E                              
62 Phil Cortes (Can) Calyon-Litespeed                           
63 Jamie Lamb (Can) Garneau - Crocs                             
64 Alex Howes (USA) Team Slipstream                        28.09
65 Mike Dietrich (USA) Kodak Gallery Pro Cycling Team      28.44
66 Dave Vukets (Can) Tean Spin 12                          29.20
67 Mark Pozniak (Can) Team R.A.C.E                         29.56
68 Adam Thuss (Can) Team R.A.C.E                                
69 Peter Ladd (Aus) Garneau - Crocs                        32.53
70 Morten Christiansen (Den) Farso Denmark Nat                  
71 Ryan Mckenzie (Can) Volkswagen Trek                     35.25
72 Rene Ahrenkiel (Den) Farso Denmark Nat                  38.08
73 Ryan Beliveau (Can) Calyon-Litespeed                    38.49
74 Jeffrey Dirksen (Ned) Team R.A.C.E                      41.00
75 André Tremblay (Can) Volkswagen Trek                    53.01
76 Charlie Bryer (Can) Tean Spin 12                             
77 Peter Morse (Can) Tean Spin 12                               
78 Charles Thibault (Can) Eva-Devinci                      55.21
DNF Valeriy Kobzarenko (Ukr) Navigators Insurance               
DNF Luis Fernando Macias (Mex) Tecos Trek Vh                    
DNF Will Dickison (Aus) Savings And Loans Cycling Team          
DNF Jean-Sébastien Beland (Can) Volkswagen Trek                 
DNF Charly Vives (Can) Calyon-Litespeed                         
DNF Maxime Vives (Can) Calyon-Litespeed                         
DNF David Veilleux (Can) Québec                                 
DNF Thorben Wieditz (Can) Tean Spin 12                          
DNF Ugo Lapierre (Can) Farso Denmark Nat                        
DNF Dustin Macbernie (Can) Team R.A.C.E                         
DNF Eric Robertson (Can) Team R.A.C.E                           
 
Points 1
 
1 Ryan Mckenzie (Can) Volkswagen Trek                          3 pts
2 Dirk Müller (Ger) Team Sparkasse                             2
3 Cameron Evans (Can) Symmetrics                               1
 
Points 2
 
1 Timo Honstein (Ger) Team Sparkasse                           3 pts
2 Francois Parisien (Can) Team Slipstream                      2
3 Eric Wohlberg (Can) Symmetrics                               1
 
Points 3
                                                                
1 Glen Alan Chadwick (NZl) Navigators Insurance               15 pts
2 Francois Parisien (Can) Team Slipstream                     14
3 Sergey Lagutin (Uzb) Navigators Insurance                   13
4 Gregorio Ladino Vega (Col) Tecos Trek Vh                    12
5 Ben Day (Aus) Navigators Insurance                          11
6 Svein Tuft (Can) Symmetrics                                 10
7 Jacob Erker (Can) Symmetrics                                 9
8 David O'loughlin (Irl) Navigators Insurance                  8
9 Danny Pate (USA) Team Slipstream                             7
10 Hector Hugo Rangel (Mex) Tecos Trek Vh                      6
11 Juan Pablo Magallanes Arawda (Mex) Tecos Trek Vh            5
12 Timo Honstein (Ger) Team Sparkasse                          4
13 Christian Meier (Can) Symmetrics                            3
14 John Fredy Parra Calada (Col) Tecos Trek Vh                 2
15 Philipp Mamos (Ger) Team Sparkasse                          1
 
Mountains 1
 
1 Dirk Müller (Ger) Team Sparkasse                             7 pts
2 Cameron Evans (Can) Symmetrics                               5
3 Ryan Mckenzie (Can) Volkswagen Trek                          3
4 Gregorio Ladino Vega (Col) Tecos Trek Vh                     2
5 Ciarán Power (Irl) Navigators Insurance                      1
                                                                
Mountains 2                                                     
 
1 Dirk Müller (Ger) Team Sparkasse                            10 pts
2 Cameron Evans (Can) Symmetrics                               8
3 Sergey Lagutin (Uzb) Navigators Insurance                    6
4 Gregorio Ladino Vega (Col) Tecos Trek Vh                     5
5 Andreas Schillinger (Ger) Team Sparkasse                     4
6 Ben Day (Aus) Navigators Insurance                           3
7 Dominique Perras (Can) Québec                                2
8 Danny Pate (USA) Team Slipstream                             1
 
Mountains 3
 
1 Dirk Müller (Ger) Team Sparkasse                            10 pts
2 Gregorio Ladino Vega (Col) Tecos Trek Vh                     8
3 Ben Day (Aus) Navigators Insurance                           6
4 Danny Pate (USA) Team Slipstream                             5
5 Dominique Perras (Can) Québec                                4
6 Andreas Schillinger (Ger) Team Sparkasse                     3
7 Ian Macgregor (USA) Team Slipstream                          2
8 Sergey Lagutin (Uzb) Navigators Insurance                    1
 
Mountains 4
 
1 Glen Alan Chadwick (NZl) Navigators Insurance               20 pts
2 Francois Parisien (Can) Team Slipstream                     16
3 Sergey Lagutin (Uzb) Navigators Insurance                   13
4 Gregorio Ladino Vega (Col) Tecos Trek Vh                    10
5 Ben Day (Aus) Navigators Insurance                           8
6 Svein Tuft (Can) Symmetrics                                  6
7 Jacob Erker (Can) Symmetrics                                 4
8 David O'loughlin (Irl) Navigators Insurance                  3
9 Danny Pate (USA) Team Slipstream                             2
10 Hector Hugo Rangel (Mex) Tecos Trek Vh                      1
 
Teams
 
1 Navigators Insurance                                  11.56.27
2 Tecos Trek Vh                                             2.22
3 Symmetrics                                                2.40
4 Team Sparkasse                                            6.11
5 Team Slipstream                                           6.52
6 Kodak Gallery Pro Cycling Team                           10.41
7 La_Z_Boy                                                 10.52
8 Québec                                                   11.47
9 Farso Denmark Nat                                        13.08
10 Savings And Loans Cycling Team                          17.34
11 Eva-Devinci                                             17.41
12 Volkswagen Trek                                         48.15
13 Calyon-Litespeed                                        55.03
14 Garneau - Crocs                                       1.08.32
15 Team R.A.C.E                                          1.24.16
16 Tean Spin 12                                          2.14.04
                                                                
Overall classification after stage 3                            
                                                                
1 Gregorio Ladino Vega (Col) Tecos Trek Vh              13.15.32
2 Ben Day (Aus) Navigators Insurance                        0.15
3 Svein Tuft (Can) Symmetrics                               0.19
4 Jacob Erker (Can) Symmetrics                              0.41
5 David O'loughlin (Irl) Navigators Insurance               0.45
6 Danny Pate (USA) Team Slipstream                          0.52
7 Juan Pablo Magallanes Arawda (Mex) Tecos Trek Vh          1.04
8 Philipp Mamos (Ger) Team Sparkasse                        1.20
9 Dominique Perras (Can) Québec                             1.26
10 Dominique Rollin (Can) Kodak Gallery Pro Cycling Team    1.30
11 Mark Walters (Can) Kodak Gallery Pro Cycling Team        2.02
12 Soren Petersen (Den) Farso Denmark Nat                   5.24
13 Craig Mccarney (Aus) Savings And Loans Cycling Team      6.41
14 Glen Alan Chadwick (NZl) Navigators Insurance            7.21
15 Francois Parisien (Can) Team Slipstream                  7.53
16 Hector Hugo Rangel (Mex) Tecos Trek Vh                   9.22
17 Timo Honstein (Ger) Team Sparkasse                       9.39
18 Eric Wohlberg (Can) Symmetrics                          10.05
19 Charles Dionne (Can) Québec                             11.50
20 Cameron Evans (Can) Symmetrics                          13.11
21 Sergey Lagutin (Uzb) Navigators Insurance               13.34
22 Jacob Nielsen (Den) Farso Denmark Nat                   14.43
23 Christian Meier (Can) Symmetrics                        14.56
24 John Fredy Parra Calada (Col) Tecos Trek Vh                  
25 Rob Britton (Can) La_Z_Boy                              15.21
26 Connor Trevor (Can) La_Z_Boy                            16.29
27 Ivor Bruin (Den) Farso Denmark Nat                      16.50
28 Dirk Müller (Ger) Team Sparkasse                        16.56
29 Lars Wackernagel (Ger) Team Sparkasse                   17.22
30 Greg Reain (Can) Calyon-Litespeed                       17.57
31 Will Routley (Can) Symmetrics                           18.19
32 David Pell (Aus) Savings And Loans Cycling Team         18.27
33 Andreas Schillinger (Ger) Team Sparkasse                18.35
34 Mathieu Roy (Can) Eva-Devinci                           19.23
35 Andrew Randell (Can) Symmetrics                         19.35
36 Ben Raby (USA) Kodak Gallery Pro Cycling Team           19.44
37 Fausto Esparza (Mex) Tecos Trek Vh                           
38 Ian Macgregor (USA) Team Slipstream                          
39 Jamie Sparling (Can) La_Z_Boy                           20.04
40 Heberth Gutierrez Garcia (Col) Tecos Trek Vh                 
41 Joel Dion-Poitras (Can) Eva-Devinci                     20.46
42 Éric Boily (Can) Eva-Devinci                            23.27
43 William Goodfellow (Can) Volkswagen Trek                23.37
44 Stefan Parinussa (Ger) Team Sparkasse                   24.10
45 Peter Mueller (Aus) Savings And Loans Cycling Team      24.12
46 Martin Gilbert (Can) Québec                             25.06
47 Ciarán Power (Irl) Navigators Insurance                 26.25
48 Keven Lacombe (Can) Volkswagen Trek                     26.34
49 Dan Timmerman (USA) Kodak Gallery Pro Cycling Team      27.06
50 Oleg Grishkin (Rus) Navigators Insurance                31.20
51 Benjamin Martel (Can) Garneau - Crocs                   36.37
52 Derrick St-John (Can) Garneau - Crocs                   37.23
53 Pascal Bussières (Can) Québec                                
54 Tilo Schüler (Ger) Team Sparkasse                       39.32
55 Buck Milller (Can) Team R.A.C.E                         40.57
56 Alex Howes (USA) Team Slipstream                        41.17
57 Cody O'rielly (USA) Kodak Gallery Pro Cycling Team      42.15
58 Jean-Sebastien Perron (Can) Calyon-Litespeed            43.49
59 Matt Guse (Can) Calyon-Litespeed                             
60 Jean-François Racine (Can) Garneau - Crocs              44.58
61 Morten Christiansen (Den) Farso Denmark Nat             45.46
62 Mark Batty (Can) Team R.A.C.E                           45.49
63 Jamie Lamb (Can) Garneau - Crocs                             
64 Phil Cortes (Can) Calyon-Litespeed                      46.17
65 Dave Vukets (Can) Tean Spin 12                          47.23
66 Adam Thuss (Can) Team R.A.C.E                           47.59
67 Mark Pozniak (Can) Team R.A.C.E                              
68 Ryan Mckenzie (Can) Volkswagen Trek                     48.24
69 Peter Ladd (Aus) Garneau - Crocs                        50.53
70 Mike Dietrich (USA) Kodak Gallery Pro Cycling Team      52.11
71 Jesse Athony (USA) Kodak Gallery Pro Cycling Team       52.15
72 Rene Ahrenkiel (Den) Farso Denmark Nat                1.01.03
73 Ryan Beliveau (Can) Calyon-Litespeed                  1.05.24
74 Peter Morse (Can) Tean Spin 12                        1.06.09
75 Charlie Bryer (Can) Tean Spin 12                      1.11.04
76 André Tremblay (Can) Volkswagen Trek                  1.19.36
77 Jeffrey Dirksen (Ned) Team R.A.C.E                    1.21.02
78 Charles Thibault (Can) Eva-Devinci                    1.47.27
 
Points classification
 
1 Glen Alan Chadwick (NZl) Navigators Insurance               33 pts
2 Francois Parisien (Can) Team Slipstream                     31
3 Ben Day (Aus) Navigators Insurance                          27
4 Dominique Rollin (Can) Kodak Gallery Pro Cycling Team       23
5 Jacob Erker (Can) Symmetrics                                22
6 Hector Hugo Rangel (Mex) Tecos Trek Vh                      20
7 Charles Dionne (Can) Québec                                 19
8 Juan Pablo Magallanes Arawda (Mex) Tecos Trek Vh            19
9 David O'loughlin (Irl) Navigators Insurance                 19
10 Danny Pate (USA) Team Slipstream                           17
11 Gregorio Ladino Vega (Col) Tecos Trek Vh                   17
12 Timo Honstein (Ger) Team Sparkasse                         16
13 Svein Tuft (Can) Symmetrics                                16
14 Mark Walters (Can) Kodak Gallery Pro Cycling Team          15
15 Sergey Lagutin (Uzb) Navigators Insurance                  13
16 Philipp Mamos (Ger) Team Sparkasse                         12
17 Cameron Evans (Can) Symmetrics                             12
18 Morten Christiansen (Den) Farso Denmark Nat                 9
19 Eric Wohlberg (Can) Symmetrics                              8
20 Dominique Perras (Can) Québec                               7
21 Ryan Mckenzie (Can) Volkswagen Trek                         4
22 Soren Petersen (Den) Farso Denmark Nat                      4
23 Craig Mccarney (Aus) Savings And Loans Cycling Team         3
24 Christian Meier (Can) Symmetrics                            3
25 Ciarán Power (Irl) Navigators Insurance                     3
26 Jacob Nielsen (Den) Farso Denmark Nat                       2
27 Stefan Parinussa (Ger) Team Sparkasse                       2
28 Andreas Schillinger (Ger) Team Sparkasse                    2
29 Dirk Müller (Ger) Team Sparkasse                            2
30 John Fredy Parra Calada (Col) Tecos Trek Vh                 2
31 Oleg Grishkin (Rus) Navigators Insurance                    1
 
Mountains classification
 
1 Gregorio Ladino Vega (Col) Tecos Trek Vh                    51 pts
2 Glen Alan Chadwick (NZl) Navigators Insurance               35
3 Ben Day (Aus) Navigators Insurance                          35
4 Francois Parisien (Can) Team Slipstream                     27
5 Dirk Müller (Ger) Team Sparkasse                            27
6 Cameron Evans (Can) Symmetrics                              21
7 Sergey Lagutin (Uzb) Navigators Insurance                   20
8 Dominique Perras (Can) Québec                               16
9 Andreas Schillinger (Ger) Team Sparkasse                    12
10 Charles Dionne (Can) Québec                                 9
11 Svein Tuft (Can) Symmetrics                                 9
12 Philipp Mamos (Ger) Team Sparkasse                          8
13 Danny Pate (USA) Team Slipstream                            8
14 Mark Walters (Can) Kodak Gallery Pro Cycling Team           7
15 David O'loughlin (Irl) Navigators Insurance                 7
16 Timo Honstein (Ger) Team Sparkasse                          6
17 Hector Hugo Rangel (Mex) Tecos Trek Vh                      6
18 Juan Pablo Magallanes Arawda (Mex) Tecos Trek Vh            4
19 Eric Wohlberg (Can) Symmetrics                              4
20 Jacob Erker (Can) Symmetrics                                4
21 Ben Raby (USA) Kodak Gallery Pro Cycling Team               3
22 Ryan Mckenzie (Can) Volkswagen Trek                         3
23 Éric Boily (Can) Eva-Devinci                                2
24 Ian Macgregor (USA) Team Slipstream                         2
25 Dominique Rollin (Can) Kodak Gallery Pro Cycling Team       1
26 Morten Christiansen (Den) Farso Denmark Nat                 1
27 Ciarán Power (Irl) Navigators Insurance                     1
 
Team classification
 
1 Navigators Insurance                                  15.49.22
2 Symmetrics                                                2.54
3 Tecos Trek Vh                                             7.46
4 Kodak Gallery Pro Cycling Team                           20.49
5 Team Sparkasse                                           25.11
6 Team Slipstream                                          25.57
7 Farso Denmark Nat                                        29.01
8 Québec                                                   30.47
9 Savings And Loans Cycling Team                           46.34
10 La_Z_Boy                                                49.08
11 Eva-Devinci                                           1.00.50
12 Volkswagen Trek                                       1.35.50
13 Calyon-Litespeed                                      1.42.43
14 Garneau - Crocs                                       1.56.12
15 Team R.A.C.E                                          2.07.04
16 Tean Spin 12                                          3.01.47