UniSA Women's Criterium Series - NE
Australia, January 16-20, 2007
Main Page Results Overall standings Previous Stage
Stage 3 - Saturday, January 20: Snapper Point (Aldinga Beach), 11:30am, 30 min + 1 lap
MacPherson edges out Goss for third straight title
By Ben Abrahams in Aldinga Beach
An elated and exhausted Jenny MacPherson
Photo ©: Rachel Burke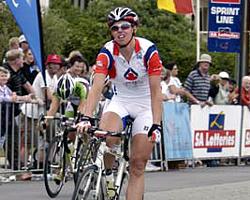 After one victory apiece in the opening rounds, the battle between Belinda Goss and two-time champion Jenny MacPherson came right down to the wire, with MacPherson mastering the blustery conditions to claim her second win of the series and third straight overall title.
Once all team tactics had played out, a straight-up sprint decided the series winner. MacPherson crossing the line on Aldinga Beach's Esplanande over a bike length clear of Goss to draw level on points and steal the overall victory on countback.
"Bloody fantastic!" beamed the 29 year-old Victorian. "The girls worked really well today, we were out there to be aggressive and make Belinda chase everything down and she did to her credit. It came down to a sprint anyway and I just managed to find extra legs at the end knowing there was a jersey up for grabs for the third time."
Belinda Goss
Photo ©: Rachel Burke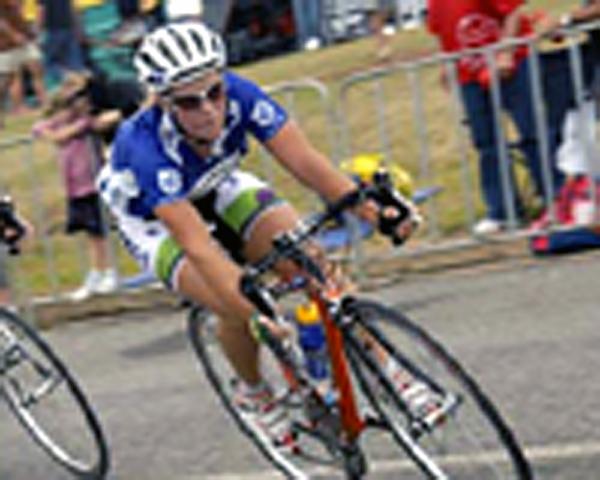 Goss' Hitatchi racing team mates did everything to set up their leader for a bunch sprint, dragging back multiple attacks from MacPherson's AIS squad. "It was a long hard day out there today," said Goss. "The AIS girls did everything. They had girls going down the road pretty much every lap so it was a really hard day."
Crossing the line behind Goss was 18 year-old Victorian Peta Mullens. The youngster also claiming third overall after placing fifth and second in the opening two races. "I've only been back on the bike for a short time and I've been working on my sprint," said a delighted Mullens, barely old enough to enjoy the bottle of vintage Shiraz presented to her by race commentator Stewart Doyle. "I was suffering a bit today with all the attacks going on but I'm glad it came down to a bunch sprint."
How it unfolded
Peta Mullens
Photo ©: Rachel Burke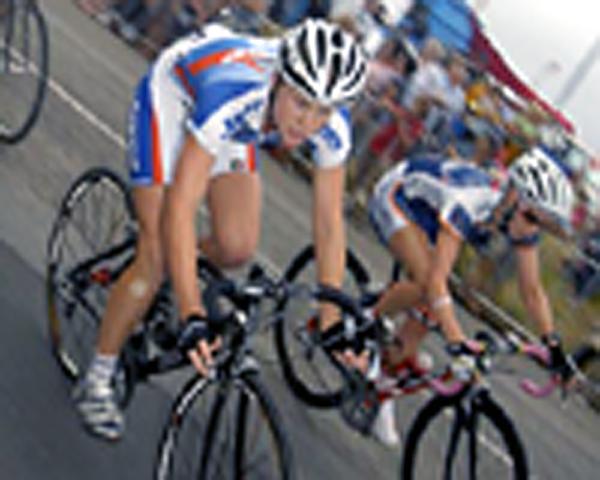 The third and final event of the UniSA women's criterium series got underway beneath dark, threatening clouds with strong winds gusting across the Fleurieu Peninsula. Sharing its parcours with the Tour Down Under's fourth stage, the women's event was based around a flat, rectangular circuit raced in a clockwise direction for thirty minutes plus a final finishing lap.
After the initial two laps were ridden at a leisurely pace, Vicki Whitelaw, Nikki Egyed and Nicole Magner opened up a five second gap on the bunch and we're quickly joined by Bridgette Evans plus Goss and MacPherson. With the two main teams represented, this move certainly had the firepower to hold off any chase from the main field but a lack of cohesion in the break coupled with strong crosswinds meant it was all back together after half distance.
Queenslander Nikki Egyed continued to launch several stinging attacks along the beachfront finishing straight, forcing Goss and her Hitatchi racing team to expend valuable energy in pursuit.
With two laps remaining Whitelaw escaped once more, this time with Olympic road race champion Sara Carrigan for company, but yet again the field hauled them back. Rounding the final corner, Goss and MacPherson leapt out from the right hand gutter and fought out a drag race finish with MacPherson taking it by over a bike length and winning the series courtesy of two race wins to Goss' one.
Photography
For a thumbnail gallery of these images, click here
Images by Rachel Burke/www.maximumattack.biz
Images by CJ Farquharson/WomensCycling.net
Results

1 Jenny MacPherson (Vic)     40 pts
2 Belinda Goss (Tas)         38
3 Peta Mullens (Vic)         36
4 Emma Mackie (Qld)          34
5 Bridgette Evans (Qld)      32
6 Nicole Magner              30
7 Nikki Egyed (Qld)          28
8 Jenny Fay (IRE)            26
9 Jemma O'Brien (NSW)        24
10 Patricia Palmer (Qld)     22
11 Tiffany Cromwell (SA)     20
12 Vicki Whitelaw (ACT)      18
13 Carla Ryan (Qld)          16
14 Candice Sullivan (Qld)    14
15 Sara Carrigan (Qld)       12
16 Louise Kerr (Qld)         10
17 Amber Jenkins (NSW)        8
18 Philippa Read              6
19 Katie Brown (NSW)          4
20 Carlee Taylor (SA)         2
21 Joanna Somerville (NSW)     
22 Rachel Sherborne            
DNS Aimee Alsbury (SA)         
DNS Jennifer Byrnes            
DNS Caitlin Deckert            
DNS Belinda Diprose            
DNS Kate Mercer (Qld)          
DNS Therese Rhodes (SA)        
DNS Bianca Rogers (SA)         
DNS Sophie Ruderman (GBR)      
DNS Maria Szczerba (SA)        
DNS Kate Warren (Tas)          
DNS Kimberley Wells            
DNS Sheba Farrin (USA)         

General Classification

1 Jenny MacPherson (Vic)     114 pts
2 Belinda Goss (Tas)         114
3 Peta Mullens (Vic)         106
4 Emma Mackie (Qld)          104
5 Bridgette Evans (Qld)       90
6 Tiffany Cromwell (SA)       74
7 Nikki Egyed (Qld)           70
8 Vicki Whitelaw (ACT)        64
9 Belinda Diprose             60
10 Patricia Palmer (Qld)      56
11 Jemma O'Brien (NSW)        52
12 Jenny Fay (IRE)            50
13 Amber Jenkins (NSW)        48
14 Nicole Magner              44
15 Carla Ryan (Qld)           42
16 Sara Carrigan (Qld)        34
17 Bianca Rogers (SA)         28
18 Candice Sullivan (Qld)     24
19 Carlee Taylor (SA)         20
20 Louise Kerr (Qld)          18
21 Joanna Somerville (NSW)    18
22 Philippa Read              10
23 Kimberley Wells            10
24 Katie Brown (NSW)           4
25 Caitlin Deckert             4
26 Kate Warren (Tas)           2