Jayco Bay Cycling Classic - NE
Geelong, Australia, January 3-7, 2007
Main Page Results Overall standings Previous Stage
Stage 5 - January 7: Docklands
Renshaw and Bates crowned overall winners at Docklands
By Malcolm Sawford at Melbourne Docklands
Simon Gerrans (Portfolio Partners) snatches another win on home soil;
Photo ©: Shane Goss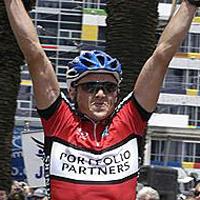 Kate Bates (Pitcher Partners) took out the final race of the Jayco Bay Classic to wrap up her first overall title since 2003. Entering the last stage with a three point margin over Belinda Goss (Volvo), Bates needed only to mark the young Tasmanian, but was able to capitalize on the hard work from her teammates to take Pitcher Partners' fourth win of the five race series. Fittingly, second and third places on the day went to the consistent Goss and Nikki Egyed (Rapido Cycles), so the final stage results were identical to both the opening stage and the final general classification.
"When I started so well I thought maybe I'd pay for it at the end of the week," Bates said, "but I'm just starting to feel better and better which gives me a lot of confidence for the up-coming months."
There were no such heroics from overnight men's leader Mark Renshaw (Skilled). With only an outside mathematical possibility that second placed Rory Sutherland (Landlink) could draw level on points, an early breakaway by five riders guaranteed Renshaw's series win. The stage was taken out by Simon Gerrans (Portfolio Partners), who also finished with the Sprint Ace jersey, ahead of Barcelona Olympian Robert McLachlan (Drapac Porsche Cycling Team) and triple junior world champion Cameron Meyer (HLP Mortgage Co). Gerrans win was enough to move him into second place on the final standings, with Sutherland relegated to third.
"It was a fantastic way to finish, to win the final stage" Gerrans said. "We also won the teams, the sprint jersey, so you can't ask for a better way to finish really. I think each year - year in, year out - I'm just progressively improving. I definitely haven't done any more training this summer than the past few years, but I'm really noticing the difference racing these kind of races."
How the women's race unfolded
With the hot dog circuit a little damp, the opening laps were treated with caution by the women's field. Bates saying later "It wasn't too bad out there because we were very, very cautious. Al [Rhodes] corners better than most people I think, she was probably a little bit worried about me because she knows I'm not that confident on tram tracks in the wet. I've fallen before and no doubt I'll fall again! We all got through pretty well unscathed and that's pretty good."
Kate Bates (Pitcher Partners) takes out the final stage .
Photo ©: Shane Goss

The field stayed largely intact to the first sprint, taken by Rosara Joseph (NZ National Team) from Nicole Whitburn (Hitachi Construction Machinery - HIT Racing) and Tess Downing (Portfolio Partners). Bates tested Goss' reaction with an attack in the back straight immediately after the sprint, but was quickly chased down.
Amanda Spratt (Pitcher Partners) and Michelle Hyland (NZ) also escaped briefly, but the biggest split of the day came when a determined Downing pulled Naomi Williams (NSWIS), Emma Rickards (Jayco VIS) and Toni Bradshaw (NZ) clear. Olivia Gollan (Pitcher Partners) and Chloe Hosking (Landlink) chased across, but the cooperation needed to hold the bunch at bay wasn't forthcoming.
Goss tried to go clear forty minutes in, but was shadowed by Bates and dual stage winner Alexis Rhodes as well as Rickards. Bates didn't enjoy playing the defensive role, admitting "I actually have to say that that's probably the most negatively I raced in along time and to a degree I'm disappointed with that. I don't like following someone around all day, but we wanted to win the race, and that was the best way to do it, because she's a smart and very savvy bike rider - give her an inch and she'll take a mile."
Rickards pushed on, joined this time by Jo Kiesonowski (Portfolio Partners) and Spratt. When the bunch neared, Spratt kicked again and gained ten seconds, but Goss and her team mate Bianca Rogers reeled her in.
With the finish approaching, the Pitcher Partners team prepared a lead out for Bates, with both Rhodes and Gollan pulling for extended periods but it was Downing and young club mate Lisa Friend (Rapido Cycles) who led the field through the final corner.
Belinda Goss (Volvo) tries to attack the peloton
Photo ©: Shane Goss

Bates opened the sprint, and took the win by a wide margin, with time to celebrate both her stage and overall wins. The battle for second between Goss and Egyed was extremely close, with Goss awarded second place after a review of the finish line camera. After the race, Bates once more gave much of the credit for her success to her hand-picked Portfolio Partners team. "How good are they! The Pitcher Partners people have been here for the past few days and they're just stoked. Not only because we're winning but also because the representation out there is just amazing and every girl is really putting her hand up in the race and making it difficult for other teams."
How the elite men's race unfolded
Stage three winner Robbie McEwen was a non starter, after coming down with a touch of bronchitis. "Unfortunately, I've taken the decision not to start and risk making it worse. The idea at this time of the year is to get better with your training. I would have liked to get out there and have another crack, but if I rest now there's a good chance I'll be better in time for the Tour Down Under." He was well enough however to keep the crowd entertained on the cold and blustery day, joining Phil Liggett and Matt Keenan for the Elite Men's race on-course commentary. McEwen will now also miss next weekend's Australian Open Road Championships in Ballarat. "I made the final decision a couple of days ago, when I started coming down with this."
Mark Renshaw (Skilled) corners on his way to overall
Photo ©: Shane Goss

The opening attack came from Brett Perez (Portfolio Partners) and Matt Sherwin (SHM Bikes/Carnegie Caulfield CC), who were pegged back after two laps. Richard England (Jayco VIS) counter attacked but was also brought back quickly.
David Kemp (Volvo) lasted longer, urged on by his team leader in the commentary position. After three laps alone he was joined by Robert McLachlan and Robbie Williams (Drapac-Porsche Cycling Team), Gerrans, Joel Pearson (NSWIS), triple junior world champion Cameron Meyer (HLP Mortgage Co), Sam Bewley (NZ National Team) and Craig McCartney (Landlink).
Gerrans took the points at the first sprint ahead of Kemp and Williams, to move within striking distance of the sprinter's jersey and carried on with his effort which reduced the break to five. "We were going to try and get Johnny [Clarke] back up to win the sprinter's jersey, but when I made the breakaway for the first sprint I knew I was in striking distance myself so I just kept plugging away and it paid off" Gerrans revealed.
Only McLachlan, Bewley, Meyer and McCartney could follow, with Pearson joining a chase group containing Nic Sanderson (Jayco VIS), Brendan Rowbotham (SHM Bikes/Carnegie Caulfield CC) and Cody Stevenson fifteen seconds back. At the second sprint, the chasers had been re-absorbed by the bunch, twenty-six seconds down on the leaders. Gerrans claimed three more points towards the sprint jersey despite McLachlan's best efforts to deny him, and moved within one point of Dean Windsor's total.
Rory Sutherland corners.
Photo ©: CJ Farquharson

With the bunch appearing to lose interest in the chase, Marcus Wettenhall (Geelong CC/Mercure Geelong) and Rhys Pollock (John Trevorrow's Cycle Store/Cyclingnews) escaped, and were pursued by Brett Lancaster (Jayco VIS) and Evan Oliphant (BBB), with Sherwin and Jason Hegert (FRF Couriers NSWIS) a little further back. Wettenhall, Pollock, Lancaster and Oliphant joined forces, and began to close in on the leaders.
McLachlan jumped away from the lead group before the final intermediate sprint to try to prevent Gerrans stealing the sprint jersey from his teammate, but Gerrans' second place was enough for the jersey to change hands.
Some monster turns by Lancaster saw the chase group close to within seven seconds at seven laps to go, with both groups closing in on the main bunch. Gerrans and McLachlan attacked their group,dropping McCartney, but giving them some more breathing space ahead of the chase.
The bunch were directed to sprint for tenth place two laps later, with Renshaw denied the honour of leading the bunch home by a fast finishing Tommy Nankervis (Skilled). A flurry of attacks from Gerrans, McLachlan and Meyer disrupted the lead group's rhythm and allowed Lancaster's group to make contact at the bell, with Meyer's last effort in the back straight shut down by McLachlan.
Out of the final corner, it was big McLachlan who jumped first, but the more patient Gerrans came off his wheel in the final 100 metres to take the win. "I knew I had to stay pretty cool in the last few laps, but then again we had the chase group coming along pretty strong behind us. I was just watching young Cameron Meyer, who's going really strong, and also McLachlan from Drapac, they're the guys I kept an eye on. I knew it was going to be a bit early to hit out in the last corner. It's a long way to the finish line from there. I had to have a wheel change early in the race and my spare wheel wasn't running to well, it was jumping a little bit. I had to be careful of that in the sprint as well."
Brett Lancaster rode for the Jayco VIS team in the series
Photo ©: Shane Goss

For Renshaw the final yellow jersey was something of a formality. "I'd done the mathematics, with Rory in second place, and I knew that I just had to cover all my bases with him and that's how it went. Twelve points behind, he'd have to win the stage and for me finish out of the top ten - it was pretty unlikely that would happen. I decided with the team this morning to try and let some riders go away, and it was good for Gerrans to take the opportunity. It's great to finish up with the win of the general. It's a bit unfortunate that I couldn't go for more stages, but that's how tours go."
The national championships are now firmly in Renshaw's mind. "I've heard there are only five or six pros riders going, so it's going to open it right up. I'll go home now, have a couple of recovery days and then step it up with a few five and six hour rides. It's every Australian dream to wear the green and gold; it's going to be hard to do, but just the riders that've had it before have set such a high prestige with that jersey in the bunch you get so much respect, it is really quite a dream to win."
Gerrans must also be considered among the favourites, but he played down his chances. "Honestly, I don't think I've done a large enough preparation to count myself as one of the favourites, but after this week I'm pretty confident with how my form's coming along, so I'll just see how I go there. Anything can really happen in the national championships."
Lyte wins support race finale; Denis clinches overall
Robert Lyte (NSWIS) took his second win on the trot after a long break in the early slippery conditions with Dylan Newell. Newell was also involved in a race long break on the opening day, but once again had to settle for second place at the finish line. Lyte's late success saw him finish the series in fourth place, with the top three places taken by Rohan Dennis, Dale Scarfe and Newell.
Photography
For a thumbnail gallery of these images, click here
Images by Shane Goss/www.licoricegallery.com
Images by CJ Farquharson/WomensCycling.net
Results

Elite Men
 
1 Simon Gerrans (Portfolio Partners)                           12 pts
2 Robert McLachlan (Drapac Porsche)                            10
3 Cameron Myer (HLP Mortgage Co)                                8
4 Evan Oliphant (BBB)                                           7
5 Sam Bewley (NZ national team-Sally's Paddock)                 6
6 Marcus Wettenhall (Geelong Cycling Club-Mercure Geelong)      5
7 Rhys Pollock (John Trevorrow's Cycle Store/Cyclingnews)       4
8 Craig McCartney (Landlink)                                    3
9 Brett Lancaster (Jayco VIS)                                   2
10 Tommy Nankervis (Skilled)                                    1
 
1st Intermediate Sprint-Volvo Sprint Ace
 
1 Simon Gerrans (Portfolio Partners)                            3 pts
2 David Kemp (Volvo)                                            2
3 Robbie Williams (Drapac Porsche)                              1
 
2nd Intermediate Sprint-Volvo Sprint Ace
 
1 Simon Gerrans (Portfolio Partners)                            3 pts
2 Robert McLachlan (Drapac Porsche)                             2
3 Cameron Myer (HLP Mortgage Co)                                1
 
3rd Intermediate Sprint-Volvo Sprint Ace
 
1 Robert McLachlan (Drapac Porsche)  3 pts
2 Simon Gerrans (Portfolio Partners)                            2
3 Sam Bewley (NZ national team-Sally's Paddock)                 1
 
Elite Women
 
1 Kate Bates (Pitcher Partners)                                12 pts
2 Belinda Goss (Volvo)                                         10
3 Nikki Egyed (Rapido Cycles)                                   8
4 Emma Rickards (Jayco VIS)                                     7
5 Jennie McPherson (Jayco VIS)                                  6
6 Sky-Lee Armstrong (NSW IS)                                    4.5
7 Emma Mackie (Hitachi Construction Machinery Australia)        4.5
8 Jo Kiesonowski (Portfolio Partners)                           3
9 Lisa Friend (Rapido Cycles)                                   2
10 Rushlee Buchanan (NZ National team)                          1
 
1st Intermediate Sprint-Volvo Sprint Ace
 
1 Rosara Joseph (NZ National team)                              3 pts
2 Nicole Whitburn (Hitachi Construction Machinery Australia)    2
3 Tess Downing (Portfolio Partners)                             1
 
2nd Intermediate Sprint-Volvo Sprint Ace
 
1 Amanda Spratt (Pitcher Partners)                              3 pts
2 Emma Rickards (Jayco VIS)                                     2
3 Jo Kiesonowski (Portfolio Partners)                           1
 
Support Men
 
1 Robert Lyte (Bankstown Sports CC)                            12 pts
2 Dylan Newell (Brunswick Cycling Club Inc)                    10
3 Richard Lang (Lidcombe Auburn CC)                             8
4 Matt King (Darwin Cycling Club)                               7
5 Dale Scarfe (Central Coast CC)                                6
6 Rohan Dennis (Adelaide CC)                                    5
7 Daniel Johnston (Darwin Cycling Club)                         4
8 Christopher Luxton (Norwood C.C.)                             3
9 Jacob Lea (Bendigo & District CC)                             2
10 Brendon Sharratt (Coburg Cycling Club Inc)                   1
 
Elite Men final classification
 
1 Mark Renshaw (Skilled)                                       35 pts
2 Simon Gerrans (Portfolio Partners)                           25
3 Rory Sutherland (Landlink)                                   23
4 Dean Windsor (Drapac Porsche)                                22
5 Robbie McEwen (Volvo)                                        22
6 Johnny Clarke (Portfolio Partners)                           19
7 David McPartland (Portfolio Partners)                        18
8 Joel Pearson (NSW IS)                                        15
9 Robert McLachlan (Drapac Porsche) 13
10 Evan Oliphant (BBB)                                         13
 
Elite Men Volvo Sprint Ace classification
 
1 Simon Gerrans (Portfolio Partners)                           13 pts
2 Dean Windsor (Drapac Porsche)                                12
3 Johnny Clarke (Portfolio Partners)                            9
 
Elite Men teams classification
 
1 Portfolio Partners                                           62 pts
2 Drapac Porsche                                               54
3 Skilled                                                      36
 
Elite Women final classification
 
1 Kate Bates (Pitcher Partners)                                52 pts
2 Belinda Goss (Volvo)                                         47
3 Nikki Egyed (Rapido Cycles)                                  32
4 Jo Kiesonowski (Portfolio Partners)                          25
5 Alexis Rhodes (Pitcher Partners)                             24
6 Jennie McPherson (Jayco VIS)                                 23
7 Sara Carrigan (Rapido Cycles)                                16
8 Sky-Lee Armstrong (NSW IS)                                   10.5
9 Emma Rickards (Jayco VIS)                                    10
10 Emma Mackie (Hitachi Construction Machinery Australia)       7.5
 
Elite Women Volvo Sprint Ace classification
 
1 Sara Carrigan (Rapido Cycles)                                12 pts
2 Rosara Joseph (NZ National team)                              7
3 Amanda Spratt (Pitcher Partners)                              5
 
Elite Women Teams classification
 
1 Pitcher Partners                                             81 pts
2 Rapido Cycles                                                53
3 Volvo                                                        47
 
Support Men final classification
 
1 Rohan Dennis (Adelaide CC)                                   31 pts
2 Dale Scarfe (Central Coast CC)                               28
3 Dylan Newell (Brunswick Cycling Club Inc)                    26
4 Robert Lyte (Bankstown Sports CC)                            25
5 Reuben Young (Norwood C.C.)                                  22
6 Steven Rankine (Cairns Cycle Club)                           21
7 Lachlan Stewart (Ararat&District Cycling Club)               18
8 Jarrod Moroni (Bendigo & District CC)                        18
9 Christopher Luxton (Norwood C.C.)                            15
10 Brendan Washington (Lavington Panthers Sports)              14