Jayco Bay Cycling Classic - NE
Geelong, Australia, January 3-7, 2007
Main Page Results Overall standings Next Stage
Stage 1 - January 3: Williamstown
By Malcolm Sawford in Williamstown
New Clarke on the block
Elite men
Jonathan Clarke (Portfolio Partners) wins stage one in Williamstown with a happy crew-member
Photo ©: Shane Goss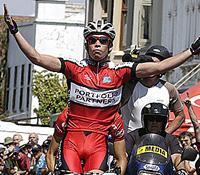 Defending Bay Classic champion Hilton Clarke may be a non-starter this year but he has passed on his winning ways to younger brother Johnny. The 22 year-old riding for the Portfolio Partners team caught the bigger names napping with a long breakaway that saw him claim the stage win, sprinter's jersey and series lead.
How it unfolded
Despite overnight forecasts of rain and thunderstorms, Melbourne delivered a perfect 30 degree summers day for the first big race of the New Year. The Elite men handled the tricky roundabout at the end of the finish straight noticeably better than either the earlier women's or support fields had, but right from the opening lap, the front runners used their clean run into the off camber turn to string the bunch out. Simon Gerrans (Portfolio Partners) had the hammer down early, and pulled a small group a few seconds clear, joined by Cody Stevenson (FRF Couriers – NSWIS), Australian Under 23 criterium champion Dean Windsor (Drapac-Porsche), Jason Phillips (Volvo) and Darren Shea (NZ national team).
Approaching the first intermediate sprint, the bunch had reformed, only to see Clarke's counter attack jump away. Robbie Williams (Drapac-Porsche) and John Eblining (FRF Couriers – NSWIS) were on board, and the three combined well to build a twenty second advantage with Clarke taking maximum points at the sprint. Both Clarke and Williams maintained very high cadences, and made their efforts look easy, while Eblining appeared to be doing things much tougher and eventually dropped from the lead group shortly before the second sprint, which also went Clarke's way.
The two leaders showed no signs of slowing, but were benefiting from some great defensive riding from the Drapac squad, with big Rob McLachlan sitting patiently in second wheel dissuading any organised chase. Henk Vogels (BBB) made a brief solo effort to reach the leaders before realizing the gap was insurmountable, while out front Clarke allowed Williams to take the final sprint having already guaranteed the lead in that competition.
Robbie McEwen (Volvo) corners in Williamstown
Photo ©: Shane Goss

When judges called 'ten to go' the bunch was still 20 seconds in arrears. Robbie McEwen (Volvo) sent David Kemp to the front, and almost single handedly the young Queenslander reduced the deficit to ten seconds with six laps remaining before throwing up the white flag, totally spent. Mitch Chapman (NSWIS) attacked the bunch and spent two laps in no-mans land while the field lost time rapidly on the two leaders.
Out front Clarke used his superior speed to round the final turn in the lead and sprint home for an impressive win. "I spoke to Robbie Williams out there and he was really going strong," Clarke said of his winning ride, "and I said to him 'come on we've been going for 45 minutes now let's not give it up' and he really dug in and was super-strong. There was a bit of cat and mouse [on the last lap]; on the day I had a bit faster legs, but Robbie was stomping also.
Rory Sutherland (Landlink) and Mark Renshaw (Skilled) escaped at two to go, but could only sprint for third, with Renshaw fighting off a stiff challenge to claim the podium position, while McEwen salvaged fifth place with a late burst to cross the line alone, and keep his overall title hopes alive.
Clarke has ridden with the South Australia.com team since its inception, but has generally had a low key role in support of bigger names like Matt Goss and Matt Lloyd. He's also been a regular at the Bay Series over the past few years without attracting any results to note.
When asked what had brought on the marked change in form, Clarke revealed he started pre-season training a lot earlier than in previous years. "Usually I've struggled a bit in the Bay Crits but this year I feel really, really good. I've been training for about two months now, training for the National Titles and I spoke to my brother this morning and he said 'get to the front straight away and start hitting off because the moves always go early here.' He's always been in the top three on this circuit and Hilton said 'just be aggressive and you'll be right.'"
Jonathan Clarke (Portfolio Parnters) is congratulated after his
Photo ©: Shane Goss

Clarke will wear the yellow jersey into stage 2 at Port Arlington, but isn't ready to make any predictions about who will be wearing it on Sunday afternoon. "I don't know - the pressure's off so anything can happen. I'm just rapt. I've got my Mum here today to watch the racing - that was awesome. I've taken the pressure off my team Portfolio Partners and it's also the first 2007 win for South Australia.com.
"The last two years have been a bit of a struggle. I would have liked to get my cycling a bit higher but something like this just reassures you that you're on the right track."
Williams was satisfied with his second place, which was all the more impressive given that he had only arrived in Melbourne the day before to join his new team. "First ride for my new team, and just picked up my new Giant yesterday so I'm very happy. I'm a little bit underdone so I can't ask for anything more. Johnny was a stronger rider today."
Although new to the team, Williams said he was confident his new team mates would be protecting his lead. "I saw the team race last year and they were one of the dominant forces in Australian cycling. The circuit was too tight for me to check and see what was happening behind me, but I knew they could control the race and I'm very happy for the whole team – a great effort by the whole team.
'Bates Mafia' too good as Mactier crashes out
Elite women
Kate Bates (Pitcher Partners) easily takes out stage one of the women's series
Photo ©: Shane Goss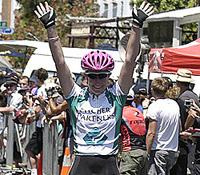 Defending champion Katie Mactier had talked down her form in recent interviews, but was a clear winner in the first intermediate sprint and spent the entire race in the top five riders, before the second of two spills put her out of the race. Kate Bates (Pitcher Partners) capped off a great team effort to take the win.
How it unfolded
With Portfolio Partners team mate Rachel Rademaker doing much of the early pace making, Mactier looked comfortable as she maintained good position, and came off Rademaker's wheel effortlessly to take the first sprint.
She was equally well positioned for the second sprint, but had no answer to the turn of speed from Olympic gold medallist Sara Carrigan (Rapido Cycles), and had to settle for second. A wash out at the roundabout saw Mactier hit the deck, but she was quickly back on her feet and after a lap out quickly returned to the front of the field.
The only attack of note saw Nikki Egyed (Rapido), Belinda Goss (Volvo) and Olivia Gollan (Pitcher Partners) eke out a 100-metre advantage, but the field was intact again for good with five laps to go. Alexis Rhodes and Natalie Bates set a fearsome tempo for most of the final laps, setting up the sprint finish for Kate Bates. Mactier's second fall at four laps to go also claimed Jenny Macpherson and Sally-Ann Cowman (NSWIS), leaving Goss as the only likely challenger to Bates in a sprint finish.
Alexis Rhodes crashes out
Photo ©: Mal Sawford

Rhodes eventually pushed too hard on the final sling round the roundabout, and slid into the barriers at amazing speed, but fortunately left the racing line clear. Bates had no trouble hitting the after burners, and raced clear in the last half lap to win handily, with Goss taking second in tight sprint from Egyed.
Bates is a former winner of the series, having won in 2003 during the hey day of the Victoria versus New South Wales rivalry, but has really enjoyed the introduction of teams racing to the women's race. "It's really a lot of fun riding with Pitcher Partners; they look after everything for us. It's not normal when you race in Australia that all you have to think about doing is getting your bike! That's why I come to the Bay Crits to have some fun and to really enjoy racing with the girls. First race for the season; first win for T-Mobile and Pitcher Partners. I'm stoked.
The Pitcher Partners team is so strong Mactier has dubbed them the 'Bates Mafia'. Kate Bates was equally keen to sing the praises of her team mates, saying "Nat, Olivia, Alexis and Amanda are all exceptional bike riders – you couldn't ask for a better combination. We've all got different strengths, got different cards to play. We're all pretty keen to have fun, work as a team without the pressure the pro teams put on us.
"If you look at the last three laps – that's what you call a lead out! It came unstuck for us at the last corner, but the work was done well before then, because I accelerated out of the corner and everyone was already stuffed because they'd been going so fast."
The women's podium (L-R): Nikki Egyed (Rapido Cycles, 3rd), Kate Bates (Pitcher Partners, 1st),
Photo ©: Shane Goss

After the great start, Bates has high hopes of recording her second series win. "It's bad luck for Katie that she got no points today, and Jenny Macpherson, but now that I have a commanding lead I can afford to let breaks go and just figure in the points. It's unfortunate, you don't like to get a lead that way but I did and I'm just going to go with it."
Looking further ahead, Bates acknowledged her season with T-Mobile is aimed squarely at one thing: a world championships gold medal. "Everything for the world championships in March, and then everything for Beijing. I've narrowed my focus a lot more, I'm sick of being jack of all, master of none. Track is what I'm going for, but obviously I've got to do a lot of road work and criterium racing suits me perfectly. The points race – I'm hoping to be very strong also in the pursuit, but nothing else. I'm so sick of silver medals! I'll be happy with one world title in the points race, and then we'll take it from there.
Mactier was whisked away from the circuit for treatment of her injuries and wasn't available for comment, but coach John Beazley was confident she'd be back in action at Port Arlington, saying they were primarily concerned with reducing the swelling in her left little finger which had taken the brunt of the second fall.
Men's Support Race
Andrew Stalder, a former Australian Under 23 champion claimed the opening race with a good sprint after a long break with Dylan Newell. The pair and Latrobe Wheel winner Jayden Veljacich attacked before the first sprint, and in a virtual preview of the men's race, Stalder and Newell survived to battle out the win.
Riders back in the huge field of over 120 found chasing difficult, with a number of pile ups occurring in the treacherous round about – junior champion Pete Johnstone caught up in three such falls!
Photography
For a thumbnail gallery of these images, click here
Images by Mal Sawford/Cyclingnews.com
Images by Shane Goss/www.licoricegallery.com
Images by CJ Farquharson/WomensCycling.net
Results

Elite men
 
1 Johnny Clarke (Portfolio Partners)                                      12 pts
2 Robbie Williams (Drapac Porsche/Sofitel Spa Mansion/Sally's Paddock)    10
3 Mark Renshaw (Skilled)                                                   8
4 Rory Sutherland (Landlink)                                               7
5 Robbie McEwen (Volvo)                                                    6
6 Dean Windsor (Drapac Porsche/Sofitel Spa Mansion/Sally's Paddock)        5
7 Richard England (Jayco VIS)                                              4
8 Henk Vogels (BBB)                                                        3
9 Joel Pearson (NSW IS)                                                    2
10 Pat Shaw (HLP Mortgage Co)                                              1
 
Sprint 1 - Volvo Sprint Ace
 
1 Johnny Clarke (Portfolio Partners)                                       3 pts
2 John Eblining (FRF Couriers - NSW IS)                                    2
3 Robbie Williams (Drapac Porsche/Sofitel Spa Mansion/Sally's Paddock)     1
 
 
Sprint 2 - Volvo Sprint Ace
 
1 Johnny Clarke (Portfolio Partners)                                       3 pts
2 Robbie Williams (Drapac Porsche/Sofitel Spa Mansion/Sally's Paddock)     2
3 Trent Wilson (Skilled)                                                   1
 
 
Sprint 3 - Volvo Sprint Ace
 
1 Robbie Williams (Drapac Porsche/Sofitel Spa Mansion/Sally's Paddock)     3 pts
2 Johnny Clarke (Portfolio Partners)                                       2
3 Pat Shaw (HLP Mortgage Co)                                               1
 
Elite women
 
1 Kate Bates (Pitcher Partners)                                           12 pts
2 Belinda Goss (Volvo)                                                    10
3 Nikki Egyed (Rapido Cycles)                                              8
4 Jo Kiesonowski (Portfolio Partners)                                      7
5 Sky-Lee Armstrong (NSW IS)                                               6
6 Sara Carrigan (Rapido Cycles)                                            5
7 Toni Bradshaw (NZ National team)                                         4
8 Michelle Hyland (NZ National team)                                       3
9 Emma Rickards (Jayco VIS)                                                2
10 Emma Mackie (Hitachi Construction Machinery Australia)                  1
 
Sprint 1 - Volvo Sprint Ace
 
1 Katie Mactier (Portfolio Partners)                                       3 pts
2 Amanda Spratt (Pitcher Partners)                                         2
3 Kate Bates (Pitcher Partners)                                            1
 
 
Sprint 2 - Volvo Sprint Ace
 
1 Sara Carrigan (Rapido Cycles)                                            3 pts
2 Katie Mactier (Portfolio Partners)                                       2
3 Nikki Egyed (Rapido Cycles)                                              1
 
Support race
 
1 Andrew Stalder                                                          12 pts
2 Dylan Newell                                                            10
3 Rohan Dennis                                                             8
4 Brendan Washington                                                       7
5 193                                                                      6
6 Jarrod Moroni                                                            5
7 Steven Rankine                                                           4
8 James Robinson                                                           3
9 Richard Lang                                                             2
10 Michael Teggelove                                                       1
 
Sprint 1
 
1 Andrew Stalder                                                            
2 Dylan Newell                                                              
3 Jayden Veljacich                                                          
 
Sprint 2
 
1 Dylan Newell                                                              
2 Andrew Stalder                                                            
3 Jarrod Moroni                                                             
 
Overall standings after round 1
 
Elite men
 
1 Johnny Clarke (Portfolio Partners)                                      12 pts
2 Robbie Williams (Drapac Porsche/Sofitel Spa Mansion/Sally's Paddock)    10
3 Mark Renshaw (Skilled)                                                   8
4 Trent Wilson (Skilled)                                                   7
5 Robbie McEwen (Volvo)                                                    6
6 Dean Windsor (Drapac Porsche/Sofitel Spa Mansion/Sally's Paddock)        5
7 Richard England (Jayco VIS)                                              4
8 Mark Hooper (John Trevorrow's Cycle Store / Cyclingnews)                 3
9 Angus Morton (NSW IS)                                                    2
10 Pat Shaw (HLP Mortgage Co)                                              1
 
Elite women
 
1 Kate Bates (Pitcher Partners)                                           12 pts
2 Belinda Goss (Volvo)                                                    10
3 Nikki Egyed (Rapido Cycles)                                              8
4 Jo Kiesonowski (Portfolio Partners)                                      7
5 Sky-Lee Armstrong (NSW IS)                                               6
6 Sara Carrigan (Rapido Cycles)                                            5
7 Toni Bradshaw (NZ National team)                                         4
8 Michelle Hyland (NZ National team)                                       3
9 Emma Rickards (Jayco VIS)                                                2
10 Emma Mackie (Hitachi Construction Machinery Australia)                  1
 
Support race
 
1 Andrew Stalder                                                          12 pts
2 Dylan Newell                                                            10
3 Rohan Dennis                                                             8
4 Brendan Washington                                                       7
5 193                                                                      6
6 Jarrod Moroni                                                            5
7 Steven Rankine                                                           4
8 James Robinson                                                           3
9 Richard Lang                                                             2
10 Michael Teggelove                                                       1
 
Volvo Sprint Ace competition
 
Elite men
 
1 Johnny Clarke (Portfolio Partners)                                       8 pts
2 Robbie Williams (Drapac Porsche/Sofitel Spa Mansion/Sally's Paddock)     6
3 John Eblining (FRF Couriers - NSW IS)                                    2
5 Pat Shaw (HLP Mortgage Co)                                               1
5 Trent Wilson (Skilled)                                                   1
 
Elite women
 
1 Katie Mactier (Portfolio Partners)                                       5 pts
2 Sara Carrigan (Rapido Cycles)                                            3
3 Amanda Spratt (Pitcher Partners)                                         2
4 Kate Bates (Pitcher Partners)                                            1
5 Nikki Egyed (Rapido Cycles)                                              1
 
Team standings
 
Elite men
 
1 Drapac Porsche/Sofitel Spa Mansion/Sally's Paddock                      15 pts
2 Portfolio Partners                                                      12
3 Skilled                                                                  8
4 Landlink                                                                 7
5 Volvo                                                                    6
6 Jayco VIS                                                                4
7 BBB                                                                      3
8 NSW IS                                                                   2
9 HLP Mortgage Co                                                          1
 
Elite women
 
1 Rapido Cycles                                                           13 pts
2 Pitcher Partners                                                        12
3 Volvo                                                                   10
4 Portfolio Partners                                                       7
5 NZ National team                                                         7
6 NSWIS                                                                    6
7 Jayco VIS                                                                2
8 Hitachi Construction Machinery Australia                                 1