Tour of California - 2.HC
USA, February 18-25, 2007
Rogers takes the lead
By Kirsten Robbins in Solvang, CA
In his second year with T-Mobile, three-time world time trial champion Michael Rogers has become a role model and the leader for the magenta squad. General Manager of T-Mobile Bob Stapletonís shop clean-up has elevated the team with a fresh and positive outlook where focus is placed on the group and not the individuals. "Every member of our organization feels proud that for the first time in many years we are a team," Stapleton told Cyclingnews' Kirsten Robbins while she rode in the team car to cheer for Rogers in his stage five Tour of California time trial. "We work together well, make each other laugh and we feel good about building our team around the power of teamwork and I think this is night and day different for what it used to be."
Becoming a leader
Bob Stapleton (T-Mobile)
Photo ©: Shane Stokes

A large part of cleaning house meant losing their German Tour de France hopeful Jan Ullrich due to the controversy surrounding his involvement in the Operacion Puerto scandal and Dr. Eufemiano Fuentes. But the German-based team seems to have found a new team perspective far different from the Ullrich days.
Stapleton says he had a vision of the team in future years and Michael Rogers matched that description to the tee. "I think Michael Rogers is one of the brightest spots on the team," Stapleton said. "We decided that Rogers was a big highlight for us and he is a demonstrated leader on the team with confidence and a positive attitude. He is not a showboat kind of guy nor is he a big talker. He shows unusual leadership in that regard. He also has the athletic talent and we all know his pedigree which is that extra premium to not only being a good leader with in our organization, but on the road too. These are extra dimensions that we donít normally see with his level of talent."
When speaking with Rogers itís hard to tell he is only 27 years old. The Australian was calm and collected during his interview, thoroughly thinking through each question before answering. When asked to describe is personality in relation to his teammates, he simply said, "Iím quite a conservative person and it takes me some time to make a decision on what kind of rider or what kind of person every person is on the team. Iím not a person who yells and screams or points fingers. I take a conservative opinion on everyone and make my decision over time. I guess that is my character and the way I am."
Michael Rogers at the team's presentation in January
Photo ©: Shane Stokes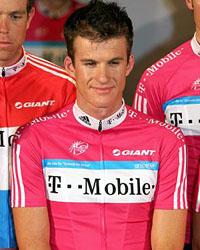 T-Mobile's directeur sportif at the Tour California, Brian Holm, thinks highly of Rogers' integration with his new teammates and said that his leadership position was a natural fit. "I was very surprised about the kind of rider he is when we first met," Holm commented. "He takes a lot of responsibility and he is always looking out for the younger riders. He is turning out to be a role model for everybody here. He is always looking after his teammates, the more experienced riders and the younger professionals too."
"Our goal is to win the Tour de France. We can't just do that straight away - but slowly, we certainly can."
- Rogers explains the natural growth tactics of the 'new' T-Mobile.
Long-term growth
It takes years of experience to become a team leader and not many riders have been able to make it that far. Rogers has won three world time trial championships and placed tenth in last year's Tour de France. "We certainly started to piece together what our team goals were," Rogers said. "Bob was really keen to have me as leader and I think Iíve shown in the last couple of years that I am slowly progressing in that direction. He also really tried to form a team that was not only based around the Tour de France but that was also more diverse. I think we have some improvements to go because we were unable to take certain riders due to them being under other contracts. On the Tour side of the team, we can definitely improve but that takes time. Our goal is to win the Tour de France. It is not something that we can just do straight away - but slowly, we certainly can."
Scheduling to be on the podium in the Tour de France means long-time planning, and T-Mobile has taken the initiative to make sure Rogers will be a part of their program for the next three years; he is the only rider on T-Mobile to have signed a three years contract. "He has the longest termed contract on the team because I personally believe in him," Stapleton said. "I think that leadership premium is rare and when you find it you need to keep it and develop it. He is also young and that is a big investment for us."
Michael Rogers at the ToC prologue
Photo ©: David Wood

The Australian lives in Minore, Italy, having raced on the professional circuits for many of the best teams in the world. Under his belt are four Tour de Frances and one Giro díItalia. "This is the seventh professional team Iíve raced on and Iíve raced on some of the best over the years," Rogers said. "Museeuw, Bettini, Tafi and Ullrich are all leaders Iíve worked for in the past. I would like to think that I have learned a piece from each rider and taken those bits from all of them to try and convert them in my own way."
Rogers added, "I am very happy with this program. Bob, Brian and the rest of the management have a very drawn-out plan and they understand that not all good things happen over night. It takes a long time to be good at anything and I really believe in that way of thinking. When they showed me the papers I was more than willing to sign for three years because I really believe that with time, time can correct even the worst mistakes."
Holm understands that taking on a rider like Rogers means they must find a way to hold on to him because he is has qualities to offer in bike racing beyond the Tour de France. He is not one-race focused like their former leader Jan Ullrich, but multitalented. "There are different reasons to give him three years," Holm said. "First of all we like him a lot and we are afraid of him leaving the team for another. We wanted to give him a bigger offer. There are some riders who we might give three years to and they would just make a good job in the last year. But I believe that Michael would never do that. He would give us a 100 percent of an effort all the time. He is always in good form but even when he is not he is always going to be good for the team."
Michael Rogers tests his TT bike at the ADT Event Center Velodrome in Carson, California.
Photo ©: Mitch Friedman

Holm added, "Nowadays there are not many riders who can make top 10 here and then not many riders who can make top ten in the Tour de France, too. Now he has already made it into the top ten here at the Tour de California. The race is not over but it means he is quite good already, even when he is not in the Grand Tour fitness."
There are other riders proven to be strong in the Tour of California who will also be strong in the Tour de France. Levi Leipheimer, who currently holds the yellow jersey, is one of these riders. "Michael is ten times better than Levi," Holm said. "Levi is great rider and he is winning here now but he lives here and he has to ride good here. Michael is three-time world champion you know so this is remarkable. You can talk about talent and though Michael is talented thatís not everything. The other side of talent means you have to live like a pro and it is not as easy as it sounds, it's kind of like living like a monk. Somehow he does it his own way. He doesnít stress people out like some great riders have and trust me Iíve worked with some of the best riders. He can go for a ride in the morning and have a coffee with the boys - he is professional but can also be social with the others."
Changes after Jan Ullrich
Without their former leader on-the-road leader, the T-Mobile team has built a team with a new mentality. "The team is run differently from last year with Jan," Rogers said. "Bob has come in and totally changed the team from black to white. We wear the same colors but it is a completely different team."
T-Mobile is beginning to show a charisma and their riders have show to be happy and very social with the fans. The team has been working well at the Tour of California placing second in two of the stages in a sprint. "I think we have guys that really want to be here," Rogers said. "We have had problems with some riders in the past and the whole machine wasnít running well. The team environment was not ideal in my books. This week we lost two stages by 5-cm combined, weíve been in the breaks and we tried our best today in the time trial."
The decision to let go of Ullrich created mixed reaction amongst German fans. "The German media was skeptical and I got a lot of crap from people but I think even the biggest skeptics will rethink that cycling really is a team sport and not just for one person," Stapleton said. "Rogers shows his willingness to sacrifice and he does not demand that of others but they want to give it. That is the real mark of leadership, to bring out the best in people. I want my guys have that personal success and be proud of what they are doing and that will elevate the team."
Preparation for Tour
Though Rogers is sitting inside the top ten at the Tour of California, he says he is nowhere near the fitness he plans to display at the 2007 Tour de France. Once he returns to Europe, the preparations begin and the team will be focused on races to build fitness and training camps to focus on the Tour. "I will go back to Europe after this and get into the European racing again," Rogers said. "My last few races leading into the Tour de France will be the Tour de Suisse which I know well and finished second there a couple of years ago. We will also have a team training camp in the Alps or the Pyrenees. There are a few stages in the Tour that we want to analyze further because all the mountain stages are really hard. We will also go over the time trials."
Stapleton is Rogers biggest fan and believes with the support of his team and with the talent he exudes, a podium finish in the Tour de France is just within reach. "I think Rogers is our best bet at the Tour right now," Stapleton said. "In my opinion he can be on the podium at the Tour de France. He was top ten last years while working for KlŲden and I would be thrilled if he could be in the top five this year. I think he has a strong team and they will do everything they can for him."