1st Tour of Ireland - 2.1
Ireland, August 22-26, 2007
Main Page Results Overall standings Stage Details Next Stage
Stage 1 - August 22: Kilkenny - Cork, 174km
Vandenbergh wins from big break
By Shane Stokes in Cork
Stijn Vandenbergh (Unibet)
Photo ©: John Pierce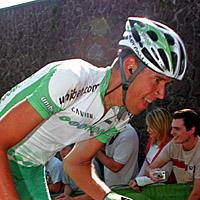 Belgian rider Stijn Vandenbergh (Unibet.com) took his first professional victory on the streets of Cork today, attacking out of a ten man breakaway group with four kilometres to go to the finish line.
The 23 year old surged clear on the false flat after the second ascent of the gruelling St. Patrick's Hill, racing down the descent and ultimately hitting the line 14 seconds clear of American rider Aaron Olson (T-Mobile). Wesley Sulzberger (SouthAustralia.com AIS), Gabriel Rasch (Team Maxbo-Bianchi), Pieter Jacobs (Unibet.com) and Roger Beuchat (Team LPR) were next home, with three others also in this group.
Glenn Bak (Murphy and Gunn/Newlyn Group/M. Donnelly Sean Kelly) lost contact on the false flat and came in 32 seconds down.
The other riders in the race all finished over thirteen minutes back and have lost any chance of taking the final overall victory.
The break had gone clear approximately seventy kilometres after the start in Kilkenny and with most of the major teams represented, the peloton was content to ease back. Amongst those who lost time were CSC captains Frank and Andy Schleck, Baden Cooke (Unibet.com), Bernhard Eisel (T-Mobile) plus many other ProTour and Pro Continental riders.
The fourteen Irish riders in the field also missed out and with the main bunch shutting down, will have to limit their ambitions to chasing stage wins.
The break is in sight
Photo ©: John Pierce

Nicolas Roche (Ireland national team) was even more unlucky, being forced to withdraw during the stage due to a bad saddle sore. Unbeknownst to many, he had been suffering in recent days with the infected hair follicle and was in considerable pain while sitting on the bike.
Bak's team-mate Paídi O'Brien was best of the Irish in 20th place.
The 2.1 ranked Tour of Ireland continues tomorrow with what is regarded by some as potentially the hardest day. Starting in Clonakilty, the 166 kilometre race will pass through the Beara Peninsula, taking in the Healy Pass and Moll's Gap plus other smaller climbs en route to the finish in Killarney.
Photography
For a thumbnail gallery of these images, click here
Images by John Pierce/Photosport International
Images by Stephen McMahon
Images by Aidan Collins
Results
1  Stijn Vandenberg (Bel) Unibet.com                                          4.02.03 (43.13 km/h)
2  Aaron Olson (USA) T-Mobile Team                                               0.14
3  Wesley Sulzberger (Aus) South Australia.com - AIS                             0.15
4  Gabriel Rasch (Nor) Team Maxbo Bianchi                                            
5  Pieter Jacobs (Bel) Unibet.com                                                    
6  Roger Beuchat (Swi) Team L.P.R.                                                   
7  Valeriy Kobzarenko (Ukr) Navigators Insurance Cycling Team                        
8  Craig Lewis (USA) Team Slipstream powered by Chipotle                             
9  Marcus Ljungqvist (Swe) Team CSC                                                  
10  Glenn Bak (Den) Murphy & Gunn - Newlyn - M. Donnelly - Sean Kelly            0.32
11  Luis Pasamontes (Spa) Unibet.com                                            13.15
12  Matti Breschel (Den) Team CSC                                                    
13  Alessandro Maserati (Ita) Team L.P.R.                                       13.32
14  Charles Dionne (Can) Colavita - Sutter Home presented by Cooking Light           
15  Matteo Priamo (Ita) Ceramica Panaria - Navigare                                  
16  Karsten Kroon (Ned) Team CSC                                                     
17  Boy Van Poppel (Ned) Rabobank Continental                                        
18  Jonas Ljungblad (Swe) Unibet.com                                                 
19  Sven Nys (Bel) Rabobank Continental                                              
20  Paidi O'Brien (Irl) Murphy & Gunn - Newlyn - M. Donnelly - Sean Kelly            
21  Kristian House (GBr) Navigators Insurance Cycling Team                           
22  Andy Guptill (USA) Colavita - Sutter Home presented by Cooking Light             
23  Martijn Keizer (Ned) Rabobank Continental                                        
24  Martijn Maaskant (Ned) Rabobank Continental                                      
25  David McCann (Irl) Colavita - Sutter Home presented by Cooking Light             
26  Toms Veelers (Ned) Rabobank Continental                                          
27  Thomas Berkhout (Ned) Rabobank Continental                                       
28  Baden Cooke (Aus) Unibet.com                                                     
29  Michael Blaudzun (Den) Team CSC                                                  
30  Samuele Marzoli (Ita) Team L.P.R.                                                
31  Borut Bozic (Slo) Team L.P.R.                                                    
32  Michael Ford (Aus) South Australia.com - AIS                                     
33  Sergey Lagutin (Rus) Navigators Insurance Cycling Team                           
34  Daniel Lloyd (GBr) DFL - Cyclingnews - Litespeed                                 
35  Nazareno Rossi (Swi) Team L.P.R.                                                 
36  Frank Schleck (Lux) Team CSC                                                     
37  Marcel Beima (Ned) T-Mobile Team                                                 
38  Daniel Vaillancourt (USA) Colavita - Sutter Home presented by Cooking Light      
39  Simon Clarke (Aus) South Australia.com - AIS                                     
40  Svein Vold (Nor) Team Maxbo Bianchi                                              
41  Bernhard Eisel (Aut) T-Mobile Team                                               
42  Lars Petter Nordhaug (Nor) Team Maxbo Bianchi                                    
43  Mike Friedman (USA) Team Slipstream powered by Chipotle                          
44  Thomas Ziegler (Ger) T-Mobile Team                                               
45  Lasse Bochmann (Den) Team CSC                                                    
46  Daniel Fleeman (GBr) DFL - Cyclingnews - Litespeed                               
47  Dennis Van Winden (Ned) Rabobank Continental                                     
48  Zakkari Dempster (Aus) South Australia.com - AIS                                 
49  Richard Wilkinson (GBr) Plowman Craven - Evans Cycles Racing                     
50  Moises Aldape Chaves (Mex) Ceramica Panaria - Navigare                           
51  Roberto Traficante (Ita) Team L.P.R.                                             
52  Mark Cassidy (Irl) Murphy & Gunn - Newlyn - M. Donnelly - Sean Kelly             
53  Andy Schleck (Lux) Team CSC                                                      
54  Patrick McCarty (USA) Team Slipstream powered by Chipotle                        
55  Rob Partridge (GBr) Recycling.co.uk                                              
56  Edvald Boasson Hagen (Nor) Team Maxbo Bianchi                                    
57  Ian Stannard (GBr) T-Mobile Team                                                 
58  Anthony Colby (USA) Colavita - Sutter Home presented by Cooking Light            
59  Ben Day (Aus) Navigators Insurance Cycling Team                                  
60  Frantisek Rabon (Cze) T-Mobile Team                                              
61  Joachim Bohler (Nor) Team Maxbo Bianchi                                          
62  Danny Pate (USA) Team Slipstream powered by Chipotle                             
63  David O'Loughlin (Irl) Navigators Insurance Cycling Team                         
64  Chris Newton (GBr) Recycling.co.uk                                               
65  Glen Chadwick (NZl) Navigators Insurance Cycling Team                            
66  Simon Richardson (GBr) Plowman Craven - Evans Cycles Racing                      
67  Marco Marcato (Ita) Team L.P.R.                                                  
68  Stian Sommerseth (Nor) Team Maxbo Bianchi                                        
69  Troels Vinther (Den) Unibet.com                                                  
70  Stephen Gallagher (Irl) Murphy & Gunn - Newlyn - M. Donnelly - Sean Kelly        
71  Alexander Kristoff (Nor) Team Maxbo Bianchi                                      
72  Paul Griffin (Irl) Irish National Team                                           
73  Brian Keneally (Irl) Irish National Team                                         
74  Ryan Bonser (GBr) Recycling.co.uk                                                
75  Francesco Tomei (Ita) Ceramica Panaria - Navigare                                
76  Tyler Wren (USA) Colavita - Sutter Home presented by Cooking Light               
77  Adam Bonser (GBr) Recycling.co.uk                                                
78  Evan Oliphant (GBr) DFL - Cyclingnews - Litespeed                                
79  Philip Deignan (Irl) Irish National Team                                         
80  Tom Diggle (GBr) Recycling.co.uk                                                 
81  Hamish Haynes (GBr) DFL - Cyclingnews - Litespeed                                
82  James Millard (GBr) Plowman Craven - Evans Cycles Racing                         
83  Tony Gibb (GBr) Plowman Craven - Evans Cycles Racing                             
84  Isaac Speirs (Irl) Murphy & Gunn - Newlyn - M. Donnelly - Sean Kelly             
85  Timothy Duggan (USA) Team Slipstream powered by Chipotle                         
86  Johnnie Walker (Aus) South Australia.com - AIS                                   
87  Jeremy Vennell (NZl) DFL - Cyclingnews - Litespeed                               
88  Daniele Colli (Ita) Ceramica Panaria - Navigare                                  
89  Gene Bates (Aus) South Australia.com - AIS                                       
90  Derek Burke (Irl) Irish National Team                                       14.07
91  Simon Holt (GBr) Recycling.co.uk                                            14.16
92  Dermot Nally (Irl) Irish National Team                                      14.49
93  Gert Vanderaerden (Bel) DFL - Cyclingnews - Litespeed                            
94  Maximiliano Richeze (Arg) Ceramica Panaria - Navigare                       15.02
95  Filippo Savini (Ita) Ceramica Panaria - Navigare                                 
96  Ian MacGregor (USA) Team Slipstream powered by Chipotle                          
97  Martyn Irvine (Irl) Irish National Team                                          
98  Adam Bergman (USA) Colavita - Sutter Home presented by Cooking Light             
99  Morgan Fox (Irl) Murphy & Gunn - Newlyn - M. Donnelly - Sean Kelly               
100  Gordon McCauley (NZl) Plowman Craven - Evans Cycles Racing                 15.03
101  Jeremy Hunt (GBr) Unibet.com                                                    
102  Graham Briggs (GBr) Recycling.co.uk                                        15.16
103  Rieno Stofferis (Bel) Murphy & Gunn - Newlyn - M. Donnelly - Sean Kelly    15.34
104  Simon Gaywood (GBr) Plowman Craven - Evans Cycles Racing                   15.43
105  Sven De Weerdt (Bel) DFL - Cyclingnews - Litespeed                              
 
Sprints

Sprint 1: Carrick on Suir

1  Matti Breschel (Den) Team CSC                                                    5 pts
2  Glenn Bak (Den) Murphy & Gunn - Newlyn - M. Donnelly - Sean Kelly                3
3  Paidi O'Brien (Irl) Murphy & Gunn - Newlyn - M. Donnelly - Sean Kelly            2
4  Timothy Duggan (USA) Team Slipstream powered by Chipotle                         1
 
Sprint 2: Clonmel

1  Jonas Ljungblad (Swe) Unibet.com                                                 5 pts
2  Martijn Maaskant (Ned) Rabobank Continental                                      3
3  Borut Bozic (Slo) Team L.P.R.                                                    2
4  Pieter Jacobs (Bel) Unibet.com                                                   1
 
Sprint 3: Lismore

1  Stijn Vandenberg (Bel) Unibet.com                                                5 pts
2  Marcus Ljungqvist (Swe) Team CSC                                                 3
3  Roger Beuchat (Swi) Team L.P.R.                                                  2
4  Wesley Sulzberger (Aus) South Australia.com - AIS                                1

Mountains

KOM 1: Cat 2 - The Vee

1  Glenn Bak (Den) Murphy & Gunn - Newlyn - M. Donnelly - Sean Kelly               10 pts
2  Stijn Vandenberg (Bel) Unibet.com                                                7
3  Roger Beuchat (Swi) Team L.P.R.                                                  4
4  Pieter Jacobs (Bel) Unibet.com                                                   2
5  Wesley Sulzberger (Aus) South Australia.com - AIS                                1
 
KOM 2: Cat 1 - St Patrick's Hill #1

1  Marcus Ljungqvist (Swe) Team CSC                                                15 pts
2  Wesley Sulzberger (Aus) South Australia.com - AIS                               12
3  Gabriel Rasch (Nor) Team Maxbo Bianchi                                          10
4  Glenn Bak (Den) Murphy & Gunn - Newlyn - M. Donnelly - Sean Kelly                8
5  Roger Beuchat (Swi) Team L.P.R.                                                  6
6  Valeriy Kobzarenko (Ukr) Navigators Insurance Cycling Team                       4
7  Craig Lewis (USA) Team Slipstream powered by Chipotle                            2
8  Pieter Jacobs (Bel) Unibet.com                                                   1
 
KOM 3: Cat 1 - St Patrick's Hill #2

1  Roger Beuchat (Swi) Team L.P.R.                                                 15 pts
2  Craig Lewis (USA) Team Slipstream powered by Chipotle                           12
3  Valeriy Kobzarenko (Ukr) Navigators Insurance Cycling Team                      10
4  Marcus Ljungqvist (Swe) Team CSC                                                 8
5  Aaron Olson (USA) T-Mobile Team                                                  6
6  Gabriel Rasch (Nor) Team Maxbo Bianchi                                           4
7  Stijn Vandenberg (Bel) Unibet.com                                                2
8  Pieter Jacobs (Bel) Unibet.com                                                   1
 
Team

1 Unibet.com                                                                 12.19.39
2 Team CSC                                                                      13.32
3 T-Mobile Team                                                                 13.48
4 Team LPR                                                                      13.49
5 Navigators Insurance Cycling                                                       
6 South Australia AIS                                                                
7 Team Maxbo-Bianchi                                                                 
8 Team Slipstream                                                                    
9 Murphy & Gunn                                                                 14.06
10 Rabobank                                                                     27.06
11 Colavita Sutter Home Cycling                                                      
12 Ceramica Panaria Navigare                                                         
13 DFL-Cyclingnews-Litespeed                                                         
14 Recycling                                                                         
15 Plowman Craven Evans Cycles                                                       
16 Irish National Team                                                               
 
General Classification

1  Stijn Vandenberg (Bel) Unibet.com                                          4.01.50
2  Aaron Olson (USA) T-Mobile Team                                               0.21
3  Wesley Sulzberger (Aus) South Australia.com - AIS                             0.24
4  Marcus Ljungqvist (Swe) Team CSC                                              0.26
5  Roger Beuchat (Swi) Team L.P.R.                                               0.27
6  Gabriel Rasch (Nor) Team Maxbo Bianchi                                        0.28
7  Pieter Jacobs (Bel) Unibet.com                                                    
8  Valeriy Kobzarenko (Ukr) Navigators Insurance Cycling Team                        
9  Craig Lewis (USA) Team Slipstream powered by Chipotle                             
10  Glenn Bak (Den) Murphy & Gunn - Newlyn - M. Donnelly - Sean Kelly            0.43
11  Matti Breschel (Den) Team CSC                                               13.25
12  Luis Pasamontes (Spa) Unibet.com                                            13.28
13  Jonas Ljungblad (Swe) Unibet.com                                            13.42
14  Martijn Maaskant (Ned) Rabobank Continental                                 13.43
15  Paidi O'Brien (Irl) Murphy & Gunn - Newlyn - M. Donnelly - Sean Kelly       13.44
16  Borut Bozic (Slo) Team L.P.R.                                                    
17  Alessandro Maserati (Ita) Team L.P.R.                                       13.45
18  Charles Dionne (Can) Colavita - Sutter Home presented by Cooking Light           
19  Matteo Priamo (Ita) Ceramica Panaria - Navigare                                  
20  Karsten Kroon (Ned) Team CSC                                                     
21  Boy Van Poppel (Ned) Rabobank Continental                                        
22  Sven Nys (Bel) Rabobank Continental                                              
23  Kristian House (GBr) Navigators Insurance Cycling Team                           
24  Andy Guptill (USA) Colavita - Sutter Home presented by Cooking Light             
25  Martijn Keizer (Ned) Rabobank Continental                                        
26  David McCann (Irl) Colavita - Sutter Home presented by Cooking Light             
27  Toms Veelers (Ned) Rabobank Continental                                          
28  Thomas Berkhout (Ned) Rabobank Continental                                       
29  Baden Cooke (Aus) Unibet.com                                                     
30  Michael Blaudzun (Den) Team CSC                                                  
31  Samuele Marzoli (Ita) Team L.P.R.                                                
32  Michael Ford (Aus) South Australia.com - AIS                                     
33  Sergey Lagutin (Rus) Navigators Insurance Cycling Team                           
34  Daniel Lloyd (GBr) DFL - Cyclingnews - Litespeed                                 
35  Nazareno Rossi (Swi) Team L.P.R.                                                 
36  Frank Schleck (Lux) Team CSC                                                     
37  Marcel Beima (Ned) T-Mobile Team                                                 
38  Daniel Vaillancourt (USA) Colavita - Sutter Home presented by Cooking Light      
39  Simon Clarke (Aus) South Australia.com - AIS                                     
40  Svein Vold (Nor) Team Maxbo Bianchi                                              
41  Bernhard Eisel (Aut) T-Mobile Team                                               
42  Lars Petter Nordhaug (Nor) Team Maxbo Bianchi                                    
43  Mike Friedman (USA) Team Slipstream powered by Chipotle                          
44  Thomas Ziegler (Ger) T-Mobile Team                                               
45  Lasse Bochmann (Den) Team CSC                                                    
46  Daniel Fleeman (GBr) DFL - Cyclingnews - Litespeed                               
47  Dennis Van Winden (Ned) Rabobank Continental                                     
48  Zakkari Dempster (Aus) South Australia.com - AIS                                 
49  Richard Wilkinson (GBr) Plowman Craven - Evans Cycles Racing                     
50  Moises Aldape Chaves (Mex) Ceramica Panaria - Navigare                           
51  Roberto Traficante (Ita) Team L.P.R.                                             
52  Mark Cassidy (Irl) Murphy & Gunn - Newlyn - M. Donnelly - Sean Kelly             
53  Andy Schleck (Lux) Team CSC                                                      
54  Patrick McCarty (USA) Team Slipstream powered by Chipotle                        
55  Rob Partridge (GBr) Recycling.co.uk                                              
56  Edvald Boasson Hagen (Nor) Team Maxbo Bianchi                                    
57  Ian Stannard (GBr) T-Mobile Team                                                 
58  Anthony Colby (USA) Colavita - Sutter Home presented by Cooking Light            
59  Ben Day (Aus) Navigators Insurance Cycling Team                                  
60  Frantisek Rabon (Cze) T-Mobile Team                                              
61  Joachim Bohler (Nor) Team Maxbo Bianchi                                          
62  Danny Pate (USA) Team Slipstream powered by Chipotle                             
63  David O'Loughlin (Irl) Navigators Insurance Cycling Team                         
64  Chris Newton (GBr) Recycling.co.uk                                               
65  Glen Chadwick (NZl) Navigators Insurance Cycling Team                            
66  Simon Richardson (GBr) Plowman Craven - Evans Cycles Racing                      
67  Marco Marcato (Ita) Team L.P.R.                                                  
68  Stian Sommerseth (Nor) Team Maxbo Bianchi                                        
69  Troels Vinther (Den) Unibet.com                                                  
70  Stephen Gallagher (Irl) Murphy & Gunn - Newlyn - M. Donnelly - Sean Kelly        
71  Alexander Kristoff (Nor) Team Maxbo Bianchi                                      
72  Paul Griffin (Irl) Irish National Team                                           
73  Brian Keneally (Irl) Irish National Team                                         
74  Ryan Bonser (GBr) Recycling.co.uk                                                
75  Francesco Tomei (Ita) Ceramica Panaria - Navigare                                
76  Tyler Wren (USA) Colavita - Sutter Home presented by Cooking Light               
77  Adam Bonser (GBr) Recycling.co.uk                                                
78  Evan Oliphant (GBr) DFL - Cyclingnews - Litespeed                                
79  Philip Deignan (Irl) Irish National Team                                         
80  Tom Diggle (GBr) Recycling.co.uk                                                 
81  Hamish Haynes (GBr) DFL - Cyclingnews - Litespeed                                
82  James Millard (GBr) Plowman Craven - Evans Cycles Racing                         
83  Tony Gibb (GBr) Plowman Craven - Evans Cycles Racing                             
84  Isaac Speirs (Irl) Murphy & Gunn - Newlyn - M. Donnelly - Sean Kelly             
85  Timothy Duggan (USA) Team Slipstream powered by Chipotle                         
86  Johnnie Walker (Aus) South Australia.com - AIS                                   
87  Jeremy Vennell (NZl) DFL - Cyclingnews - Litespeed                               
88  Daniele Colli (Ita) Ceramica Panaria - Navigare                                  
89  Gene Bates (Aus) South Australia.com - AIS                                       
90  Derek Burke (Irl) Irish National Team                                       14.20
91  Simon Holt (GBr) Recycling.co.uk                                            14.29
92  Dermot Nally (Irl) Irish National Team                                      15.02
93  Gert Vanderaerden (Bel) DFL - Cyclingnews - Litespeed                            
94  Maximiliano Richeze (Arg) Ceramica Panaria - Navigare                       15.15
95  Filippo Savini (Ita) Ceramica Panaria - Navigare                                 
96  Ian MacGregor (USA) Team Slipstream powered by Chipotle                          
97  Martyn Irvine (Irl) Irish National Team                                          
98  Adam Bergman (USA) Colavita - Sutter Home presented by Cooking Light             
99  Morgan Fox (Irl) Murphy & Gunn - Newlyn - M. Donnelly - Sean Kelly               
100  Gordon McCauley (NZl) Plowman Craven - Evans Cycles Racing                 15.16
101  Jeremy Hunt (GBr) Unibet.com                                                    
102  Graham Briggs (GBr) Recycling.co.uk                                        15.29
103  Rieno Stofferis (Bel) Murphy & Gunn - Newlyn - M. Donnelly - Sean Kelly    15.47
104  Simon Gaywood (GBr) Plowman Craven - Evans Cycles Racing                   15.56
105  Sven De Weerdt (Bel) DFL - Cyclingnews - Litespeed                              
 
Sprint Classification

1  Stijn Vandenberg (Bel) Unibet.com                                               20 pts
2  Aaron Olson (USA) T-Mobile Team                                                 14
3  Wesley Sulzberger (Aus) South Australia.com - AIS                               14
4  Roger Beuchat (Swi) Team L.P.R.                                                 12
5  Gabriel Rasch (Nor) Team Maxbo Bianchi                                          12
6  Pieter Jacobs (Bel) Unibet.com                                                  12
7  Marcus Ljungqvist (Swe) Team CSC                                                10
8  Matti Breschel (Den) Team CSC                                                    9
9  Valeriy Kobzarenko (Ukr) Navigators Insurance Cycling Team                       9
10  Glenn Bak (Den) Murphy & Gunn - Newlyn - M. Donnelly - Sean Kelly               9
11  Craig Lewis (USA) Team Slipstream powered by Chipotle                           8
12  Jonas Ljungblad (Swe) Unibet.com                                                5
13  Luis Pasamontes (Spa) Unibet.com                                                5
14  Martijn Maaskant (Ned) Rabobank Continental                                     3
15  Alessandro Maserati (Ita) Team L.P.R.                                           3
16  Paidi O'Brien (Irl) Murphy & Gunn - Newlyn - M. Donnelly - Sean Kelly           2
17  Borut Bozic (Slo) Team L.P.R.                                                   2
18  Charles Dionne (Can) Colavita - Sutter Home presented by Cooking Light          2
19  Matteo Priamo (Ita) Ceramica Panaria - Navigare                                 1
20  Timothy Duggan (USA) Team Slipstream powered by Chipotle                        1
 
Mountains classification

1  Roger Beuchat (Swi) Team L.P.R.                                                 25 pts
2  Marcus Ljungqvist (Swe) Team CSC                                                23
3  Glenn Bak (Den) Murphy & Gunn - Newlyn - M. Donnelly - Sean Kelly               18
4  Gabriel Rasch (Nor) Team Maxbo Bianchi                                          14
5  Valeriy Kobzarenko (Ukr) Navigators Insurance Cycling Team                      14
6  Craig Lewis (USA) Team Slipstream powered by Chipotle                           14
7  Wesley Sulzberger (Aus) South Australia.com - AIS                               13
8  Stijn Vandenberg (Bel) Unibet.com                                                9
9  Aaron Olson (USA) T-Mobile Team                                                  6
10  Pieter Jacobs (Bel) Unibet.com                                                  4

Under 25 Classification

1  Stijn Vandenberg (Bel) Unibet.com                                      4.01.50
2  Wesley Sulzberger (Aus) South Australia.com - AIS                         0.24
3  Pieter Jacobs (Bel) Unibet.com                                            0.28
4  Craig Lewis (USA) Team Slipstream powered by Chipotle                         
5  Matti Breschel (Den) Team CSC                                            13.25
6  Martijn Maaskant (Ned) Rabobank Continental                              13.43
7  Paidi O'Brien (Irl) Murphy & Gunn - Newlyn - M. Donnelly - Sean Kelly    13.44
8  Boy Van Poppel (Ned) Rabobank Continental                                13.45
9  Andy Guptill (USA) Colavita - Sutter Home presented by Cooking Light          
10  Martijn Keizer (Ned) Rabobank Continental                                    
11  Toms Veelers (Ned) Rabobank Continental                                      
12  Thomas Berkhout (Ned) Rabobank Continental                                   
13  Samuele Marzoli (Ita) Team L.P.R.                                            
14  Michael Ford (Aus) South Australia.com - AIS                                 
15  Nazareno Rossi (Swi) Team L.P.R.                                             
16  Marcel Beima (Ned) T-Mobile Team                                             
17  Simon Clarke (Aus) South Australia.com - AIS                                 
18  Svein Vold (Nor) Team Maxbo Bianchi                                          
19  Lars Petter Nordhaug (Nor) Team Maxbo Bianchi                                
20  Lasse Bochmann (Den) Team CSC                                                
21  Dennis Van Winden (Ned) Rabobank Continental                                 
22  Zakkari Dempster (Aus) South Australia.com - AIS                             
23  Roberto Traficante (Ita) Team L.P.R.                                         
24  Mark Cassidy (Irl) Murphy & Gunn - Newlyn - M. Donnelly - Sean Kelly         
25  Andy Schleck (Lux) Team CSC                                                  
26  Rob Partridge (GBr) Recycling.co.uk                                          
27  Edvald Boasson Hagen (Nor) Team Maxbo Bianchi                                
28  Ian Stannard (GBr) T-Mobile Team                                             
29  Frantisek Rabon (Cze) T-Mobile Team                                          
30  Simon Richardson (GBr) Plowman Craven - Evans Cycles Racing                  
31  Marco Marcato (Ita) Team L.P.R.                                              
32  Stian Sommerseth (Nor) Team Maxbo Bianchi                                    
33  Troels Vinther (Den) Unibet.com                                              
34  Alexander Kristoff (Nor) Team Maxbo Bianchi                                  
35  Ryan Bonser (GBr) Recycling.co.uk                                            
36  Francesco Tomei (Ita) Ceramica Panaria - Navigare                            
37  Adam Bonser (GBr) Recycling.co.uk                                            
38  Philip Deignan (Irl) Irish National Team                                     
39  Tom Diggle (GBr) Recycling.co.uk                                             
40  Isaac Speirs (Irl) Murphy & Gunn - Newlyn - M. Donnelly - Sean Kelly         
41  Johnnie Walker (Aus) South Australia.com - AIS                               
42  Derek Burke (Irl) Irish National Team                                   14.20
43  Simon Holt (GBr) Recycling.co.uk                                        14.29
44  Maximiliano Richeze (Arg) Ceramica Panaria - Navigare                   15.15
45  Filippo Savini (Ita) Ceramica Panaria - Navigare                             
46  Ian MacGregor (USA) Team Slipstream powered by Chipotle                      
47  Martyn Irvine (Irl) Irish National Team                                      
48  Graham Briggs (GBr) Recycling.co.uk                                     15.29
 
Team Classification
 
1 Unibet.com                                                             12.19.39
2 Team CSC                                                                  13.32
3 T-Mobile Team                                                             13.48
4 Team LPR                                                                  13.49
5 Navigators Insurance Cycling                                                   
6 South Australia AIS                                                            
7 Team Maxbo-Bianchi                                                             
8 Team Slipstream                                                                
9 Murphy & Gunn                                                             14.06
10 Rabobank                                                                 27.06
11 Colavita Sutter Home Cycling                                                  
12 Ceramica Panaria Navigare                                                     
13 DFL-Cyclingnews-Litespeed                                                     
14 Recycling                                                                     
15 Plowman Craven Evans Cycles                                                   
16 Irish National Team                                                           

Back to top