U.S. National Criterium Championships - NE
Downer's Grove Village, Illinois, USA, August 18-19, 2007
Main Page Results Overall standings Stage Details Previous Stage Next Stage
Stage 4 - August 19: USCF Men's National Criterium Championship,
Young Holloway nets wet win
By Mark Zalewski, North American Editor in Downers Grove, Illinois
Daniel Holloway (VMG Racing) out powers the field
Photo ©: Jon Devich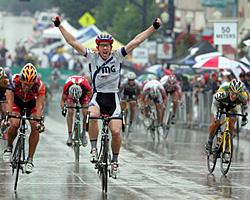 Twenty year-old Daniel Holloway (VMG Racing) took the advice of an elder statesman of American criterium racing, and he took it all the way to the elite national criterium championship. "Jonas Carney said to be in the top five going into the last corners, and if I saw daylight to sprint for the final corner or follow the guy who does," said Holloway. "Josh Carter went for it after [Steve] Tilford slid out and we drag raced it all the way to the line."
While the elite women were fortunate to have a reprieve from the otherwise constant rain of the day, the elite men took the brunt of the storms. This made for rough and dangerous racing for the entire race. "I stayed in the front and found a good group of guys to ride next to, which made it safe," said Holloway.
In a way the amount of rain actually made it safe for more experienced riders, effectively washing the road of oil and other hazards. "It wasn't really slick, people were falling from making stupid moves," said veteran racer Steve Tilford (HRRC/Trek Stores). Tilford, who finished second here last year and in just about every other place but first over his career, had another chance the win. But a late decision combined with the wet conditions resulted in a momentary loss of control that cost him valuable position in the final turns. "I blew it when I jumped a little late for the corner," he said.
Coming into the final turn it was former pro Kirk Albers (Texas Roadhouse) with Carter (Athletes by Design) and Holloway ducking underneath, followed by Tom Soladay (Kelly Benefit Strategies) and Tilford. Right behind this group a crash by a rider overcooking the final turn ended the race 150 metres too early for a few riders.
For the past four years, the winner of the elite men's race has gone on to a pro contract the next year. However, Holloway already sounds wise beyond his years, wanting to stay with the US national team to gain more experience. "We have a really good deal with the national team in Europe and if I get a pro license I can't do the amateur races there, which are a little easier. I can learn a lot more there than in the pro races -- there is a lot of development."
Photography
For a thumbnail gallery of these images, click here
Images by Jonathan Devich/epicimages.us
Images by Mark Zalewski/Cyclingnews.com
Results
1 Daniel Holloway (VMG Racing)                1.53.56
2 Josh Carter (ABD Cycling Team)                     
3 Tom Soladay (Kelly Benefit Strategies)             
4 Steve Tilford (HRRC/Trek Stores)                   
5 Kirk Albers (Texas Roadhouse)                      
6 Marco Aledia (A&F Pro Development)                 
7 Derek Goerke (Team Einsteins Cycing)               
8 Kiel Reijnen (Hagens Berman, LLP)                  
9 Karl Bordine (5 Star Fish)                         
10 Mat Ankney (Mercy Elite Cycling Team)             
11 Devon Vigus (California Giant Berry Farms)        
12 Antony Galvan (NOW/MS SOCIETY)                    
13 Eisinger John (Tokyo Joe's)                       
14 Robert White (PCW Cycling)                        
15 Robert Campbell (TeamBobs-Bicycles.com)           
16 Jason Snow (Cycle Science)                        
17 Paul Martin (Texas Roadhouse)                     
18 Eugene Boronow (GS Mengoni)                       
19 Ian Holt (Team Einsteins Cycing)                  
20 Ryan White (PCW Cycling)                          
21 Ken Delo (Bicycle Heaven)                         
22 Ryan Knapp (Alderfer Bergen)                      
23 Mike Telega (California Giant Berry Farms)        
24 Matt Weyen (TeamBobs-Bicycles.com)                
25 Lang Reynolds (Hagens Berman, LLP)                
26 David Sachs (Vision Quest)                        
27 Mike Beers (Rite Aid Pro Cycling)                 
28 Kurt Fletcher (dent wizard cycling)               
29 John Meyers (Turin)                               
30 Thomas Burke (west MI coast riders)               
31 Derek Graham (Priority Health/Bissell)            
32 Jeff Schroetlin (ABD Cycling Team)                
33 Kevin Attkisson (Texas Roadhouse Cycling)         
34 David Nelson (Landis Cyclery)                     
35 Jeremy Grimm (Team GodSpeed)                      
36 Cole House (Wheel & Sprocket)                     
37 Andrew Mininer (Grandstay Hotels)                 
38 Nick Clayville (Hagens Berman, LLP)               
39 Nicholaus Schreiber (Summit Velo)                 
40 Terrence Keenan (Dent Wizard)                     
41 Jonathan Parrish (Team Waste Management)          
42 Ian Stanford (A&F Pro Development)                
43 Gregory Christian (West Michigan Coast Riders)    
44 Paul Ward (Nature's Path Cycling)                 
45  Brandon Gritters (5 Star Fish)                   
46 Brandon Archibald (TeamBobs-Bicycles.com)         
47 Ryan Barnett (Blue Competition Cycles)            
48 John Seehafer (Team Einsteins Cycing)             
49 Jonathan Erdelyi (METRA/WENDYS)