An interview with Daniele Bennati, April 8, 2007
Sprinting with confidence
Benna in the Belgian Classics
Daniele Bennati stormed into 2007 by winning against star sprinters. An intestinal infection kept him from romping on the Via Roma in Milano-Sanremo, but the sprinter seems to be back in-form. The soft-spoken Italian chatted with Cyclingnews' Gregor Brown in Kortrijk, two days prior to the start of the Ronde van Vlaanderen.
Daniele Bennati
Photo ©: Gregor Brown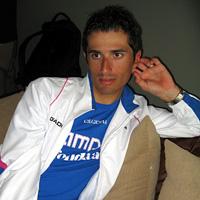 "It was my Grandpa, Nino, who gave my first road bike," proclaimed Daniele Bennati, sitting down in the lobby of Lampre-Fondital team's hotel on Friday afternoon. He and his teammates had just returned from a reconnaissance of De Ronde parcours but our conversation was drifting to a recent newspaper's article with photos of his family. "I had gotten my start on BMX bikes. (A) gift from my grandpa was my first road bike; he still follows me at 84 years-old!"
'Benna' was full of enthusiasm, and he had good reason. Early this year, after winning three times against Alessandro Petacchi, one of the few racers regarded as a super-sprinter, he was struck down by an intestinal bug, but Wednesday he marked his return. The 26 year-old rider from Arezzo swooped ahead of the field to win Three Days of De Panne stage 2.
"It feels good to return and win. It was my first win after the ones in the Volta a Valenciana," Benna said. In that Spanish stage race, he commanded the bunch gallops and signaled that perhaps he could be Italy's next sprinting star. He explained that soon after he started racing in France he was sidelined by sickness. "In Paris-Nice, I was really flying. I finished second in one of the first stages. Then I was up there in the other stages, with a third and a fourth.
"(In) the penultimate stage, I had stomach pains and intestinal problems. I was no longer at 100 percent. Afterwards, I trained but I did not feel good. I had to stop for three days but, fortunately, I did not have to take antibiotics."
"I can play my cards, even if (Tom) Boonen is going very strong. But it would be better to arrive at the sprint without him. After a distance and parcours like that, he always has a kick in his legs for the sprint; he is dangerous."
-Daniele Bennati on racing Boonen at Ronde van Vlaanderen
He was put in jeopardy for the race that all Italians dream of winning, the 300-kilometre Monument, Milano-Sanremo. "Then at Sanremo I was not myself," he continued to explain in his soft, Tuscan dialect. "Now I am still not back at my best, or with the feelings that I had in Valenciana and the first stages of Paris-Nice. I hope that I can refind these feelings for Sunday [at De Ronde], Wednesday, for Gent-Wevelgem, and then next week in Roubaix."
For the Ronde van Vlaanderen, both Benna and Alessandro Ballan will be marked men. His teammate has better placings in the race, with a fifth and sixth, but, by winning in De Panne, his rivals will not want to have him as company at the line. He explained how his confidence is high and, thus, how Sunday could swing in Lampre's favour.
"Now I am going into Flanders with a strong morale. It is a great course, but we will have to see how it goes and what I can do. I have never arrived in top form, at 100 percent, for Flanders. I never had the legs to race up front, but I hope on Sunday I will be up there with the front runners.
Daniele Bennati (Lampre-Fondital)
Photo ©: Luc Claessen

"The situation will be better because we can play our cards," Bennati commented on team's tactics. "I am not a rider like Ballan, who can attack and go solo to the end. I will have to take my chances by remaining in the group; hoping the race arrives at the finish together. I hope it arrives in a small group. A sprint with [Tom] Boonen... never say never; to win would be possible.
"I can play my cards, even if Boonen is going very strong," he said, before he noted, "But it would be better to arrive in a sprint without him. After a distance and parcours like that, he always has a kick in his legs for the sprint; he is dangerous."
The day did not really seem appropriate for an interview. Outside the sun was shinning and the temperatures were forecasted to rise. Sunday is predicted to be 18°C, which is hot for this time of year in Belgium.
"I have come here for four years, but I have never seen weather like this," Benna added with a smile. "The weather will give me better opportunities; I am happy with this because the Belgians go strong in the hard conditions."
Sunny or not, Belgium-based Quick-Step will be firing all of its missiles; not only does it have Boonen in its line-up, but it also has World Champion Paolo Bettini and two-time Ronde winner Peter Van Petegem. He put the responsibility right on the shoulders of Quick-Step for its home race.
Lampre buddies Daniele Bennati and Alessandro Ballan
Photo ©: Gregor Brown

"I think it will be mostly up to them to make the race, and we will follow and react. We will stay back and wait to see what they do; not just them but the other teams, like Predictor-Lotto," he reckoned. "Flanders is particular; you can talk about tactics before the race but then you just have to see how it unfolds.
"Though there are more tactics at play than next week's Paris-Roubaix." Bennati noted that Quick-Step is the major team to beat but there are plenty of other pitfalls. Teams like CSC, with Fabian Cancellara and Discovery Channel, with Stijn Devolder. "Those teams will be organizing something. [Nick] Nuyens and Cancellara will be very hard to beat."
His top three Ronde picks were noted after winning the Koksijde stage of De Panne. "My favourites for Flanders are still Filippo Pozzato, Boonen, and Ballan. There is also Cancellara. Boonen will be the clear favourite, then riders like Ballan and Pozzato are just below.
"The Belgians will have all the pressure on them." He then looked towards the windows and added, "This weather puts me at ease."
Waiting for him at the finish line will be his wife, Chiara. The two were married December 8, 2003, six years to the day after they met. "My wife is here with me in Belgium, she arrived this morning. She plans on staying through Gent-Wevelgem," he said with a smile. "There are also a few of my fans that travelled here, but the majority is watching on TV back in Italy.
"The Belgian fans are also really passionate. It is so nice to race here because the fans have a lot of emotion, even better than in Italy. It is great."
-Daniele Bennati in anticipation of the fans who will cheer racers on at Ronde van Vlaanderen
"The Belgian fans are also really passionate. It is so nice to race here because the fans have a lot of emotion, even better than in Italy. It is great."
If Bennati does not have his chance Sunday then he will surely be gunning for Wednesday, in Gent-Wevelgem. "I will have my chance there, I had a third place finish there two years ago. For sure, I would really like to win.
"Petacchi? Now, I am not worried for him anymore, I have shown I can win against him three times in Valenciana. He remains a great champion, but I feel confident that I can beat him."
Photography
For a thumbnail gallery of these images, click here
Images by Gregor Brown/Cyclingnews