Recently on Cyclingnews.com
Tech feature: Leif Hoste's Ridley Scandium Roubaix ride, April 15, 2007
It's all in the details
The Ridley
Photo ©: Gregor Brown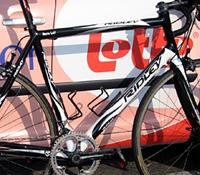 Leif Hoste has two deep disappointments to vanquish in Sunday's Paris-Roubaix: the first, a controversial disqualification that knocked him out of second place in last year's 'Hell of the North', and the second, a loss in a two-man sprint to win this year's Ronde van Vlaanderen to Alessandro Ballan. The Belgian has the form, the confidence, and the equipment he needs to win the Queen of the Classics, and will rely on his Ridley Scandium SC 7000 to take him there. Cyclingnews' Gregor Brown examined Hoste's bike the day before the race in Compiègne, France.
"Tire pressure will be the main concern of our riders for the race," said Predictor's mechanic, who was servicing Hoste's bike, just 18 hours before it would be used in battle during Paris-Roubaix. The bike had a seemingly normal set up, and focus was given to the tyres, and this case the tire pressure.
"It is up to each rider to determine what tyre pressure they wish to run. Hoste is very particular with the tyre pressure."
The team is relying on Vredestein Fortezza Pro Tricomp tubulars for the day. Fitted on Hoste's wheels were 25mm width tyres, which are a bit narrower than what Ballan and Boonen had fitted on their wheels.
With many of the riders using bigger tyres, clearance becomes a problem for the mechanics, forcing them to use different brakes or modified frames. In the past, teams have purposely dented the seat tube to accommodate bigger rear tires. In the case of Hoste's bike there is space, but just barely.
Ridley Scandium
Photo ©: Gregor Brown

The rear cluster, 11-23.
Photo ©: Gregor Brown

San Marco
Photo ©: Gregor Brown

The Scandium
Photo ©: Gregor Brown
"The clearance is not such a problem, and we are thankful it will be a dusty day, so we won't have to worry about mud build-up."
The tubulars are glued to Ambrosio Nemesis rims, almost a standard among the teams - the same rims were spotted on Fabian Cancellara's machine at the hotel next door. Hoste's wheels were 32 spoke, three-crossed, hand laced wheels tied to black Campagnolo Record Hubs.
The brake levers and handlebar tape of Hoste's machine had no special modifications, but like most other riders, he has upped his 39 tooth inner chainring to something bigger; Hoste will use a 53 outer and a 46 inner chain ring. These will be combined with an 11-23 cluster in the rear to give all the needed ratios.
Proving that it may not be all about the machine, Hoste recalled how last year, when he rode for Discovery Channel, he was privy to the special suspension Trek. "Yeah, those gadgets don't get you going, it's more important to have good legs", Hoste said with a smile.
Nevertheless, the man from Maldegem, Belgium is fanatical when it comes down to his bike. "I've been adjusting my saddle at least a hundred times since my first training ride, a bit forward then more to the back again, up and down... it's something I'm really focused on."
Photography
For a thumbnail gallery of these images, click here
Images by Gregor Brown/Cyclingnews.com