Tour de Georgia - 2.HC
USA, April 16-22, 2007
Main Page Results Overall standings Stage Details Live report Previous Stage Next Stage
Stage 4 - April 19: Chickamauga - Lookout Mountain (ITT), 30.4 km
Discovery wins twice with Leipheimer and Brajkovic
By Mark Zalewski, North American Editor with Kirsten Robbins in Rock City, Georgia
Levi Leipheimer (Discovery)
Photo ©: Jon Devich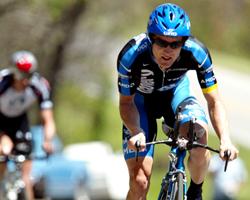 After yesterday's debacle of a stage, the race against the clock turned into two separate races - akin to creating a side pot of betting in poker. The usual time trial and overall favourites were not the last riders to start, instead beginning and finishing mid-way through the start times. At the end were the six riders from yesterday's breakaway - not likely to battle for a time trial win, but certainly able to grab the leader's jersey away from David Canada Gracia (Saunier Duval - Prodir). Halfway through the finish the crowd got a look at what would have been the race, with Levi Leipheimer (Discovery Channel) besting American time trial champion David Zabriskie (CSC) by 41 seconds. But 20 minutes later it was Discovery Channel teammate Janez Brajkovic setting the eleventh best time and beating Canada Gracia by more than two minutes to take the overall lead.
"It would have been nice to be racing for the overall today but when you know you can win, even if it just for the stage, it is motivating," said Leipheimer. "I felt like I had a good chance in the time trial because I had been feeling well in the first few stages. After my time trial victories in the Tour of California I knew I had to give it everything."
David Zabriskie (CSC)
Photo ©: Jon Devich

"Time trialing is all about your motivation and morale," he said. "When I saw my minute man in the first ten kilometers that was very motivating; and then when I saw my two minute man, which was Tom Danielson, that was motivating because he is such a strong rider." Leipheimer crested the main climb of the day with the fastest time, which gave him carte blanche to burn more matches. "I heard that I had the fastest intermediate time so I felt like I could go faster in the second part of the course," he added. "It was like a snowball effect. When you hear the splits are big you can push yourself so much hard and mentally it is easier."
While most of the 30 kilometer course was the same as last year's time trial, the final three kilometers were new, with numerous tight turns and short but steep pitches. "It was difficult for me around seven kilometers to go," said Leipheimer. "I kept punching it over all the rollers thinking it was the last one but they just kept coming. Finally, in the last few kilometers, there was a downhill and I was able to breath a little. I think I won because I rode it the right way."
Coming in second place was American time trial champion Zabriskie. After the race the Utah native was his usual talkative self. "I'm just peachy," he said. However, when asked what he was riding today, he perked up, "I had a 42-54 in the front and a 26-11 in the back. Yeah, I used all of it."
The other race
Janez Brajkovic (Discovery)
Photo ©: Jon Devich

"I think that this was expected by many people here today," said the new race leader Brajkovic. "Being in the breakaway yesterday and gaining so much time over the group [it] was clear that it was my responsibility to get the jersey - and we got it today. Hopefully we will keep it tomorrow but it is an amazing feeling."
When asked if he or Danielson, the team's pre-race leader, would save anything today in order to work for Brajkovic tomorrow, stage winner Leipheimer said directly, "We wanted to win this stage and I feel confident that I will recover enough for tomorrow." In terms of team strategy for tomorrow, the squad's director Johan Bruyneel said: "I think tomorrow will be a strange race. There are a lot of people who are very far behind so there might be a breakaway that never comes back. It depends on what happens, but we will be racing basically against six or seven guys."
Bruyneel added that the entire team will be working for the overall, even Leipheimer and Danielson. "This is an important race for us, so it will be everyone working. We don't save anything - we'll save after the race!"
David Canada (Saunier Duval-Prodir),
Photo ©: Jon Devich

Canada Gracia did not have his best day on the time trial bike, losing minutes to Brajkovic and falling to fifth place overall. "It was very hard for me and there was a lot of climbing," he told Cyclingnews. But he said that the fact that there are only ten other riders even within single digit minutes of the lead will make tomorrow's stage rather straightforward for him and his teammate Rubens Bertogliati, who sits in third place overall. "Janez finished a couple of minutes ahead of me today so this means that tomorrow I will be working hard on the climb. It is an easy strategy now because tomorrow is the most important stage of the Tour de Georgia so this gives me the opportunity to attack. [Bertogliati and I] will be able to attack a lot because we now have no leaders [on our team.]"
Sitting in second place overall, and finishing just behind Brajkovic at 12 seconds, was CSC's Christian Vandevelde. The top American in the race was content with his time trial effort today, and is happy with to be within striking distance of the yellow jersey. "I'm happy with my ride - it was anything goes after the breakaway yesterday. But that was hard, it will take a lot out of us for tomorrow!" In regards to what his team is planning for tomorrow, he said: "Everyone is asking what we are going to do. I think this is a cool race in that the strongest man always wins. I've been up Brasstown before and it's epic - you either have it or you don't. I'm going to do my best and I'm sure Janez is going to do his best. If I can beat him up it I will be a happy person for sure."
Christian Vandevelde (CSC)
Photo ©: Jon Devich

Vandevelde said his father John, himself a former Olympic cyclist, will likely be riding along in the team car for tomorrow's stage - but only if he stays on his best behaviour. "Dad is coming down and I am sure he will [ride in the team car]. He better be quiet - I'll put a gag on him!"
Austrialian time trial champion Nathan O'Neill (Health Net), back racing after injuries, showed that his recovery is coming along with a third place finish. "I really wanted to have a good ride today," he said. "I knew that when the GC went south for all of the top guys in most of the race that I would throw all of my efforts into the race today and see what happened." Of course, the local boy had done a little pre-race scouting which worked to his advantage. "I was up here a month ago previewing the course. I rode the stage from Rome to Chattanooga and I rode the time trial course on the 13th of March when I had the terrible car accident on [interstate] 75."
Former American champion Chris Baldwin had less good fortune today, even though he looked to be on form with the second fastest intermediate time. However, after his brush with misfortune at the national championships last year, the twisty and technical course consisting of numerous sharp turns did give some riders pause. But Baldwin said that was not the difference today. "I'm okay at it, that was just bad luck - a one time thing. You feel like you are losing time in the corners, on the brakes, but when you lose by two minutes you realize it isn't won or lost in the corners. Sometimes you are going fast and sometimes you are not - the sensations are all the same! When I was third here before it felt effortless and I felt good again today."
Photography
For a thumbnail gallery of these images, click here
Images by Jonathan Devich/epicimages.us
Images by Trish Albert/www.southeasterncycling.com
Images by John Pierce/PhotoSport International
Images by Michael David Murphy/www.michaeldavidmurphy.com
Results

1 Levi Leipheimer (USA) Discovery Channel Pro Cycling Team                       44.51
2 David Zabriskie (USA) Team CSC                                                  0.41
3 Nathan O'neill (Aus) Health Net presented by Maxxis                             1.18
4 Thomas Danielson (USA) Discovery Channel Pro Cycling Team                       1.31
5 Dominique Cornu (Bel) Predictor-Lotto                                           1.41
6 David Millar (GBr) Saunier Duval - Prodir                                       1.47
7 Danny Pate (USA) Team Slipstream                                                1.55
8 George Hincapie (USA) Discovery Channel Pro Cycling Team                        2.15
9 Brian Vandborg (Den) Discovery Channel Pro Cycling Team                         2.20
10 Ben Day (Aus) Navigators Insurance Cycling Team                                2.28
11 Janez Brajkovic (Slo) Discovery Channel Pro Cycling Team                       2.37
12 Christian Vandevelde (USA) Team CSC                                            2.49
13 Ryder Hesjedal (Can) Health Net presented by Maxxis                            2.52
14 Rory Sutherland (Aus) Health Net presented by Maxxis                           2.54
15 Timothy Duggan (USA) Team Slipstream                                           3.03
16 Anthony Colby (USA) Colavita/Sutter Home presented by Cooking Light            3.04
17 Phil Zajicek (USA) Navigators Insurance Cycling Team                           3.11
18 Matthew Harley Goss (Aus) Team CSC                                             3.13
19 Michael Blaudzun (Den) Team CSC                                                3.29
20 Ben Jacques-Maynes (USA) Priority Health Cycling Team presented by Bissell     3.31
21 Hubert Schwab (Swi) Quick Step - Innergetic                                    3.36
22 Christopher Baldwin (USA) Toyota-United Pro Cycling Team                       3.39
23 Glen Alan Chadwick (NZl) Navigators Insurance Cycling Team                         
24 Jason Donald (USA) Team Slipstream                                             3.48
25 Gilberto Simoni (Ita) Saunier Duval - Prodir                                   3.50
26 Rubens Bertogliati (Swi) Saunier Duval - Prodir                                3.59
27 Justin England (USA) Toyota-United Pro Cycling Team                            4.05
28 Kurt-Asle Arvesen (Nor) Team CSC                                               4.08
29 Thomas Peterson (USA) Team Slipstream                                          4.10
30 Craig Lewis (USA) Team Slipstream                                                  
31 Cesar Augusto Grajales (Col) Jittery Joe's Pro Cycling Team                        
32 Alexandre Moos (Swi) BMC Racing Team                                           4.14
33 Sergey Lagutin (Uzb) Navigators Insurance Cycling Team                         4.15
34 Pavel Padrnos (Cze) Discovery Channel Pro Cycling Team                         4.20
35 Valery Kobzarenko (Ukr) Navigators Insurance Cycling Team                      4.36
36 Jeffry Louder (USA) Health Net presented by Maxxis                             4.57
37 David Mccann (Irl) Colavita/Sutter Home presented by Cooking Light             4.58
38 Timothy Johnson (USA) Health Net presented by Maxxis                               
39 David Canada Gracia (Spa) Saunier Duval - Prodir                               5.02
40 Ivan Stevic (SCG) Toyota-United Pro Cycling Team                               5.03
41 Tyler Hamilton (USA) Tinkoff Credit Systems                                    5.07
42 Christophe Brandt (Bel) Predictor-Lotto                                        5.13
43 Chris Wherry (USA) Toyota-United Pro Cycling Team                              5.16
44 Neil Shirley (USA) Jittery Joe's Pro Cycling Team                              5.17
45 Adam Bergman (USA) Colavita/Sutter Home presented by Cooking Light             5.37
46 Jackson Stewart (USA) BMC Racing Team                                          5.40
47 Ivan Dominguez (Cub) Toyota-United Pro Cycling Team                            5.42
48 Edward King (USA) Priority Health Cycling Team presented by Bissell                
49 Trent Wilson (Aus) Jittery Joe's Pro Cycling Team                              5.43
50 Guido Trentin (Ita) Saunier Duval - Prodir                                     5.55
51 Karl Menzies (Aus) Health Net presented by Maxxis                                  
52 Pavel Brutt (Rus) Tinkoff Credit Systems                                       5.57
53 Cameron Wurf (Aus) Priority Health Cycling Team presented by Bissell           5.58
54 Jonathan Patrick McCarty (USA) Team Slipstream                                 5.59
55 Andrea Tonti (Ita) Quick Step - Innergetic                                     6.04
56 Richard England (Aus) Priority Health Cycling Team presented by Bissell        6.08
57 Kevin Seeldrayers (Bel) Quick Step - Innergetic                                6.09
58 Burke Swindlehurst (USA) Toyota-United Pro Cycling Team                        6.17
59 Benjamin Brooks (Aus) Navigators Insurance Cycling Team                        6.18
60 Caleb Manion (Aus) Toyota-United Pro Cycling Team                              6.24
61 Ian Mckissick (USA) BMC Racing Team                                                
62 Nick Reistad (USA) USA National Development Team                               6.35
63 Henk Vogels (Aus) Toyota-United Pro Cycling Team                               6.39
64 Elio Aggiano (Ita) Tinkoff Credit Systems                                      6.40
65 Doug Ollerenshaw (USA) Health Net presented by Maxxis                          6.43
66 Scott Nydam (USA) BMC Racing Team                                              6.44
67 John Devine (USA) USA National Development Team                                6.45
68 Christophe Rinero (Fra) Saunier Duval - Prodir                                 6.46
69 Jonathan Garcia (USA) BMC Racing Team                                              
70 Leonardo Scarselli (Ita) Quick Step - Innergetic                                   
71 Charles Dionne (Can) Colavita/Sutter Home presented by Cooking Light           6.55
72 Alessandro Proni (Ita) Quick Step - Innergetic                                 6.57
73 Michael Lange (USA) Team Slipstream                                            6.59
74 Maarten Wynants (Bel) Quick Step - Innergetic                                  7.00
75 Gianni Meersman (Bel) Discovery Channel Pro Cycling Team                       7.02
76 Fred Rodriguez (USA) Predictor-Lotto                                           7.13
77 Geert Steurs (Bel) Predictor-Lotto                                             7.14
78 Austin King (USA) Jittery Joe's Pro Cycling Team                               7.15
79 Matt Shriver (USA) Jittery Joe's Pro Cycling Team                                  
80 Daniele Contrini (Ita) Tinkoff Credit Systems                                  7.21
81 Preben Van Hecke (Bel) Predictor-Lotto                                             
82 Davide Frattini (Ita) Colavita/Sutter Home presented by Cooking Light          7.24
83 Tommy Nankervis (Aus) Jittery Joe's Pro Cycling Team                           7.26
84 Eric Keim (USA) USA National Development Team                                  7.27
85 Scott Moninger (USA) BMC Racing Team                                           7.30
86 Scott Zwizanski (USA) Priority Health Cycling Team presented by Bissell        7.32
87 Olivier Kaisen (Bel) Predictor-Lotto                                           7.37
88 Ivan Santaromita (Swi) Quick Step - Innergetic                                 7.41
89 Lucas Euser (USA) Team Slipstream                                              7.44
90 Tyler Wren (USA) Colavita/Sutter Home presented by Cooking Light               7.47
91 Juan José Haedo (Arg) Team CSC                                                 8.01
92 Kirk O'bee (USA) Health Net presented by Maxxis                                8.07
93 Ruggero Marzoli (Ita) Tinkoff Credit Systems                                   8.10
94 Evan Elken (USA) Jittery Joe's Pro Cycling Team                                8.12
95 Garrett Peltonen (USA) Priority Health Cycling Team presented by Bissell           
96 Brian Dziewa (USA) USA National Development Team                               8.40
97 Cody Stevenson (Aus) Jittery Joe's Pro Cycling Team                            8.43
98 Peter Hatton (Aus) Colavita/Sutter Home presented by Cooking Light             8.50
99 Mauro Facci (Ita) Quick Step - Innergetic                                      8.52
100 Sheldon Deeny (USA) USA National Development Team                             8.57
101 Anders Lund (Den) Team CSC                                                    8.59
102 Jacob Rosenbarger (USA) BMC Racing Team                                       9.04
103 Omer Kem (USA) Priority Health Cycling Team presented by Bissell              9.05
104 Nick Gates (Aus) Predictor-Lotto                                              9.06
105 Martin Pedersen (Den) Team CSC                                                9.13
106 Stefano Zanini (Ita) Predictor-Lotto                                          9.16
107 Steffen Weigold (Ger) Tinkoff Credit Systems                                  9.35
108 Gustavo Artacho (Arg) Colavita/Sutter Home presented by Cooking Light         9.59
109 Emile Abraham (Tri) Priority Health Cycling Team presented by Bissell        10.03
110 Chad Beyer (USA) USA National Development Team                               10.30
111 Eric Riggs (USA) USA National Development Team                               10.37
112 Caleb Fairly (USA) USA National Development Team                             10.59

Arriving after time cut
113 Viktor Rapinski (Blr) Navigators Insurance Cycling Team                      15.26
DNS Ciaran Power (Irl) Navigators Insurance Cycling Team       

Best Young Rider

1 Dominique Cornu (Bel) Predictor-Lotto                                          46.32
2 Janez Brajkovic (Slo) Discovery Channel Pro Cycling Team                        0.56
3 Matthew Harley Goss (Aus) Team CSC                                              1.32
4 Thomas Peterson (USA) Team Slipstream                                           2.29
5 Craig Lewis (USA) Team Slipstream                                                   
6 Edward King (USA) Priority Health Cycling Team presented by Bissell             4.01
7 Cameron Wurf (Aus) Priority Health Cycling Team presented by Bissell            4.17
8 Kevin Seeldrayers (Bel) Quick Step - Innergetic                                 4.28
9 Nick Reistad (USA) USA National Development Team                                4.54
10 John Devine (USA) USA National Development Team                                5.04
11 Michael Lange (USA) Team Slipstream                                            5.18
12 Gianni Meersman (Bel) Discovery Channel Pro Cycling Team                       5.21
13 Tommy Nankervis (Aus) Jittery Joe's Pro Cycling Team                           5.45
14 Olivier Kaisen (Bel) Predictor-Lotto                                           5.56
15 Ivan Santaromita (Swi) Quick Step - Innergetic                                 6.00
16 Lucas Euser (USA) Team Slipstream                                              6.03
17 Peter Hatton (Aus) Colavita/Sutter Home presented by Cooking Light             7.09
18 Sheldon Deeny (USA) USA National Development Team                              7.16
19 Anders Lund (Den) Team CSC                                                     7.18
20 Martin Pedersen (Den) Team CSC                                                 7.32
21 Chad Beyer (USA) USA National Development Team                                 8.49
22 Eric Riggs (USA) USA National Development Team                                 8.56                  
 
General Classification after stage four

1 Janez Brajkovic (Slo) Discovery Channel Pro Cycling Team                    14.21.52
2 Christian Vandevelde (USA) Team CSC                                             0.12
3 Rubens Bertogliati (Swi) Saunier Duval - Prodir                                 1.22
4 Jeffry Louder (USA) Health Net presented by Maxxis                              2.20
5 David Canada Gracia (Spa) Saunier Duval - Prodir                                2.22
6 Kevin Seeldrayers (Bel) Quick Step - Innergetic                                 3.32
7 Scott Nydam (USA) BMC Racing Team                                               4.27
8 Timothy Johnson (USA) Health Net presented by Maxxis                            5.09
9 Lucas Euser (USA) Team Slipstream                                               7.26
10 Ivan Santaromita (Swi) Quick Step - Innergetic                                 8.58
11 Tyler Wren (USA) Colavita/Sutter Home presented by Cooking Light               9.04
12 Gianni Meersman (Bel) Discovery Channel Pro Cycling Team                      10.53
13 Levi Leipheimer (USA) Discovery Channel Pro Cycling Team                      26.26
14 David Zabriskie (USA) Team CSC                                                27.07
15 Nathan O'neill (Aus) Health Net presented by Maxxis                           27.47
16 Thomas Danielson (USA) Discovery Channel Pro Cycling Team                     27.57
17 Dominique Cornu (Bel) Predictor-Lotto                                         28.10
18 Ben Day (Aus) Navigators Insurance Cycling Team                               28.13
19 David Millar (GBr) Saunier Duval - Prodir                                     28.16
20 Danny Pate (USA) Team Slipstream                                              28.24
21 George Hincapie (USA) Discovery Channel Pro Cycling Team                      28.41
22 Brian Vandborg (Den) Discovery Channel Pro Cycling Team                       29.09
23 Ryder Hesjedal (Can) Health Net presented by Maxxis                           29.18
24 Rory Sutherland (Aus) Health Net presented by Maxxis                          29.20
25 Anthony Colby (USA) Colavita/Sutter Home presented by Cooking Light           29.33
26 Phil Zajicek (USA) Navigators Insurance Cycling Team                          29.40
27 Timothy Duggan (USA) Team Slipstream                                          29.52
28 Michael Blaudzun (Den) Team CSC                                               29.58
29 Hubert Schwab (Swi) Quick Step - Innergetic                                   30.05
30 Christopher Baldwin (USA) Toyota-United Pro Cycling Team                      30.08
31 Jason Donald (USA) Team Slipstream                                            30.14
32 Gilberto Simoni (Ita) Saunier Duval - Prodir                                  30.19
33 Matthew Harley Goss (Aus) Team CSC                                            30.24
34 Justin England (USA) Toyota-United Pro Cycling Team                           30.34
35 Thomas Peterson (USA) Team Slipstream                                         30.39
36 Ben Jacques-Maynes (USA) Priority Health Cycling Team presented by Bissell         
37 Craig Lewis (USA) Team Slipstream                                                  
38 Cesar Augusto Grajales (Col) Jittery Joe's Pro Cycling Team                        
39 Sergey Lagutin (Uzb) Navigators Insurance Cycling Team                        30.41
40 Alexandre Moos (Swi) BMC Racing Team                                          30.43
41 Valery Kobzarenko (Ukr) Navigators Insurance Cycling Team                     31.05
42 Pavel Padrnos (Cze) Discovery Channel Pro Cycling Team                        31.09
43 Ivan Stevic (SCG) Toyota-United Pro Cycling Team                              31.17
44 David Mccann (Irl) Colavita/Sutter Home presented by Cooking Light            31.27
45 Tyler Hamilton (USA) Tinkoff Credit Systems                                   31.36
46 Christophe Brandt (Bel) Predictor-Lotto                                       31.42
47 Neil Shirley (USA) Jittery Joe's Pro Cycling Team                             31.46
48 Edward King (USA) Priority Health Cycling Team presented by Bissell           32.11
49 Trent Wilson (Aus) Jittery Joe's Pro Cycling Team                             32.12
50 Doug Ollerenshaw (USA) Health Net presented by Maxxis                         32.19
51 Guido Trentin (Ita) Saunier Duval - Prodir                                    32.24
52 Karl Menzies (Aus) Health Net presented by Maxxis                                  
53 Pavel Brutt (Rus) Tinkoff Credit Systems                                      32.26
54 Daniele Contrini (Ita) Tinkoff Credit Systems                                 32.28
55 Jonathan Patrick McCarty (USA) Team Slipstream                                     
56 Andrea Tonti (Ita) Quick Step - Innergetic                                    32.32
57 Benjamin Brooks (Aus) Navigators Insurance Cycling Team                       32.47
58 Jackson Stewart (USA) BMC Racing Team                                         32.51
59 Ian Mckissick (USA) BMC Racing Team                                           32.53
60 Ivan Dominguez (Cub) Toyota-United Pro Cycling Team                           33.00
61 John Devine (USA) USA National Development Team                               33.14
62 Christophe Rinero (Fra) Saunier Duval - Prodir                                33.15
63 Leonardo Scarselli (Ita) Quick Step - Innergetic                                   
64 Glen Alan Chadwick (NZl) Navigators Insurance Cycling Team                    33.17
65 Charles Dionne (Can) Colavita/Sutter Home presented by Cooking Light          33.21
66 Alessandro Proni (Ita) Quick Step - Innergetic                                33.23
67 Henk Vogels (Aus) Toyota-United Pro Cycling Team                              33.28
68 Maarten Wynants (Bel) Quick Step - Innergetic                                 33.29
69 Fred Rodriguez (USA) Predictor-Lotto                                          33.35
70 Jonathan Garcia (USA) BMC Racing Team                                              
71 Caleb Manion (Aus) Toyota-United Pro Cycling Team                             33.40
72 Geert Steurs (Bel) Predictor-Lotto                                            33.43
73 Preben Van Hecke (Bel) Predictor-Lotto                                        33.50
74 Kurt-Asle Arvesen (Nor) Team CSC                                              33.52
75 Tommy Nankervis (Aus) Jittery Joe's Pro Cycling Team                          33.55
76 Scott Moninger (USA) BMC Racing Team                                          33.59
77 Michael Lange (USA) Team Slipstream                                           34.07
78 Juan José Haedo (Arg) Team CSC                                                34.21
79 Olivier Kaisen (Bel) Predictor-Lotto                                          34.35
80 Ruggero Marzoli (Ita) Tinkoff Credit Systems                                  34.39
81 Davide Frattini (Ita) Colavita/Sutter Home presented by Cooking Light         34.42
82 Chris Wherry (USA) Toyota-United Pro Cycling Team                             35.10
83 Peter Hatton (Aus) Colavita/Sutter Home presented by Cooking Light            35.19
84 Kirk O'bee (USA) Health Net presented by Maxxis                               35.25
85 Sheldon Deeny (USA) USA National Development Team                             35.26
86 Eric Keim (USA) USA National Development Team                                 35.34
87 Jacob Rosenbarger (USA) BMC Racing Team                                       36.02
88 Burke Swindlehurst (USA) Toyota-United Pro Cycling Team                       36.11
89 Nick Gates (Aus) Predictor-Lotto                                              36.17
90 Cody Stevenson (Aus) Jittery Joe's Pro Cycling Team                           36.21
91 Emile Abraham (Tri) Priority Health Cycling Team presented by Bissell         36.30
92 Adam Bergman (USA) Colavita/Sutter Home presented by Cooking Light            36.34
93 Gustavo Artacho (Arg) Colavita/Sutter Home presented by Cooking Light         36.48
94 Cameron Wurf (Aus) Priority Health Cycling Team presented by Bissell          37.29
95 Matt Shriver (USA) Jittery Joe's Pro Cycling Team                             37.53
96 Chad Beyer (USA) USA National Development Team                                38.10
97 Mauro Facci (Ita) Quick Step - Innergetic                                     38.36
98 Anders Lund (Den) Team CSC                                                    38.53
99 Martin Pedersen (Den) Team CSC                                                39.07
100 Elio Aggiano (Ita) Tinkoff Credit Systems                                    39.10
101 Evan Elken (USA) Jittery Joe's Pro Cycling Team                              39.12
102 Steffen Weigold (Ger) Tinkoff Credit Systems                                 39.19
103 Austin King (USA) Jittery Joe's Pro Cycling Team                             39.42
104 Eric Riggs (USA) USA National Development Team                               39.52
105 Scott Zwizanski (USA) Priority Health Cycling Team presented by Bissell      40.29
106 Richard England (Aus) Priority Health Cycling Team presented by Bissell      40.49
107 Nick Reistad (USA) USA National Development Team                             41.22
108 Brian Dziewa (USA) USA National Development Team                             41.43
109 Omer Kem (USA) Priority Health Cycling Team presented by Bissell             44.32
110 Stefano Zanini (Ita) Predictor-Lotto                                         46.23
111 Caleb Fairly (USA) USA National Development Team                             46.26
112 Garrett Peltonen (USA) Priority Health Cycling Team presented by Bissell     46.33

Sprint classification

1 Daniele Contrini (Ita) Tinkoff Credit Systems                                      23 pts
2 Gianni Meersman (Bel) Discovery Channel Pro Cycling Team                           15
3 Ivan Stevic (SCG) Toyota-United Pro Cycling Team                                   15
4 Juan José Haedo (Arg) Team CSC                                                     14
5 David Canada Gracia (Spa) Saunier Duval - Prodir                                   14
6 Viktor Rapinski (Blr) Navigators Insurance Cycling Team                            13
7 Doug Ollerenshaw (USA) Health Net presented by Maxxis                              13
8 Ben Day (Aus) Navigators Insurance Cycling Team                                    11
9 Sergey Lagutin (Uzb) Navigators Insurance Cycling Team                             11
10 Glen Alan Chadwick (NZl) Navigators Insurance Cycling Team                        10
11 Janez Brajkovic (Slo) Discovery Channel Pro Cycling Team                          10
12 Fred Rodriguez (USA) Predictor-Lotto                                              10
13 Kevin Seeldrayers (Bel) Quick Step - Innergetic                                    9
14 Timothy Johnson (USA) Health Net presented by Maxxis                               7
15 Christian Vandevelde (USA) Team CSC                                                7
16 Alessandro Proni (Ita) Quick Step - Innergetic                                     7
17 Ryder Hesjedal (Can) Health Net presented by Maxxis                                7
18 Ivan Dominguez (Cub) Toyota-United Pro Cycling Team                                6
19 Levi Leipheimer (USA) Discovery Channel Pro Cycling Team                           5
20 Karl Menzies (Aus) Health Net presented by Maxxis                                  5
21 Jeffry Louder (USA) Health Net presented by Maxxis                                 5
22 Austin King (USA) Jittery Joe's Pro Cycling Team                                   4
23 Garrett Peltonen (USA) Priority Health Cycling Team presented by Bissell           4
24 Charles Dionne (Can) Colavita/Sutter Home presented by Cooking Light               4
25 Scott Nydam (USA) BMC Racing Team                                                  4
26 Emile Abraham (Tri) Priority Health Cycling Team presented by Bissell              3
27 Rubens Bertogliati (Swi) Saunier Duval - Prodir                                    3
28 Rory Sutherland (Aus) Health Net presented by Maxxis                               3
29 Ciaran Power (Irl) Navigators Insurance Cycling Team                               3
30 Ivan Santaromita (Swi) Quick Step - Innergetic                                     1
31 Andrea Tonti (Ita) Quick Step - Innergetic                                         1
32 Thomas Danielson (USA) Discovery Channel Pro Cycling Team                          1
33 Lucas Euser (USA) Team Slipstream                                                  1

Mountains classification

1 Jeffry Louder (USA) Health Net presented by Maxxis                                12 pts
2 Lucas Euser (USA) Team Slipstream                                                  9
3 Kevin Seeldrayers (Bel) Quick Step - Innergetic                                    8
4 Rubens Bertogliati (Swi) Saunier Duval - Prodir                                    7
5 Timothy Johnson (USA) Health Net presented by Maxxis                               6
6 Janez Brajkovic (Slo) Discovery Channel Pro Cycling Team                           6
7 Christian Vandevelde (USA) Team CSC                                                4
8 Scott Nydam (USA) BMC Racing Team                                                  4
9 Ben Jacques-Maynes (USA) Priority Health Cycling Team presented by Bissell         4
10 Nathan O'neill (Aus) Health Net presented by Maxxis                               3
11 Ryder Hesjedal (Can) Health Net presented by Maxxis                               2
12 David Canada Gracia (Spa) Saunier Duval - Prodir                                  1
13 Ivan Santaromita (Swi) Quick Step - Innergetic                                    1
14 Sergey Lagutin (Uzb) Navigators Insurance Cycling Team                            1

Best Young Rider Classification

1 Janez Brajkovic (Slo) Discovery Channel Pro Cycling Team                    14.21.52
2 Kevin Seeldrayers (Bel) Quick Step - Innergetic                                 3.32
3 Lucas Euser (USA) Team Slipstream                                               7.26
4 Ivan Santaromita (Swi) Quick Step - Innergetic                                  8.58
5 Gianni Meersman (Bel) Discovery Channel Pro Cycling Team                       10.53
6 Dominique Cornu (Bel) Predictor-Lotto                                          28.10
7 Matthew Harley Goss (Aus) Team CSC                                             30.24
8 Thomas Peterson (USA) Team Slipstream                                          30.39
9 Craig Lewis (USA) Team Slipstream                                                   
10 Edward King (USA) Priority Health Cycling Team presented by Bissell           32.11
11 John Devine (USA) USA National Development Team                               33.14
12 Tommy Nankervis (Aus) Jittery Joe's Pro Cycling Team                          33.55
13 Michael Lange (USA) Team Slipstream                                           34.07
14 Olivier Kaisen (Bel) Predictor-Lotto                                          34.35
15 Peter Hatton (Aus) Colavita/Sutter Home presented by Cooking Light            35.19
16 Sheldon Deeny (USA) USA National Development Team                             35.26
17 Cameron Wurf (Aus) Priority Health Cycling Team presented by Bissell          37.29
18 Chad Beyer (USA) USA National Development Team                                38.10
19 Anders Lund (Den) Team CSC                                                    38.53
20 Martin Pedersen (Den) Team CSC                                                39.07
21 Eric Riggs (USA) USA National Development Team                                39.52
22 Nick Reistad (USA) USA National Development Team                              41.22
23 Caleb Fairly (USA) USA National Development Team                              46.26