An interview with Viatcheslav Ekimov, April 24, 2007
Ekimov: Returning to the peloton
Discovery Channel's newest assistant manager Viatcheslav Ekimov
Photo ©: AFP Photo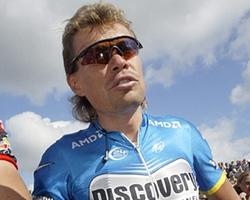 Nearly 20 years after taking his first Gold medal at the Seoul Olympic Games, Russia's Viatcheslav Ekimov has returned to the sport in an all new capacity. The newly appointed Discovery Channel assistant manager told Cyclingnews' Kirsten Robbins what has reignited his love for professional cycling and prompted his return to the sport.
Russia's cyclist of the century Viatcheslav 'Eki' Ekimov has returned to professional bike racing after his second attempt at retirement. He has been assigned to start every world-class cycling event - from the Spring Classics to the Grand Tours - in the pursuit of more victories to add to his historic resume. However, this time around he wont be riding a bike. Instead, Ekimov's name appears on the registration list directly under team director Johan Bruyneel's as Discovery Channel's newest and most valuable assistant director.
Ekimov was spotted early this season wearing the director's hat for the first time at the Tour of California, where Levi Leipheimer held on to the yellow jersey from start to finish. After Discovery Channel's appearance in the United States, the team boarded a plane back to Europe where it took victories in the next five races, including Paris-Nice, Castilla y Leon and the final stage of KBC Driedaagse va De Panne- Koksijde.
"They call me Mr. 100 percent," joked Ekimov during last week's Tour de Georgia, where the squad took another overall victory. "Out of the five races that we have done since the Tour of California we have also had five victories. But in general we are doing very well together and I am learning a lot."
"Someone who has not been apart of that can never learn. You have to have lived it."
-Bruyneel believes it takes a former pro to do a director's job
The American ProTour team is one of the world's largest and most successful cycling teams. With over 70 staff and riders from 18 different nationalities, the team can contest three cycling events around the world concurrently. The unique nature, by comparison to other sports, of a cycling team means the director's job requires similar personal traits to that of a successful cyclist, says Bruyneel: "In my opinion, you have to have been a professional cyclist. It is important because as a director you need to decide so much on tactics and on things that happened in the race. Someone who has not been apart of that can never learn that. You have to have lived it."
"I was also well respected in the peleton by the riders so that transmitted to my work with the team," added Bruyneel, who has a reputation for spotting up and coming stars. "I speak five languages because communication is important. You have to have good social skills and communicate well, even be a little bit of a psychologist. Some times we also have to deal with sponsors, and recruit athletes, while selecting which athletes will race and when."
Ekimov on his way to Gold
Photo ©: Cyclingnews.com

While he has been learning the director-specific side of his position through working closely with Bruyneel, Ekimov was given a large portion of the responsibility in Georgia. "Johan arrived on the evening of stage one so that day I was responsible for the team completely," said Ekimov. "It has been really fun as the director. On one side it is easy and on the other side it is not easy at all. You have to be really fast to make decisions and there is a lot of responsibility. This is not something new for me, the bike race. This side is just a little new and there is a transition to being in the car rather on my bike out there in the break."
Amongst the dual Olympic Gold Medalist's daily chores is preparing the logistical plan, booking hotels, and ensuring riders are happy, rested and well fed. During the race, Ekimov was been spotted weaving along side the peloton in order to make his way to the break. "I would usually drive the second team car and Johan would drive the first," Ekimov said. "This way if there were a break it would be my responsibility to follow it between the gap to the peloton."
Having finished all 15 Tour de Frances he's competed in, the Vyborg-born Ekimov has plenty of confidence on the bike but the 41 year-old admits it's taking time to adapt to his new role. "It's something new for me, but I have become a little bit more confident with myself and my job assisting Johan since the Tour of California, which was my first race directing," he explained. "It is getting better and better and better. It is almost like racing, sometimes you don't know what to do with yourself at the start of the race but by the end of the day you are able to give advice to somebody else."
Why the change?
"For now I am on this team and I don't want to think about anything else or any other jobs."
-Ekimov, as he has been for 10 years, is commited to Discovery Channel
Ekimov joined the US Postal Service squad, which eventually morphed into the current Discovery Channel outfit, in 1997 and announced his retirement from the team in 2001, only to return with the outfit the very next season. After his 'come back', he went on to race in five more editions of the Tour de France, placing him equal second with Lucien Van Impe on total editions contested. The big question on the minds of Ekimov fans was, 'why the shift from bike racing to directing in 2007?'
After his actual retirement from competition at the end of last season, the idea of directing along side Bruyneel was presented. "Last year, all of a sudden I just realized that professional cycling has become really difficult for me," he confessed. "My back injury from two years ago set me back, way back from where I was before that. At the same time I received an offer from Johan to be a sport director for this team and I thought that maybe there was another chance to do a different career in cycling with a new angle. I can easily see myself being a professional team director because I really enjoy this job."
Ekimov says he riding became increasingly difficult
Photo ©: Cyclingnews.com

"It's a very responsible job," continued Ekimov. "Many things depend on my behalf and how I am going to show the people I work with a new authority or a new power so it keeps me staying in a good mood to be concentrating a lot on the team."
Ekimov was always held in high regard within the peloton during his competitive years, so much so that the peloton allowed him to lead across the line on the first of eight laps of the Champs-Elysees in his final Tour last year, and that respect has been carried over to the team car and team meetings. His history and experience in the sport has provided him with a natural aura of authority, one that commands respect from the next generation of athletes. "I like to have fun with the guys but I also have to look like a leader on the team," he noted. "A good thing is that I have just come out of bike racing and it is the reason everyone cares about my insight. I keep riding my bike and training with the team so that they all know that I still understand the feeling and what it means to be on the bike. They are able to respect the advice that I have to give."
While the 2007 season has been a steep learning curve for Ekimov, he has taken to it like a duck to water, prompting him to embrace the change in career. "There isn't one specific thing I love about being a director because I love this job in general and my general feeling is it's perfect for me," he said.
And with ten years of service at the US Postal/Discovery Channel the only change in colours Ekimov is planning will happen when the team takes on a new sponsor for 2008. "For now I am on this team and I don't want to think about anything else or any other jobs," he explained. "This is a great organization, very experienced and very successful, so I am really proud to be apart of this organization."