An interview with Ben Jacques-Maynes, April 19, 2007
Jacques-Maynes: The family guy
Benjamin Jacques-Maynes (Priority Health)
Photo ©: Russ & Nancy Wright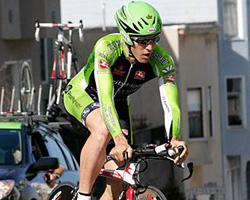 One of North America's recent time trialing highlights has been Ben Jacques-Maynes, who has taken his Priority Health team to the podium multiple times during the early season. Cyclingnews Kirsten Robbins spoke with the Californian in Palm Springs on his much-deserved vacation between the California stint the Tour of Georgia.
His third place in the Tour of California prologue was the beginning of his successful spring campaign, where he won the Central Valley Classic and the Sequoia time trial while placing second in the Redlands Classic prologue and third in overall. Jacques-Maynes forte in time trialing has led to his success on the general classification during the major stage races in the United States of America. He is now ranked number one in the NRC standings and is ready to take on tomorrow's time trial. Stricken with the flu just one week before the event's start, Jacques-Maynes is hopeful that he will be able to pull off another strong race.
A little rest and relaxation with his wife Goldie and son Chase was Jacques-Maynes idea of a recovery before he began to prepare for the Tour de Georgia. The annual trip to Palm Springs is something his family looks forward to every year, to get away from the racing scene that takes him away for the majority of the year.
"I always come to Palm Springs because we have a lot of family here and it is nice to get away from racing for a little while," noted Jacques-Maynews as his 18-month old and yells in the background after seeing the play ground.
"Riding our bikes together is the main reason why I have excelled in cycling."
-Ben on twin brother Andy Jacques-Maynes
"I named my son Chase because that is what I'm usually doing: chasing him around the house all day!" he laughed. "He is a little sick now with a fever and runny nose but usually he is pretty rambunctious, full of energy and wants to run around a check stuff out."
Being Dad is what Jacques-Maynes does best and the young family is expecting another child, due in August.
Ben and twin brother Andy have been racing bikes since the age of 12. Both riders have been highly competitive on the NRC calendar and thrive off of each other's identical talent and skill.
"We have always been competitive in sport, riding our bikes together is the main reason why I have excelled in cycling," admits Jacques-Maynes. "I have had an exact measuring tool to compare my self with him. I am really happy when he excels and I know I can do it as well. It boosts my confidence when he has raced well. We have fed off each other even when we were kids. He is stronger in terms of sprint power and speed and I take that as a measure because when I can sprint with him it means I am going strong."
A consistent ride in Redlands
Photo ©: PhotoSport International

While Andy went on to become the road product manager for Specialized, Ben went on to sign his first professional contract with Kodak-Sierra Nevada in 2002 and stuck with the team until an offer from Priority Health landed on his door step at the end of 2006.
"This is the first time I've changed teams in five years," Jacques Maynes said. "It was a big change for me and any time you switch jobs there are adjustments to make. This has been instrumental in my success and a good motivational boost."
"I really gelled with Priority Health because they are an awesome group of people and I would invite anyone of them to stay with my family any time," added the rider. "Everyone on my team is a friend and I think that is rare and makes me work so much harder."
The Priority Health Team started the Tour de Georgia with its camaraderie and focus set on tomorrow's Stage 4 time trial in Chickamauga. Though he admits he has suffered from a serious bout of the flu, it is not enough to stop him from continued success.
"My preparation for Georgia has been about lying in bed recovering," Jacques-Maynes said. "I went to the US Open last weekend and got rocked and completely sick. Preparation has been far from optimal and I am hoping to turn my legs over by staying quiet for the first couple of stages and then to have a good time trial."
He placed in the top 20 during last year's event but this year he has his eyes set on a top 10 placing. "I have done this race every year and would like a top ten in the time trial, as well as using my strength to help our sprinters in the finishing circuits," revealed Jacques-Maynes. "Emile Abraham and Richard England are on good form right now and will surprise some people. But the time trial is important for us."
Future plans for cycling
"I feel like I am passed my opportunity to go to Europe."
-Jacques-Maynes believes family must take priority now
Jacques-Maynes is his own coach and radically changed his training to suit the track pursuit during winter. He is no stranger to the track and has his future goals aimed at the US Olympic pursuit team in 2008 and 2012. But he attributes his time trial success this spring to his focus on the track during the winter months leading up to the Tour of California.
"I tried to train on a fixed gear bike and tried track racing in Australia to try to make the worlds team," Jacques-Maynes said. "My time trial ability stepped up a lot this year because of it. I was trying for the individual pursuit, even though I never actually did the timed event qualification. I saw that my time trial was getting strong and reprioritized to get my act together on the road and have a good result at the Tour of California."
Jacques-Maynes believes its unlikely,
Photo ©: Steve Cohen

Recognizing his talent on the track in the short training period this season is what lead to bigger Olympic dreams. "I would love to keep racing the track," admits Jacques-Maynes. "When I started racing on the track I knew I would love to do the Olympic pursuit. I still have a couple of years to gain experience and be involved in that program and it is motivating to think about stepping into that higher level."
Top 10 finishes amongst ProTour fields in the US may be opening doors to European racing, but it is an option that Jacques-Maynes is choosing not to venture into.
"I feel like I am passed my opportunity to go to Europe," admitted the 28 year-old. "It is not just about me or money, I don't want to miss my children growing up while I'm suffering over cobbles in Europe. They are what loosened me up, just having a family and focusing my energy on them is what helped me race better. I don't want to close any doors but it would be a big stretch for me to go over to Europe and I'm happy being a high level racer in US."